January 24, 2023
Posted by:

Admin

Category:

Famous App Analysis, Mobile app development cost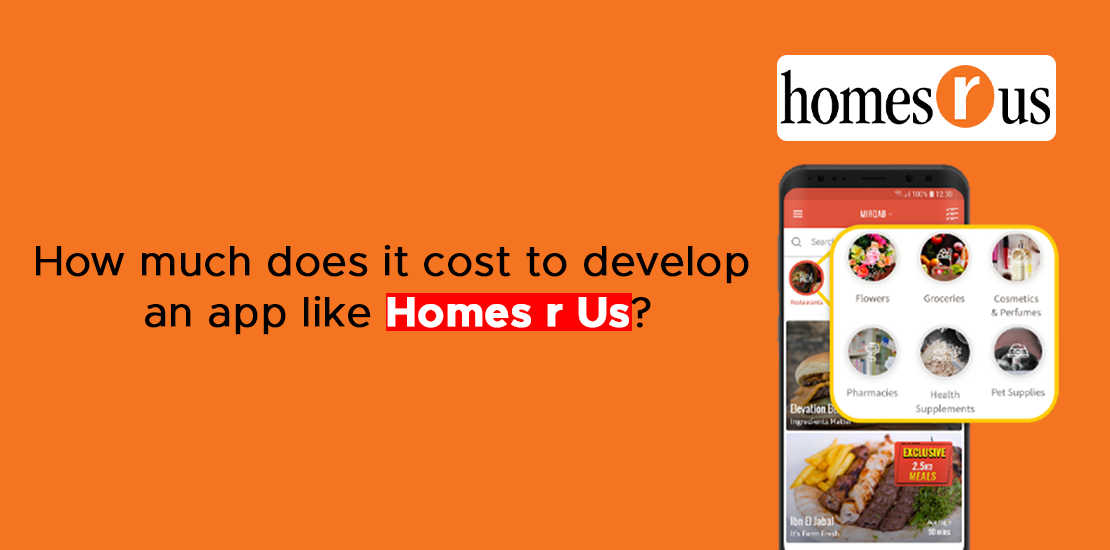 Everyone has the dream of furnishing their home with the best furniture and wall decor. However, not everyone is gifted with the ability to picture how they can furnish or redecorate their space with the ideal combination of furniture and accessories. The art of balancing the appearance and ambiance of the home by combining the appropriate furniture, decor, and color choices is one that not everyone can master on their own.
Making a home welcoming and attractive can be a laborious task for some people, especially if you have to spend a long day outside looking through many stores to find the furnishings that actually go well with the decor. In fact, a lot of people are afraid of home decor because it can quickly become expensive when your heart literally stops beating when you see the pricey furniture.
That's where Homes r Us is the most well-liked locally-owned furniture and décor brand in the Middle East and is familiar with the distinctive standards of regional fashion.
Homes r Us has been transforming homes and bringing homemakers' dreams to life in the area since 2003. Homes r Us has 23 locations in the Middle East, including the United Arab Emirates, Oman, Qatar, and Bahrain (known as The Home Store).
With the availability of on-demand online home decor and furniture purchasing apps like Homes r Us, finding your ideal piece of furniture with a plethora of options has become a breeze.
The home-decorating and furniture-buying mobile apps like Homes r Us use the newest technologies and trends to give users some exclusive ideas for home design while also helping them save a little bit of money on technology. More and more people are embracing this new style of home decoration because these apps offer a variety of features that enable you to visualize things like a pro.
The rapidly rising sales of online home furnishings and decor are actually motivating entrepreneurs to launch an app solution like Homes r us that recommends to users what would look best in their homes and provides a wide selection of home decor products that are simply purchased within the app itself.
If you're wondering how to get started with a Home décor app like Homes r Us, then you've come to the right place.  This blog will provide you with the entire detail of Home décor app development right from features, processes, and cost of building a home décor app like Homes r Us.
Why Invest in Online Furniture Store app development like Homes r Us?
Businesses are frequently migrating from physical stores to digital platforms due to changing customer psychology and the ease of making online purchases. Online furniture stores are one such category. If you're not sure whether hiring a mobile app development company to build online furniture store apps is a good idea, look at these market statistics. The followings are some facts and statistics about the online furniture market and user behavior.
In the United States, e-commerce for furniture and home goods is expected to bring in about $55 billion in revenue in 2021, according to Statista.
The US total for retail e-commerce has reportedly increased by 12%.
According to statistics, each US consumer unit spent an average of 534.17 dollars on furniture in 2017.
The survey report predicts that the furniture market will generate 1.6 trillion dollars in revenue globally by 2025, a sharp increase from 2020's forecast of 1.3 trillion.
These statistics and facts make it obvious that the market revenue from the online furniture market will increase significantly over the next few years. Although there is a noticeable rise in the furniture industry, these numbers show a progressive picture of the market. You should read the next section if you're interested in joining this booming industry and aren't sure how to make money from an online furniture store.
What are some of the Most Popular Furniture Categories you can focus on?
You can choose from a variety of options when building an app for an online furniture store. In fact, it would be fantastic if your app had distinct categories for each and every type of furniture and home décor item, allowing users to find what they need quickly. These are the few furniture categories that they probably look for in your app, whether they are moving or simply planning a good makeover of their home.
Beds and Benches
Dressers and Wardrobes
Tv Stands And Media Furniture
Dining and Coffee tables
Chairs and Sofas
Armchairs and Recliners
Bookcases and Shelving Units
Couches and Cushions
Wall Art and Wall Hangings
Wallpapers — 2D, 3D
These are the few categories that are strongly advised to be included in your app, regardless of whether you are developing B2B home decor solutions, single home decor apps, or a home decor marketplace.
You might consider working with a mobile app development company to support the categories in your app.
But this raises the question of how to survive in such a fiercely competitive market where the best selection of furniture items is already being offered in apps by market players like Homes r Us. To find out the answer, let's keep reading!
Features and Functionalities to Include to Make a Home décor app like Homes r Us
How would you make your home decor mobile app stand out and leave its own mark in the presence of industry leaders like Homes r Us, and more? You can easily embrace a brilliant set of features in your home decor solutions that can fiercely compete with the industry leaders in home decor simply by hiring an app developer.
Here are some out-of-the-box features that let customers buy the furniture of their choice while seeing their home change in real-time so they can visualize how it will look after adding new furniture options.
We've divided up the app's fundamental features into different panels to make them easier to understand:
User Panel Features
Social login/signup:
Allow users to sign up for an app using their phone number and email address or give them the option to sign in directly to the app using their social media login information.
Manage user profile:
Add more information to the profile to personalize it, such as your address, phone number, and preferences.
View product catalog:
By adding products to specific categories, you can ensure that you have a feature to view the entire product list.
Custom Search and Filters:
Allow users to browse a variety of products using search criteria such as wall decor, sofas, coffee tables, and more.
Reviews and Ratings:
To help other users understand the caliber of the products you are selling, add the option for reviews and ratings of the product.
Social Media Share:
Make sure your app has this function and enables users to share products with their friends on social media.
Push Notifications:
Notifications about new arrivals, sales events, discount deals, orders that have already been shipped out, orders that have been confirmed, and more can keep your users informed and up to date
Add products to the cart:
Allow users to quickly add a product to their cart without leaving the current page and check the products later in the cart by including this feature in your app.
Payment Integration:
Add payment options such as credit/debit cards, app wallets, and others.
Multiple language support:
If you want to reach a global audience, make sure you offer multi-language support so users can access the app in their native language.
Monitor product delivery:
Allow users to track the order's real-time location and estimate how long it will take to deliver.
Features to Include in Furniture Store Owner Panel
Profile creation and management:
Allow manufacturers or business brands to create a profile using the same signup process as described above, with a phone number and an email address.
Add/remove/manage products:
Because managing inventory is a complex task, you can hire mobile app developers to customize this feature with options such as adding new products or removing out-of-stock products.
Manage furniture prices:
Allow store owners to change product prices based on demand, quality, and sale period.
Include discounts and special offers:
Allow store owners to add discounts and offers on multiple products based on seasonal sales requirements and update users via push notifications.
Accept payments: Check that they accept payments via multiple payment methods, such as credit/debit cards, PayPal, and others.
Manage product returns: Include product return policies and procedures in advance to avoid panicking users or store owners.
Provide chat support: Include an in-app chat feature to connect with users in the event of an order delay, confirmation of order details, or other issues.
Admin Panel Features
Manage store owners and users:
To avoid problems, include a feature in the app to manage multiple store owners and users.
Optimize/manage product categories:
Add the feature to the admin panel to ensure that each product is listed in the correct category and that it is in stock if it is available for order.
Manage payments:
Allow admin to keep track of each transaction to avoid any issues with money returns.
Shipping and delivery management:
Implement such a system in the app so that the administrator can keep track of each order and ensure the product is delivered on time.
Create a variety of reports:
Allow administrators to gain access to app insights and generate monthly progress reports in order to better understand business profits and user behavior.
If you are planning to launch an app with all of the modern features to give your business a competitive edge, then you should look for advanced features and functionalities.
Advanced Features of a Modern Furniture Shopping App
Live Try-Out: By utilizing augmented reality technology, you can give users access to these features and let them experiment at will with wallpaper, floor coverings, furniture, and other elements of a home. When this feature is used, a full 3D experience will result.
Turn Up A Home Decorator:
You can record the initial appearance of your room using the in-app camera feature before turning on the interior decorator. A mobile app will start suggesting furniture or home accents that perfectly match the mood of your space.
Smart Search
Consider hiring app developers to customize the smart search option rather than sticking with the standard search options. Give users the option to search for products using voice commands or the app's images of the items they want to buy.
Manage Pricing:
Home decor is always expensive, so you can help users choose the best furniture by offering group discounts, comparing the prices of different products, or using configurations and prices that apply to big purchases.
Display Catalog:
With this feature, you can show all of your app's product options and let users tap directly on the product categories they want to buy.
Loyalty Program:
By adding this feature to your app, users will be able to earn loyalty points for both purchases and app referrals from friends. By doing this, you can keep your app users interested and excite them about shopping.
Things to Take Into Account for a Successful Furniture Store App
Which online furniture retailer comes to mind first when you consider buying furniture online in UAE? It must be Homes r Us
Due to their simple navigation and extensive selection of products offered at the lowest prices, online furniture retailers like Homes r Us have dominated their respective markets in UAE. Here are a few things to consider if you want to launch a furniture app like Homes r us
Here are some factors to consider when creating an app for your online furniture store that will help you draw in more customers and expand your target demographic.
User-friendly, simple, and easy app navigation
The UI/UX design of the app can change the game regardless of the types of furniture you offer. It not only aids in attracting users' attention but also makes it possible for you to access the app with simple navigation. Make sure an app will enable users to easily and quickly find everything.
Expand the Furniture Store's ability to see the entire product
When people visit your online store, they typically have this perspective in mind, so be sure to provide a 360-degree view of the furniture store. With the aid of an app development company, you can customize this feature to give users a detailed view of the furniture items you've added to your store. A complete and clear view of the product will aid in their ability to decide quickly.
Use Product Pictures in High Resolution
The furniture products' embracement is the only thing that significantly influences online customer persuasion. Try to take photos from as many angles as you can, and then launch the product with photos that are incredibly clear. Present your product line so that customers can't help but buy it.
Make Use of Proper Product Dimensions
The customer's attention is captured by a variety of furniture pieces that look incredible. Customers are constantly pondering whether a product will fit in their space or complement their home, though, in the back of their minds. Customers will be completely focused on making a purchase if you provide them with instructions on the product's dimensions and ideas for interior design.
Free Shipping, Fitting, and Insurance
Furniture is always expensive, so customers' main worries are product shipping, fitting, and damage. However, the buyers will feel much more at ease with the assurance of complete insurance coverage and free shipping and fittings.
Full Money-Back Guarantee and Return Policy
In case a customer wants to return a product for any reason that is legitimate, having this provision in your app will help you gain their trust. Customers will feel more confident and will feel free to purchase more products.
These are the key elements you should consider when creating an online furniture store. However, you must pick the right set of features and add functionality to the app if you want to give it a competitive edge.
How To Make Money From Your Furniture Store App Online?
Your top priority, regardless of whether you run a startup or are an established businessperson, is to figure out how to make money from the apps you have invested in buying furniture and home goods. Finding the best business model that will enable you to achieve better results is important before moving forward with hiring a mobile app developer. As a result, if you have finally decided to expand your business online, you might want to think about these monetization strategies:
In-App Advertisements
It is never easy to make money using this monetizing strategy. You can make a significant sum of money by letting other companies use your app and place advertisements there. But make sure it applies to the kind of app you're using.
Transaction Fee:
You are allowed to charge brands who work with you and use your platform to generate sales a certain amount of transaction fees.
Collaboration Fee:
You can charge a collaboration fee to each brand that wants to use your app and start selling products through it, depending on the type of business model you use.
Membership Plans:
By making prime membership plans available to potential app users, you can make a sizable amount of money. You can set a membership fee and enable customers to take advantage of exclusive deals and discounts on your app.
Development Team and Technologies Needed for the Development of Furniture Apps
You need the right app development team and technologies to customize the app and make it function properly if you intend to build online furniture purchasing apps similar to those created by Homes r Us
Programming languages for Android and iOS: Flutter, React Native, Java, Object C, Kotlin, and more.
Push notifications: Twilio, Push.io
Database: MongoDB, Cassandra, HBase, MailChimp Integration
Cloud environment: AWS
Streaming Media System: Helix Universal Server, Nimble Streamer, Wowza streaming
Real-time Analytics: Hadoop, Spark, Cisco, Apache Flink, IBM, BigData
Payments: Braintree & PayPal, E-wallets, Stripes
SMS, Voice, and Phone Verification: Nexmo, Twilio
You need a complete team made up of the following to implement these technologies:
Business Analyst
Project Manager
App Developer
Quality Assurance Engineer
UI/UX designer
Most of you are interested in finding out how much it costs to hire an app development company that offers to send this team to work on your project. The straightforward response is that it depends on the expertise, location, and knowledge of the experts.
How Much Does it Cost to Build a Home décor app like Homes r Us?
The most crucial consideration in creating a complete app is cost. Regarding the cost of developing an app, you may have a lot of questions. We'll make an effort to assist you with it.
First off, because each project has different requirements, the cost of developing an app varies from project to project. Second, there are a number of significant factors that affect how much a project will cost in comparison to another. The variables influencing cost variation are listed here.
You should be aware that the overall cost would be significantly lower if you hire mobile app developers from an Asian nation like India. An Indian software development company typically charges between $20,000 and $50,000 to build a Home décor app like Home r Us
However, if you want to add more platforms with advanced features, your Home decor app development costs like Home r Us may rise to between USD 25,000 and USD 35,000. Booking a free consultation with the experts is always advised if you want a precise cost estimate.
Conclusion
At the end of this blog, it is reasonable to conclude that developing a home decor and online furniture store mobile app for your eCommerce business is a wise investment. Although this blog has provided a detailed overview of the home-decor app development process, it is still recommended that you hire a mobile app development company that allows you to incorporate all modern features and functionalities into the app.
They better understand your business needs and will bridge the gap between your goals and success because they are backed by the industry's best app development team.
So, if you have an app idea in mind or are looking for a team that can provide end-to-end Home decor development services, please Contact Us for a free estimate or leave a question below!