October 12, 2022
Posted by:

Admin

Category:

Famous App Analysis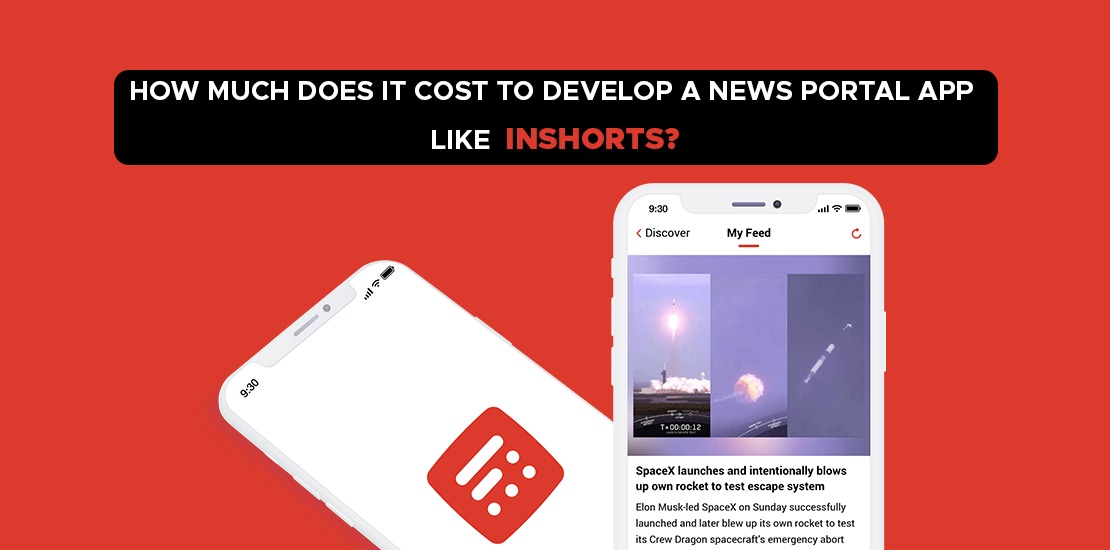 How much does News Portal Mobile App like Inshorts or Dainik Bhaskar Cost?
Technology is a boon and the best use of it can take us far beyond our imagination and limitations. Mobile applications, the best use case of technology are transforming our lives as a whole. It is scaling our lives and taking them to new aspects and landscapes. The wide adoption of smartphones among the majority of the population has resulted in enhancing their popularity and usability.
We belong to an era where anything and everything is been served in a pinch of time. It includes products, services, and even news. We because of our busy engagements and activities can't even spend much time on getting ourselves updated with day-to-day news and current affairs. In this article, we are going to discuss in detail a famous news portal mobile application inshorts, which has got huge customer traction in the very earliest stages after it has been introduced. We will cover every aspect of the news portal app and discuss in detail the cost to develop a news portal app like inshorts.
More about news portal mobile apps like inshorts
Mobile applications that are providing news on a real-time basis are quite common. But in an event where we are in a hurry burry, yet we need to know the update on what happening around us, inshorts can help us. Inshorts is a news reading portal, but what makes it stand apart from other news portal mobile applications is the facility they offer. A user who has inshorts installed on his smartphone will get a detailed update on what's happening around him in the least possible time and within a word limit of 60 words per limit. This has made the app a trend among people of all ages who lack time but need to have an update on anything and everything happening around them. Inshorts, the Indian-based online news portal company was founded by three friends of IIT Delhi, Azhar Iqubal, AnunayArunav, and DeepitPurkayastha in the year 2013 and is headquartered in Noida, India. Because of the features, it facilitates and the traction it has gained from a large group of regular customers, the app has been featured in various trending magazines like Tech Crunch, Business Insider, Forbes, Fortune, The Economic Times, etc.
Advantages of having an online news portal app like Inshorts on your smartphone
· Anything and everything in 60 words
Inshorts mobile application allows readers to stay on top of daily news and current affairs, that too in the least possible time. All the news is well explained in 60 words.
· Personalized news
Artificial Intelligence enabled news feeds to customize the news based on the user's daily readings and updates the feed accordingly. This will help users in knowing the news and current affairs of their kind at the right time.
· Commenting and response
The news-reading portal app inshorts lets its users comment on their opinion and views and submit it under the exclusive commenting section.
Top features of an online news portal mobile application like Inshorts
· Sign In/ Sign Up
A user needs to create an account on the online news portal mobile application to proceed with reading news in just words. For the signup process, they can make use of their Facebook, Google, and Twitter accounts, or even their mobile number. Once the account is created, they can use the login credentials for logging in.
· Profile
The profile is a private space for the users, where they can make relevant customizations based on their wishes. This space can even use to determine how the UI of the app looks for each customer. It varies from customer to customer as it can be highly customizable.
· Language
The online news portal inshorts now is available in two languages. The user can read the news on inshorts either in English or in Hindi.
· Notifications
As the name itself sounds, notifications of all kinds will be available under this section. The users will be notified of anything and everything regarding their accounts, news, and everything here.
· HD Images
Users can opt-in and can determine the quality of the images available in the news. If they wish to have HD images, they can have them or turn the facility of HD images off.
· Night Mode
The online news providing mobile application like inshorts allows its customers to turn on the night mode which offers enhanced user experience while reading the news at night or in a dark environment. This can reduce the amount of light that gets passed.
· My Feeds
My Feeds exclusively showcases customized news based on the previous reading history of the users. It can offer an exemplary experience to the readers and diminish their chance of searching the news of the same kind again and again. The app makes use of artificial intelligence to make this happen.
· All News
News of all kinds will be displayed here. It will be a shuffled list of news without any filtrations and will be shown based on the timing.
· Top Stories
Top stories based on the random pick will be displayed under this section
· Trending Topic
All the news that is trending, for the time being, will be displayed under the trending portion in the top news portal mobile application, Inshorts.
· Unread Topic
All of the missed topics that remain unread will be available right under this category.
· Bookmarks
The app lets its customers in bookmarking news and current affairs based on their tastes.
Factors that determine the cost of online news reading apps like Inshorts, Daily Hunt, Dainik Jagran, etc.
Various factors affect the mobile application development cost of an online news portal application like inshorts, daily hunt, etc. Some of the major factors among them are mobile application platforms. In the case of Inshorts, it's been developed for both Android and iOS mobile application platforms. Users who have both Android and Apple smartphones and tablets can access the inshorts application on their devices. The other factor that determines the cost of online news reading apps like inshorts, daily hunt, etc is the technology used. Inshorts have artificial intelligence integrated into them. AI in the inshorts mobile application is to offer exemplary and outstanding experiences to the customers and to customize their news feeds based on their previous reading history. Another factor that determines the app development cost is the integration of third-party APIs. One more factor that plays a key role in the in-app location. Location for which the application is developed for serving its purpose also p[plays a key role in determining the app development cost. Several other factors determine the app development cost like app security, app maintenance, UI/UX, etc.
How much does it cost to develop an online news portal mobile application like Inshorts?
We have seen and discussed various factors that are bound to the development cost of an online news app like Inshorts, and Dainik Jagran. However, based on the above factors, the development cost will be around USD 10,000 to USD 30,000. Further integrations can be done on prerequisites which will affect the development cost slightly.
How to find out the best mobile application development company for developing an app like Inshorts
The demand for an online news portal mobile application like inshorts is trending as it generates a potential amount of revenue and is a much scalable business opportunity. Business owners and enterprises are actively exploring the opportunity in developing a mobile application like inshorts. How to find the best mobile application to develop an online news reading application like inshorts. The very first point one needs to look for is the experience of the mobile app development company. Experience can bring in more value and can add more functionalities than inexperienced developers can offer. The other factor which you need to look for is the other mobile applications they have developed for their clients, it can give you a detailed idea of the portfolio and help you in filtering companies. Customer experience and reviews play a crucial role and can help you in filtering companies based on the same.
DxMinds- the best app developer for developing news portal apps like Inshorts, Daily Hunt, Newsstand, Newshunt, etc
DxMinds Innovation Labs is a leading News mobile app development company in Bangalore India having branches in the USA, UAE, PERU, and Australia. The company focuses on delivering unmatched services to clients following the pathways of the latest trends in the area of technology. One can develop a news-reading app like Inshorts, and Dainik Bhaskar with a minimal budget at DxMinds Innovation Labs with the maximum, features integrated.
Why DxMinds in the field of mobile app development
· Fastest growing digital transformation company
· Scalable and reliable mobile applications
· Innovative solutions
· Ready to serve products
· Cutting edge technologies
· 24×7 customer service
Are you the one who is eagerly looking forward to knowing the development cost of news reading mobile applications like Inshorts, and Dainik Jagran in Bangalore? Did you get fed up searching for the right app developers? DxMinds have got you covered. We can help you build a mobile application like Inshorts with innovative and cutting-edge technologies integrated into it. For more details and to avail of free consultation on the same, drop a mail to us right away.
Email: info@dxminds.com