April 1, 2020
Posted by:

Admin

Category:

E-Commerce App Development, Famous App Analysis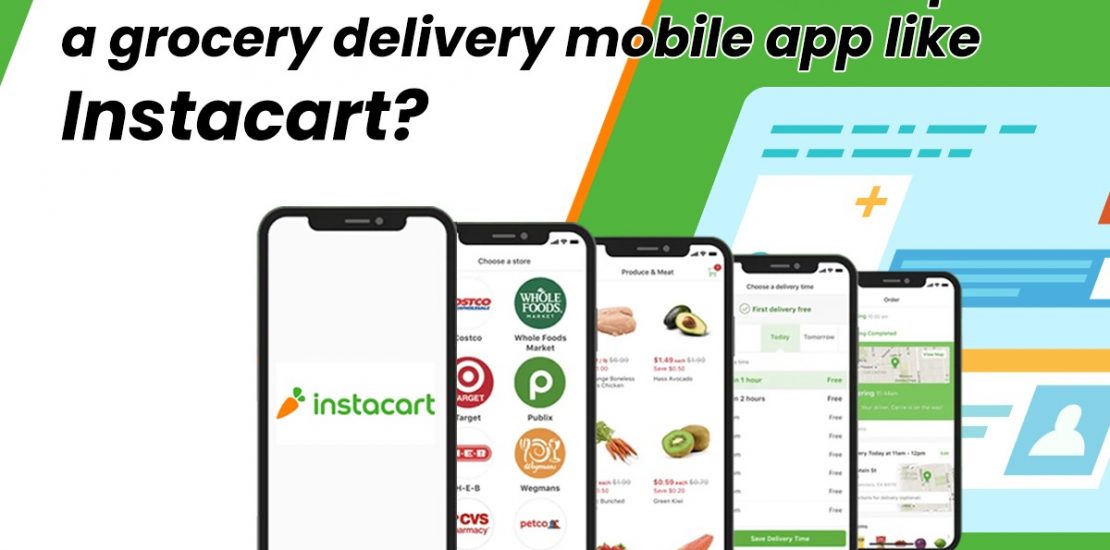 Instacart mobile app development cost and Features
Leveraging mobile application, one can have access to anything and everything he wishes for. They are meant for bringing advancements in our lives. Mobile applications stand high as the best use case of technology. Moreover, they are capable of scaling our lives by eliminating all of the existing frictions from it. Mobile applications have made our lives light and have always been a prominent factor that stood in the front line of digital transformation.
In today's tech-savvy world, an enormous number of mobile applications have been built. Of all the mobile applications that exist, none look the same. Each of them stands for serving each purpose. Some for service purposes, some are for food delivering tasks, some help customers in booking taxis and hotels, some for delivering groceries and veggies. In this blog, we are going to discuss in detail a grocery delivery mobile application like Instacart, it's in and out features, Technologies used, etc. Grocery delivery mobile applications are gaining huge traction these days as it is a scalable and revenue-generating business model. In that aspect, we will also discuss the cost of developing a grocery delivery mobile application like Instacart. We are sure that this article will be helpful for entrepreneurs out there in availing a complete knowledge about on-demand veggies delivery app like Instacart. So let's get started.
What is the need for a grocery delivery mobile app like Instacart
Digital transformation has changed the entire perspective of customers and their buying behavior. Best use cases of mobile applications helped customers in availing goods and services in just a matter of a click that to in the least possible time. Purchase of veggies and groceries is a tedious job as one need to reach to the store, spend his potential time searching for the fresh items and have to be in the long queue at the checkout counter for billing purpose. It can be frustrating at times. A grocery delivery mobile app like Instacart is right away helping customers in getting fresh veggies and groceries delivered at their doorstep in the least possible time, without any hustles or bustles. The app is helping its customers by outpacing conventional ways and taking them through an excellent customer journey.
Grocery delivery app- A trending and scalable business model
The app offers enhanced services to customers. They can purchase a wholesome of products leveraging the Instacart mobile application. The goods they can purchase from the app include farm-fresh veggies, grains, staple foods, meat items, groceries, kitchen items, and various other essential commodities. The app I highly trending among its users as they find it as a potential service provider. Not only it is helping the customers, but it also is a pool of revenue for its founders. All these facts led entrepreneurs is thinking of developing a grocery delivery mobile app and are actively looking forward to knowing the app development cost of a grocery delivery mobile app like Instacart.
Get a Free Quote
More on a home essential delivery mobile app like Instacart
Instacart is an eight-year-old technology company that helps customers to order home essentials like fresh vegetables, grains, food items, condiments, etc. The company was founded by Mr. Apoorva Mehta, Max Mullen, and Brandon Leonardo. Instacart mainly operates in the cities of the USA and Canada and has 300+ local and national partners. The company, because of its outstanding performance is valued at a net worth of eight billion.
Key features of an online food delivery mobile application like Instacart
Now let us see some of the major features of online veggies and grocery delivery mobile applications like Instacart.
· User registration
User registration is a mandatory requirement that a grocery mobile app should possess. Users can make use of their mail id, mobile number, or even social media handle for registering the account.
· Content Management
Content management includes product listing and various other content editing and update option. Product listing needs to be done for the customers to select the items of their choice. Content management helps business owners in doing so.
· Store listing
Shop owners should be able to list their stores on the vendor side of the mobile application. This is a major feature an online grocery mobile application should uphold.
· Location Feature
The app should have a location feature based on which the near sores and products will be shown to them.
· Enhanced search option
Customers should feel free to search based on their requirements. The app should have an enhanced search option with advanced filters integrated into it. The filer option must have filtration based on various metrics like location-based filters, product based filters, etc.
· Ratings and reviews
Ratings and reviews are the genuine feedback from the customers which is a factor that helps a business grow and it is through the mobile application that the customers will be able to do the same. So rating and reviewing option is a mandatory factor that an online grocery delivery mobile app should have.
· Delivery Notifications
Customers should be notified of the status of the order once it's delivered. Integrating a delivery notification into the mobile application will help to achieve the same.
· Inventory Management
Having automated inventory management will help inventory management easy and hassle-free.
· In-app payment
Integrating a safe and secure payment gateway can make the buyer's journey more transparent. It is also a major feature that needs to be integrated into a grocer delivery mobile application.
Factors affecting the app development cost of a grocery delivery mobile app like Instacart
Now let us see in detail all those factors that pave the way to enhance the Instacart app development cost.
· Mobile application platform
Mobile applications can be built for multiple platforms. But the main platforms are iOS and Android. It is based on the customer segregation that one needs to decide on the app development platform. If he needs to serve both the segments, he may have to develop both the apps. In such an event, e may try developing a hybrid mobile application which not only helps him save money but also save time and energy.
· App features
The features that need to be integrated into the mobile application plays a crucial role in determining its development cost. A wide range of features is available which can be easily integrated into the mobile application to enhance alt and customer experience of the app.
· Technologies used
Technologies varying from Artificial Intelligence to the blockchain, AR and VR, etc. can be utilized in the mobile application. More the technology higher will be the development cost.
· UI/UX
The user interface has to be appealing as it is a mandatory thing in engaging customers. Attractive UI/UX designing can be costly and it increases the app development cost.
· App development company
The role of mobile app Development Company in Bangalore developing the development cost is very high; we need to find out economic yet potential mobile application Development Company to develop an online grocer mobile application like Instacart
· Yet many more factors
A multitude of other factors also exists that are bound to in determining the mobile app development cost which needs to be taken into account while developing a top-notch grocery deliver the mobile application.
Cost of developing an online delivery moble application like Instacart
The aforementioned factors play a major role in determining mobile app development costs. Yet the approximate cost of developing a grocery delivery mobile application will fall somewhere around USD 10000 to USD 50000. The price can vary based on the third-party integrations and additional features that are added to it. DxMinds, a leading mobile application development company helps entrepreneurs in coming up with grocery delivery mobile applications of top-notch quality. For more details, info@dxminds.com