April 3, 2020
Posted by:

Admin

Category:

Fantasy Sports App Development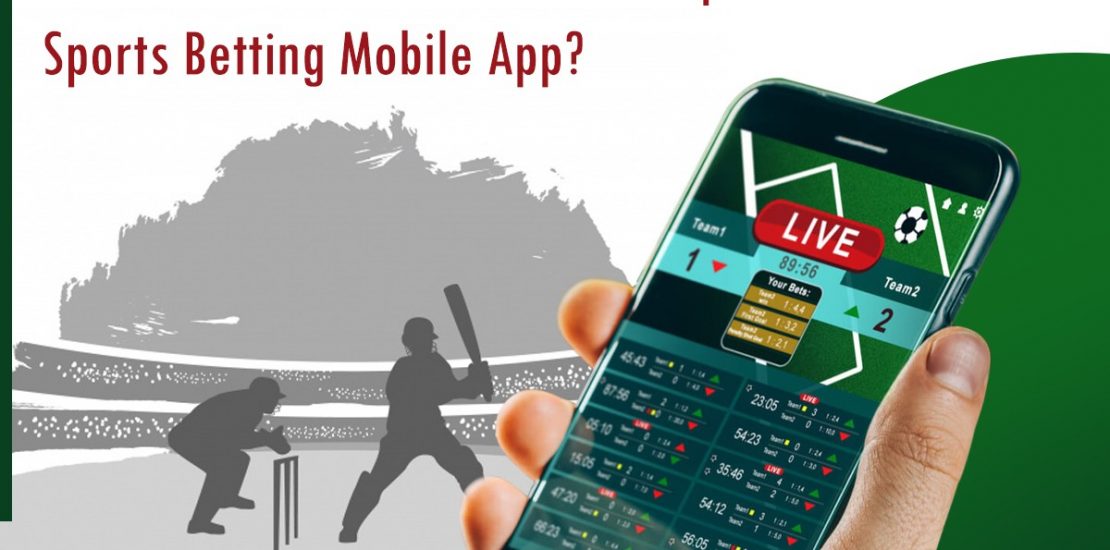 Online Sports Betting Mobile App Cost Estimation & Features:
Games always play a major role in our lives. Time passed by to witness the changes technology has brought in the way we play and enjoy games. If we take a deep look into the way games have been transformed into the way they are today, we can track the impact of technology on them. Today we are at a stage where smartphones are the major platform that hosts gamers and enthusiasts.
Online betting games for smartphones are gaining huge traction these days. The interesting part is that the major betting games are happening in the sports segment. A large number of online sports betting mobile applications are available in the market as of now, engaging g millions and billions of customers all across the globe. As it is a greater revenue-generating business model, the number of entrepreneurs getting into this segment is much high. In this article, we will deal more with betting game mobile applications, features, and technologies. We will also have a look at the cost of developing an online betting mobile application. So let us get started.
What are online sports betting games?
Online betting games are the kind of games that allows gamers to choose their favorite players and form a team, based on which they can bet on players and can earn revenue from each game. All of these were made possible just in a matter of a click. Conventional ways of playing a online sports betting game required huge effort as one needs to make the necessary arrangements making use of the computers and all.
The need for an online betting game
The online betting game offers endless possibilities for scaling and revenue-generating opportunities for entrepreneurs and enterprises. It has abrupted the conventional ways and had brought a high degree of transparency in the domain. It also helps users in generating revenue by betting on their favorite teams and players. All of these factors combined to pave the way for the enhanced popularity of online betting games. A large number of online betting games are available in the market like horse racing betting apps, baseball betting apps, cricket betting apps, soccer betting apps, etc
Features of an online betting game
An online betting mobile application should possess certain mandatory features. Let us see what they are in detail.
· User profile creation
The app should have a comprehensive user profile where the users can have a private space for them. Profile creation can be done by making use of an email id, or mobile number, or by using social media handles. Under the profile section, users can update their details, communication addresses, passwords, etc.
· Interactive UI/UX
The betting app should have a highly interactive UI/UX where it should prompt the customers In using the betting app regularly.
· App notifications
The app should have a comprehensive notification system, where major updates are shared with the users. It helps them in getting an update with anything and everything regarding the gameplay, betting app, etc.
· Enhanced payment gateway
The app should hold a highly safe and secure payment mode, leveraging which customers can make transactions for participating in the games. The payment system should also have a checkout option, where the users can claim their rewards and cash prizes.
· Classification
Online betting games should be classified and well arranged for the easiness of customers in handling it. Classifications can be based on sports names, types, and rules.
· Betting community
Having an outstanding community helps its members in having all their queries solved at the earliest possible time. The community backs I members and supports them throughout the whole process of the gameplay.
· Game Management
Game Management helps gamers in hosting their players, teams and selecting various other features. This is a mandatory feature that should be featured on an online sports betting mobile application.
· Team/Player details
The app should offer a complete guide to the team and player the choice to bet on. This feature helps gamers in making their bets wisely and makes them more engaging.
· Multi-language Support
Online sports betting mobile applications should not be limited to just hosting one or two languages. To gain traction from a wide range of people spread across the globe, the app should support a wide range of languages to offer a hassle-free experience to the customers.
· Offers
To engage the customers and prompt them in being regular users of the game app, one needs to supply them with enough offers and eye-catching discounts.
· Game scheduling
High-end online sports betting mobile applications should have a game scheduling feature that lets them in touch with upcoming games and can pre-book their slots.
· Real-time sports update
The app should have space where the players have updated with real-time sports news and live scores.
· Back-end traffic management
The app should have a robust backend system where it can manage traffic without any hassles and bustles.
· Multiple game participation
Users may follow multiple games at the same time and the online sports betting mobile application should allow them to participate in more than one application at the same time.
Types of sports betting mobile applications
Singles
Head to Head
Totals
Handicaps
Each Way
Multiples
Double
Treble
Advantages of sports betting mobile application
Full control of the gameplay lies in the hands of customers
The best medium for additional earnings
Regular updates on sports and related news
Huge networking opportunities
Great revenue-generating business
Safe, secure, and free from fraudulent activities
How much does it cost to develop an online sports betting mobile application?
Rising demand for sports betting mobile applications made entrepreneurs go for searching sports betting mobile application development costs in Bangalore, Mumbai, Delhi, and Gurgaon, India. They are also looking for the sports betting app development cost in San Francisco, USA. As a result of their searches, the cost of coming up with an online betting mobile application will be around USD 10000 to USD 50000. This may vary based on the features that need to be integrated also.
DxMinds Innovation Labs- The best sports betting app development company in Bangalore, India, San Francisco, USA
DxMinds Innovation Labs is a leading digital transformation and sports betting mobile application Development Company in India and the USA. The company helps entrepreneurs in developing high-end sports betting mobile applications, thereby prompting them to build an emporium of their own. Hands-on experience and huge expertise in various technologies made DxMinds Innovation Labs the leading sports betting app Development Company. With DxMinds, one can develop low-cost sports betting apps in Bangalore, Mumbai, Delhi, Gurgaon, India, and San Francisco, USA. Hire DxMinds for developing a top-notch sports betting mobile application of your kind.
Agile model of development
Scalable and reliable mobile applications
Cutting edge technologies
The high degree of security
Transparent app development process
Homegrown solutions and technologies
For more details on how you can start online sports betting mobile application and to know about the sports betting Mobile app cost in Mumbai, Bangalore, Delhi, and Gurgaon, India having additional features than the ones mentioned above and to obtain a free consultation, drop an email to info@dxminds.com