September 29, 2022
Posted by:

Admin

Category:

Innovation, Technology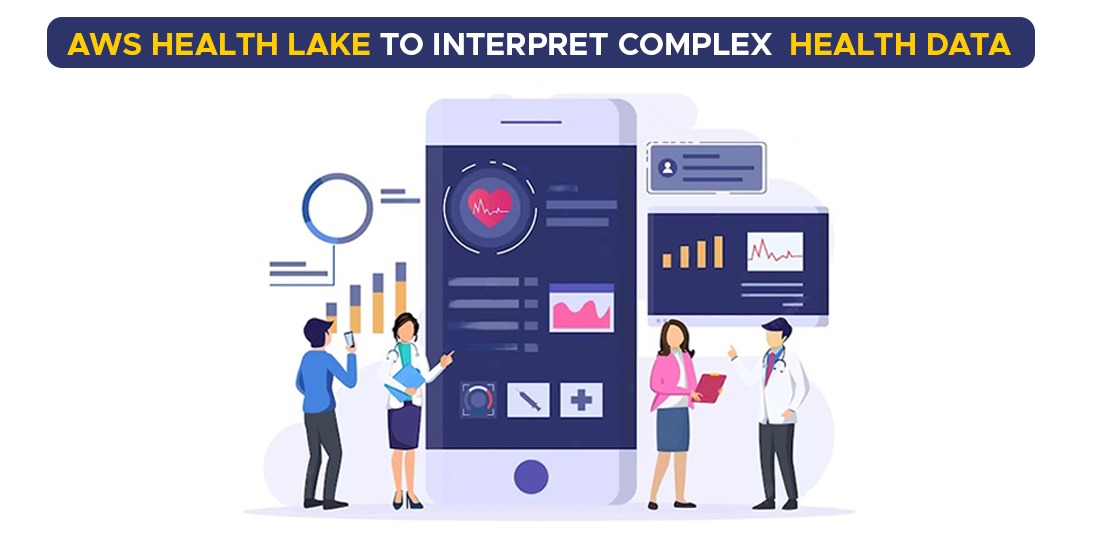 Introduction
Enterprises are adopting new technology such as artificial intelligence and machine learning to deal with massive data. This is especially true in the healthcare and life sciences industries. Researchers and healthcare practitioners now have access to a wide range of data since electronic medical records are increasingly used. However, it has become challenging for them to readily and swiftly interpret all of this data. Furthermore, most organizations struggle to keep their critical information protected from hackers. Businesses are turning to AI vendors such as AWS to overcome issues and maximize the possibilities of AI-driven services. Its new Health Lake AI-driven Cloud Platform in Interpretation of Complex Health Data.
What is Amazon Health Lake?
Amazon Health Lake is a HIPAA-eligible service that enables healthcare providers, health insurance companies, and pharmaceutical companies to store, transform, query, and analyze health data. It is enabled in the Fast Healthcare Interoperability Resources (FHIR) R4 industry standard format in the AWS Cloud at scale. From matching patients to clinical trials to analyzing population health trends, Health Lake enables healthcare organizations to make sense of health data and ultimately offer better care for patients.
Health Lake is an AI-powered cloud platform that understands complex health data. It comprises an integrated variety of tools and services to enable healthcare enterprises to leverage the use of AI.
Health Lake Key Features
AWS Health Lake platform enables enterprises to create fast and deploy AI models. It offers them access to various AI engines, including Amazon Translating Service (ATS), Amazon Polly, Amazon Rekognition, Amazon Lex, Amazon Computer Vision, Amazon Transcribe, Amazon Comprehend, Amazon Connect, and Amazon Machine Learning. These services together enable healthcare businesses to create and deploy AI-driven systems that can analyze complex health data such as photos and sounds and support clinical decision-making processes at a low cost.
Amazon Polly:
It is a service that enables you to build applications that speak the human language with natural-sounding text-to-speech voices in multiple languages. It uses advanced artificial intelligence technologies to create synthetic speech that sounds like a human voice.
Amazon Rekognition:
It is an image analysis service that makes it easy to add visual recognition to your applications. You can use Amazon Rekognition to analyze photos to recognize objects, activities, and faces or identify inappropriate image content.  
Amazon Transcribe:
To automatically recognize and transcribe audio, this fully automated service is used. You can use Amazon Transcribe to build applications for various industries, like media, healthcare, call center, and SMB applications.
Amazon Translate:
It is a neural machine translation service that makes it easy to translate your customer experience into any language.
Amazon Computer Vision:
It is a fully managed image and video analysis service that makes it easy to add image recognition and computer vision capabilities to your apps.
Amazon Comprehend:
It helps in extracting insights from data. You may use Amazon Comprehend to analyze documents, articles, or unstructured text to extract insights, keywords, and relationships between entities.
Amazon Comprehend Medical:
It is an extension of Amazon Comprehend that allows you to analyze clinical notes, medical papers, and unstructured text in one service call.
Amazon Connect:
Developers can use it to create sophisticated, natural language conversational bots. You can use Amazon Connect to build applications that customers can interact with using their voice.
Amazon Machine Learning:
It is a fully managed service that makes it easy to construct and administer machine learning models. The algorithms are used to assess complex data such as financial transactions, healthcare data, and product evaluations.
AI-powered Data Interpretation Platform
With Health Lake, enterprises can access population health trends, predict, and manage costs. It can help enterprises to analyze unstructured data like images, natural language, and sounds. It can also help solve complex health data like lab reports, e-prescribing, and medical records. Combining advanced analytics and machine learning to improve appointment scheduling, eliminate unnecessary procedures, forecast hospital bed availability using newly organized data, identify opportunities to fill care gaps, and apply preventative treatment are some benefits of AI. 
Secure Cloud Infrastructure for Healthcare
Health Lake is a secure cloud infrastructure for healthcare enterprises. It supplies enterprises with complete security and compliance framework for storing and processing healthcare data. Most sensitive healthcare data, such as PHI, is processed with the highly secure and compliant architecture of Health Lake. The secure cloud architecture also allows firms to comply with data privacy requirements such as the European Union's General Data Protection Regulation (GDPR). It safeguards private data from unauthorized access, unintended deletion, and aggressive assaults.
Conclusion
Amazon Health Lake is an AI-powered cloud platform that interprets complex health data. It is a fully cloud-based platform that comprises an integrated variety of tools and services to enable healthcare institutions to perform more effectively. It will allow organizations to generate different insights that will improve customer interactions and R & D. By offering a managed AI service, the Health Lake platform enables enterprises to create fast and deploy AI models.
Read Also:

Advantages of Mobile App for Healthcare and Medical Industry

How to mitigate AI bias in healthcare applications?

How Much does it cost to develop a healthcare chatbot?

Role of Mobile Applications in the healthcare Industry?