February 2, 2021
Posted by:

Admin

Category:

Outsourcing and Offshoring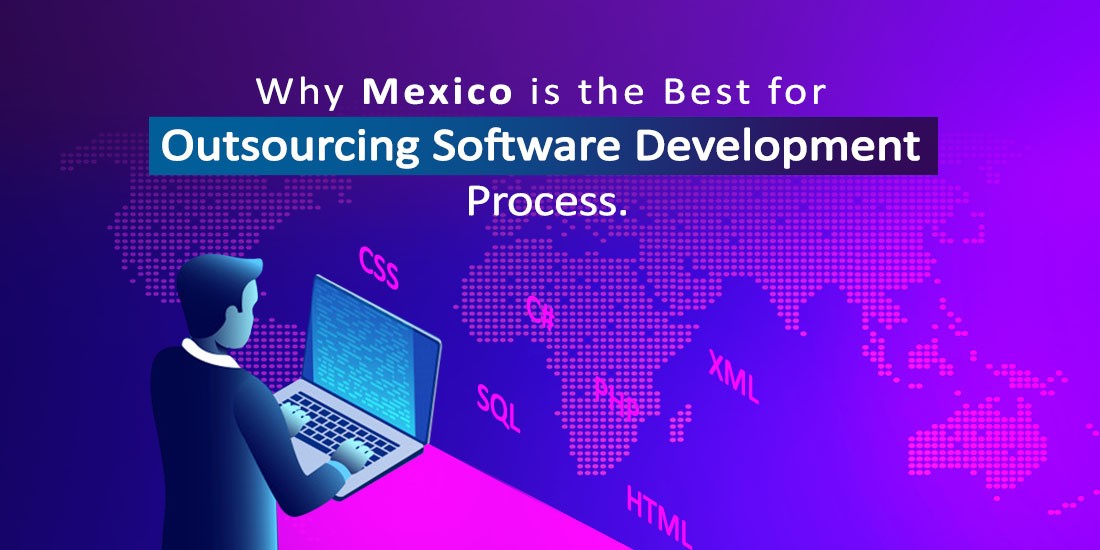 The software has gained immense popularity in the business space which has resulted in organizations tying their processes to the best-in-class sets of softwares. The use cases where software takes over the traditional approaches have helped businesses in gaining groundbreaking results. And as a result, they were able to make it big with less cost and high efficiency. Softwares have streamlined processes, both in-house and outhouse. In this tech-savvy era where digitalization plays a key role in distinguishing a successful business from other ones, the software merely acts as a tool for organizations to ace the race. The nullified error rates have prompted organizations in switching to implementing software, backlashing the traditional approaches, and methodologies.
Outsourcing the software development process as a whole has turned out in being one of the most common and tremendous approaches in the domain. This has provided businesses with a handful of advantages and hence the practice became increasingly popular. When it comes to outsourcing the development process of software, the outsourcing destination plays a key role and Mexico comes top on the priority list. There exists a ton of reasons why businesses prefer more of Mexico. This article is all about how softwares can help businesses succeed and outsourcing projects in Mexico can help them outpace the competition and land finely-tuned outcomes. So let us get started.
Why do businesses need softwares?
Over the years, the demand for customized software solutions is skyrocketing. Software plays a key role in determining the success of an organization and hence the skyrocketing requirement for the same. Softwares act as a tool that helps businesses in digitalizing their end-to-end process. Integration of softwares not only streamlines the process but also enhances the transparency and business visibility among the potential players. Let us have a detailed look into the list of advantages put forward by softwares in the business space.
Backlashes traditional approaches
End-to-end automation
Streamlines business process
Reduced paperwork and documentation
Effective in-house communication
Accelerated profits and revenue
More business mileage
A steady increase in efficiency and productivity
Seamless support for human resources
What is software outsourcing and how it works?
Software outsourcing is a quite common practice in space and has been adopted decades back. Software outsourcing is all about associating with a development agency on a contractual basis, without them being your in-house employee and they help you come up with software of your kind. Usually, outsourcing is done to avail top-notch services at very less cost. This is just one of the many reasons to outsource. Let us now find out what are the key factors that prompt organizations to outsource projects.
Association with the right talents
Full-fledged services at the fingertips
Economical and reliable
Availing of quality services
Seamless support
Risk diversification
State-of-the-art technology integration
Enhanced focus and sharp vision
Mexico- a one-stop destination for software outsourcing
As the demand for software outsourcing has skyrocketed, the number of organizations preferring Mexico as their outsourcing destination has also increased. Mexico acts as an ideal hub for meeting organizational outsourcing requirements in terms of off-shoring, near-shoring, and much more. As a region that lies closer to Silicon Valley and the seamless availability of a talented tech force, Mexico has always turned out in being one of the prime outsourcing locations for businesses across the globe. Outsourcing companies in Mexico play a key role when it comes to bringing value to the table for global organizations. Let us see what are the major factors that set Mexico apart from other software outsourcing locations across the globe.
Talented workforce
One of the major factors that make Mexico a good-to-go destination for software outsourcing is its enriched availability of a highly talented workforce. Mexico boasts a seamless count of technologists who can come up with precise technology solutions to meet the customer requirement. To put that into perspective, their association with building full-fledged digital solutions for your business requirement makes it a full-fledged one in the respective domain. Also, Mexico stands tall and high when it comes to the number of freshly passing out potential candidates that add value to the substantial growth of outsourcing in the region.
Full-fledged Infrastructure
Realizing its true potential and the value Mexico can add to the outsourcing industry, the governments have had futuristic adoptions and implementations. The infrastructure and amenities in Mexico have been built with a vision of adding spectacular value to the outsourcing industry. Several tech parks, business hubs, innovation centers, R&D labs, etc. also were built by visionaries to make the nation a potential software outsourcer. Monterrey Technology Park, Apodaca Technology Park, etc. are some of the examples of such infrastructures built in Mexico.
A highly professional and ethical approach
The software outsourcing industry has gained popularity in Mexico because of the professionalism and ethics maintained throughout the process. This has helped organizations in availing full-fledged services that not only help them in scaling their business but help them address the key business processes and challenges.
Economical Budgeting
Businesses always need to look for the economic factor when it comes to the development process as they can save tens and hundreds of millions in such a way. To put that into perspective, businesses are given low-cost budgeting from software outsourcing agencies hailing from Mexico, with the quality remaining unaffected. From a business point of view, they find this as a key metric that helps them flourish like anything.
State-of-the-art technology adoptions
The proximity to the USA and Silicon Valley makes Mexico a technology hub. Anything that gets introduced in silicon valley gets reflected in the nooks and corners of Mexico and this can be an added advantage for businesses outsourcing from Mexico. Futuristic technologies like Artificial Intelligence, Machine Learning, Blockchain Technology, etc are delivering groundbreaking solutions and to avail of that, one should closely associate with Mexican software outsourcing companies.
Figuring out the top software outsourcing agency in Mexico
Though there exists a wide range of software outsourcing agencies in Mexico, not every agency can serve the purpose with utmost accuracy. One needs to consider several factors into account prior to hiring software agencies in Mexico. Let us no see in brief, what are some of the most common factors.
Hands-on experience
With experience, comes the capability of addressing and tackling key business challenges and complex hurdles. In their way towards associating with top software outsourcing agencies in Mexico, one should take into account the experience of their partner. This can help customers in availing services that are not only potential but also less prone to errors and bugs.
Customer testimonials
Reach out to the past and present set of customers of the respective outsourcing agencies to figure out their true potential. Doing so will help you in staying ahead of the end-to-end expertise of the agency. One should never ignore this factor as it holds a high degree of potential.
Technology Mastery
One of the main peculiarities of an ideal software outsourcing agency in Mexico is its end-to-end mastery over futuristic technologies, their adoption, and their implementations. Technologies like Artificial Intelligence, Blockchain Technology, IoT, AR/ VR, MR, etc are covering a major portion of industries right now and organizations should take their integration to account with utmost accuracy. To put that into perspective, they should look for organizations that let them integrate these technologies with no hassles and bustles involved.
Portfolio
The portfolio of an organization has to be enriched with potential projects and this can speak louder than words. One should go through the portfolio and by doing so, they can analyze the quality of the works delivered by the agency.
Delivery time
One should consider the project delivery time with utmost priority. The market is highly vulnerable and competitors are doing the best they can. Any delay caused in the delivery can result in losing the market edge which will affect the business adversely.
Budget
Budget always remains a constraint and organizations need to go for software development agencies that quote less for full-fledged project delivery. One may have to do a handful of research for finding such agencies, but it will be worth it.
DxMinds Technologies- the best software outsourcing agency in Mexico
Your search for a reliable software outsourcing agency in Mexico ends up figuring out DxMinds Technologies. DxMinds is one of the leading product engineering and resource augmentation agencies in Mexico dedicated to serving a wide range of global customers with utmost accuracy and potentiality. The end-to-end mastery over futuristic technologies and enriched resource pool make DxMinds the best software outsourcing agency in Mexico. Highly skilled technologists at DxMinds analyze your business requirement in detail and come up with the most precise solution that addresses your complex business challenges. A wide array of engagement models such as offshore development, nearshore development, Build Operate Transfer, Turnkey, and co-owned projects, etc are the key factors that highlight the potentiality of services delivered by DxMinds Technologies.
FAQ
What makes Mexico a hub of software outsourcing?
Some of the key factors that make Mexico a potential outsourcing center are the seamless availability of enriched resources, well-built infrastructure backing outsources, government support, etc.
How to find the best software outsourcing agency in Mexico?
One needs to put in quality research to figure out the top agencies in Mexico. However considering a few metrics like portfolio, budget, technology, etc. will help land on the right partner.
Which is the ideal agency to go for software outsourcing?
DxMinds Technologies is one of the topmost software outsourcing agencies in Mexico that offers top-of-the-line services to global customers.
What makes DxMinds the best?
Proximity to futuristic technologies, enhanced integrations, and implementations, out-of-the-box thinking, agile development methodologies, etc. makes DxMinds the best agency in Mexico.