October 23, 2020
Posted by:

Admin

Category:

Outsourcing and Offshoring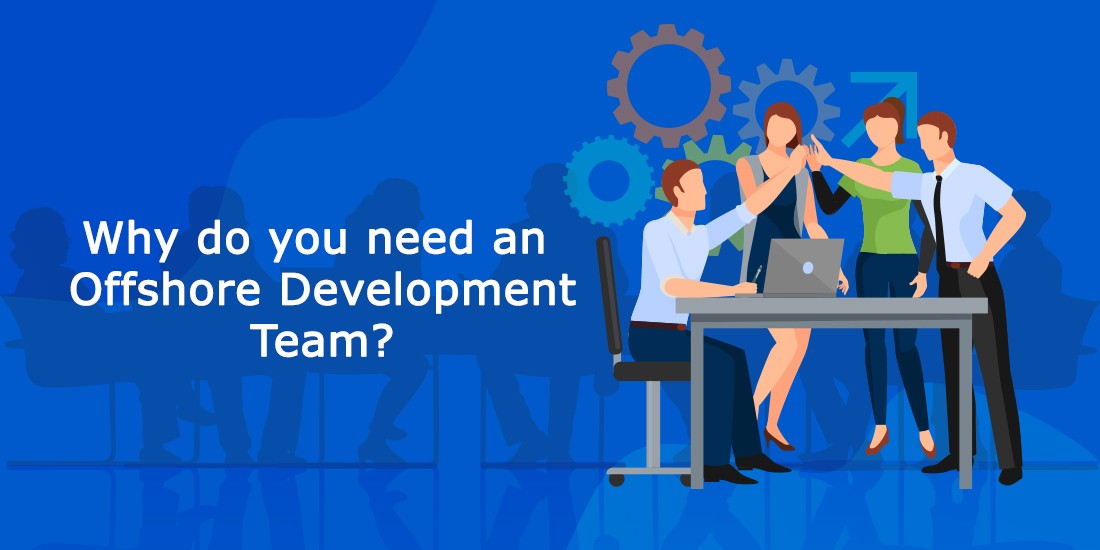 Technological development is bringing a frequent transformation in the Information and technology world, and the companies offering software development are hitting hard to stay ahead of the competition with the most innovative ideas and unparalleled creations. Most software companies are looking for top professionals with excellent and prominent skills, but most of them are having less-skilled developers. Offshore development centers have provided a way for software companies to get the best team based on their preferences and requirement at the least possible cost. The approach of Hiring offshore developers has widened the ways for recruiters to go worldwide and get the best team for their accelerated business growth. Offshore development services are undoubtedly a long-lasting trend and have generated a drift all across the world and are transforming the existing business models for a plethora of software development companies. Most companies from various corners of the world are heading toward India to hire offshore dedicated developers. 
Most of the companies looking for a professional team for software development may first think "Why hire an offshore development team when we have got the best native professionals?" If you are also one among them and are stuck in the dilemma of hiring a native team or offshore dedicated developer for your software development, then you are on the right page. Here, we will discuss the pros and cons of hiring offshore developers and native developers. Also, you will get to know the distinct latest technologies that are mostly offshored from different countries at cost-effective packages.
Hiring offshore developers in India V/S local team: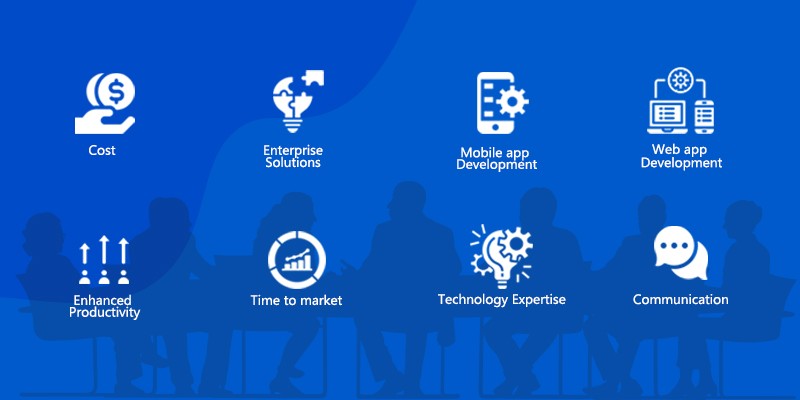 The study depicts that approx. 46% of start-ups fail to establish their steps in the professional world due to the investment shortage. To run all the business operations smoothly a company requires human resources with various skills. Hiring a huge team for business operations consumes a major part of the investment. Hiring a local team for software development is time and capital-consuming too. The in-house team will have permanently paid employees, and also within the same country, professionals may demand higher payoffs. Instead, opting for an offshore development team will assist you in saving your time and cutting down expenses by searching the best talent from other countries with feeble economies and salaries.
For any organization, time is money, and when it comes to a start-up building a new team and getting them on track with development takes a lot of time. It is a complete waste of time and money too. Offshore Development Company can assist you to cut down the time investment as they have ready-to-go teams already set with the specific technology you are looking for. Hence, hiring an offshore development team can assist you to double the productivity of hiring a fresh native team.
Setting a new team to work together will consume an extended time to select the team, set work among them, deploy, and market the product. On the other hand, hiring offshore developers will be quick with an agile software development approach that allows you to keep a detailed eye on information about product development.
Seeking prominent and prolific talent in limited geo-location will limit your options too. Going for an offshore software development center will offer unmatched and endless talent. There are several countries offering offshore development teams in the most affordable prices, and each country has a wide range of options for you to select the best team based on your present requirements and work conditions. Each time you develop an app, technological requirements differ based on the end product and its purpose. With an Offshore development team you never need to compromise on technologies, each time you develop a new app you have the liberty to choose the best team based on your technological requirement.
Most companies opt for the local development team compromising the work quality due to communication issues. The major benefit of offshoring a team over outsourcing the project is that you have a complete hold over the team and you can get into the process to understand the development level of your project. Now you also have the best project management tools that will allow you to keep a track record of unit developments and get connected with the entire team flawlessly, regardless of the distance and geo-locations.
IT Services offshored To India are listed below:
The frequently changing technological world is now using several technologies for developing new software and websites, each with unique ideas and features. In developing such splendid and inexperienced software, unsurpassed skills, and vast experience is required. Offshore Development Companies in India offer the most proficient teams with a plethora of skills and thorough knowledge of the latest tools and technologies. Most of the IT services that were offshored to India are listed below:
To satisfy the trending market requirements and attract techie customers, you may require the most tempting and unique website that reflects your business objective appropriately. Hiring offshore developers will facilitate you to develop a website with the latest technology giving a comprehensive transformation to your business. The top technologies which offshored for website app development are:
WebAssembly:  This technology can be considered one of the closest companions of JavaScript and allow the developer to develop a rapid website application such as games, video altering, CAD applications, data transferring, and more.
Movement User Interface (UI) Design: It's a show-off world where creativity companionate with quality equally when it comes to grabbing the attention of targeted customers and holding them for a long tenure. With movement user interface design, the designers assist you in developing the most creative and pleasant motion designs used to guide and enhance the user's experience. Using such a user interface you can convey the messages about your brand more potentially and interactively. To add more value and creativity to the user interface, you can also add animations to your graphics using MUI designers.
Chatbots: Giving manual assistance to all the clients at once is nearly impossible, but keeping them in the queue for a long may reduce the quality of your brand by reflecting a bad client administration and result in business loss. Chatbots have emerged as a one-stop solution for products as well as service-based companies. It assists them to accommodate more customers at a time and offers them relevant automated answers to their queries. Hiring offshore developers can assist you in developing a prompt chatbot using natural language processing (NLP), Artificial Intelligence (AI), and machine learning (ML).
Artificial intelligence: Artificial intelligence or man-made brainpower is a technology with which machines developed the ability to think, analyze, and make wise decisions based on the provided conditions. In this competitive era, most businesses all across the world are looking to automate their various operations and reduce human resources to cut down expenses and also to lessen the error possibilities to zero. Whether you hospital or checking the hospitality domain, each sector is incorporating software boosted with artificial intelligence.
Dynamic web apps: The appearance of an application is not pre-determined, and is dynamically designed using the app logic board. The appearance of an app is implemented on the server side. The architecture of an app is designed and tested using dynamic web apps by applying various case studies and development approaches.
AMP: Versatile agreeable sites were discovered by Google and since then it is determined as the best and most significant website architecture. Here, Accelerated mobile pages are playing a crucial role in giving distributed web traffic to the websites. AMP is an open-source HTML framework developed by Google. The main objective of this framework was to accelerate the page speed and help the web page to load faster on mobiles and screens.
Have a mobile app development idea, but hiring a native team is going off your pre-decided budget? The offshore development center in India can serve you with the most professional and highly experienced mobile app development team in lesser packages. The offshore development team will be able to give you the required app with enhanced features and functionalities. Whether you are looking for a native app development team or a cross-platform app development, hiring offshore developers will be a one-stop solution for your entire search. The top technologies used by the offshore software development team are listed below:
Flutter: It is an open-source mobile app software development kit used by the best mobile app developers for developing excellent quality cross-platform native interfaces for Android and IOS platforms. The programming language used by Flutter is a dart that offers flexible app development facilities. Top and renowned companies have used this technology to develop their apps, such as Xianyu by Alibaba, Google ads, and many more.
Java: Java is an official Android app development language and is open source with a vast library; facilitating developers to develop a customized and top-notch mobile app. Using Java language TestNG and Log4J frameworks are developed. Apart from these frameworks, a few more applications developed using Java are VLC media player, telegram, SeeWeather, and more.
Python: Python is one of the most opted programming languages that allow faster development and deployment of mobile apps. Several mobile apps have been developed using Pythons, such as Instagram, Youtube, Pinterest, SurveyMonkey, and more. There are several robust qualities offered by Python programming languages, such as excellent library support, strong integration, elevated control capabilities, and more.
Swift: This is one of the new open sources of the programming language used to develop apps for OS X, IOS, and tvOS. It is more flexible and offers excellent features to develop a top-notch app. The most renowned social media platform like LinkedIn and other apps such as Lyft and Hipmunk are developed using this technology.
React Native: React Native is a widely used mobile app development technology developed by Facebook. It is an open-source technology and is used to develop cross-platform apps by using React JS and JavaScript. ReactNative allows a developer to imitate a native app into a cross-platform app by developing it the same in appearance, use, and other features. Popular apps developed using these technologies are Facebook, Myntra, Airbnb, and more. 
Kotlin: This programming language is grabbing the interest of developers in recent times, and modern Android applications are developed using Kotlin. It is an advanced version of Java. Other than Java, there are other languages too that are highly influenced by this new technology, such as Groovy, Scala, Gosu, etc. Major apps developed are Pinterest, Coursera, Evernote, etc.
R programming: Machine Learning and data analysis are at the boom in this rapidly growing world. R programming is one of the best languages used for these top-notch technologies. It has an excellent and vast built-in library that facilitates you in building up robust machine-learning algorithms. Other uses of R programming are statistical computing and graphics. The advantage of this language is that it is easy to learn, develop, and deploy. 
The digitized world demands a high-end business solution to survive at the competitive edge and lead the existing competition. Businesses need to transform their operations into digital ones to leverage technological advancements for business development. There are several enterprise solutions offshored by the software development companies, such as consultation, maintenance and support, system integration, and more. These basic operations play a crucial role in extending the wings of your business into the relevant market. Offshore development centers can assist you in operating your business procedures flawlessly. To incorporate these technologies into your business procedures, you can hire offshore programmers and make them more cost-effective for your organization. Technologies used to develop the best enterprise solutions are listed below:
Cloud computing: Now, businesses are faster, more responsive, and highly ROI driven, hence requiring a platform that can count, control, and offer all the data related to the business anywhere any time. To satisfy business requirements, Cloud computing is offered the most opted way and allows the developer to develop business infrastructures that can directly coordinate using cloud computing.
Internet of Things: In the present automated time, the software is replacing humans. Within no time, all the software will connect, simplifying the work by intercommunication. The Internet of Things is allowing developers to develop such devices that can interconnect and communicate to perform tasks without any human interruption.
Artificial intelligence: The growing need for automation has made artificial intelligence a crucial part of business organizations. Offshore software developers assist you in developing an intelligent enterprise solution that not only automates your work procedure but also opts for wise decisions based on early studies, provided conditions, and other inputs.
Conclusion:
The ultimate reason for hiring offshore developers is to get the best services within the least capital investment. There are several countries where you may get the best talents weighing equal to each other, but the payments may vary with a wide range. It majorly happens due to the feeble economy of the county as compared to the other. Even in various countries where payoffs are least, you may get a pool of talents that can serve you with the best solutions based on your requirements. Most of businesses from all across the world take drift towards Asian countries, especially India, to get the best professionals with a master hand in the latest technologies with a lesser payoff.
Hire offshore dedicated developers are not just cost-effective but also helps you cut down your time investment in searching for a new team, time invested in deploying your product in the current market, etc. Other benefits of opting for an Offshore Development Company are extensive options to choose from, no recruitment fee or time investment, team flexibility, and more. Hiring an offshore dedicated developer facilitates you to opt for a professional based on your current requirement. Businesses dealing in various domains hire offshore programmers for multiple purposes, and most of those are web app development, mobile app development, enterprise solution development, and more. Experienced professionals from the offshore development center incorporate the latest technologies to serve you the best output and make your business touch sky-high level.