March 18, 2021
Posted by:

Admin

Category:

Flutter App Development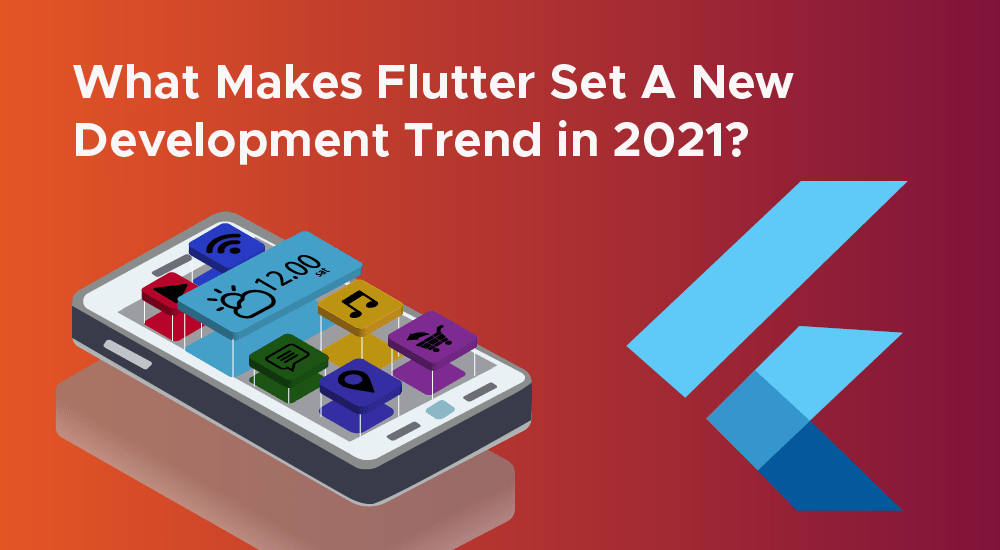 What is the most significant innovation at the moment? Yes, the answer is mobile app technology. With the increasing demand, many enterprises and businesses have started depending upon the mobile app development company to develop incredible apps.
But many companies fail to do so, due to some factors like selection of the wrong team, inexperienced professionals, ambiguous research, originality, technology-based growth.
Mobile apps have become the most important element of branding. Then these exceptional quality mobile apps can contribute to the success of a business organization. For getting an incredible mobile app, you have to work with a mobile app development agency that can bestow customer-oriented functionality upon the application. The mobile apps must be able to reach every niche audience. Hence selecting the right technology partner like the Flutter app development company is the prominent feature for proficient mobile app development.
Why Flutter?
In this ever-growing tech domain, it becomes a quintessential requirement to keep the innovative drive on and get the beneficiaries of faster go-to-market initiatives. It is essential to develop mobile apps in a fast manner, effective and continuous. There was a growing demand for a mobile app development framework that meets the ever-growing demands so that the organization can leverage the scale of the mobile application and can reduce the risk of obsolete technologies.
Due to this paradigm shift in the nature and purpose of mobile app development, there was a demand for a framework that is fast, effective, and supports cross-platform. You can reach a niche audience with attractive and intuitive UI. You can save huge amounts on development, deployments and time.
Launched in the year 2017, it is still a pioneer in the field of cross-platform mobile app development. It became a hotshot technology in the field of mobile app development companies in the year 2020. As the facts prove that the Flutter is going to dominate in 2021 due to its functionality and exclusive benefits. Flutter is considered to be one of the fast-growing mobile development tools.
Why Flutter app development company has become the latest trend?
Flutter offers easy and simple methods to start building incredible apps with its rich set of widgets and behaviours. Flutter implements platform-specific scrolling, navigational patterns, fonts, and more.
Speak to The Expert
Benefits of cross-platform app development framework:
Supports stock platform app development
Incredible designs
Support for storage, camera, location, network, and a lot more.
Cross-platform development
2D mobile app support
Let's dive into the features of Flutter: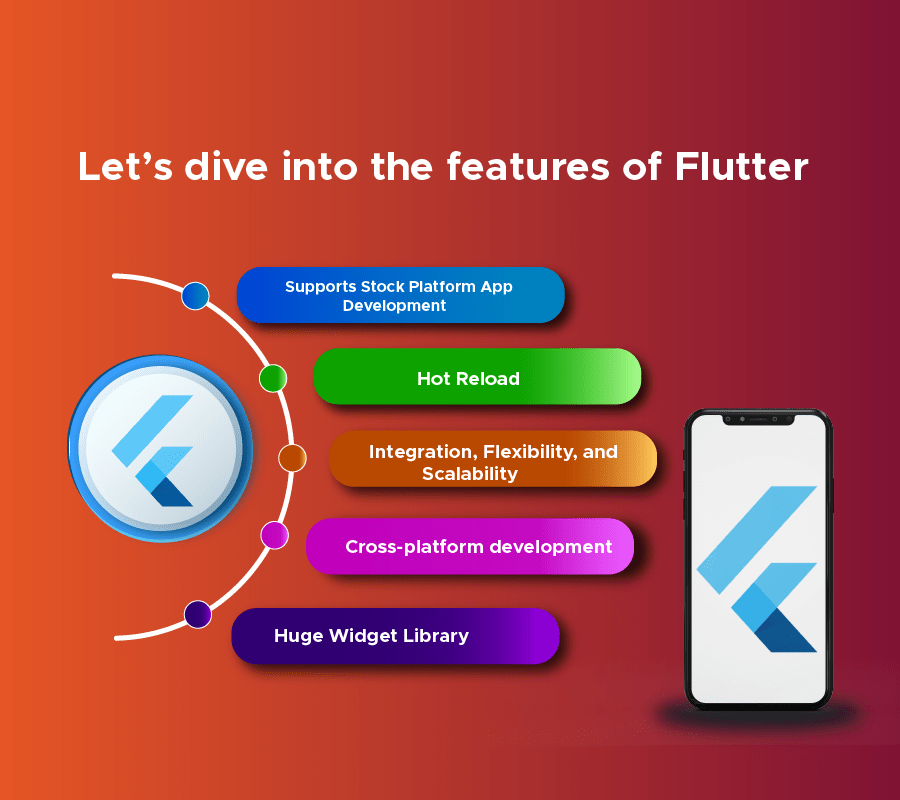 Integration, Flexibility, and Scalability
With it's easy to access and easy to integrate framework, Flutter offers enhanced flexibility, integration, and scalability capabilities. If you are in requirement for reengineering a legacy application to match the current and future market needs or you require to quick wireframe to present to the investors.
Hot Reload
If someone wants to change the code to reflect on their screen, they have to wait a lot, but with Flutter app development. The Flutter app developers get to save time, money, and efforts to render a change in sub-seconds. The Dart Virtual machine makes a widget tree so that the code with the change will only be reflected while the current state of the application will be still the same. The developers can view the effect of the change without making any change affecting any of the simulators and hardware.
Cross-Platform development
Flutter supports cross-platform development, hence you don't need to write the code, maintain and use it for developing apps for the platforms. With the help of Flutter app development, you don't need to develop a different code for a different platform.
Huge Widget Library
The most important reason for people to utilize Flutter is the inbuilt impeccable ready to use widgets. Additional to the huge collection of widgets, it also has animations that can be easily selected to make your application interactive and effective.
The selection of widgets can be based upon the platform, nature of the application, geographical location. The widgets in the Flutter platform make the processing of the mobile app. Moreover, it also helps us to make it more acceptable to the niche audience, as it can be available according to the preferences of the users.
Native Performance and Internationalised Flutter Libraries
When you opt for Flutter app development, you can get access to the number of widgets that are based upon the platform differences of Android, iOS, and Google Fuchsia. These widgets can easily integrate all the platform-based functionalities such as scrolling, navigation, icons, and fonts.
Are you looking out for a company that does enterprise application development? Then you must opt for Flutter app development, it offers a native experience based upon android or iOS and it also helps in developing standardized and effective UI-based apps.
Hire Flutter app developers helps to craft and modify the UIs of the application based upon the customer's preferred language. Flutter app development company offers an easy and delightful experience with the help of Flutter's native codes, third-party integrations, and platform APIs.
Hire Flutter app developers to get easy access to the native features and SDKs on both Android and iOS platforms. Moreover, it can reutilize the widely used programming language such as Kotlin and swift. The features of camera and geolocation help the customer to utilize Flutter app development companyin the native language.
One –in-all solution
Flutter app development company offers a great solution to deploy, develop and manage UIs. In case, if you find any bugs or changes, Flutter can be easily used. Flutter app development company framework allows the developers to keep them in all the non-technical personnel and let them supervise the development.
Book an Appointment With Experts
Identical UI
Flutter app development company allows configuring UI such as colors, lighting, and graphics. It's possible to change the business world without changing the code in the Android and iOS applications.
Supports MVP strategy
A Minimal Viable Product is a great idea to validate a business idea. It offers you great help in preventing your business from several failures as you can get feedback and customers' requirements. Due to its special features like speed, ease of integration, and flexible UI, top flutter app development company has become the best choice to create a mobile MVP.
Are you a business owner or do you require to demonstrate the presence of one to potential investors, then you must get in contact with developers with expertise in Flutter? Flutter app development company supports MVP strategy, hence you can save time and money.
Supports Google platform
Since Flutter is a product of Google, you don't have to doubt its competency and proficiency. Flutter is Google's best SDK for creating comprehensive, native apps which operate from a single codebase for cloud, desktops, and mobile technologies. With the support of Google, Flutter offers an enhanced UX and build platforms that every company and developer can utilize to its best.
Customized designs
If you hire dedicated mobile app developers who have experience in Flutter then you will be able to develop simple widgets or customize the ones. Hence the developers can develop staple apps in a hassle free manner. The top mobile app development company helps you to get the attractive designs.
Highly responsiveness
Apps built with Flutter software can be easily run on any present platform properly functioning without making changes to Dart code. Flutter app development company has already moved forward from mobile and web opportunities which are already actively used.
Animated UI for complexity
With the best Flutter app development company, you can combine a complex UI that can be used in the same way on different versions of operating systems. Since Flutter offers a myriad set of handy animations which can be easily implemented with Flutter's animation support, you will have a great appealing application. Moreover, you can make changes in the application's customized view.
Flutter technology allows the UI patterns to reusable widgets. This cross-platform UI framework eliminates the requirement of different UI properties such as colors, styling, etc. You can hire Flutter app developers to edit the code and make changes in UI for both iOS and android Flutter apps. Flutter app development company makes the process more flexible and versatile without adding to the workload. With several appealing features like shared element transitions, shape color shadow manipulations, clipping transformation – Flutter allows you to perform all of these effortlessly.
Saves time
Owning to the hot-reloading feature of Flutter technology, you can save time on deployment like in other programming languages. On an additional note, you can fix bugs, build UI, and add new features with no compromise on speed and development which leads to the amount of time saved.
GPU rendering UI
The top Flutter app development proves to be crucial in designing graphically enhanced apps for mobile devices with an inbuilt feature of GPU- rendering UI.
Rendering Engine
Flutter allows multiple options, but all this is possible with a strong engine. It requires the Flutter framework to be powerful so that these cross-platform functionalities can be supported.
Flutter utilizes Skia for rendering itself onto a platform-provided canvas. With a powerful engine, UI built-in Flutter can be easily launched on virtually any platform. With the help of Flutter app development, you can adjust UI to transfer it to a platform and hence simplifying the development process hugely.
Go Beyond Mobile
With the help of Flutter, you can go far beyond the Flutter app development on mobile. Flutter is now utilized for Web and Flutter Desktop embedding. For instance, on the occasion of this year's I/O conference, Google presented a technical preview of Flutter functioning on-screen without modifying the source code.
Increased time to market speed
Flutter development framework functioning time is quicker than its alternatives. In most cases, the development time of the Flutter app requires at least two times fewer man-hours as compared to the same app development time in separately Android and iOS.
You can guess the reason behind this as you don't have to write any platform-specific code to achieve the desired visuals in your application. Hire Flutter developers to design any 2D-based UI without any interaction with native application development.
Native App performance
For a good company UX, application performance plays a crucial role. Flutter's application performance in most of the cases will be most similar to the native applications and in other words, it can be better in complex UI animation scenarios.
Flutter doesn't rely upon the intermediate code representation or interpretations, unlike various cross-platform frameworks. Hire Flutter app developers to build Flutter application directly into the machine code, which eliminates the debugging process in the interpretation. If you are waiting to get the application, then it can be eventually released ahead of time with Flutter app development.
Simplicity at its best!
In addition to the UI, there are many real life mobile applications like advanced OS-level features, fetching GPS coordinates, Bluetooth communication, gathering sensors data. Working with credentials, permission handling.
Many of these applications are already available during the development stage through a ready-to-use plugin supported by Google.
In case, your application needs to rely on an OS-level feature that is not available as a plug-in. But don't worry, you can hire Flutter app developers in India to access a hassle-free manner of establishing the communication between platform -native code and the Dart through platform channels. Hence you can keep an eye on the Flutter app functionality.
Same UI in every platform
Generally, a cross-platform framework offers a way to codebase between the target platforms. But Flutter proves to be a different one that allows the sharing of both the UI and UI code besides Flutter.
The kind of rendering process leads to the development of an app that looks native on every platform simple. Relying on platform-specific components for the rendering process provokes a requirement for a property mapping layer for the platform widget and a framework widget data synchronization also.
Since Flutter doesn't require any platform-specific UI components to render its UI. The only thing Flutter needs to show the application UI is a canvas to draw onto. The way of rendering for Flutter makes it a hassle-free task to reduce the issues related to UI consistency on different platforms.
Sharing the UI and business logic proves beneficial for the flutter app developer to save time, effort while affecting the performance of the product.
The Conclusion
From these above-mentioned points, it is clear that Flutter has brought the biggest revolution in the cross-platform development world. These addictive features make Flutter app development company competitive for the position of best mobile app development technology and platform.
Flutter is here to stay and evolve in the coming years with the growing market demands. Gradually it has become the best framework in the field of mobile applications. Flutter has several attractive features. For instance, Flutter app development requires less time and testing time too. Moreover, a Flutter based application runs faster than others
It saves time by increasing the speed of development. By utilizing a codebase, you can develop a cross-platform for both the web and mobile platforms. These amazing features of Flutter let the Tech Giants like Google, Alibaba, Tencent, and many other big companies have utilized Flutter technology to built mesmerizing UI.
In case, you are going to consider Flutter for your app development, get in consultation with DxMinds, interpret your vision, and then develop with Flutter to bring you a flawless mobile application. Their team of experts has in-domain expertise in Flutter technology. They have a proficient team of professionals who have more than 5 years of experience in developing the Flutter apps. They adhere to agile methodology so that the project can be delivered on time. Their expert team offers 24*7 support to the clienteles, right from ideation to development to deployment. They have successfully developed incredible and versatile mobile apps by utilizing advanced technology with one intention of developing customized high-quality apps satisfying the customer's requirements and giving world-class solutions. We have been developing web apps, websites, native mobile apps, cross-platform apps, and more.
Get a Free Quote
Popular Posts: