May 3, 2021
Posted by:

Admin

Category:

Food Delivery App Development
In this critical time of Covid-19, where people are complying with social distancing, getting their necessities at home is a basic requirement to lead their lives ahead. In this pandemic time, most of the folks are looking for services that can connect with the service providers online. The surge of online delivery is increasing, not only for groceries but for other essentials also. Instead of visiting any supermarket, now people prefer to get all the options of available products online and place an online order with a home delivery option. Are you also an entrepreneur selling essentials then developing an on-demand hyperlocal delivery app to serve your customers will be an effective solution? Then you must first know what a hyperlocal delivery app is and what it can do for you?
What is the hyperlocal delivery model?
The name hyperlocal itself suggest going local in your business. This business model is used for a specific demographic, to serve customers of specific locality by taking orders from their customers and delivering their requirements on the same day. This delivery model is explicitly designed for the local offline stores to cater to the requirements of customers in the shortest possible time. In recent days, there is a higher demand for hyperlocal delivery app development for services like medicine, grocery, laundry, etc.
Free consultation request
How does a hyper-local marketplace work?
Such a delivery model work to serve multi-dimensional solutions helping various businesses to explore available opportunities and grow further. If you are willing to understand the role of the hyperlocal delivery app in brief then continue reading.
The hyper-local delivery app is developed with the infrastructure of already existing offline businesses to give an online platform to bring it online. Two major categories of hyper-local app development are listed below:
Services it can cater:Laundry service, logistics, grocery, medical, and other services.
Delivery options:Instant delivery of options at the doorstep within the minimum possible time.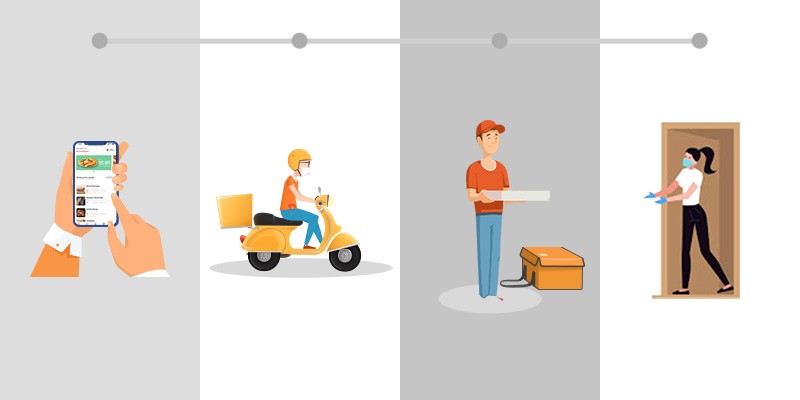 There is a big operational gap between services offered and delivering it at the doorstep. A hyperlocal delivery app can act as a bridge between the service providers and the buyers. This can be done by interlinking technologies and giving a robust supply chain management solution with e-commerce app development.
What doeshyperlocal delivery app development must include?
Navigation system:
With the emergence of the latest technologies like location tracking, now businesses can leverage the power of smartphones to track their locations. To develop an effective hyperlocal delivery app, mobile app developers integrate the best navigation systems that can provide accurate details about the store and the buyers too. Using this feature, buyers can find out the nearest store and stores can also detect the accurate location of the buyer to deliver their orders.
Online payment option:
To start with an e-commerce portal it is important to incorporate an online payment option that can give a cashless payment to the customers for a successful placement of order. This gives speed to your customers and allows them to access your complete services instantly.
E-commerce platform:
One of the most basic elements of a hyperlocal delivery app is an e-commerce platform that can help you take your store online by reflecting every product available at your store. It is one of the most critical and important parts of the on-demand hyperlocal delivery app development, as it constitutes the communication channel with employees, clients, and also suppliers.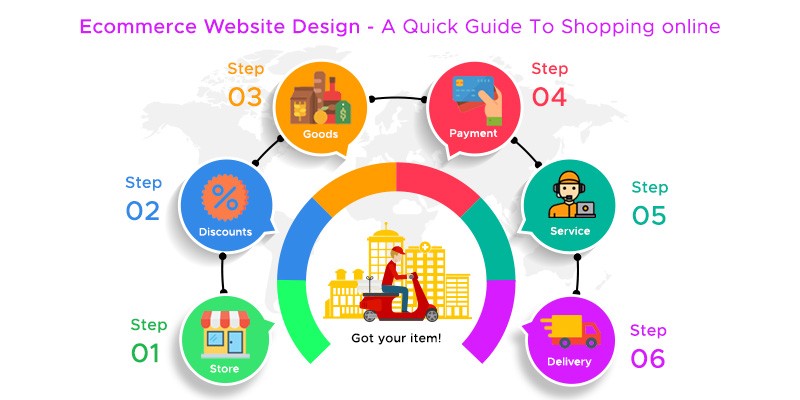 Supplier relationship management:
The hyper delivery app also comprises a supplier relationship management platform where the registered suppliers can easily upload their products to the portals. It helps the store owner to connect with their suppliers easily and refill their inventory.
Customer relationship management:
Another important component of ahyperlocal delivery mobile app is a customer relationship platform that helps the local stores to establish successful communication with the customers. The ultimate intention of hyper-local software development is to cater to the immediate requirements of customers and serve them with instant solutions. To do this, knowing your customer and understanding their requirements in depth is very crucial. Hence, customer relationship management is a crucial element of this app.
Logistics and Shipping:
Delivery of the ordered products is the final service for which a hyper-local delivery mobile app is developed. To conduct the logistics and shipping with accuracy you need a tracking system in the app which can be used by customers to know the status of their order and your logistics provider too to track the location of your customer.
Supply chain models required for the hyper-local business:
The supply chain of a hyperlocal market comprises three major users, and they are:
Suppliers
Hyperlocal players
Consumers
Hence a hyperlocal app needsa different dashboard with specific privileges. Hence the three models which are required to develop an effective app are defined below:
Inventory led model:
Under this model, you can directly keep in contact with the suppliers and manage your inventory by dealing with the particular brands without any third-party role. With such a model you can directly keep a track record of inventory requirement and inventory pushed to the portal.
Aggregator model:
It is a model where you don't have to manage any inventory manually; rather just play a role of a facilitator. The aggregator model resembles the Uber business model, just like Uber doesn't own any vehicle but all the registered vehicles run for the same company. The company just distributes the demand coming from the customers to their nearest cab.
Features required for a hyperlocal app:
The core features that are required for hyperlocal delivery app development are listed below:
Signup/ Login: A basic feature that is required for any app panel is the facility to login and signup with the basic details that allow the app owner to understand their customers better. To make the process much faster and easier, you can also integrate an option to login or signup using social media credentials.
Store selection:It offers an option to the customers to select the store of their choice based on their requirements and the products it offers.
Filter-based location:Setting GPS tracking is the most basic requirement for an e-commerce portal. As a hyper-local delivery app, including a filter that allows the customer to get details of stores from specific locations serves better to the customers in locating the right store near their locality.
Fast shipping solution:The hyperlocal delivery app is developed with an option to select the date and time based on their convenience along with the option to choose the type of logistics or transportation they prefer.
Delivery tip: The pandemic situation is restricting everyone from stepping out of their homes, here logistic providers act as a hero who comes to our doorstep with our essentials. If you wish to support these delivery boys with a small token of appreciation, you must add an option to pay delivery tips for those heroes.
Seller's dashboard panel features:
Options to add new sellers: This option allows new sellers to get registered with the portal by entering a few details required by the portal administrator.
Product management:It allows the sellers on the portal to add or remove products from the list based on availability. It also allows the sellers to edit the description of the product to give detailed information about it.
View orders:Using this feature, the seller can view and manage the order received from the customers to fulfill it within the given timeline.
Analytics: Tracking the sales and revenue is very important for a business to know its success rate. Adding analytics to the portal will allow the seller to understand and track the above-mentioned elements and plan the best strategies required for success.
Customer's dashboard panel feature:
Live chat: With the help of the live chat option customers can chat with the sellers and can clarify their doubts and queries if any. This option gives an immediate communication channel to the customers to connect with the sellers.
Push notification: To inform customers about the latest updates, push notification is a crucial feature.
Order history: Customers must stay informed about their previous orders, transactions, billing details, and other details related to the order.
Multiple payment options: Several online and offline payment options are available these days. Adding an option to pay using different payment methods will allow customers to make their payments convenient.
Reviews and rating: Adding reviews and rating features will allow the customers to share their experience with certain sellers and products. This will also allow other customers to know about the seller and products.
Conclusion:
To combat the pandemic situation and develop a robust connection between local stores and customers who are looking for those services, hyperlocal delivery app development is the best solution. Most of the local stores are looking for mobile app development companies in India to get a one-stop solution that can take their business ahead without any sprints. Are you also struggling with the business due to Covid-19, then remove the distance between your services and targeted customers with a successful hyperlocal delivery app.
Get in touch with our experts
Popular Blogs: