March 18, 2021
Posted by:

Admin

Category:

MEAN Stack Development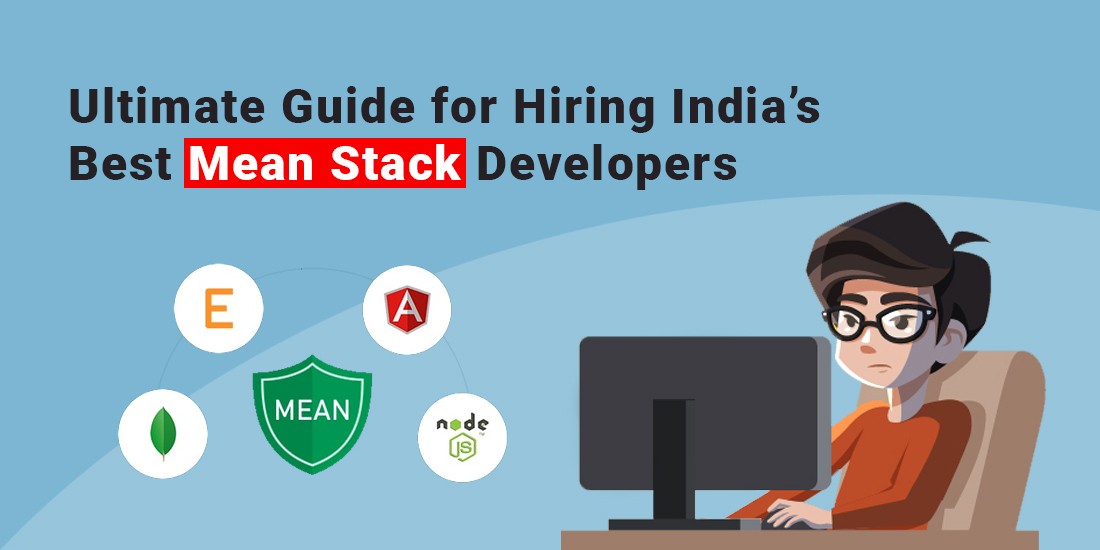 Nowadays every business is focusing to revolutionize digitally either by leveraging the solutions from overseas development firms or by hiring remote developers.
However, when it comes to hiring Remote Developers it is a very challenging and troublesome task to execute, as a high percentage of Indian Programmers are outperforming in both technical and logical skills but undoubtedly you will stay on top of the innovative game more than your compotator.
In this technological realm, the Mean stack development is sparkling in a couple of years specifically since the United States Bureau of Labour Stats predicted that the growth for mean stack developers would exceed 8,53, 000 by 2024. Those who are dreaming up to build powerful software and applications with a combination of languages should be well informed about the crucial factors when going to hire mean stack developers, especially in India.
To help you in hiring Top Mean Stack developers in India we have appeared with a detailed guide that will describe all the major aspects related to Mean stack development from the definition to finding and hiring skilled mean stack developers in India
Let's delve into this informative blog with basic queries
What is Mean Stack?
Mean Stack is a set of open-source JavaScript software stacks used for the creation of dynamic websites and applications rapidly and effectively.
As the components of Mean stack support programs are framed with JavaScript which implies Mean-based applications are written in one language for both server and client-side environments.
This programming language is easy to learn and can be used to build sophisticated applications and websites.
If you are looking to build your fantasied applications by employing this compelling framework at budget-friendly cost then highly it's advisable to hire experienced mean stack developers from India because they possess great knowledge with experience in all demanding programming languages and frameworks.
So let's be highly attentive toward Mean stack developers.
Speak to The Expert
What is the abbreviation of each component to MEAN?
This powerful framework is made up of four fantastic and user-friendly technologies they are MongoDB, Express.js, Angular.js, and Node.js.
Asper the three-tier model, the framework stack is formed logically. The Angular JS framework is enclosed for client-side coding then comes Nodejs which is used for server-side scripting followed by Expressjs a framework of Nodejs and finally the database layer defined by MongoDB.
Remember while going to hire dedicated Mean stack developers in India evaluate their skills in all 4 frameworks then only your applications are being developed perfectly.
Here we proceed with complete details about this Framework
M- MongoDB
The part of the database in the Mean stack is represented by effective MongoDB a NoSQL database program that makes use of JSON-like BSON documents with the schema.
Written in C++, Python, JavaScript, and Go.
MongoDB is highly recognized for its performance and storage benefits and offers full management for an immense amount of data and information.
It has the capability to handle a large quantity of unstructured data.
E-Express.Js
Express.Js is imported for the backend web development purpose, as it is well known and has the required potential to act smoothly between a database and the front end and even manages the operations very effectively.
The amazing framework limits the developers from rewriting the variables implying they can't redefine the variable that is used earlier which helps in saving a huge time and money.
A-AngularJs
The most popular JavaScript front-end framework is used to develop the user-facing end of the application.
Invented by Google to oppose the challenges faced while building single-page applications.
It empowers the mean stack developers to create web-based applications smoothly as it is an ideal front-end framework that provides well-tuned performance for both mobile and desktop.
Node.Js
Be more attentive towards this framework when you hire dedicated mean stack developers in Bangalore India as it is essential and acts as the backbone that is connected to the other three stacks.
One of the best tools for building real-time and light-weighted applications as it completely runs on JavaScript.
This highly rated framework has an inbuilt web server that makes it easy for to the deployment of MongoDB database on the cloud
Who is a Mean Stack Developer?
In simple terms, a Mean stack developer is also a full stack developer having depth knowledge and skills in different programming languages and stack-based frameworks.
A Mean stack developer has expertise in MongoDB, Express.js, Angular.js, and Node.js stacks with proficiency in utilizing Javascript, HTML, and CSS for executing front-end operations and back-end server scripting.
They are also known as JS-based application developers as everything is meant with javascript
Skills to Look into a Mean Stack Developer
Proficiency and experience in HTML, CSS, and JavaScript programming languages
Great understanding of client-side processes and requirements
Basic knowledge of server-side processes and requirements
Understanding of Mean stack workflow and architecture
Mean stackability to work on Angular js,Node.js,Express.js and MongoDB
Required Knowledge of Git and design frameworks like MotionUI
Time Management, Critical thinking, and communication skills are needed
Steps to Hire Professional Mean Stack Developers in India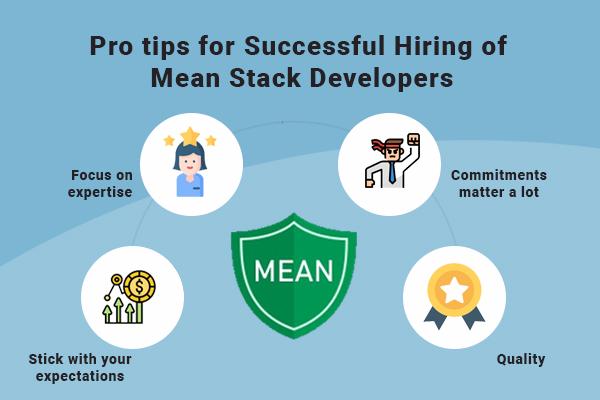 Specify your requirements accurately
This is the most crucial step where you should make a list of required mean stack skills that you will be looking for from an ideal candidate.
In the list, you can mention tech stacks, knowledge of frameworks (Mongo DB, Express.js, Angular Js, and node js), tools, experience, personal skills, and more.
Make sure the list is well-defined and clearly detailed so that it easily reflects the kind of requirements you are looking for.
Filter out the list with "must-have" a way to deal with priorities so that you could only hire dedicated Mean stack programmers in India that have full potential to scale up your business.
Lastly, create clear Mean stack developers' job descriptions by mentioning the years of experience and other factors by utilizing the skills lists. Also, include the duties and responsibilities they need to undertake as per the position they get employed.
This step is the origin of the whole Mean stack developer recruitment process.
Go with the Systematic Interview process
The next step that arrives here is the Interview process. Plan an effective interview where candidates openly interact and engage with your questions.
Prepare the required query list that you want to ask
List down the technical topics related to Mean stack development that the candidate needs to work on
Don't miss the crucial questions even if time runs on
With this, you won't only miss out on the key parameters but the interview process also gets streamlined. The needed questions you frame assist you to picture out the candidate's skills.
Besides conducting a technical interview on each technology through which the MEAN Stack framework is formulated because those fundamental skills are non-negotiable.
Finally, you conduct a personal interview to understand their attitude and mindset to work with your company.
Challenging and Strict Technical Assessment
As you hire an offshore Mean stack developer from India you must be aware of their coding ability the most technical skill.
There are a lot of coding test platforms you can utilize for enlisting the right candidates such as HackerEarth, Codility, Talview, and more. Usually, it depends on your project requirements and development process.
They should be updated with best programming practices in order to provide exclusive solutions
The technical test implies programmers need to execute the coding task in real-time, a technique to analyze their technical and logical knowledge. Through this, you will be aware of their problem-solving approach, how they tackle roadblocks and closely understand their skill set.
Even you could include challenging real business cases to understand how strong they are in technicality. The tests shouldn't be so hard that the candidates run with no time.
Setup a Time-efficient Hiring Process
Countries like India and Ukraine are booming for providing quality-based and budget-friendly programming and development solutions. An effective hiring process is essential if you don't want to lose a good Mean stack of candidates because of unexpected delays.
Don't forget to give feedback after the interview performance whether it's positive or negative. It's highly suggested to intimate the interview results within 3 to 4 days. If not the candidates get frustrated which could make them give a bad review about the company.
Providing a detailed review of candidate performance depicts how professional a brand or company is.
Pro Tips for Successful Hiring of Mean Stack Developers
Focus on expertise
You must analyze the best qualities before hiring Mean Stack programmers for your project. The resource you are desiring to hire should be updated with industry-relevant programming skills and tools.
Look for Mean Stack developers who have a great experience, desperate goals, and the capability to understand your business.
Commitments matter a lot
No matter how experienced a candidate is but commitment matters a lot. By analyzing their past projects you can visualize whether they can stand for their words or not.
Stick with your expectations
You must be clear while expressing your technology-based requirements this will allow the mean stack developers to deliver top-notch services according to your specific project goals.
Quality
The success and quality of services don't depend on the country but on the people who build it so while selecting the mean stack developers to be highly attentive towards the quality and innovation they are going to offer.
Embrace the Right engagement models
Based on your project requirements focus on selecting the right engagement models for hiring experienced mean stack developers In India. With these engagement models, you could embrace services on an hourly, full time and fixed-cost basis. By leveraging these models you would pay only for the kind of services you get as per your project scope and time
How much salary does a MEAB stack developer abroad?
According to reports obtained from Indeed.com, au.indeed.com, and indeed.co.uk, the average salary granted for Mean stack developers in Australia is A$112,169/ and the highest recorded salary is A$208,000/-
In the United Kingdom, the average salary is €49,230/ and the highest estimated salary is €106,000/-
Whereas in United States is €111302/ and the highest recorded salary is €216,000/-
It also depends on other factors the salary fact differs based on the location, experience, and skills
Conclusion
Mean stack is blooming in the technology space for taking app and website development to the next level and it is the best approach if you want to have a strong digital presence. Most reliable and leading mobile app and web development companies in India are excessively utilizing mean stack technologies for building remarkable apps and websites.
If you are looking to develop enterprise applications based on this technology then recruiting mean stack developers from DxMinds would prove to be worth enough.
As each of our developers is praised for offering high-performance and exceptional apps blended with mean-stack technology
You can stay ahead by getting robust app solutions provided by our dedicated mean stack developers handling your projects. Get in touch with us if are willing to hire remote mean stack developers with great experience and knowledge.
Experts are Just a Click Away
Popular Posts: