MEAN Stack Development Company in Bangalore
Hire best Mean stack developers in Bangalore
Hire DxMinds Innovation Labs, the best mean stack development company in Bangalore to avail cutthroat mean stack services at an affordable cost. We deliver you precise and accurate Mean stack development services to make you stay odd from your competitors.
Why Mean stack?
Free and opensource frameworks
Flexibility and code reusability
Greater developer support community
Robust performance
Leverages Javascript
Enhanced libraries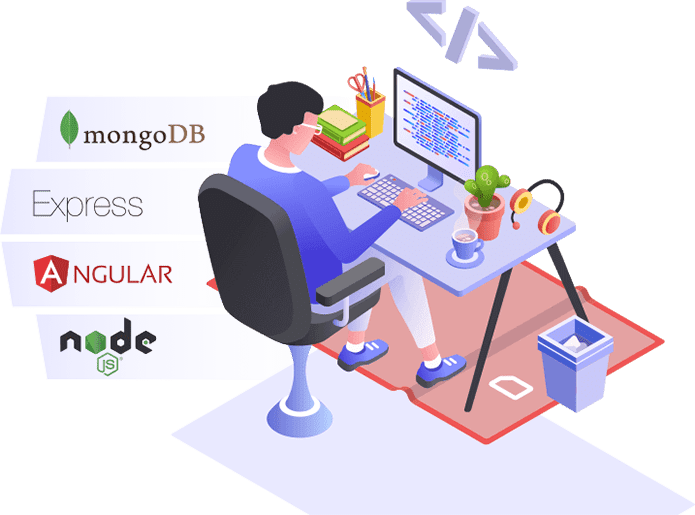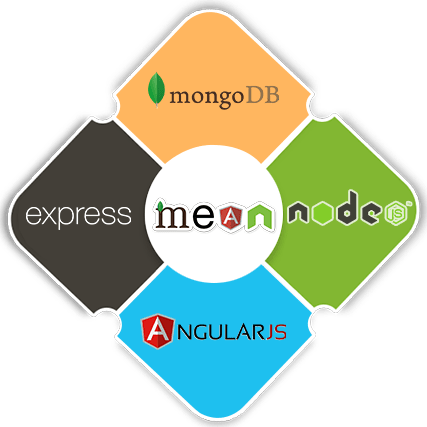 What is a mean stack?
The abbreviation of the mean stack is MongoDB Express Angular NodeJs. Mean stack has gained huge popularity over time among the developer community because of the advantages it has. The interest in the mean stack shows how potential it is when it comes to programming. The MongoDB, which stands for the m in the mean stack is a NoSQL database. Unlike MySQL or MySQL, MongoDB does not have any fixed schema. The data stored in MongoDB is in JSON format and is free and open-source software. Big companies like Facebook, SAP, EA sports, Google, etc are making use of MongoDB. The Express in the mean stack is a framework for developing web applications. Leveraging Express, one can build web apps with high features integrated to it. It is lightweight and is highly customizable. Express is used by companies like Uber, Myntra, Accenture, etc. Angular succeeds Express in the mean stack. It plays a major role in developing highly interactive mobile and web applications. It is an MVC framework for client-end applications. Angular is backed by the tech giant Google and is popularly used by Apple, Microsoft, etc. NodeJS leverages asynchronous programming and is highly developer-friendly. It is used by big companies like LinkedIn, Netflix, Paypal, etc.
Stay ahead of the game availing top mean stack development services in Bangalore
Figuring out the best mean stack developer can be tedious. But when you figure out the top mean stack developers in Bangalore like DxMinds Innovation, it's worth all your efforts. We are a one-stop solution for all your mean stack requirements. We impart quality services to deliver bespoke solutions to our customers. For us, the key driving factors are customer satisfaction and innovation, which we never compromise a bit in any aspect. Our exceptionally talented mean stack developers in Bangalore take you through the entire aspects of mean stack development, thereby helping you in availing a full-fledged service.
Our mean stack development services
Mean stack Web development services
We deliver impeccable web development services leveraging mean stack Our highly talented resources work seamlessly to deliver you the accurate mean stack web development services in Bangalore to keep you right on the track.
Mean stack mobile app development services
Our Robust mean stack mobile app development services in Bangalore are all you need to generate a fruitful business. We leverage state-of-the-art technologies to bring out the best in you. Our resources are the best when it comes to understanding your business in-depth.
Enterprise Mean stack development services
We help you develop high-end mean stack solutions that fit the best for your enterprise, no matter what industries does it belongs to. We have a team of highly talented Mean stack developers who are well-versed in developing top-notch mean stack solutions from scratch.
Mean stack E-Commerce development services
Master the art of taking your E-Commerce business to the next level by leveraging the best E-Commerce mean stack development companies in Bangalore. The precise services we deliver open the door to wider opportunities so that your business is given the right breakthrough.
Mean stack custom app development services
Mean stack and custom app development services go hand in hand and we are the top mean stack custom app development company in Bangalore. We aim to revamp your organizational operations by building accurate custom apps leveraging mean stack.
Mean stack CMS and backend services
Avail full-fledged Mean stack CMS and backend services right from the pioneers associating with DxMinds Innovation Labs. Our services are agile and robust and leverage state-of-the-art technologies.
Why DxMinds' Mean Stack services?
Highly skilled Mean stack developers
Faster delivery
Enhanced customer satisfaction rate
Agile studio
Cutthroat technologies
Budget-friendly quoting
Out-of-the-box thinking
Our engagement models
Offshore development
Turnkey
BOT
Mean stack development process at DxMinds
• One on One sitting
Realizing the fact that DxMinds Innovation Labs is the best mean stack development company in Bangalore, our client approaches us to fulfill their requirement.
• NDA
We value the privacy and confidentiality of our client ideas and we deal with it with a high degree of professional ethics.
• The Ideation
We make the blend a perfect one by delivering the necessary inputs at the stage of ideation. We give much importance to this stage that it is at the ideation stage the skeleton of the project gets formed.
• Design and development
Leveraging state-of-the-art technologies and best industry practices, we design and develop the project from scratch. Our domain expertise can be leveraged by our clients in making their projects a massive hit.
• Testing
We host the best testing labs and practices in the country. Also, we do have the best testers who carry out a diversified set of testing in a seamless manner.
• Delivery
The full-fledged product/ Solution gets delivered to our prestigious customer at the earliest without zero prone to errors or bugs.
Frequently Asked Question
The abbreviation for mean stack is MongoDB, Express, Angular NodeJS.
DxMinds Innovation Lab is the best mean stack developer in Bangalore with proven track records in developing successful mean stack solutions.
The delivery time purely depends on the complexity of the project. On an average basis, it will take up to six to seven months in developing a mean stack solution.