October 12, 2022
Posted by:

Admin

Category:

Chatbot App development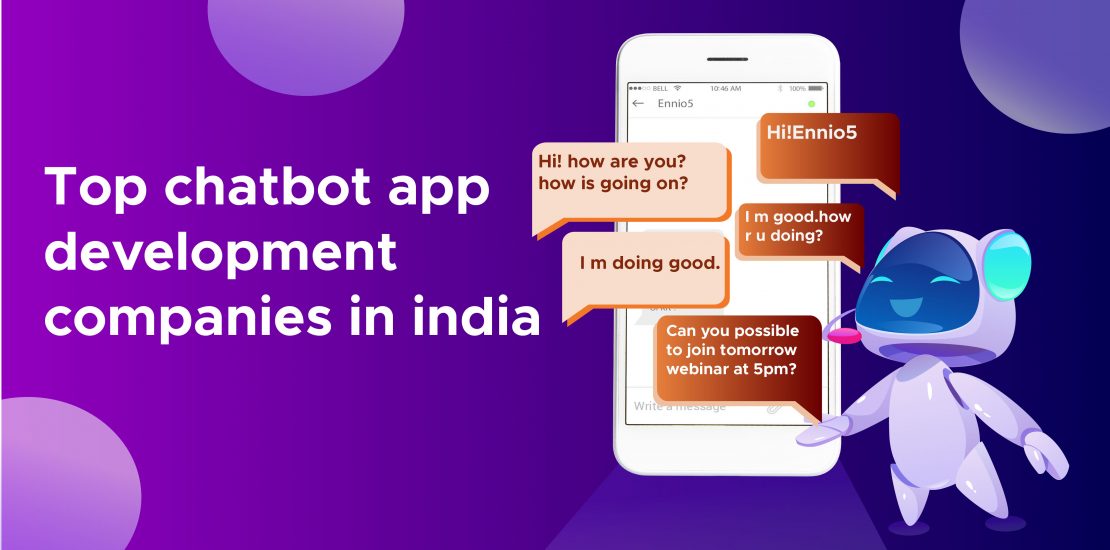 Chatbot Development Companies in India
India is one of the fastest-growing eco-system and upcoming superpowers in the world. It is the technology that played a huge role in making India to this level. Not only in India but in many countries, technology plays a huge role in determining the development of a nation. India has a lot of hidden potential within it and further advancement in technology is a must to bring it out.
Chatbots and Businesses in India
India is rich in industrialization. A wide range of businesses varying from petroleum, telecommunication, Automotive, Information technology, mining, real estate, construction, health care, tourism, education industry, etc is actively been carried out across the country. Chatbot, the latest adaption of technology is widely been adopted by businesses across various verticals of India. Chatbots are offering them something of the huge potential that other resources lack to offer. This is enabling businesses to seamlessly carry out their day-to-day operations. Thus chatbots are making businesses in generating potential sales and revenue. Because of the hidden potential in its offering, business owners are replacing conventional ways with chatbots. Having a chatbot integrated into your business is like wings for birds. It helps you reach new heights, skies, and horizons.
How Chatbots are transforming industries
The basic idea behind the introduction of a chatbot is to offer hassle-free experiences in running a business. It streamlines all the operations and offers seamless ways of scaling opportunities for businesses. The wide range of facilities offered by chatbots lets businesses in taking their customers through an excellent buyer journey thus making them genuine customers for a long period and more. Regardless of industries, chatbots are widely been used and some industries like automotive, petroleum, manufacturing, telecommunication, entertainment, mining, information technology, etc are some of the examples. Chatbot serves a multitude of tasks for businesses and lets them in saving a potential amount of budget which they can use for some other scaling purposes. Some of the major roles played by chatbots are lead generation bots, customer support bots, sales bots, human resource bots, lead nurturing bots, etc. In other words, we can say that chatbots are precisely redefining industries and domains and pulling them out from conventional ways.
Chatbot development In India
A large number of digital transformation companies are located across various lengths and breadths of the nation to provide exemplary chatbot development services to customers. When it comes to talking about chatbot development in India, even though a lot of companies are located across the nation, customers may find it hard to find the best chatbot app development company in India. The intention behind this blog is to make readers aware of the top chatbot app development companies in India. We are sure that this list of top five mobile application development companies in India is resourceful and capable of meeting and serving your requirements.
How much does it cost to develop a Chatbot in India?
The cost of developing a chatbot in Bangalore, Mumbai, Gurgaon, and Delhi India is bounded to many factors. Some of them are the purpose of the chatbot, whether it is an NLP chatbot, artificial intelligence chatbot, or normal FAQ chatbot. The cost can also depend on the app development company you are looking for. Somehow, the app development cost of developing a chatbot in Mumbai, India will be approximately USD, 10,000 to USD 10, 0000 based on the requirement. It can vary as per the customer demands and integrations.
Top Five Chatbot App Development Companies in India
Let us see in detail, what are the best chatbot application development companies in India.
· DxMinds Innovation Labs
DxMinds Innovation Labs is a leading digital transformation and mobile application development company in India having a presence in countries varying from the USA, UAE, Australia, and Peru. The company is delivering exemplary services in the area of chatbot development. High domain expertise helps DxMinds Innovation Labs in outpacing the competition to deliver the best to their clients. Access to a wide range of resources and highly dedicated employees are the real assets of the company in offering their best services to the clients. DxMInds never fails in meeting their customer requirement by building an impeccable chatbot thereby helping them scale their business. DxMinds recently come up with DxBots.ai, a leading chatbot builder platform, where customers based on lo subscription fees can build a chatbot of their own. in case of any expertise consultation, they even get it directly from the DxMinds team. The major services offered by DxMinds in the area of chatbot development are
FAQ Chatbot
NLP Chatbot
Artificial Intelligence Chatbot
Lead generation chatbot
Sales chatbot
Human resource chatbot
Lead nurturing chatbot
Chatbot for the banking and financial industry
Chatbot for the automotive industry
Health care chatbot etc.
· Hidden-brain InfoTech
Hidden Brain is one of the leading chatbot development companies in India. It is an award-winning chatbot development agency in India that delivers high-grade chatbot app development services to companies throughout India. They help businesses in strategizing the whole process of chatbot development in such a way that it will be highly beneficial for the clients. The chatbot developed by hidden brain Infotech is meant to serve the purpose for a long period.
· BotsNext
BotsNext is an interactive chatbot development company in India offering exemplary services in the area of Chabot development and related fields. The services offered by BotsNext are worth having because of the potential their chatbots hold.
· Contus Technology
Delivering a chatbot that meets international standards and quality is a normal process at one of the leading chatbot application development companies in India, Contus Technology. The company helps its customers in gaining huge user traction for businesses, thereby holding up the position of the best bot builders in India.
· BotMyWork
BotMyWork is a comprehensive chatbot development company in India. They are in parallel to the latest trends, following the pathways of technology. They help their customers in minimizing all the dogmas that existed in their business by developing outstanding chatbots. Highly engaging chatbots developed by BotMyWork let businesses in making the most out of the least.
Best Chatbot Development Company in India
All the above-mentioned companies provide the best chatbot development services in India. Yet, if we are asked to figure out the best among the top companies, we will go for DxMinds Innovation Labs. DxMinds Innovation Labs has got huge expertise in developing customizable chatbots for both local and global clients and has come across various metrics and parameters.
Why DxMinds Innovation Labs for developing a top-notch chatbot for your business
Agile model of development
Scalable and reliable products
High expertise and hands-on experience
Innovative products and solutions
Cutting edge technologies