January 26, 2023
Posted by:

Admin

Category:

Software Development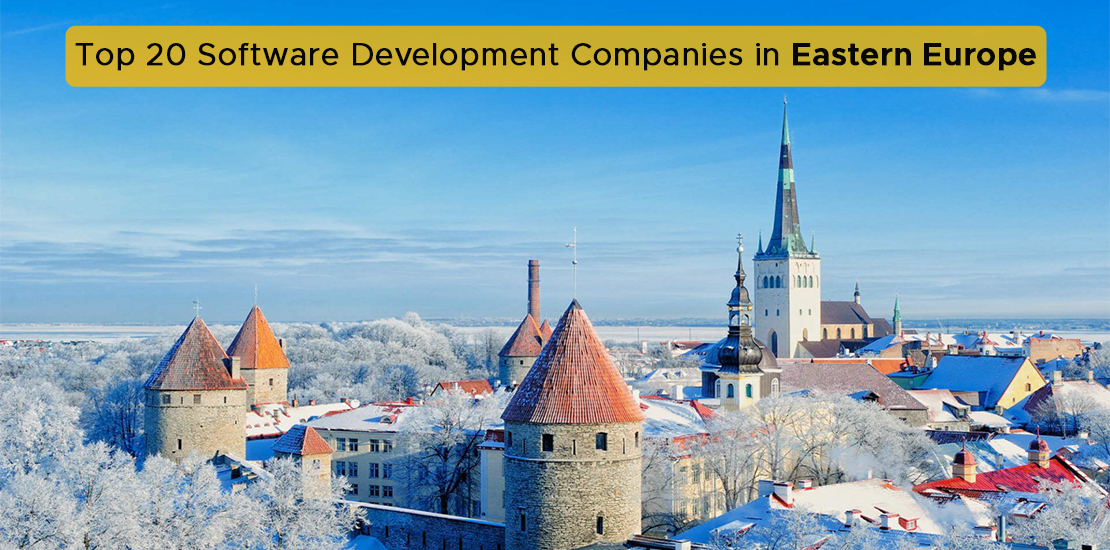 Eastern Europe has emerged as a major player in the global IT industry in recent years, and it is often referred to as a "new IT powerhouse" due to its expanding technology sector and rapidly increasing economy.
There is a substantial pool of highly talented and educated individuals in the region, particularly in software development, engineering, and data analysis. This, paired with low labor costs, has made Eastern Europe an appealing destination for software development companies willing to outsource or construct development centers.
The governments of Eastern European nations have also understood the potential of the IT sector and have put policies and initiatives in place to support the sector's expansion, including providing tax incentives, funding for research and development, and assisting in the creation of education and training programs. In addition, the region's domestic market for IT services and goods is expanding as a result of the emergence of e-commerce and the uptake of new technology.
Additionally, Eastern Europe has a strong potential for innovation, and the region is home to an increasing number of start-ups, top software development companies, and innovation hubs that are creating new technologies, goods, and services in fields like artificial intelligence, blockchain, and the internet of things.
By recognizing the perks of hiring software development companies in Poland, Ukraine, Bulgaria, and other bigger IT cities in Eastern Europe, a greater number of businesses from around the globe looking to get hitched with a reliable software company.
However, it turns out to be tricky for you to find the best software development company in Eastern Europe due to the availability of a large number of companies in the region that offer software development services, making it difficult to separate high-quality providers from the rest.
So How Can you pick the right software development service provider in Eastern Europe?
That's why we are here to help you.
To lessen your task and help you to achieve stellar and profitable software development solutions, we have shaped a beneficial blog that directs you toward the top 20 Software development companies in Easter Europe ( Poland, Ukraine, Bulgaria, and other countries)
Keep reading the informative blog!
Why pick Eastern Europe for achieving your software development services?
Major reasons for considering Eastern Europe countries are mentioned below:
Cost-effective:
Labor costs are often lower in Eastern Europe than in other parts of Europe and North America, which can result in cost savings for enterprises. This is especially useful for small and medium-sized businesses wishing to develop software on a budget.
Skilled workforce:
Eastern Europe has a big number of highly talented and educated software developers, many of whom are multilingual. This can make it easier for businesses to communicate with development teams, which is especially crucial for worldwide enterprises.
Strong technical education:
Many Eastern European countries have a strong legacy of technical education, which means that the region has many colleges that produce a high number of engineers and IT specialists. This can make it easier to locate and attract top personnel, as well as ensure that development teams have a high degree of technical skill.
Excellent work ethic:
Eastern European countries have a strong work ethic and a culture of punctuality and reliability, which can make it easier to manage development projects and execute them on time and within budget.
Expertise and experience:
Eastern Europe's software development industry is expanding, and many companies have gained experience dealing with international clients and building software for a variety of industries; this can be advantageous for your company looking for a company with specific skills and experience.
Top Eastern Europe Countries for achieving economical and quality rich Software development solutions
There are several good countries in Eastern Europe, and each one has at least a few good IT companies. Ukraine, Poland, and Romania are among the countries on our list. We will go over each of them and point out their benefits and drawbacks, as well as the average hourly wage. So let's get this party started.
Poland:
Poland has a significant pool of highly competent software engineers and a strong technical education tradition. The country also benefits from a convenient time zone for communicating with Western Europe and North America. Poland's IT industry is well-developed, and the country is well-known for providing high-quality software development services. Software development Companies in Poland have expertise in a variety of fields, including finance, healthcare, logistics, and e-commerce.
Ukraine
Ukraine has a significant and well-educated IT workforce and is noted for its skill in fields such as online and mobile development, big data, and artificial intelligence. The country's IT industry is quickly expanding, and many Ukrainian enterprises have expertise working with an international clientele. Furthermore, Ukraine has a rich legacy of technical education, which means that the country has several universities that create a huge number of engineers and IT specialists.
Romania:
Romania has a long history of technical education and a thriving software development industry. The country also has several significant software development organizations and a large pool of talented developers. Romania is well-known for its skill in fields such as web development, mobile development, and product creation.
It's worth mentioning that this list is not exhaustive; additional nations with a strong IT sector, such as Bulgaria, the Czech Republic, Hungary, Serbia, and Slovakia, could be suitable options for outsourcing software development.
Now coming towards the spotlight of the blog i.e
Top 20 Software development companies in Eastern Europe
1. DxMinds technologies
DxMinds is a reputable and trustworthy software development and IT consulting company based in Ukraine, Poland, and Romania. The company provides a wide range of services such as software development, product design, and engineering, cloud, Big data, AI/ML and infrastructure services, data management, and analytics.
It serves clients ranging from startups to Fortune 500 companies and specializes in providing services to clients in the automotive, healthcare, and finance industries.
DxMinds has a team of experienced developers, designers, and consultants who work closely with clients to deliver high-quality, innovative, and cost-effective solutions.
The company also offers services such as digital strategy, innovation and research, and product development, and is known for its strong focus on quality, innovation and client satisfaction.
2. 10Clouds
10Clouds is a software development company in Poland that specializes in offering web and mobile development, design, and software development services to clients all over the world. The company was started in 2010 and has since evolved to become one of the premier software development companies in Eastern Europe.
10Clouds offers web development, mobile app development, e-commerce development, and other tech services to clients in a variety of industries, including banking, healthcare, retail, and technology.
3. Clockwise software
Clockwise Software is an app development company based in Ukraine. We can handle all technical parts of your application construction as seasoned JavaScript specialists, allowing you to focus on business growth.
The company provides the groundwork for your future app by validating ideas, establishing technological feasibility, identifying risks, and developing extensive product documentation.
4. Sirin Software
Sirin Software is a software/hardware engineering company established in Florida with an R&D department in Ukraine. To make the most excellent products, their professionals apply all of their knowledge and experience. They have successfully built sophisticated software solutions for clients in the United States, Europe, and Asia since 2014. The company has also been delivering hardware design services in partnership with well-known manufacturers since 2016.
5. Kanda Software
This company, pronounced the same as the word "candour" – which means "honesty" – has a decent reputation for just that. With nearly thirty years of expertise, they've been able to ride the wave of change inherent in the IT development sector and have been working since Windows 95 was cutting edge.
They're currently known for cloud development and custom software design for startups and businesses. Nothing could be worse.
6. BrainHub
Brainhub portrays itself as a business partner rather than a standard IT services provider in Poland, learning about its clients' business difficulties and developing custom software to solve them. They ensure that all of their builds are fully scalable and work with businesses of all sizes, from little start-ups to large worldwide behemoths that are already at the top of their industry, such as National Geographic.
7. Pofinit
ProfiniT is a leading company that specializes in IT consulting and software development services in Prague. They specialize in creating custom business solutions using a number of technologies such as Microsoft.NET and Java. They also provide project management, testing and quality assurance, as well as system maintenance and support to its clients.
8. Scalefocus
The company specializes in designing custom software solutions in Bulgaria using technologies such as Java,.NET, Python, and JavaScript, among others. They also provide cloud migration, UI/UX design, and quality assurance.
Scalefocus also provides businesses with dedicated teams and can assist with software development outsourcing. They are known for their experience in producing high-quality software solutions with a focus on scalability and maintainability.
9. AltKom Software
With over 20 years of experience, Altkom Software is a custom software development company in Poland. For a large number of Polish and foreign businesses, they have successfully planned the path to the objective (i.a., German, English, French, Austrian or Belgian). They collaborate with well-known companies, start-ups, and multinational enterprises.
10. Tremend software consulting
With more than 16 years of experience creating extremely complex solutions for businesses around the world, Tremend is a global software engineering company in Romania. They specialize in providing business solutions based on Artificial Intelligence (AI), Machine Learning (ML), and Biometrics, including enterprise platforms, advanced engineering for automakers, IoT, and IoT.
11. Limestone Digital
Limestone Digital offers design and development services in Karlin to assist you in digitizing the future. Limestone is a group of exceptional engineers, UI/UX designers, quality assurance specialists, and project managers enthusiastic about emerging technologies, new challenges, and cutting-edge software solutions that make the world go round.
12. STX Next
STX Next is the largest Python software development company in Eastern Europe. They are strengthened with Python, JavaScript (NodeJS), React Native, and full-stack developers eager to inject outstanding code into your project. With many years of experience, they deliver full-stack web development and cross-platform mobile app solutions to clients in a variety of industries, employing Python Django, Flask, FastAPI, NodeJS, Angular, ReactJS, React Native, and other technologies.
13. Deviniti
Deviniti is a leading IT Company headquartered in Wroclaw, Poland, but operating globally. They provide customers the competent advice and form long-term relationships.
In the above-mentioned companies how to filter out the #1 Software Development Company
Their team is passionate about technology and believes it is the driving factor behind today's corporate progress. With revolutionary technology, they help firms realize their full potential in terms of people, products, and services.
14. iTechArt Group
iTechArt has provided venture-backed startups and legacy organizations with technical talent at the pace and scale they require, whenever they require it. Whatever your project concept, their team has the stack fluency and deep expertise to turn it into a reality. They offer long-term collaborations to offer solutions that are as robust and secure as they are inventive.
15. Future processing
They are a technology consulting company that also provides software delivery services in Poland. They collaborate with forward-thinking leaders to bring their ideas to life. They listen to clients, advise them, and design and deliver world-class, user-friendly IT products in a timely manner. They have built the method of providing value to clients through project experience and combined knowledge.
16. Andersen Inc
Andersen has a large pool of developers, QA engineers, business analysts, and other software development specialists. They have been in the market for many years and today represent a huge and mature organization that satisfies the highest requirements and succeeds as a progressive and reliable firm. Since its emergence, they have worked with well-known corporations, completing complicated projects and earning valuable knowledge.
17. Binariks
Binariks is a technology partner that assists businesses at every level of their digital transformation journey by providing engineering services and consulting from vetted specialists. For worldwide software firms and global enterprises, they provide software engineering and consulting services, establish teams and products, and design complicated architectures. Binariks is headquartered in the United States and has delivery hubs across Central and Eastern Europe.
18. Eleks
Through custom software development, product design, QA, and consultation services in Ukraine, ELEKS, which has over top specialists across Europe, the US, and Canada, aids businesses in increasing their value.  The company speedily adapts to the changing demands with agile, innovative technology like blockchain, data science, and cloud. They will translate your requirements into a clear and scalable custom enterprise solution adapted to the needs of your clients as well as your particular business environment and ambitions.
19. Glorium Technologies
Glorium Technologies is a full-cycle app and software development company in Kyiv Ukraine that focuses on serving unique client business demands and attempting to manage them using the best technology solutions available. They offer tech entrepreneurs the strategic and technical knowledge they require to build their vision for a lower cost. They work alongside your team, supporting the development of advanced software solutions and bringing them to market faster.
20. RiseApps
RiseApps is a full-cycle end-to-end software development company in Estonia that assists industry-wide startups, SMEs, and enterprise-level vendors in delivering tailor-made solutions from scratch or evolving existing products to improve product-market fit with new functionality, scaled infrastructure, and increased scalability.
Still in confusion to choose the #1 Software development company in Eastern Europe in the above-mentioned list.
Let's help you out with reasons to choose DxMinds as your ideal Software development partner in Poland, Ukraine, and other locations in Eastern Europe.
How DxMinds stands out from other Top Software development companies in Eastern Europe?
DXMinds is a software development company based in Eastern Europe that specializes in creating mobile apps and web applications for clients across various industries. They stand out from other top software development companies in Eastern Europe in several ways:
Industry-specific solutions:
DXMinds has experience designing solutions for a wide range of industries, including eCommerce, Healthcare, Finance, Transportation, and Travel. They understand the special needs of these businesses and can build solutions to meet them.
Innovative solutions:
The company is known for its innovativeness and its ability to come up with new and unique solutions to clients' problems. They are always looking for ways to improve the user experience and increase the efficiency of the solution.
Global presence:
DXMinds has a presence in multiple countries, including Eastern Europe, which allows them to serve clients worldwide. This global presence enables them to understand the different needs and requirements of clients from different countries.
Post-launch support and maintenance:
They provide post-launch support and maintenance services to ensure that the product is constantly up to date and working efficiently. They also provide continuous improvement and optimization services to improve the performance of the software.
Transparency and communication:
The team is known for its open and honest communication, which keeps clients informed and involved throughout the development process. They provide the client with regular updates and progress reports to keep them informed of the development process.
Strong technological knowledge:
The company specializes in various technologies and platforms, including iOS, Android, and cross-platform development. They can assist you in selecting the finest technology for your software development project based on your needs and budget.
DXMinds' app development process typically involves the following steps:
Discovery and Analysis:
This is the initial phase where DXMinds will gather all the necessary information about your project and analyze your business requirements. They will also conduct market research to understand the competition and identify any potential opportunities.
Conceptualization and Design:
Based on the information gathered in the previous phase, DXMinds will create a concept for the software and design its user interface. They will also create wireframes and mockups to give you an idea of how the software will look and function.
Development
Once the design and concept are approved, they begin the actual development of the software. They will use the latest technologies and frameworks to create high-quality, user-friendly, and secure software.
Testing and quality assurance:
They have a dedicated quality assurance team that will rigorously test the app for bugs, compatibility, and performance before it is released.
Deployment and Launch:
After the software has been tested and is ready for launch, DXMinds will deploy it. They will also assist with the launch process and make sure that the software is widely promoted
Support and Maintenance:
They provide post-launch support and maintenance services to ensure that the software is always up-to-date and running smoothly. They will also provide continuous improvement and optimization services to improve the performance of the software.
Conclusion
With the list of top 20 Software development companies provided above, we hope you have a better knowledge of how to select the top software developers in Eastern Europe.
So, it is time to consider carefully and select the best provider to ensure a smooth browsing experience.
As a pioneer in cutting-edge software development services and solutions, we have established ourselves as the best and most trustworthy firm among the top 20 Software Development Companies in Eastern Europe.
All of the businesses mentioned above are excellent. However, in terms of focused experience, proficiency, precision, track record, and on-time delivery, DxMinds turns out to be the leading one
Get a free consultation now. For more details contact us: at info@dxminds.com
FAQ's
What should I consider when choosing a software development company in Eastern Europe?
When choosing a software development company in Eastern Europe, you should consider factors such as their experience, technology expertise, quality assurance, and post-launch support. You should also look into their portfolio and see if they have experience in developing solutions for your industry.
How do I know if a software development company in Eastern Europe is reliable?
You can check the company's online reputation by reading customer reviews, checking their portfolio and case studies, and asking for references. You should also check if the company has a proven track record of delivering projects on time and within budget.
Are software development companies in Eastern Europe experienced in developing solutions for my industry?
Many software development companies in Eastern Europe have experience in developing solutions for various industries, including eCommerce, healthcare, finance, transportation, travel, and more. It's a good idea to check the company's portfolio and see if they have experience in your specific industry before making a decision.