Top 10 mobile app development companies in San Francisco
Mobile app development is acting as a savior and also the most reliable solution for almost business industries willing to expand their reach beyond their locations. Regardless of the business domain and size, enterprises are rushing toward mobile app development companies to get a customized mobile app solution catering to almost their business requirements. In this present era of digitization, mobile apps are not just a simple tool used for user engagement, rather it is been used by companies as a solo dynamic element of operations catering to a wide range of needs. A mobile app can be a key to your success if used optimally for brand building, customer services, promotions, and of course revenue generation. You can only make the most of your mobile app if you have combined quality with creativity for mobile app development. To get such a peculiar combination you must take the assistance of mobile app development companies in San Francisco. It is one of the most renowned hubs for the giant brands of the IT sector with countless mobile app development companies. If you are looking for professional assistance and have chosen San Francisco as your IT destination for collaborating with a mobile application development company to get the most promising solutions, then it might be a tedious task for you.
Mobile application Development Company in San Francisco
DxMinds is one of the leading mobile app development companies in San Francisco and has been ruling the IT sector with the widest customer base and enthralling apps thriving in the current market. Our ultimate objective is to harness the power of the web and other digital solutions by offering the most unsurpassed and engaging user experience. For a decade we have been persistently working to serve various business segments covering each vertical and helping them leverage the potential of technology and employ a digital ecosystem in their business operations. Throughout our journey, we have developed versatile apps on various platforms using the most advanced technology with one intention of developing customized high-quality apps satisfying the customer's requirements and giving world-class solutions. We have been developing web apps, websites, native mobile apps, cross-platform apps, and more.
Our mobile application development services
We ensure to bring a digital revolution with impeccable mobile solutions. With our rich experience and deep knowledge of the technical world we ensure developing functional, attractive, and intuitive mobile apps. Every business has a unique challenge to conquer and we understand that unique solutions can help you overpower those hurdles with business growth opportunities. Our major mobile app development services in San Francisco are listed below:
iOS App Development
Being one of the leading iOS app development companies in San Francisco we empower your business with the most customized iOS apps. We aspire to develop an app that is simple to use yet innovative enough to tempt the targeted customers. Our intellectual team helps you develop avant-garde mobile apps, whether your need is simple or complex.
Android App Development
Our Android app development services are compiled to serve you with highly customized solutions and are developed using the latest SDK. Our resources are well equipped with the most advanced technologies used for marvelous app development, such as Objective-C, Cocos2d-x, Cocos2d, swift, Xcode, JSON, XML Parsing, Cocoa Framework, etc. We have also attained expertise in integrating third-party solutions that are excellently synchronized with the native app features.
Cross-platform app development
Now you can grab a wider coverage with the maximum number of smartphone users regardless of the mobile platform. We offer full-fledged cross-platform app development. We use state-of-art technology to develop the best cross-platform app that allows one coding to fit all platforms without altering the quality or the performance of the app over any platform. Our cross-platform app developers are well-versed with the latest technologies and are well-acquainted with deploying them to your business eco-system.
Why choose a mobile application development company in San Francisco?
San Francisco is a hub of IT companies and is renowned for serving the most advanced mobile app solutions. The mobile app development companies in San Francisco are renowned for being the greatest contributor to the technological transformation emerging in the recent era of digitization. The IT professionals of San Francisco are renowned for backing-up countless start-ups and have been a perfect companion to grow as a brand and establish their footprints in the existing market. The world-class resources have made this country a destination for all technology seekers.
Why DxMinds is considered the best mobile application development company in San Francisco?
San Francisco is laden with myriad mobile application development companies and each of those has shown its proficiency and promptness in various app development verticals. But to develop an apt global solution that caters to your customized requirements you need a prolific hand that can not only understand your business roots but can also streamline your business operations in one seamless pattern. DxMinds is been holding a leading position in the list of mobile app development companies in San Francisco. We endeavor to serve you with a solution that is creatively designed and strategically crafted to cater to all your requirements. Our every effort is towards increasing your organizational productivity to expedite your business to the next level of success. The team in-house by DxMinds possesses experience in developing more than 500 products for various business industries on various mobile platforms. Our resources have always proven their expertise and proficiency in mobile app development and stood out as the best app developers with nonparallel experiences. The objective of our resources is to bring a greater shift to the digital ecosystem using an agile model of app development.
If you are seeking one reason to choose a mobile app development company in San Francisco then here we have listed a few potential reasons that will make your perception clear.
Highly proficient team
Experience in developing the most robust and outstanding apps
Customer-centric approach
Unique ideation and successful development strategies
Top designers for creating best-in-class an engaging user-interface
The app focused on security and scalability
Robust architectures
Swift development
Hassle-free communication with customers
Affordable services
Top mobile application development technologies used by our professionals:
To develop robust and effective cross-platform app development our professionals use flutter technology. It helps in developing high-quality apps with the same performance on various platforms without degrading the performance. It offers the flexibility to use one code for all platforms.
Java is an official programming language for Android app development. Being an open-source technology allows us to develop the app at the least possible price. The technology offers an open-source library with ready-to-use codes.
Python is the most preferred programming language because of the ease-to-use and ease-to-deploy options it offers. It offers a large developer community making the development much easier. Our professionals have developed the most lucrative apps using this technology.
To develop a native iOS app, our mobile app development experts use Swift technology. The technology offers excellent coding solutions with greater security and flexible features with a wider range of scalability.
It is one of the latest technologies used for cross-platform app development and is preferred due to its flexible features that make the app much more responsive to fit the appearance based on the device used.
It is one of the latest technology used for Android app development and is an advanced version of Java allowing developers to scale up the level of app development with many advanced features.
Proven Mobile app development process incorporated by our experts:

Ideation and planning
Your business ideas are capable of winning the business world but they may require professional assistance that can help you give vitality to your business objective with the greater influence of the targeted market. Our experts assist you to find out the best solution for app development followed by the below-listed steps:
Collect user requirement specification
Timeline planning
Finalizing commercials

Deployment
Launching apps on the app stores seems to be a simple task but it requires following certain steps which may take a few days to weeks. The launch of the app on any app store completely depends on the quality of the app. The process I followed by below-listed steps:
Application handover
Marketplace launches
App store submissions

Prototypes
We decide and plan a mobile app development prototype with the client to narrow down the requirements to make it more specific and customer-centric. The prototyping is done by sketching the designs and explaining functionalities on a paper interface. We discuss:
Low-fidelity prototyping
High-Fidelity prototyping
Applying design ideas

Development
During app development, front-end and back-end codes are written to make navigation and usage easier. In this process, we first define the technical architecture and then pick the best technology that can help you reach your app development objectives. The process is followed by:
Technology selection
API
Integrations of agile development in Action

Quality assurance
We ensure testing each developed unit of the app under various real-time conditions ensuring a hassle-free app performance. The process is followed by the below-listed steps:
User test creation
Manual testing
Automation testing

UI/UX design
UI and UX of the app are designed keeping your business industry as the major point of consideration. Creativity and a user-friendly user interface are two crucial principles that we incorporate to make your app customer-centric.
Mobile App Development Tools And Technology Stack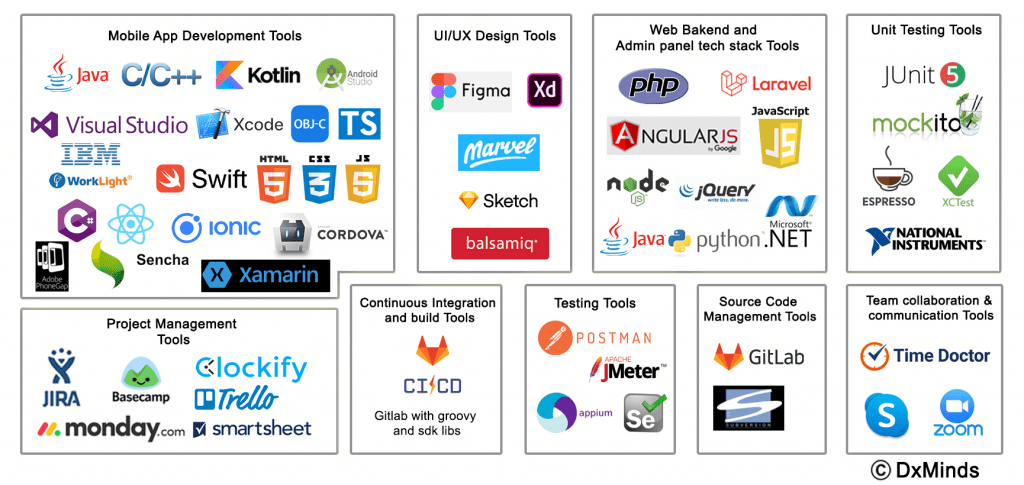 Our mobile app development testing process
To ensure an effective and flawless app performance of the developed app, we conduct several testing processes based on various real-time conditions. A few of those testing process are listed below:
Functional Testing
To ensure proper working of each feature of the developed app under various real-time conditions and different types of users with the distinct privilege
Device and Security Testing
To check the screen compatibility and security measures of the app when installed in the smartphone.
Beta Test
To check the acceptance of the app by the targeted audience and usability of each app feature.
Performance Testing
To ensure the excellent performance of the app, especially cross-platform app on various platforms.
VAPT Test
To ensure the robustness of the development we include the third party for vulnerability assessment.
Field and Network Testing
To test the app's performance under various changing networks and different locations to ensure the usability of the app even during traveling from one place to another
Load testing
To check the performance of the app when it undergoes a heavy load of users simultaneously.
Would you like to speak to one of our customer success executive over the phone? Just submit your details and we'll be in touch shortly. You can also email us if you would prefer.
Top mobile app development companies in San Francisco are listed below:
To simplify the challenge of searching the top mobile app development companies in San Francisco we are here with a list of companies based on a thorough survey conducted over the Tech market of San Francisco and major countries preferring that location to cater to their tech requirements.
1. DxMinds
DxMinds is one of the leading names among the tech giants for having the widest and the happiest customer base with an unbeatable record of developing successful mobile apps. With an experience of a decade and the dedication of top talents backing up the company for several years has enabled DxMinds to attain a winning position in the IT sector and sustain the lead over competitors. They own experience working with several top brands from diverse business industries and have assisted them in developing magnificent mobile apps. Being the prominent mobile app developer in San Francisco, it has extended its services all across the globe giving them excellent remote solutions at the most affordable budget without compromising the quality of their services. DxMinds has not limited its services to any business domain, rather has made an excellent prominence in various business sectors with the app development on various platforms using diverse technologies.
Location: San Francisco, Dubai, Australia, Peru, Bangalore (India)
Services offered: Mobile app development, website app development, offshore development center
Website: https://dxminds.com
2. CitrusBits
CitrusBits has earned a renowned position among the mobile app developers in San Francisco with most potential clients. They are available round the clock to serve you with the most effective development process and also assist you in crafting out the best business solutions incorporating the latest technologies in it. They serve end-to-end services to the customers to ensure proper implementation of app in the organizational structure.
Location: San Francisco and Los Angeles
Services offered: UI/UX development, mobile app development
3. Y Media Labs
With a forte of serving the mobile application development sector, Y Media Labs has gained a renowned position in the sector. This company has served a plethora of businesses with innovative ideas. The company has owned the top professionals of the industry in the team to serve their clients with the most comprehensive solutions. The company mainly focuses on serving quality and customized solutions to clients. They have housed top talents well-versed with the latest technologies to give value to the client's idea to leave an everlasting impression on the relevant business sector.
Location: Redwood City, CA
Services offered: Mobile app designing and development
4. Appstem
Appstem is renowned as one of the leading mobile app development companies in San Francisco, CA. The company has achieved a milestone of developing more than 100 apps within a time of 8 years. Within this time duration, the company has excelled in various app development technologies giving a wide range of options for the enterprises to scale up their business operations and incorporate technology within their operational structure. The professionals in the company are highly talented and are capable of serving full-fledged services ranging from ideation to the deployment and maintenance of the mobile application. The ultimate objective of Appstem professionals is to serve the clients with the most promising solutions helping them in excelling their profit.
Location: San Francisco, CA
Services offered: Mobile app development and designing
5. Intellectsoft
We are one of leading name among the mobile app development companies in San Francisco and servers various firms to frame their business ideas into a promising app. Right from the conceptualization to execution and deployment of the plan, the professionals of Intellectsoft are at your assistance. The professionals of this organization are highly experienced and well versed with the latest technology to serve the top quality mobile app development services to the clients. The company was started in the year 2007 with a Team Size of 50 members passionate to develop unique solutions in the IT sector. The company has a robust professional record of serving top brands with the latest technologies.
Location: Palo, CA
Services offered: Mobile application development and product engineering
6. Appsters
Appster is a prominent website and mobile development company in San Francisco with the ultimate aim to serve the clients with the most empirical web solutions. They comprise a team of professionals having vast experience in the app development industry and are well versed with all the latest as well as the basic technologies of app development. Each app developed by them has been recognized for delivering the fastest performance apps. The company has been preferred for top-class iOS and android app development. Since the commencement of the company, they have created a history of delivering more than 100 thriving apps developed using different app development technologies.
Location: San Francisco
Services offered: Mobile app design and development
7. Grio
The Grio mobile app development company works intending to come up with the most unique web solutions that can bring revolution in the app development sector. They believe that collaboration of creative designs with excellent development can frame out the best mobile app. The professionals housed by Grio are highly talented and well versed with the latest technologies to offer the outstanding and the most promising app development services keeping the potential of scaling up the business level of their clients. The professionals of Grio first understand the requirement of the client and suggest to them the best solution that can craft out their ideas into the most productive outcome for the business. The company was started with a team of 50 professionals which extended its existence all-round the globe and reached a team of 200, with subsidiary offices in three different locations.
Location: San Francisco, CA
8. Wizeline
Wizeline is a mobile app development company in San Francisco and was commenced in the year 2014. Within this shortest time, Wizeline has achieved a milestone of developing more than 70 projects with happy customers. Each app developed by this company is thriving in the current market with the highest number of users. They own a team of top professionals and ensure the most prominent services with excellent end-results. They have experience of working with the top brands from different business domains and have assisted them in developing a distinct type of mobile apps developed on various platforms. The professionals of Wizeline are well versed with all the latest technologies and hold specialization in traditional techniques used for app development to serve you the best result empowered with innovation and experience.
Location: San Francisco
Services offered: Mobile app development and designing, product engineering
9. Prolific Interactive
It is the most prominent mobile app development company in San Francisco with a comprehensive set of web solutions to offer the best assistance to a digital business. The company has gained prominence in developing unique mobile apps with incredible features. The company was started in 2009 and now it is operating with a team of 50 highly skilled professionals having a master hand in the latest technologies and well equipped with the tools and other dependencies used for developing a robust mobile app.
Services offered: Mobile design and development, implementation strategies
Location: San Francisco
10. OpenXcell
OpenXcell is one of the leading companies in the world of mobile app development and has been crowned among the top mobile app developers due to the world-class strategies and development cycle opted by the professionals working with the OpenXcell. The team working with this company is highly dedicated and has the calibre to serve the perfect and the most customized solution for the client's requirement. The company was started in the year 2008 and now it is serving end-to-end mobile app development solutions all-round the globe.
Services offered: Mobile app development, chatbots,
Location: India
How much does it cost hiring mobile app programmers in San Francisco?
Now, when you have the list of top mobile app development companies in San Francisco your second step might be the inquiry about the cost of app development by the professionals. Here is the answer to all your requirements to hire the best mobile app developer.
The cost of mobile app development can vary from company to company, and also based on your requirements. Each requirement can add or deduct your expenses to a great extent. Here we are discussing the average standard rates of mobile app development in San Francisco.
The average cost of mobile app development can range between $10k-$150k and the variation completely depends on the type of platform, technology, and professionals you are choosing. To get a world-class end product you must choose the best and latest technology and a highly experienced team to achieve the objective.
A mobile app with simple features can be developed in approx. 320 hours that includes the complete app development process from ideation till the deployment. Based on 8 working hours per day, the count of weeks required for app development can be taken like 8 weeks. The charges of mobile app developers in San Francisco can vary from a rage of $100 per hour to $150 per hour.
An estimate of app development cost is listed here:
Simple app with least features: $10k-$60K
Medium complex app with less but creative features: $60k-$70K
Most complex app with highly innovative features: $70K-150K
This is only an estimated price this can vary based on the types too, such as a native app or hybrid app. To know the exact cost of mobile app development you must directly get in touch with the company and get a customized quotation that is drafted only to cater to your requirements.
Know what basic your customized app development quotation is drafted:
App requirement: Features and functionality, customization of designs, the platform chosen for development, backend infrastructure, and also app maintenance
Type of professionals: Each professional is skilled in different technologies and possesses unique qualities. A wide difference between the cost of professionals can be observed based on the years of experience they hold and the technologies they master
| | | | |
| --- | --- | --- | --- |
| Work | Basic app | Medium app | Complex app |
| Development | $38,000+ | $80,000+ | $155,000+ |
| UI/UX design | $5,000+ | $6,750+ | $18,500+ |
| Quality Assurance | $9,650+ | $15,750+ | $15,000+ |
| Project Management | $10,000+ | $13,750+ | $10,000+ |
| Total | $62,650+ | $116,250+ | $198,500+ |
Conclusion
Mobile application development is undoubtedly a tool that is opted by almost every company to level up their business strategies. With a rapid shift of the traditional business world to the digital one, high demand for mobile app developers has been observed. Mobile apps are getting a plethora of innovative strategies but to get the best one implemented into your business operations you need the best assistance. Here we have listed the best companies which have already proven their expertise and excellence in product engineering and development. Each of the above-listed companies has gained a distinguished prominence in every business sector with the best apps having the most unique features. If you are willing to hire a mobile application developer from San Francisco then you must quickly contact the above-listed companies and select one that fits your requirements.
Frequently Asked Questions
Get a Free Quote Now


Have an App idea? Just submit your contact details and one of our expert will call you shortly. You can also email us your requirement if you prefer. Your App idea and contact details will be kept confidential.