October 11, 2022
Posted by:

Admin

Category:

Mobile App Development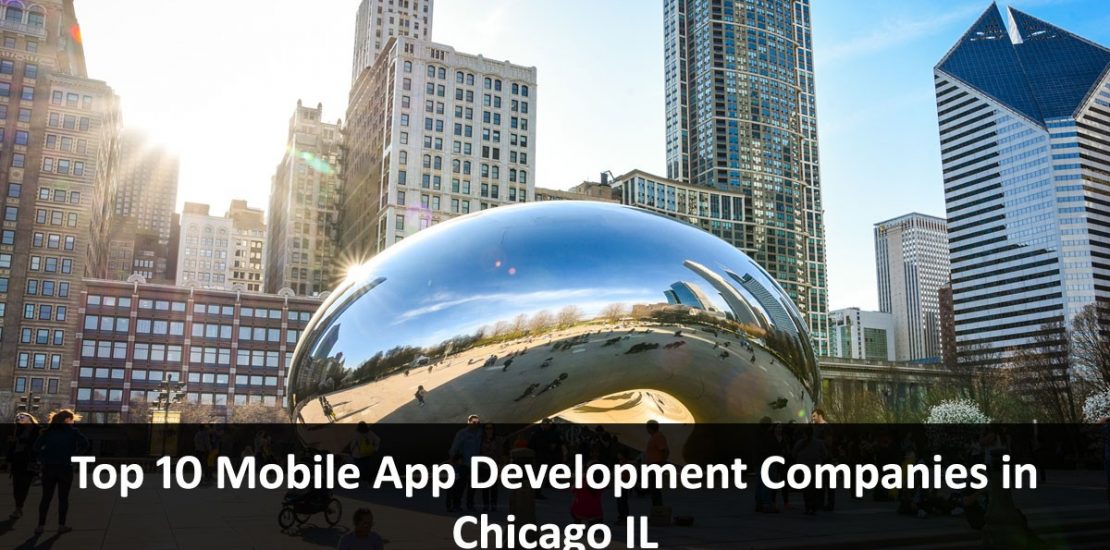 Mobile App Development Companies in Chicago Illinois
Mobile applications hold a high degree of innovative and disruptive factors as it is the finest representative of digital transformation. The wide popularity gained by smartphones from the user's community paved the way for rising of innovative mobile applications and app development companies in Chicago.
The role played by mobile applications in digitalizing the business ecosystem to redefine its landscapes is not so small. Business owners in Chicago are prompted to shift to a digital space leveraging mobile applications to gain traction from the potential user community. Mobile application not only helps businesses in streamlining their operations but also acts as the best tool for consumers to accomplish their daily tasks seamlessly.
Why Businesses in Chicago Need a mobile application
In this tech-savvy world, mobile applications are a matter of survival. Major chunks of users rely upon mobile applications for making their life free from all hassles and bustles. From the perception of a business, the best way to make the most out of this is to build an interactive mobile application and use that as a tool for scaling the business. Brick and mortar way of running a business will not work anymore as modern problems require most modern solutions. So all the businesses based out of Chicago need a mobile application to scale their business exponentially.
List of Top 10 mobile app development companies in Chicago IL
Business owners in Chicago have understood the full potential of mobile applications and the impact they can have on their businesses. They are aggressively moving towards digitalizing their business that too by making use of mobile applications. So to help those segments of entrepreneurs out there, we have come up with a list of the top 10 mobile app development companies in Chicago. So let us get started
· DxMinds Technologies Inc
DxMinds Technologies is a leading digital transformation and mobile technology service provider company. It is one of the best mobile app development companies in Chicago. DxMinds Technologies helps its customers come up with potential iOS and Android mobile applications. DxMinds also delivers exemplary services in the area of hybrid mobile application development as well. Easy access to a wide range of resources and highly trained engineers, project personnel, managers, and designers are the real backbone of this top mobile app development company in Chicago. The high quality of the services they deliver has made DxMinds Technologies the best digital transformation company in Chicago. DxMinds offers a multitude of services and solutions that help enterprises in level shifting their business by the best use of technology. Some of the major services offered by DxMinds Technologies are:
· Android application development
· IOS app development
· Hybrid app development
· Artificial Intelligence
· Machine Learning
· Blockchain Technology
· Internet of Things
· Augmented Reality/ Mixed Reality/ Virtual Reality
· Cryptocurrency development etc
Get Free Consultation
· Codal
Codal is one of the most prominent iOS and Android app Development Companies in Chicago IL. The company focuses on delivering unimpeachable services to its clients with the best industry practices. The mobile applications developed by Codal are capable of engaging the right customers at the right time. This helps you in scaling your business from level A to level Z. Codal delivers high-end UI/UX services has helped them in setting up a comprehensive client base across the globe.
· SPR Consulting
SPR is the pioneer among iOS and Android mobile app development companies in Chicago, coming with a tagline of "transforming the way you do business". The company offers outstanding services in the area of digital transformation by following global standards and guidelines. SPR helps you set up your business in such a way that it never fails to meet your customer requirements, anywhere, any time. SPR delivers top-notch services covering almost all domains of digital transformation including custom software and mobile application development, User experience, cloud infrastructure, business data and analytics, digital workspace experience, web application, and software testing, etc.
· Eight-bit Studios
If it comes to enterprise mobility and cloud solutions, Eight-bit Studios comes up with the best-in-class solutions. An Eight-bit studio is an award-winning app development agency in Chicago, well known for developing customer-centric mobile applications that meet international standards and parameters. Right from UX to design, technology, and QA, Eight-bit studios deliver groundbreaking services to clients, regardless of their industry or company size.
· Cultivate Software
Cultivate is a user-first, people-friendly digital transformation and mobile technology development company in Chicago. Cultivate meets customer expectations by being on the frontline of technology adopters. They are well versed with the latest technologies, which in turn can be leveraged by the clients in coming up with a full-fledged mobile application.
· Simpalm
Simpalm is a custom software and mobile apps development company in Chicago, which uses cutting-edge technologies whilst developing enterprise mobile applications and solutions. They help companies varying from small, medium, and large to global fortune companies in scaling their business to a better extent and beyond by the best use of cutthroat solutions and products. Services delivered by Simpalm in the area of mobile application development are highly innovative and holds a high degree of disruptive factor. Prominent services offered by Simpalm consist of Native app development, hybrid app development, Web development, cloud services, etc.
· Red Foundry
Red Foundry is a mobile application development company in Chicago that delivers explicit and intuitive services in the domain of digital transformation and mobile technology. The company makes use of the best industry practices to develop a mobile application that is capable of gaining huge traction from the potential customer community. Their deep roots and well-versed knowledge in custom mobile application development made Red Foundry one of the top mobile application development companies in Chicago.
· Atomic object
The atomic object is an efficient and budget-friendly mobile application development company having in-depth knowledge of a high degree of industry expertise. Investing in mobile applications is like investing in customer relationships and if you are looking forward to developing a mobile application of that kind, Atomic Object can be the perfect choice as they are the best mobile apps development company in Chicago IL.
· Table XI
Table XI is a 15-year-old, globally trusted mobile application Development Company in Chicago IL, originally from Chicago. A list of global clients served by Table XI consists of Vibes, Dickson, Jama, The Y, etc. The company maintains a high degree of excellence in maintaining customer relationships by delivering impeccable services. It serves a wide range of industries varying from Education Technology, Healthcare, manufacturing, and IoT, Retail and E-commerce, Media, etc.
· Dom and Tom
Dom and Tom is a group of passionate, highly talented, value-added group of individuals who thrive hard towards attaining perfection and work seamlessly towards accomplishing the same. Over time, the company has served 200+ clients in skyrocketing their sales and revenue by building top-notch mobile applications. They are now celebrating 10 years of successful completion of being one of the top app developers in Chicago
DxMinds Technologies- Best among the top mobile application development companies in Chicago
We hope our list of top 10 mobile application development companies in Chicago served your purpose. Further down the line, if you are looking for that one mobile application development company in Chicago that can meet and greet your requirement, we suggest you hire DxMinds Technologies, the best mobile apps development company in Chicago Illinois. DxMinds Technologies is a global digital transformation company that can fulfill your requirements and prerequisites that go beyond your expectations. The highly engaging mobile applications developed by DxMinds technologies help you polish your customer requirement thereby making it a fully-fledged one.
Why DxMinds Technologies for developing mobile applications in Chicago
· Best Digital Transformation Company
· Cutting edge technologies
· Agile model of development
· Scalable and reliable mobile application
· Innovative products and solutions