January 19, 2021
Posted by:

Admin

Category:

iOS App Development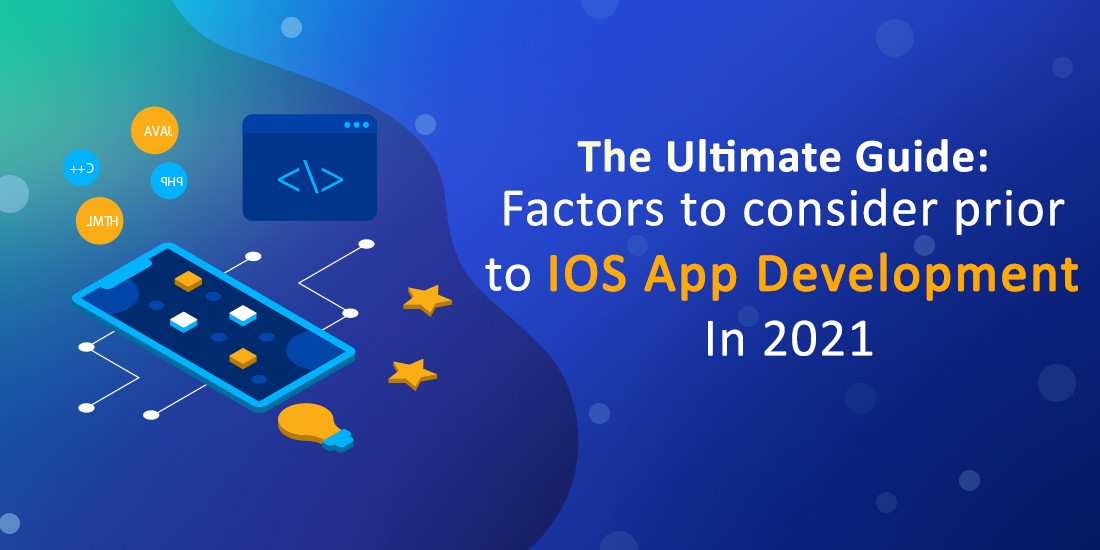 Apple and related gadgets are really leaving a footprint, making this place a better one to live in. The quality and value the brand has brought into this space hold huge potential and require a handful of appreciation. The top-of-the-line customer satisfaction guarantee has helped the brand in gaining traction from the global community.
The rising demand for the brand has witnessed an increased growth in its customer base. This demand has skyrocketed the need for its mobile applications which leverage the iOS platform. Global brands are flawlessly making use of iOS mobile applications to gain the attention of the precise set of customers using Apple gadgets, followed by their search for the best iOS app developers to meet their requirements in detail. This article is an ultimate guide to the things to be considered in 2021 prior to developing an iOS mobile app. We will cover the entire aspects, domains, and what it takes you to build a full-fledged iOS mobile app in the current decade. So let us get started.
Top things to consider prior to iOS app development
Market Study
Prior to building an iOS app in 2021, one has to spend the lion's share of his time doing intensive rounds of research and market study to stay on top of the market pulse. This lets them ensure that the app they are going to come up with hits the bull's eye. It let them outpace the competition by getting rid of all hassles and bustles that stop them from being a successful entity.
Strategizing
The road to coming up with a top iOS app can be easy if you are having crisp strategies to adopt. You need to be very cut and right in analyzing your business requirements and should possess high dominancy over the same. Your vision needs to be so focused that the app can clearly convey the value you are trying to pass on to the end customers.
Goals and milestones
Be very precise in your long-term and short-term goals and how you are going to achieve that. This can help you land on the right channel so that the app can take your organization far and beyond. Set your goals so big that when the app helps you achieve that, you are going to be the key industry player.
Budget
Budget plays a key role in iOS app development, compromising on which can adversely affect your organizational standards. One needs to do hefty rounds of research to minimize the budgets wherever possible, by compromising not even a bit on the quality aspects.
Associating with the right partner
Associating with the right iOS app development partner can enhance your app development process. It can be one of the best investments you can ever do for your organization. The right technology partner will guide you in such a way that the right blend of technology they provide makes your app a standalone one. The right partner can also take you from level A to level B with utmost accuracy and potentiality.
MVP
MVP, also known to be the minimum viable product can be the best option for you if you are just starting up and want to grow along with meeting customer requirements. Going ahead with MVP helps you in becoming more vulnerable to the market requirements, thereby making relevant alterations to the model on the go.
Marketing
Marketing plays a key role in making the app visible to a wider set of audiences. However good and useful the app be, it demands gradual promotions till it reaches the maturity stage. To put that into perspective, organizations need to allocate certain budgets that enhance the bandwidth of the app.
Latest iOS app development trends
Security
At Apple, they value customer privacy and security is the key driving factor. The uncompromised approach when it comes to the security aspects makes Apple and its apps everyone's cup of tea. Security always remains a trendsetter when developing iOS apps and it keeps on adding newer layers to the existing security aspects.
Swift
Apple exercise a large number of enhanced features in its own development platform, Swift with a vision of offering enhanced scalability, stability, and flexibility features to its developer community. The latest version of Swift offers top-of-the-line features for the developer community to revamp like anything. Hence, swiftly turns out to be one of the key trendsetters of iOS app development in 2021.
Apple Homekit
Apple Homekit remains one of the key trendsetters when it comes to developing iOS applications in 2021. The Homekit allows users to control connected devices with utmost accuracy and flexibility. This futuristic adoption is capable of delivering groundbreaking services in the area of iOS app development. The Homekit gives rise to a wide array of potential use cases, which will be explored in the near future.
Artificial Intelligence
The applications of Artificial Intelligence are trending like anything and its best applications and use cases are revamping industries across. The futuristic iOS app development for Apple gadgets will be based on Artificial Intelligence as the key driving factor. Siri, the unique digital assistant for Apple devices will be more AI-centric to deliver an impeccable customer experience.
CoreML
The CoreML is introduced with the intention of helping the developer communities in coming up with lighting fast and quick response iOS applications across Apple devices. This will enhance the bandwidth for developing ground-breaking iOS applications.
Augmented Reality/ Virtual Reality Integration
State-of-the-art technologies such as Augmented Reality and Virtual Reality are seamlessly getting integrated into the iOS app development process to enhance user experience. Further exploration of these technologies in the near future is capable of delivering earth-biting results all around. It is with this vision, that Apple authorities have rolled out platforms like ARKit and much more.
Apple Pay
Highly secured and easy to use Apple Pay is built with a vision of revamping existing approaches towards sending and receiving money. With Apple Pay onboard, users can seamlessly send/receive digital money in multiple forms from various parts of the globe. It is no doubt that Apple Pay is capable of backlashing traditional approaches and will turn out in being a trendsetter of all times.
How to figure out the right iOS development partner in 2021
We have seen in detail the latest iOS app development trends in 2021. But what it takes you to experience these trends in real? Well, the answer is quite simple. For you to experience the state of the iOS development trends, all you need to do is to associate with the right partner. Now let us see the factors one needs to consider prior to hiring the right iOS app development partner.
Technology Expertise
One of the prime factors that need to be considered while associating with an app development agency to have your full-fledged iOS app developed is their expertise in customizing a wide array of technologies like Artificial Intelligence, Machine Learning, Blockchain technology, etc.
Enriched Portfolio
The ideal iOS app developer will have an enriched portfolio to showcase. Go through the portfolio in detail to analyze the quality of the work they depart. This will help you in filtering iOS app developers as per preset priority.
Customer Satisfaction rate
The utmost success of an app development agency lies in its capacity to meet customer requirements to their fullest. Reach out to their past and present set of customers in analyzing the satisfaction rate which in turn gives you a detailed idea of their performance.
Hands-on experience
iOS app development is all about relevant industry experience and one needs to associate with developers who are having notable industry experience. This lets you in staying ahead of all hassles and bustles thereby playing a key role in letting you avail full-fledged iOS app.
Final notes
The future of the iOS app development industry is bright and holds huge potential as organizations prefer more iOS mobile applications to gain community traction. The security and privacy aspects and futuristic development tools and approaches make iOS applications the leaders in the market. In a nutshell, we can say that iOS applications are playing a key role in digitalizing the existing socio-economic landscapes.
FAQ
Why is iOS app development gaining huge traction?
A wide array of features that enhances user privacy and security plays a key role in enhancing the fan base of iOS apps. There exist several other factors that highlight the same.
What are the key trends in iOS app development?
Integration of futuristic technologies like Artificial Intelligence, IoT, Augmented Reality, Virtual Reality, Mixed Reality, etc are some of the key trends of iOS app development in 2021.
How can I figure out the best iOS app development company?
For finding the top iOS app development company, one needs to consider several factors into account such as the quality of the projects, expertise, technology mastery, hands-on experience, and much more.
Which are the best iOS app developers in India?
Your search for the best iOS app developer in India ends up figuring out DxMinds Innovation Labs. They offer end-to-end iOS app development services for the customer's business to flourish like anything.