March 29, 2021
Posted by:

Admin

Category:

Business Models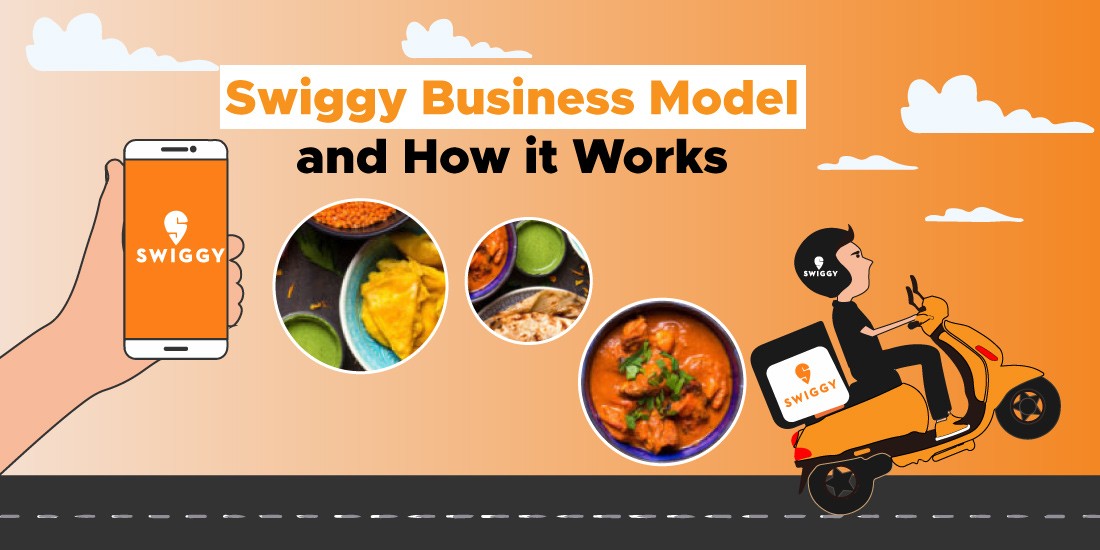 Feeling hungry and don't want to cook food also? And you don't want to move to restaurants also to get your favorite also? Get Swiggy, yes this is the only online food delivery app that allows you to enjoy their favorite means at the convenience of their doorsteps with a single touch itself.
In this tech-savvy world, people have become dependent upon this online food delivery app to get their favorite food from their favorite hotel and at any location. Gone are the days when people used to rush to their favorite restaurants and retail stores to enjoy their favorite meals. These online food delivery apps have changed the complete scenario of the food business.
The food delivery giants like Swiggy have come up with an amazing business model which offers foodies with utmost satisfaction whenever they demand. The Swiggy business model has made doorstep service a hassle-free task. It offers a platform for numerous restaurants also to make their online presence to satisfy the hunger of food lovers and expand their business to a great extent
If you are also wondering how Swiggy has bagged this popularity in a small amount of time, then you must understand the business model of Swiggy. If delivery businesses want to leverage new opportunities for their delivery business, then it becomes vital for them to implement a business model like Swiggy.
What is Swiggy?
Swiggy was launched in 2014 as an online food delivery app. Currently, it has over 24,22,046 mobile app installations and is a common name in the household name for anyone who wants to order food online.
This online food app was launched in the Bengaluru neighborhood of Koramangla by Sriharsha Majety, Nandan Reddy, and Rahul Jamini. Throughout this online food delivery journey, Swiggy has tied up with 25,000+ restaurants and hired its fleet of food delivery boys. It has started its operations in Mumbai, Delhi, Bengaluru, Chennai, and Hyderabad.
Sriharsha Majety, founder and CEO of Swiggy, tried his hand at building a start-up in the field of unorganized logistics and shipping sector of the e-commerce industry. He discussed the same ideas with Nathan Reddy(Co-founder, Swiggy). They started their first venture in August 2013, Bundl- the fastest and easiest way to ship products.
But all these went into vain, as they were not having a technology-focused team and the second was Flipkart's and Ebay's decision to ship products resulted in a big loss.
The Bundl operations didn't last for a year too.
The founders wanted to improvise their app hence they realized the pathetic condition of logistics in leveraging technology for the sake of business. They started looking for the development of an app that can be achieved with a click of a button. They wanted to accomplish their dreams by joining hands with a technological head, Rahul Jamini who has immense years of experience in this field.
These three partners came together to put their ideas into reality. They were motivated by the success of Ola and Uber. This is how the Swiggy came into existence in August 2014.
Gradually the company developed a delivery network and achieved massive success. It has created a huge buzz in the market and ensures the delivery of the best quality food to customers around the whole country. To fulfill the customer's demands, Swiggy has collaborated with numerous restaurants and retail stores.
Speak to The Expert
Challenges of Swiggy
Strong Competition
There was a tough competition for Swiggy as Zomato and Foodpanda were already present in the market. At the time Swiggy was launched. Uber Eats was on its way to make its presence in the market. Moreover, brands like Uber and Zomato were already present in the ring.
Platform Expansion
The business model of Swiggy is different from others, as its idea of connecting local restaurants with local customers to avoid people waiting for their favorite food is like an additional boon.
Their logistics network with a wide range of local delivery boys kept it away from the others. Their commitment and investment towards a faster, easier, and proper logistics network also made them stand out from others.
Funds
The Swiggy business model gained the attraction of big investors because of its skyrocketing growth and revenue. Swiggy raised $80 million funding in Series E round escorted by Naspers in the year 2015. The Venture Capitals along with Norwest and existing Swiggy investors increased the funding to a great extent.
Ups and downs of Business Model of Swiggy
August 2013:
Sriharsha Majety and Nathan Reddy founded Bundl
2014: Bundl shut down
August 2014: Sriharsha, Nathan, and Rahul Jamini founded Swiggy to connect with local restaurants to meet the demands.
August 2014: Swiggy started operating with just six delivery executives and 25 restaurants in Koramangla.
In the year of 2015, it partnered with 100+ restaurants and delivers over 70,000 orders per month.
April 2015: Accel and SAIF partners gave funds of $2 million.
Jan 2016 – NewYork based investors Harmony Partners and Singapore-based RB Investments raised $35 million in series C funding.
Mar 2016- Faced losses.
April 2016- Swiggy got down to cutting costs and strengthening the logistics network and got in partnerships with third-party logistics players to build a network.
2017- The Swiggy business model invested in core engineering, data science, machine learning, and personalization to understand the requirements of the customers.
May 2017- Swiggy was able to raise $80 million in Series E by South African Internet and conglomerate Naspers.
Dec 2017- Reached the target of 10+cities and has tied up with over 20,000 restaurants and accounted for 4+ million transactions per month.
Aug 2018- Acquired Scootsy to include services in groceries, fashion items, stationery, etc.
September 2019- Swiggy scores for about 1.4 million orders per day, get connected with 45000 agents, partnered with 1,30,000 restaurants, and offer food delivery services in 325+ cities of India.
2020- surged up to 60% higher sales
How Swiggy works?
Swiggy is an online platform that delivers the customer's favorite food at their doorsteps by getting connected to a wide range of neighborhood restaurants. It has gained a popular name in the area of food delivery apps. If you are also considering a similar business idea, then you must understand how it works.
The Business model of Swiggy follows the following pattern:
Users sign up for Swiggy mobile app, selects their favorite food, order food.
The Swiggy confirms the delivery location.
The restaurant receives the order and confirms it.
The delivery boy gets information about the pick up and drop location of the order.
The customers receive the notification about the confirmation of the order and the person who delivers the order.
The customers get to know the entire journey from their app starting from the placement of the order to the order confirmation to the moment the order gets delivered. On an additional note, they can track the delivery boy's location too.
After the order is finished, Swiggy marks it.
Swiggy's business model is based upon a hyper-local on-demand delivery business model. To meet the growing demands of customers, it makes use of modern technology and techniques.
This online food delivery app business model acts as a bridge between eaters and restaurants. It operates successfully on a dual partnership model which proves to be a win-win situation for both restaurants and retail stores.  You can utilize this business model of Swiggy to understand the food ordering and delivery service.
Contact us
Successful Partnerships
To make the business model of Swiggy successful, it has partnered with Burger King and McDonald's to offer delicious food to all the customers. To ensure the best tracking facility, it has partnered with Google Local Guide. Even the partnerships with Sodexo and Indifi technologies also prove to be beneficial so that the restaurants in collaboration must have a financing program. Following partnerships have proven to be advantageous:
Restaurants and retail shops registered with the online delivery food platform
The fleet of delivery boys who offer their valuable delivery service.
Technology stack
The technology stack helps to deliver businesses to satisfy the hunger of foodies around the world. It must carry out basic activities like:
Develop strong partnerships with retail stores and restaurants.
Hire full -time and part-time delivery partners
Quick payment gateways to offer a hassle-free experience to customers.
Tracking process to help the customer keep in the loop.
Monitoring process by the customers to offer excellent delivery services.
Offer support and maintenance to customers.
Expenditure
The business model of Swiggy has to cover the expenditure which includes the following:
Amount spend to delivery partners and delivery boys
Incentives offered to employees and partners
Making innovative tech solutions
Platform maintenance, marketing- both online and offline costs
Customer Segmentation
The customers at Swiggy can be segmented into different types according to their requirements.
Customers who love to order their favorite food from digital platforms.
The customers who love to enjoy delicacies at their convenience
The foodies who avoid going physically out to enjoy food.
The customers who like to explore the food delivery apps.
Nearby restaurants and retail stores
The restaurants and the retail stores are leveraging their business by making an online presence by getting listed on the Swiggy platform. These online delivery apps help these restaurants to enhance their business by offering on-demand food on time.
Delivery providers' benefits
The Swiggy business model helps the delivery providers to achieve success in their delivery business. Following are some of the profits:
The delivery providers can accept more delivery requests to earn more through the digital platforms.
Ease in registration process and document verification process.
The delivery services can be provided according to their convenience.
The delivery providers can utilize various digital payment options to receive payment.
Get in Touch With Our Experts
Social media platforms
Marketing does the magic to help any food delivery apps proper and become dominant in their field. The business model of Swiggy social media marketing helps you create a strong online presence through various social media channels like Instagram, Facebook, Twitter, and LinkedIn. The appealing websites and interactive social media platforms make a lot of engagement.
The advertising model works on the banner promotions and priority restaurant listing. It displays and promotes banners of available restaurants according to the regions and rates. It charges a premium fee from restaurants to display the banners.
Customer is the King
Swiggy's s business model always adheres to customer satisfaction. The support and maintenance offered by the Swiggy customer relationship team maintain a strong and long-term relationship with customers.
For better customer relationships, you can follow the following steps:
Reach customers through social media platforms.
Go through their reviews to improve the services.
Offer a good method of review and rating system.
24*7 support and maintenance.
Resources of money
The restaurant and retail shops
Delivery providers who register themselves.
The technology stack delivers on-demand service to customers.
The local partners provide their services.
The customers are the main resource for Swiggy's s business model. The customers can enjoy their favorite food with this food ordering and delivery platform. The other resources are:
The food lovers love ordering food to enjoy their favorite food in their personal space and offer the payments in return.
The restaurants and retail stores are delivering their world-class service through advanced platforms.
Key takeaways from Swiggy business model
Swiggy has strived hard to make its way to the field of food delivery despite the fierce competition from Zomato, UberEats, and Foodpanda. You can also follow this business model to prove your way:
Focused
The founders have always focused on only one thing: the logistics operations and made it a hassle-free task. They worked upon logistics operations and aimed to make it better through several rounds of trials and errors.
Follow the trend
In this fast-moving world, the customers want the fast delivery of food hence the business model of Swiggy has collaborated with technology and speed to follow the trends. Their team has worked upon the latest technologies to update the food delivery app.
The team
Without failure, the team has worked hard to develop Swiggy. The team of experts and developers have worked together for every development in the stage development of Bundl to Swiggy. A team's work matters a lot to build a successful food delivery platform.
If you are going to consider the business model of Swiggy and develop a food delivery app like Swiggy then it would cost around $9000. The price may vary depending upon the basic features, testing, the team of developers and the platform also.
The conclusion
Swiggy has become the most popular food delivery app in the market. Its business model has completely changed the scenario of food ordering online and delivery business. It has helped foodies to get their favorite food in their personal spaces within a few clicks.
Swiggy has dominated India's food market and considers Swiggy's business model to help achieve massive successive rates. It has also helped retail stores and restaurants to deliver their food and gain a popular name in the field. This online food delivery app is diversifying its logistics business like groceries. It is planning to start operating its services around the globe.
If you are considering a plan to develop an online food delivery app like Swiggy, then feel free to talk to us. DxMinds is a leading mobile app development company that provides incredible digital marketing solutions. DxMinds delivers end-to-end digital transformation solutions ranging from designing and from development to deployment. We offer unmatched services capable of offering world-class competition to the existing market.
Book an Appointment With Experts
Popular Posts: