May 7, 2021
Posted by:

Admin

Category:

Education Apps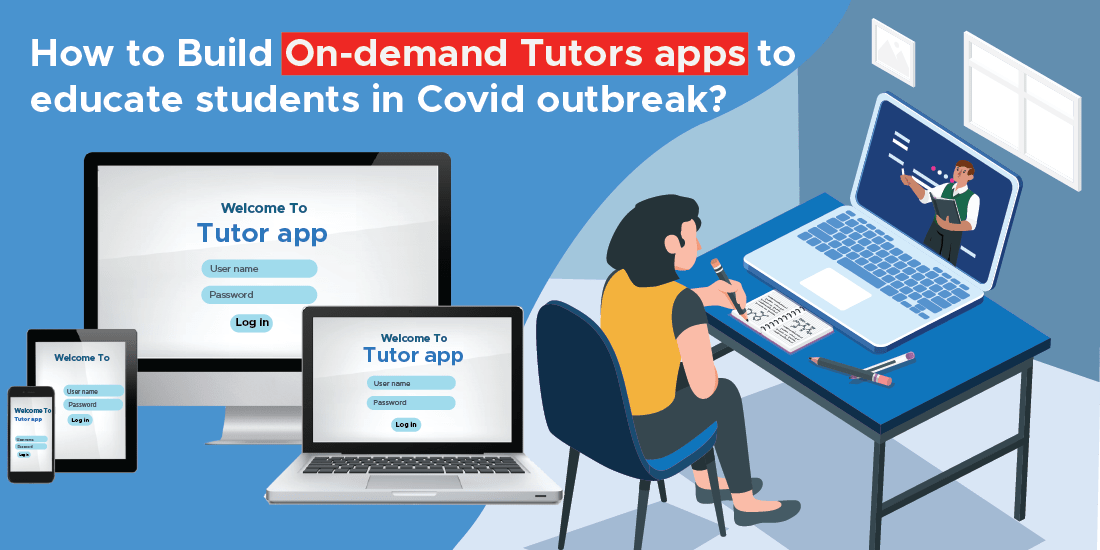 Dwelling on the troubles made by the pandemic known as COVID-19 is uncountable and it has caused severe damage to social lives. Social strata have been paused for a while and this social distancing has also affected the educational sector by restricting their classroom studies. Due to the lockdown and other crises faced by society, regulating schools in the traditional format is the biggest challenge in front of schools. Well, technology is playing a heroic role in almost all business sectors giving alternative options to almost all problems to conduct their business activities and eradicating losses. The same technology is also becoming a backbone of the education system giving them the best alternative to gather a class without gathering students at one place.
Online classes have been tossed as one of the most important alternatives to keep the studies of the students unaffected by this pandemic. Almost all schools have already opted for online schooling solutions and most of those have elected for on-demand tutors app development in India to get a customized solution that caters to all the specific requirements of an institution.
Are you also an educational institute that is looking to develop a customized tutor's app and seeking a guide to developing an on-demand tutor's app to reach out to all your students and connect your teachers with them? Then there is the step-by-step guide to developing an effective app to conduct uninterrupted virtual classes.
Customize your quote
What you must consider while developing an online tutor app:
The intention of app development:
There are multiple types of online tutorial apps, what is your ultimate goal? Either you are willing to develop an e-book in the form of a search engine for your students where they can find a one-stop solution for all your studies or look for a virtual classroom that can take your school or any educational institution online. First, you need to list down the features of the app you are willing to develop.
Panels required:
Once you have decided on the type of tutor app you are willing to develop; now you have to figure out the number of panels required for the effective use of developing apps. For an on-demand tutor's app development, you must choose 3 different panel developments, one for the students, one for the tutor, and the last one for the admin. All three panels will be developed with different features giving different privileges to the user defining their roles and permission over the app.
Scalable:
With the growing age, every day is coming up with a scope of new subjects and hence new topics to learn for students. Hence you must develop a scalable app that can be anytime up-scaled with the changing educational trends and requirements.
Technologies used:
Technologies used for the best on-demand tutor's app development are DevSecOps, MVP, and DevOps. These technologies enhance the agility of the app development process and allow the developers to come up with the best solution with amazing innovations.
Let's talk with the experts
Third-party integration:
Technology is growing at a fast pace and to match the scale of growing industries, most mobile apps are developed with a space to integrate a third-party solution that can enhance the efficiency of the app and can serve as a one-stop solution for all requirements from one platform.
Must-have features in the on-demand tutor's app:
The rise of online education apps is to fulfill the need to bridge the gap between tutors and students to keep their studies unaffected. To make your app one of the widely accepted virtual education apps you need to incorporate certain features that hold the security of the app yet keep it simple. A few must-include features of an on-demand tutors app are listed below:
1. Single-step sign-in:
If you want to drive huge traffic to your app with successful numbers of downloads and registration then you have to keep your sign-in page simple and quick to fill. Most of the user wishes to get a solution that they can use on the go. Hence you can keep it very simple by allowing them to use their social media credentials to log in or give a direct Google sign-up option.
2. Smart search option:
Once the visitor signs in to the app the very next step they opt for a search option to attain relevant material for their study requirements. This is one of the most critical options that you need to stick with your viewers for a longer duration. A smart search option is one that can detect and determine the keyword and give related options for a quick search. This is one of the basic functionality expected by the user for any type of search engine. While developing the algorithm of a search bar of an online tutor app development, you must consider all possibilities of the long tail and short tail keywords. Auto-suggest is the must feature that enhances the productivity of the app.
3. Personal dashboard:
On-demand tutor application development in India is all about giving a new face to the technology based on the customized requirements of users. While using an app, every user needs their personal space where they can track and keep a note of their activities. If you are hiring a mobile app development company in India to assist you with the development process then ask them to add creative and interactive widgets that give a utility and helpful space for the users including:
Courses related to their browsing history
Coursed purchased
Related courses based on their purchase or search history
4. Start where you leave off:
Online education solutions have given solutions to the current pandemic situation and have also added flexibility to the study time of students. Now, with the online study material, recorded video sessions, etc. students are enabled to continue their studies anytime. Hence, they must get the liberty to start their studies where they left last time. It seems to be very simple to use, but development requires art-of-the-state technology to implement this feature.
Customize your quote
5. Offline access:
Several apps developed in recent years are based on the internet to run effectively with decentralized solutions. But, the reception of the internet can't be expected same every time. Hence, to make an app more effective, the app must give access to the users to use it offline also. The online tutorial app must have a feature to download the videos and watch them anytime even if the device is offline.
6. Interaction:
Online tutorial app development is based on the idea to recreate classroom ambiance with the virtual room, hence the app must have the option to interact with each other. Without any interaction, the app will be only an e-book, but an interaction channel that can accommodate as many people with the authority to communicate with each participant will make the virtual room a perfect classroom.
7. Session recording:
Every second of a classroom session is important for a student; hence they can't afford to miss any session. This facility wasn't available during the classroom session. But on-demand tutor's app development can give a solution for this problem too. If a student is not available to attend any live session or if they feel that the session is very important and must be repeated, they can simply record the entire session and can watch it any time they want.
8. Notifications:
In this pandemic situation, online tutorial apps are a one-stop solution to keep your studies unaffected. It has become an important part of student's life and they must get frequent updates of every single change occurring in their group or any related options. Notification is the only solution that can keep the students hitched with the app and allow them to set reminders for important classes, notifications for completion of downloads, session recording, and many more.
Conclusion:
Online education is a new trend that is going to flourish further with a great scope to cover all types of educational institutes. On-demand tutor's app development is giving a perfect solution for conducting online classes with virtual online spaces on an app. If you are also willing to develop an online tutorial app with the latest features then hiring professionals from mobile app development companies in India will be the best solution giving you an enthralling platform to connect with your tutors as well as students in one place, regardless of their physical location.
Book an appointment with experts
Popular Posts: