November 4, 2020
Posted by:

Admin

Category:

Outsourcing and Offshoring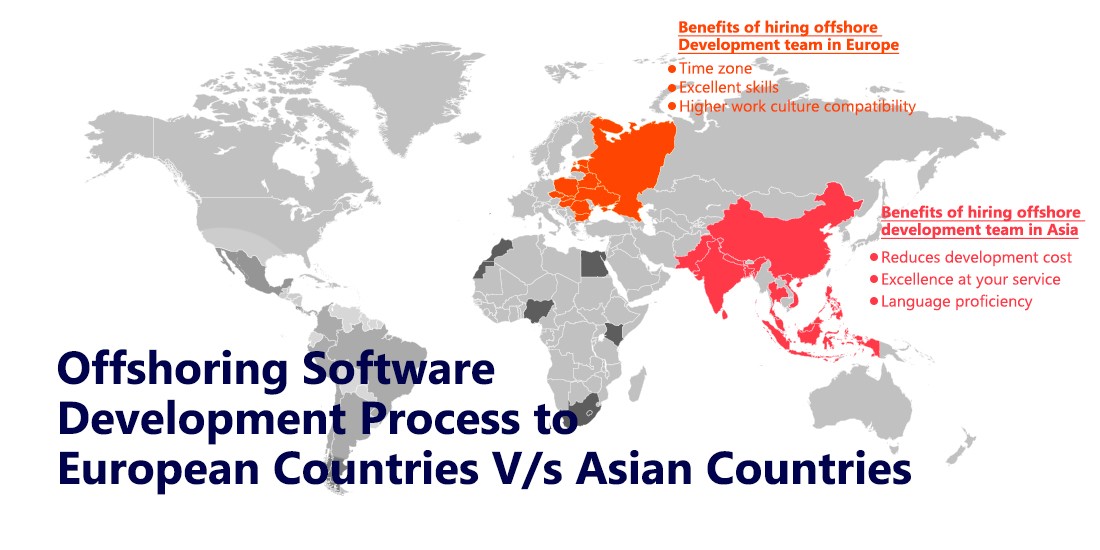 Offshoring the software development team is booming in the current technological world. Most of the big countries are turning towards developing countries in search of excellent talent. Top locations renowned for serving the best offshore development are North America, Western Europe, Eastern Europe, Asia, and Africa. Among these North America is one of the biggest hubs for software development. But it is a shelter for the economically sound and established firm because North America is also one of the most expensive cities in the world. The very first reason why software development companies look for offshore software Development Companies is cost-cutting. If again you tend towards the most expensive city then leaving your native team and hiring an offshore developer will not make any difference to your business strategies.
If your intention in choosing a dedicated offshore software development team is to find the best talent then again several countries are having a pool of talent and are renowned for the greatest innovations. Several Asian countries have emerged as technological masters in recent years and have given us the best software development experts with thriving and innovative apps transforming the business world and also social lives.
The topmost Asian and European countries preferred for offshoring software development are:
Asia:
Asian countries were the pioneer in offering the most effective and affordable software development services for a long duration. Also, the countries in Asia have the best technological talent who have gained expertise in the latest technologies making radical transformations in every business sector and making jobs simpler, faster, and more promising. These countries are mostly preferred by Western clients for several decades. The most preferred offshoring destinations in Asia are India, China, and the Philippines.
India: India stands at the top of the list of providing the best offshore software developers. They provide quality over cost services which make the business progression much easier and faster. India has an array of talented technologists with expertise in the latest software development tools and technologies. Every year at least a million software developers are produced in the country which is the biggest contribution to the number of total technological experts graduating every year with excellent skills. Another aspect that attracts Western countries to set up their offshore development center in India is the most affordable prices which are approximately 40-50% lower than their native experts.
Philippines: The Philippines is recognized for offering several business operational services. You can get a complete business execution team at the most affordable prices that include software development, maintenance, and support. The time zone of the Philippines is much close to the Western countries and this aspect tempts the software development companies of Europe towards the Philippines for hiring an offshore development center there.
China: Technological prominence of China is not a hidden factor. Now, almost the world accepts China as one of the topmost countries for mind-blowing innovations and creativity. The lower economy of China is another factor that boosts the vision of hiring offshore software developers in this country. In the past decade, China has grabbed the attention of all huge brands with its creativity, excellent hold on technology, and cost-effective services. In the past ten years, the graph of outsourcing services in China has grown 77% making a bigger change in the economy of the country.
Europe:
Eastern and Western Europe both have left their imprints all over the globe with their technological excellence, greater innovations, business transformations, and economic growth. Most of the top brands have pulled their branding and success with the help of excellent technological experts offered by the countries in Europe. The technological efficiency of experts in these countries has renowned the technological standards and leveled it up for the entire world. The most preferred countries in Europe for the offshoring development team are Poland, Romania, and Belarus.
Poland: Poland is unnoticed by most of the companies seeking offshore development centers considering the higher economy of the country. Most of the entrepreneurs pre-assume that, being a higher economy the services will also be costlier. But the fact is that Poland offers both the services opulent pool of talented professionals and cost-effective services too.
Romania: If your priority is technology and the price hike is not a concern then Romania is the place for your offshore development center. The country is renowned for offering top-class technological services assisting you in developing top-notch software with the latest tools and technologies.
Belarus: If you talk about the technological experts among European countries then Belarus will be the topmost on the list. This country has the strongest technological work profile of more than 50 years and has been the prior choice of other European countries for offshoring development teams for 20 years. It has created a milestone for IT developers and has been recognized as the hotbed for the best professionals all across the world. Their accurate workflow, appropriate time zone, and extreme fluency in English make them a prior choice for the offshoring development team.
Benefits of hiring an offshore development team in Asia:
Reduces development cost:
The biggest benefit of choosing an Asian country for setting up an offshore development center is the economic prices. If you are a start-up and looking for a team with affordable prices then you must choose Asia. Here, you will get premium professionals for the least possible prices cutting down the biggest expense from your list.
Excellence at your service:
Asia is occupied with excellence. Most of the latest innovation trends in the recent IT sector emerge from Asian countries. India, China, the Philippines, etc. countries have boundless talents with the highest proficiency in the latest technology and a vision of future transformation. Right from day-by-day amenities to the latest apps, each has been developed in Asian countries using the latest technologies to make it more flexible, creative, and out of the box.
Language proficiency:
Asian countries have different languages but still, you will get professionals with higher proficiency in the English language. Hence there will be no such communication barrier even if you select an Asian team for your project development.
Benefits of hiring an offshore development team in Europe:
Excellent skills:
Europe is the hub for all IT companies. Most of the technological giants have established their bases in various European countries and have highly skilled teams to execute their operations effectively with proper and appropriate business growth. Educational standards in European countries are higher than any other country all across the globe and hence creativity and possession of the latest technologies are in abundance in these locations.
Higher work culture compatibility:
Most Western countries look for offshore development centers to get the best solutions for their requirement. By choosing any European country for hiring an offshore development team they will be sharing the same work cultures. It makes work much faster because both the client and the team will be working with the same business strategies giving no room for confusion or clashes.
Time zone:
European countries have almost the same time zone as other Western countries allowing them to work at the same time. Working simultaneously allows the client to build a stronger bond with the team with continuous communication.
Europe or Asia: Which is your perfect place?
For hiring an offshore software development team, Eastern Europe and Asia are having tough competition. Most of the companies get confused about which one to opt for. The choice of location depends on your business requirements and your priorities, such as technology, time zone, capital investment, a huge team with multiple options, and more. Here are a few comparisons between the offshore development centers of both locations.
Cost-effectiveness:
Most business, either big or small, looks for a smart way to run their business with less capital investment and higher returns. Eastern Europe is undoubtedly a giant brand for technological development but the standards of living in that city are high with a higher economy. In such a location the pay scale of a professional developer is very expensive. Building an entire team of professionals may consume more than half of your capital. If you are having a well-set budget to invest then choosing an offshore development team will serve you with your objective. But if you are a start-up or an organization with a lower budget then choosing European countries for your offshore development center will not be a wise choice.
In such a case, Asia can serve you with a prominent and one-stop solution. Compared with European countries, the economy of Asian countries is feebler and that makes it the perfect gateway for all the start-ups to get the best and the most professional services at the most affordable price.
If you compare the salary of a software developer in European countries and Asian countries, then a huge difference of 40-50% will be illustrated. The average hourly pay of a software developer in Western Europe is $67.20 and in Eastern Europe is $32.29, whereas the hourly pay of an Asian developer is only $25.83.
The pool of talent:
Software development is the craze for students in today's technological world. Most students are now willing to build their careers in the IT sector with the most handsome salary, resulting in the production of endless developers every year. The scenario is the same for every country all across the world. But if you compare the numbers of software engineers graduating each year in Asian countries and European countries, then the number of Asian students leads by 30-40%. Approx. 1 million software developers are graduated every year in just India.
An approx. an estimate of software developers in European countries is 5.5 million. The technological world is growing faster and in that race, European countries are deemed to be the prior countries to develop new software and technological ideas. To satisfy this highly growing demand Europe is already running short of software developers by approx. 5 lakhs which is again raising the compensations of European software developers. Hence, Asia has the biggest array of talented software developers at the most economical prices.
Access to the latest technologies:
The latest software development technologies opted in recent years are artificial intelligence, cloud computing, DevOps, Angular and React, IoT, and many more. In terms of technological approach and access to it, then both Europe and Asia are strong contenders. Still, Asian countries are much recognized for offering excellent software development services as they are having professionals with excellent proficiency in the latest and most thriving software development technologies.
Time Zone:
The time zone is an important factor and plays a crucial role in keeping you connected with your offshore team. If you are your team are working in the same time zone then communication becomes much easier. If compared to Asian countries and European countries for Western clients, then European countries will be the prior option for them to hire an offshore software development team. But for this problem, overlapping hours can give you a prominent solution. Different time zones can't restrict you from getting the best technological experts for your business development. Being in different time zones, you can communicate more during the overlapping times when both countries have working hours. Apart from this, you can also opt project management tool to keep pinpoint details of your project to keep your team in touch 24/7.
Language proficiency:
In terms of language proficiency, European countries will be more comfortable being the same language speaker. But professionals of Asian countries are also well equipped with the English language have possessed higher proficiency in the language, and have crossed the barrier of communication.
Conclusion:
The offshoring development team is a recent trend in the global IT sector. Most Western countries run short of top professionals, and also the professionals available in their native places are highly expensive. As a solution, most of the businesses from Western countries drive towards other countries to find the best team. In the Offshoring development team industry, Europe and Asia are two top places where most entrepreneurs rush to expedite their business.
Both options have their pros and cons, but if compared to various aspects required by a business to attain success, Asia is the better option with several benefits and the least disadvantages. The constant need for software development in today's modern world requires a team that can serve the business for a longer duration without consuming major capital and giving higher returns. Taking these aspects as the biggest concern, now India has become the prior most choice of businesses to set up their offshore development center.