November 10, 2020
Posted by:

Admin

Category:

Software Development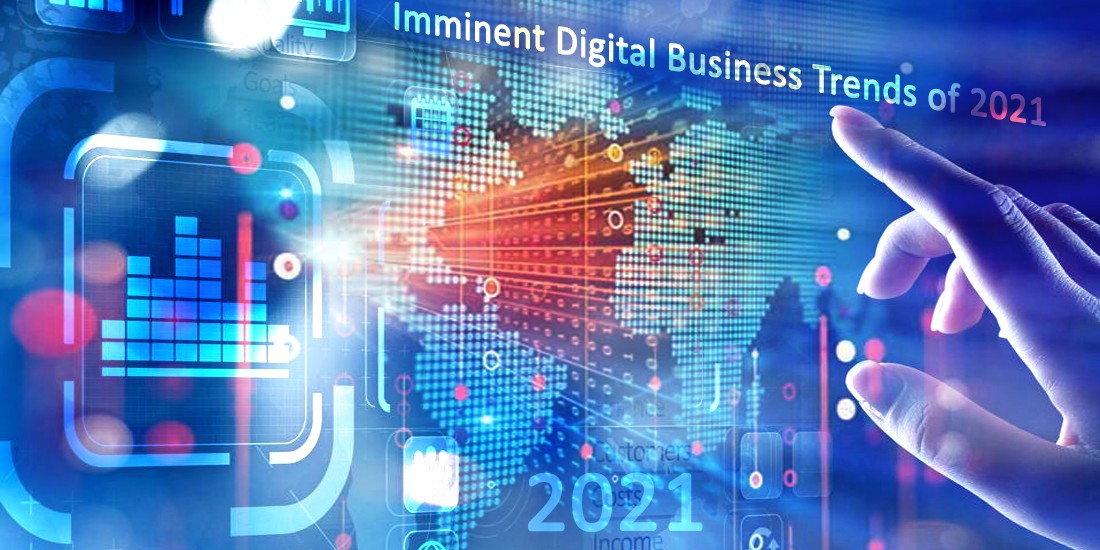 In past one year a lot has changed and a lot more is still to change for the same reason. The Covid-19 emerged as a curse for the world, but on the other side, it has proven a boon for a few reasons too. At times, things that were supposed to be optional are now replaced as a mandatory aspect for the entire world, and the digital business is one of those aspects that have traveled a swift journey from optional to mandatory. The upcoming year 2021 will be a transformational year for a plethora of trends and it may change the world upside down taking the world much closer to the digitized phase. In terms of business, the world has taken a swift onboarding to the digital platforms; those businesses which were supposed to be digitized in upcoming years were taken up by digital platforms overnight. As per the predictions, a huge part of the business world is investing in digital platforms to attain a full-fledged online presence and increase the reach to the entire world.
In these last few months, almost businesses took a rapid drive towards software development companies in India to hire the best software development team assisting them in coming up with the most thriving, innovative, and engaging software and websites reflecting their businesses online. The need for software developers is growing with an exponential graph all across the globe making high demand forthe latest technologies and professionals too. The Covid-19 is acting as a catalyst in pushing the businesses to the digital world. Till now the digital world was a single unit with approximately 50% of the world's businesses active on various digital platforms. Hereafter, digital business is getting segregated into divisions comforting businesses to reach out to their targeted customers easily.
Creating digital solutions:
Digital engagement will be the center of attraction for most businesses with the latest strategies of creating a digital presence and grabbing the attention of targeted customers. In today's world, most of the top technological brands are up to launch new products based on Artificial intelligence, data analytics, and other latest technologies. Based on current research approx. 20% of businesses are getting attracted towards these technologies and are competing to drive out the best business-driven solutions out of these.
Cloud will dominate the digital world:
Undoubtedly cloud is used by most folks for storing their data to secure it for a longer time. This is going to be the future of the business industries. In the present day, where everyone is working remotely, data generation is 50% more than ever before. Data generation, storage, and transmission had replaced face-to-face talk in the professional world and have given a solid base to the businesses by storing each minute detail of their operations. But here the question is where to store all these generated data? Cloud is the one-stop solution for every data storage problem. It is one of the most economical options. In the upcoming days, cloud storage will be a priority for most businesses. Now, even most of the enterprises started developing cloud-based apps making a huge difference in capital investment with excellent results. It will assist businesses to align their external and internal resources.
These many days, buy option we had seen only in the product based websites. But now, every channel will be a shopping portal with a buy option. Most of the business already started taking Social media into account with the promotional ads giving the option to buy directly or to take the customer directly to the online shopping portal. This is going to be the most thriving trend covering products as well as service-based companies. With the help of artificial intelligence and machine learning, ads can be customized based on the latest searches of users giving them an option to buy at multiple places.
The upcoming years will offer a facility of deep personalization using augmented reality and virtual reality. These two technologies are having a greater scope in the upcoming business trends.
Enterprise resource planning will have a replacement:
Businesses are compiled of several operations and keeping a deep eye on every single operation is not feasible for every business, especially large scale businesses. As a solution enterprise resource planning was giving an opt solution to the businesses to use the integrated systems and manage their various operations, including financial work too. But now, as the entire business world is going digitized then you may require a digital app that can assist you to cope up with the speed of changing business trends and also maintain the pace of your team operations too. In the upcoming year, the ERP solution will be replaced by digital operations platforms (DOP). The new business management platform will be based on artificial intelligence to add flexibility to the features. This latest innovation will be capable of assisting you in measuring the feasibility of new pricing models where it will also assist them to enhance their productivity.
Technologies giving hype to digital businesses are:
Artificial intelligence:
Artificial learning doesn't need any introduction; already it has ramped up the existing technologies and is helping almost business sectors in transforming their business strategies and operations. In 2021, artificial intelligence will be at boom giving myriad options to businesses. The medical sector will be one of the foremost sectors implementing Artificial Intelligence. The recent hit of the pandemic has spiked up the rate of health checkups, the volume of data collection, and many more. This has led to huge data collected in the hospital's servers. To get quick access to all those stored data manually makes the task tedious and time taking. With the help of Artificial intelligence, one can run a quick search in a huge database and can search for the relevant match automatically. In the upcoming years, machine learning and automation will become much smarter than ever before.
In other business sectors, artificial intelligence and machine learning will assist the entrepreneurs to understand the markets in deep and know their targeted customers better and closer. The shopping trends and choices of a human are widely based on their behavior. If you can get succeeded in knowing one's behavior that means you won the challenge to understand their preferences too. But it requires deep learning and close observations of every individual which is not feasible at all. But now you have a potential solution, Artificial intelligence which collects data from various online platforms and transfers it to your storage effortlessly within no time and with no manual assistance. Most of the businesses around the globe are hiring software developers from India to develop a smart app capable of collecting the personal information of their targeted customers. In 2021 we can have a more sophisticated tool capable of analyzing behavior based on the infrastructure of business strategy and budget.
Robotics, Drones, and Vehicle Automation
Robotics is an ever-increasing sector showing its vitality in every business industry. In the upcoming, it is predicted that robotics may replace approx. 50 million jobs. Earlier robotics was only used by the large scale industries but now the reach of robotics has expanded to the medium size industries also. In upcoming years we can expect the extended wings of robotics in small-scale industries and house-holds also. Based on the current pandemic situation and social distancing that has been maintained for a long duration will be continued and robots will be the future that will assist the human to replace manual assistance and avoid social gathering. The medical sector is making use of robots to serve nursing facilities to the patients. Robots have high scope in the armed forces too. The upcoming robots will be incorporated with machine learning and artificial intelligence making the robots a machine with a brain capable of taking spontaneous decisions going beyond the programming, like humans.
Drones are the innovation that emerged out with the merger of information technology, mechanics, and automobiles technology. Drones are smaller aircraft programmed to follow instructions, maps, and more. In the future, the home delivery jobs will be replaced by drones which will avoid unnecessary human contact and also help the logistics company to avoid road traffics and make their deliveries faster.
Automated vehicles are the most creative innovation that will assist humans in reducing their efforts and also help reducing road accidents. Upcoming vehicles will be fully automated working on the programs without human assistance. This will allow us to reach out to remote locations also without risking human lives.The connected vehicle is a new concept that the world will be witnessing in the upcoming years in which vehicles will be able to assess the distance, speed, matter, and route map automatically. This will make road journeys safer and faster too.
5G connectivity:
Sooner the world will experience more enhanced mobile services with 5G networks. This advancement doesn't only mean faster internet but even it will bring much more than that. Every advancement in the telecom sector has got huge changes in the usage, 3G networks made internet usage more effective on mobile phones, 4G networks enhanced the quality of video streaming, likewise, 5G networks has its advantages. 5G networks will be much advanced incorporated with augmented reality and virtual reality. The capacity of a 5G network will be a thousand times greater than that of 4G. We will have enhanced bandwidth with lower latency making it far better than any other network.
Extended reality:
Extended reality is a comprehensive world encapsulating virtual reality, augment reality, and mixed reality, altogether. It is considered to be the future of computer science coming up with great IT revolutions. In the upcoming year, we will have this amazing solution with us serving a great experience to the users. Till now VR and AR were having importance in the entertainment sector only, but with the emergence of XR, the medical sector will be endorsed capable of taking medical examinations and diagnosis remotely. For example, eye testing can only be done at the centers but now it can also be done remotely. The excellent camera quality of VR can be used to test the eyes and augmented reality will offer the facility to test various types of glasses with real experience.
Conclusion:
The year 2020 came like a huge drop down for the entire world but this downfall has a nice rise with great options for businesses and technologies too. This pandemic situation has pushed almost businesses to the digital world having their online existence and this made a call for technological development too. Technologies for which the world was awaited fora long have got a quick and wide gateway to enter various business sectors making the existence of technologies crucial for business enhancement. Robotics, artificial intelligence, extended reality, etc. were used at a very small scale in fewer industries. The upcoming year is coming up with the requirement of all the latest technologies in almost business industries, regardless of its size and domain.
Till now, social gathering and physical existence were important for every single task. Now onwards, the world will experience a highly technological space having great importance for social distance but also getting better experiences and efficiency out of every work. Either you talk about the entertainment industry or the medical sector, every business world is now tempting towards technological development.
Faqs:
Does the app development industry will also experience a huge change?
Yes, of course. The app development industry will be flooded with the requirements of apps for various businesses. A sudden rise inthe software development industry has been noticed in the recent few months. In the next year, this will reach out to their higher levels of success using the latest technologies. With the commencement of the 2021 year, the rate of app development all around the world will get double in the race of onboarding online platforms.
What technologies must be used for software development aiming for upcoming business trends?
There are several software development technologies used for app development but in recent years artificial intelligence, machine learning, and AR/VR, etc. are the talk of the city. Most businesses are now turning towards these latest technologies to give a new angle of operation for enhancing productivity and revenue generation.
What is digital dexterity?
Digital dexterity is a term used for the increasing desire and ability of employees in learning new and emerging technologies to perform well with 100% productivity offering excellent business outcomes. It helps the employees to scale up their skills and companies to get the best talents without replacing their existing teams.
What type of organizational change is required to accept digital transformations?
To become digital-ready just a website or app is not enough. You need to make several changes to your work culture, organizational structure, teams, equipment, and many more. First of all, you need a well-equipped team with previous experience of working completely with the digital world, then you need to incorporate all the necessary equipment required to take you almost procedures online.
For example, if you are a product seller then you need a team that can well manage your inventory, offers, and other sales relate aspects online precisely, then you tracking team, logistics, and many more.
How to determine digital transformation growth?
When you start with digital transformations you set new goals to be achieved using different methods too. It is necessary to check your business growth once you move online. Here are a few measures mentioned that you can use to check your business growth with digitization:
Check the traffic directing to your website, also check the sources from where they are driven.
Keep a count on the active users of your portal
Measure conversion ratio
Conduct consumer assessment to know the performance of your online portal.