October 11, 2022
Posted by:

Admin

Category:

Technology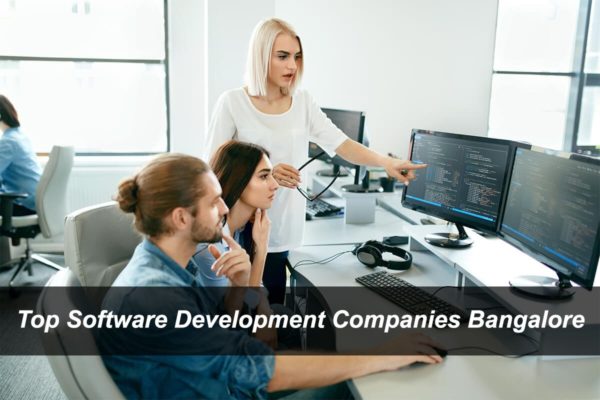 Software Development Companies in Bangalore, India
As the name denotes, software is a set of programmed instructions, which runs on various digital devices like computers. The purpose of the software is to perform certain tasks when compiled on a computer. It is based on the commands provided by the software that the computer works. In the modern digital world, software plays an important role as it controls the lion's share of operations across various industries across the globe. The adaption of Software has revolutionized industries like IT, Production, Space, Science, Mechanical, Electrical, etc.
The wide application of softwares has reduced human efforts and has brought accuracy to the tasks. As humans, we heavily rely on software to accomplish our day-to-day activities. Though software plays a vital role in our lives, we often ignore the efforts behind the formulation of each software, unless we require one for our own business.
Bangalore is the hottest technological hub in India. Numerous IT firms and software solution providers are settled across the heart of Bangalore, serving millions and billions of clients across the globe. Bangalore hosts some of the richest resources in the nation. Whether it be Manpower, Geography, or Climate, Bangalore will deliver the best. All these factors paved the way for outstanding software developers across the globe to headquarters in Bangalore.
Entrepreneurs are always rushing behind the latest technologies to canvas more and more customers onto their business platforms. Though more than enough software development companies in Bangalore are known to be famous, too hard is it for an entrepreneur to figure out the right software development company that meets their requirements. The one they found may quote them more while the economical software company in Bangalore may not meet their standards. They end up being in a dilemma.
Here, in this blog, our purpose is to help existing business owners, aspiring entrepreneurs, and wannabes who are keenly looking forward to developing high-end, customized software solutions, but couldn't figure out the best software developers in Bangalore. Among the top Software companies in Bangalore, we have shortlisted the top seven.
The list is prepared based on several factors and criteria. Some of the main factors among them are
· rate of customer satisfaction
· Project delivery time
· Number of Active Projects
· Technologies Familiar with
· Hands-On experience, etc.
Here is the List of Best Software Development Companies in Bangalore, India
IndiaNIC
IndiaNic is one of the prominent software Development companies based in Bangalore. Founded in the year 1997, they are probably one of the very oldest software companies in Bangalore. IndiaNic helps enterprises in delivering customized software solutions based on their requirements. They are one of the finest software developers in Bangalore who provide high-end software solutions.
DxMinds Innovation Labs
Being founded by Mr. Bhabani Sankar Jena, a successful tech entrepreneur as his second venture, DxMinds Innovation Labs is act as an agency that offers perfectly blended software solutions for clients. Proficiency in various technologies combined with high expertise employees prompted DxMinds in delivering successful software services across various industries. Other than Bangalore, India, DxMinds have widespread roots across the globe and a wide range of highly satisfied customer databases. The software solutions developed by DxMinds are customer-centric and they enhance the revenue and profits of every business it's been integrated into.
Are You looking for Mobile App? Let's Consult
Softura
Softura offers cutting-edge technology solutions to its clients that solve exactly the problem they face. Softura is continuously focused on bringing its best whilst developing software solutions. The software offers consulting services across various modes of software development as well. From scratch to pitching up a successful business, the support of a leading software development company in Bangalore like Softura is all you need.
Algoworks
Algoworks is an internationally acclaimed software development and consulting company based in Bangalore, India. Algoworks offers its prestigious services across various regions like the US, UK, Europe, Asia, and the Middle East. When it comes to an enterprise-based software solution, Algoworks offers the best in class services. The customer-centric approach while developing software made Algoworks the number one software service provider in Bangalore.
Xtreem Solutions
Xtreeme Solutions is a leading software development agency in Bangalore that offers uninterrupted service in the area of various digital technology trades. The company was incorporated in the year 2008. Since its date of incorporation, Xtreem Solution has never failed to deliver world-class services and consultation. High-end software solutions built by Xtreem Solutions make sure that they enhance not only the business but also generate revenue for its beneficiaries.
Noto IT Solutions
Noto IT Solutions, the leading software development firm in Bangalore, deliver services by maintaining excellence and innovation as the key pillars. Software solutions built at NOTO IT Solutions leverage various technologies and always stay on top of the existing frameworks. Highly proficient developers, engineers, and architects at NOTO make sure that the solutions developed possess international standards and meet various parameters.
Softuvo Solutions Pvt ltd
The various services offered by the leading software company in Bangalore, Softuvo Solutions Pvt. Ltd is quite outstanding and unparallel. As a business owner, you will be literally surprised to see the in-depth quality and potential of softwares developed by Softuvo. They are robust, scalable, and highly flexible. They possess a high degree of security as well. Other than software development services, Softuvo offers various IT consultation and digital marketing services.
CONCLUSION
We hope you find the list of the top 7 software companies in Bangalore, India useful. Let this list be a milestone in determining the success of your business. All the companies mentioned above deliver unimpeachable services. However, if we are asked again to go for the #1 software development company in Bangalore, we will definitely choose DxMinds Innovation Labs. DxMinds Innovation Labs not only develop robust solutions but make it sure that it is easily consumable by your customers. Solutions catered with a blend of art and creativity made DxMinds Innovation Labs everyone's cup of tea and made them stay ahead of the competition. Whatever your idea is, DxMinds helps you in running a hassle-free business and makes you free from all stresses and tensions of running a successful business.
For more details and trade inquiries, feel free to drop a mail to: