How much does it cost to develop an app like UrbanClap?
Want to develop Marketplace app like Urbanclap and to know the cost to develop app like Urbanclap then you are right place.
Mobile apps have turned out to be playing a vital role in our day to day life. It has enhanced our way of living by offering the best possible services that meets our regular requirements. The last few decades have witnessed industries level shifting their operations to digital spaces and in making it happen, mobile apps have played a key role. Today, we are at a point where anything and everything is made possible just in a matter of a click. Thanks to mobile apps and the top mobile app development companies in making this happen.
Home services are a vast area that covers domains like a salon, cleaning, electronic and electrical repair, etc. Conventional ways of meeting the daily home services requirements were so hectic that one needs to invest a quality amount of time in getting things done. Things have changed drastically right after the advent of mobile applications. With its enhanced bandwidth, mobile apps are offering end-to-end home services to the customers, flawlessly.
UrbanClap is an on-demand home service mobile app that mainly operates with in the premises of Indian cities. At UrbanClap, you can find all of the urban lifestyle services listed. Founded in 2014 by AbhirajBhal, Raghav Chandra, and Varun Khaitan, it serves as the best platform where users can hire professionals to get the services delivered right at their doorstep without compromising a bit on their precious time. The app features to search the services based on location, budget, and various other metrics so that customers find it convenient to search the services in nearby areas.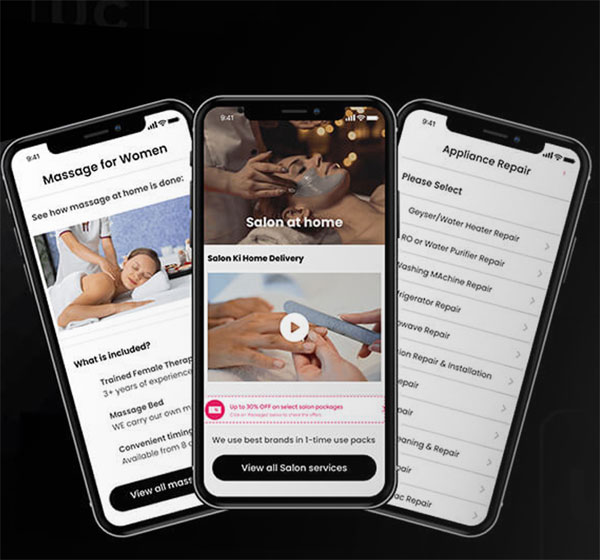 UrbanClap is one such app. If you don't have time for your lifestyle services and want to get services delivered at your doorsteps, you can hire Urban Company formerly known as UrbanClap, one of the most popular local service apps that were introduced with an intention to make things easy for busy urban users. The app has become a massive hit as it is capable of eliminating all the stresses from the life of its users and making it an easy-going one. UrbanClap is helping its founders generate potential sales and revenue, and is known to be one of the fines profit-making machines. As an entrepreneur, you may be eager to know what UrbanClap App is, How UrbanClap has become so demanding in India, and why start-ups are in search to build a clone app like UrbanClap, the cost to develop an app like UrbanClap, etc. To answer your queries DxMinds Innovation Labs, the top mobile app development company, has come with a blog that describes everything about the UrbanClap app, from features to its app development Cost.
How Does it Work
Working Model of UrbanClap mobile app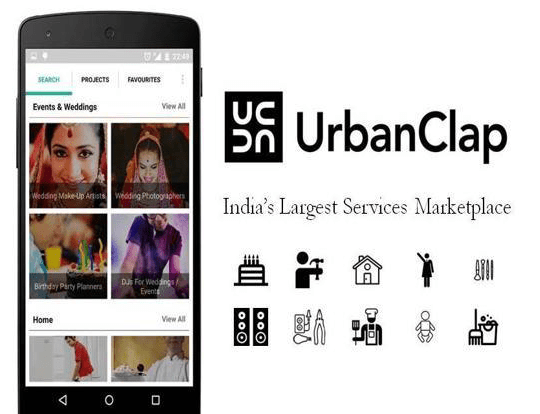 As we have seen, the UrbanClap business model operates by having a mobile app integrated into it. It has the customer app, vendor app, and admin app. leveraging the customer app, the users can avail all of the services that are listed in the app and the services will be delivered right at their doorstep. The app hosts numerous services listed on it such as Salon, cleaning and pest control, Ac Service and repair, Appliance repair, Electrician and plumbing services, Carpenter services, massage services, painting services, disinfection services, yoga services, fitness services and much more. Even at the time of global pandemic Covid-19 caused by the attack of the Corona Virus, UrbanClap is operating in a hassle-free manner by adopting all the precautionary measures and by following government orders.
Services delivered at your doorstep
UrbanClap delivers services at your doorstep by making it a perfect match against your way of living in urban life. All you need to do is to book the service on the app for the professionals to get it done for you.
Wide varieties of listed services
All you need to survive in a lifestyle where you struggle to find time for each and every activity is an impeccable home service mobile app like UrbanClap. A wide range of services is listed in the app, that you can avail it in a seamless manner. The app has never missed out on a single service that can turn out to make your life hectic, living in an urban area.
UrbanClap Insurance Protection Program
With every service, you book on the UrbanClap mobile app comes to insurance coverage of up to 10,000 that help you cover any damages caused to your property at the time of service. To avail of this service, you have to make your payment online and operate under various terms and conditions.
Interactive discounts and offers
The app delivers best in class experience to the customers by providing them loyalty programs like discounts and offers, which in turn help the organization to enhance the user experience. Also, it helps UrbanClap in generating random users to frequent users.
Features
Unique Features of UrbanClap Like App Development Services
User App
Customer App Advantages
Vendor App:
Local Vendors App Features
Admin App
User App
· Sign Up/ Sign In
In order to avail of a unified and personalized experience, the users need to have their accounts registered on the app. They can make use of their mobile number, email id or even social media handles to successfully complete the registration process. They will be provided with the login credentials that can be leveraged for logging in.
· Dashboard
The app holds an attractive and engaging dashboard that prompts the users to perform dome action. The dashboard has a wide range of services listed on it, which the users can choose based on the requirement.
· User Profile
The user profile is an exclusive area for the user to access his personal account. The user profile comprises access to various involvements like help center, gift card, etc.
· In-app wallet
The app has an in-built wallet for the users to add cash. They can seamlessly use this amount to settle bills. The transactions carried out on the app are highly safe and secure. The app also has other ways of payment modes like cash on delivery, payment using debit, credit cards, etc.
· Loyalty program
The UrbanClap mobile app allows users to earn potential revenue and rewards by referring the app to their friends and family. This helps the app founders in reaching out to a wider set of the audience thereby making the conversion of more leads to customers possible.
· Search bar
The main feature of an app like UrbanClap is the search bar. It has to be highly intuitive and innovative. The founders have to ensure that the search bars are helping the users to land on the exact services they are looking for. Also, it should suggest users the services they wish to avail of.
· Booking Details
Users can avail in and out details of their booking activity including the past and present bookings under the booking details menu.
· Review and rating
Based on their experience hiring UrbanClap professionals for accomplishing their tasks, the users can leave feedback and review. It will help out the officials in identifying the gaps which need to get bridged.
Customer App Advantages
Vendor App:
Local Vendors App Features
Admin App
Our on-Demand App Development Services
We are DxMinds Innovation Labs, the fastest growing digital transformation and mobile technology company. Following the pathways of finely blended technologies and leveraging the best development practices, we help entrepreneurs design, develop, and deploy mobile apps of their kind into the respective app stores. The on-demand app development services we come up with are designed in such a way that they are the best tool you ever needed to stay ahead of the competition. It enables you to overlook your business in such a way that you can experience the best experience building your own emporium. We, as the best on-demand app development company in India, is committed to serving our prestigious clients in the best possible way.
Our demand app development services for various industries
We deliver top-notch on-demand mobile app development services for various industries regardless of their niche or size. The app we built acts as a tool that bridges the gap between you and your customers thereby prompting them in being your regular customers. Also, these apps are capable of delivering a personalized and unified experience to the end consumers, thereby taking your business to the next level.
Food, Beverages and Grocery
We help businesses having their operations spread across food, beverages, and grocery domain in eliminating all the hassles that existed in their day to day activities by developing high-end mobile apps that seamlessly meet their requirement. Being the best mobile app development company in India, the app we put forward is a tool that can help you explore the unexplored.
Home Services and Utility
We are DxMinds, the top mobile app development company, and the ideal digital transformation partner. We thrive hard and work collectively toward the mission of onboarding digitalization for the Homes services and utility clients. We develop futuristic solutions that can add more value to their business.
Logistics and Transportation
The futuristic app development services we deliver for the logistics and transportation industry is capable of transforming the industry right from its grass root level. All you need is to partner with us and witness the wonders.
The wholesome of the beauty and salon industry has witnessed a drastic revolution leveraging digital transformation. We make you fit for outpacing the competition faced in the industry by developing full-fledged beauty and salon mobile app.
Cost Analysis of UrbanClap Mobile app
Factors affecting the app development cost of UrbanClap mobile app
Developing an app for a single platform is not enough, you have to target multiple platforms to reach maximum customers and react native is cross-platform for both iOS and Android and offers the best features and functionalities.
DxMinds consider trendy, impressive, and eye-catching user interface because the design of the app matters a lot.
We consider advanced technology to make your app to run flawlessly. Technologies like Chatbot, Blockchain, AR/VR, etc will give special effects to your app.
Selection of Proper Payment Gateway

To make the app more convenient for users DxMinds the app development company develops the app by including proper Payment Gateway which enables the customers to make the payments directly from the app and facilitates to pay directly using their credit card and debit card

Depending on the factors mentioned above the cost of developing an app like UrbanClap will cost around $10k-$30k

If you are in search of a digital technology partner for developing a clone app like Urbanclap then DxMinds is the best preferable option. Hire our developers for building an app within your time and budget.
Frequently Asked Questions
In the current situation, there is a huge demand for an app like the UrbanClap. Urban life has made the lifestyle of its residents a hectic and tedious due to a large number of reasons. In such a situation, finding the right vendors to fulfill their requirements is practically impossible. Apps like UrbanClap fits perfectly into this scenario by enhancing its bandwidth.
The rising demand for a home service app like UrbanClap is because of the advantages it facilitates.
On an average scale, it will take up to six to seven months for developing an app like UrbanClap.