September 28, 2022
Posted by:

Admin

Category:

Blockchain Development, Technology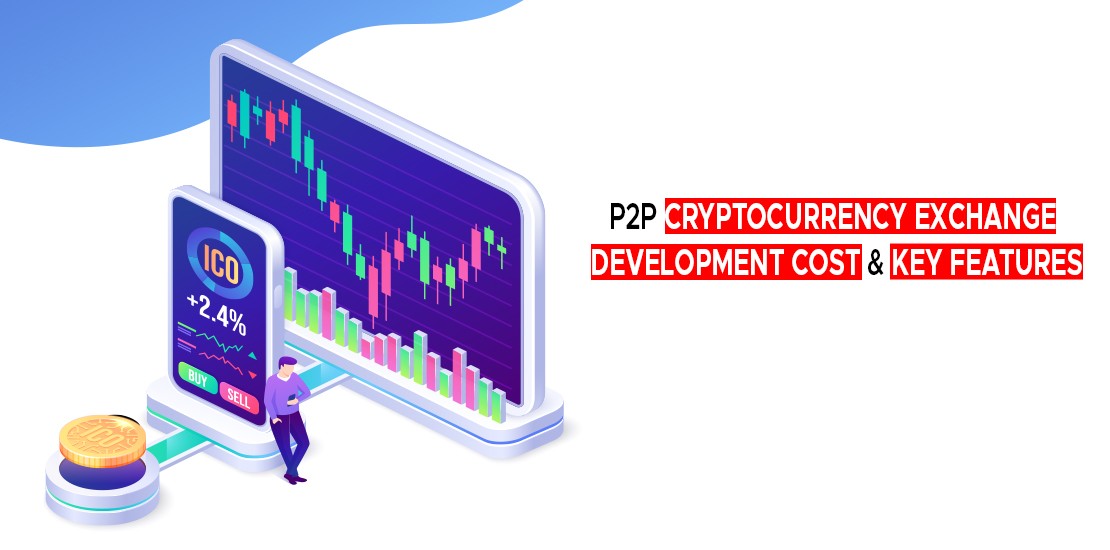 Since the emergence of bitcoin, cryptocurrencies have become the talk of the town. People all across the world are fascinated by a new kind of currency that is not taken care of by banks. It has achieved high popularity after the tech celebrities such as Elon Musk began tweeting about it, causing fluctuations in its worth.
People are becoming more interested in decentralized banking, machine-to-machine transactions, and other prospects. Various cryptocurrencies have emerged in the spotlight since bitcoin has performed quite well in terms of valuation. This became the big reason for numerous businesses to invest in it and gain huge profits. As you are aware, Bitcoin is not the only cryptocurrency available on the market, but it reigns supreme. Over 10,000 cryptocurrencies exist, and each one serves a different objective by directly or indirectly using Bitcoin.
All of these cryptocurrencies are traded on a website called a cryptocurrency exchange. There are several cryptocurrency exchanges available, each with its unique functions, features, and quantity of listed cryptocurrencies.
Businesses and startups are becoming interested in utilizing the potential and reach of cryptocurrencies as the cryptocurrency market is expanding at an explosive rate. There are several ways to make money in this market, but if we focus on the big ones, one is creating a token and launching an initial coin offering. As the crypto market expands at an exponential rate, organizations and startups are becoming interested in leveraging the potential and reach of cryptocurrency. . There are numerous ways to make a profit in this market, but the two most common are generating a token and launching an ICO, IEO, or IDO, and building and launching their cryptocurrency exchange.
This blog will make you understand P2P Cryptocurrency exchange features and Cryptocurrency app development cost.
Read Also: How Much does it cost to develop a Cryptocurrency exchange like Wazirx?
What Is Cryptocurrency?
Cryptocurrency is a type of digital currency that may be used to pay for any type of labor or goods. Various organizations throughout the world have demonstrated their faith in this technology by entering the market with their standards or tokens that can easily be used explicitly for the products and services that the organization offers. Think of them as arcade tokens or club chips. To obtain what you desire, you will need to exchange actual money for digital currency.
Complex blockchain technology is used to implement digital money. Blockchain is essentially a decentralized technology that is distributed among several PCs that monitor and record transactions. The security of this innovation is part of its attractiveness.
What Is the Working of a P2P Crypto Exchange Platform?
You must have a fundamental understanding of cryptocurrencies and how it is managed to fully comprehend how the P2P crypto exchange platform works.
The team providing bitcoin exchange development services explains here the fundamentals of using the platform and ensures that the provided solution is dependable, secure, and safe.
Since the digital currency market is decentralized, unlike traditional currencies, no specific person is granted or offered any money. Whatever the case, cryptographic forms of currency can be bought, exchanged, and stored in 'wallets'.
Unlike traditional monetary standards, cryptographic types of money exist only as a common advanced record of ownership, stored on a blockchain. When a client needs to send cryptographic money units to another client, they do so through the computerized wallet of that client. The exchange is not considered final until it has been verified and put to the blockchain via a process known as mining. This is also how new cryptographic money tokens are typically created.
The investment process would begin once you installed the application. It may appear complicated, but our professionals will ensure that you comprehend the concept completed
User Registration: After installing the software, you must register yourself with the application. Create an account with the information requested to authenticate your identity.
KYC/AML Verification: We ensure that user authentication is done in numerous steps to ensure that there is no loophole and that there is no potential of an intruder becoming a part of the process.
Order Verification: This is where the seller and buyer's orders are matched. When both the seller and the buyer confirm the transaction amount and its functionality, they proceed.
Order Placement: The order is placed after both the vendor and the buyer confirm it. It is critical. Both parties must confirm the order before proceeding with the transaction. If any of the parties declines, the order will be canceled.
Assets Sold: The assets to be sold are held in smart contact-based escrows. Thus, determining its worth and placing it on the market, as well as other information, are all cross-checked and validated for the greatest results.
Make Purchase: The buyer then pays for the item purchased. It could be deducted from either the associated account or the credit card.
Confirmation: When the seller verifies the transaction, the tokens are credited to the buyer's account.
When you contact our p2p crypto exchange development firm, we make certain that the solutions we give to you are user-friendly and do not require many issues to be resolved for the proper set of information and the procedure to be completed.
The solutions that are supplied to you are well-structured and loaded with features that will make working with the platform easier for you.
Features of P2P Cryptocurrency Exchange Software
Multiple Cryptocurrency
Over 10,000 different varieties of cryptocurrency are traded internationally. Bitcoin, Ethereum, Dogecoin, and other prominent cryptocurrencies You can conduct transactions in any of these currencies using our cryptocurrency exchange solutions. We make certain that you do not have to switch between programs for different cryptocurrencies.
Multi-lingual support
Connect to the app and select your native language to participate. For a better understanding, read the terms and conditions in the local language. As bitcoin has grown in popularity, we have made it a priority to incorporate local languages for a better understanding of the end-users.
Market-leading Trading
A trading platform with high levels of security facilitates secure transactions. Modern technology is used by our specialists to provide solutions. DxMinds crypto wallet development team makes a point of bringing on-screen solutions that are not just fascinating but also engaging.
Automated ID Verification
Automated KYC/AML verification enables the administrator to rapidly and effectively identify the appropriate people for better solutions. They must be aware that these solutions are extremely complicated and cannot be accessed without validation.
Multi-currency Wallet
Store different currencies in a single wallet by using a multi-currency wallet. You can more easily investigate the appropriate aspects thanks to our safe and secure solutions. We recognize that numerous investments will result in multiple returns, therefore we work to ensure that you can invest through a variety of channels.
Preferred Trading
Users can always choose their preferred sellers to make it simpler for them to generate the highest profits in the shortest amount of time and guarantee successful trading outcomes. We provide solutions that have been thoroughly tested and worked on before being delivered to you, so you need not worry about authentication and credibility.
Our p2p exchange cryptocurrency professionals implement these software elements into your product. The development of crypto solutions is more difficult and time-consuming than the development of other e-wallet apps. To ensure a shorter time to market, our professionals make it a priority to deliver solutions in the shortest amount of time.
P2P Cryptocurrency exchange app development process
P2P cryptocurrency exchange software is loaded with features and capabilities that are unimaginable. Working on the product requires quite a bit of energy and engagement, and our professionals make it a point to provide solutions that are intriguing and distinctive. If you're seeking methods to simplify things
Step 1: Ideation
The cryptocurrency development company you get partnered with must follow the systematic process which includes performing market research, analyzing the data, assembling the necessary proofs, and sharing the ready documents with you.
They should out of their way to create a paper that not only delves into your solutions but also shows how the product is consistent with your business model and what technologies they would suggest using in your solutions.
Step 2: Design
To ensure that you are aware of how things will flow in the development process, a prototype is created. For a better comprehension of the application, all the features would be displayed on the screen at once in this case. In addition, the UI/UX specialists refine the product idea with your ongoing feedback so that the outcome looks just how you want it could.
Step 3: Development
Once everything has been resolved on your end, the next step is to present an approach that is simple to comprehend and reflects on the screen the approach that yields the best outcomes. Installation of the trading engine and other integrations would occur at this stage.
Step 4: Integration
Connect the product to a variety of blockchain platforms. To compete in the future market, our knowledgeable blockchain service provides makes it a point to ensure that the solutions we are developing are tried-and-true and technologically sophisticated.
Step 5: Listing Tokens
When you contact us for p2p cryptocurrency exchange solutions, we make sure the tokens that are to be listed are displayed correctly. We recognize that your end customers will invest in a variety of currencies, necessitating periodic updating of the token list.
Step 6: Deliver the solution
Once the exchange program is through, we make it a point to present solutions that are intriguing and compelling. We ensure that you receive a solution that is faultless and thoroughly created by cautious testing all the features and functions for flawless performance.
P2P Crypto Exchange Development is a challenging process, but our professionals make it a priority to keep the development open so that you can participate as well. They deliver very profitable solutions with their experience, which can give you a strong foothold in the cryptocurrency market.
Now coming to the important question that every visionary wanted to know before flying directly for development is
What is the cost to build a P2P Cryptocurrency exchange app?
When it comes to building a P2P crypt currency exchange app, better to know that you are putting your hands into something big that requires huge investment as it requires major mining and another process, also know that in the end, you are going to win double of it
Coming back to Cryptocurrency exchange development cost, it is mainly estimated based on the factors like
– Location of the cryptocurrency exchange development company you hire. As the developed countries offer you expensive solutions than developing countries
– Integrated Features
– Security and safety features have been included.
– The number of developers employed
In general, the cost of developing a Cryptocurrency exchange app may range from 50KUSD to 100kUSD, varying from the above-mentioned factors. If you want to make a lot of money and join the market with a platform that will help you stay there in the long run, then you must hire a reputable and trustworthy Cryptocurrency and blockchain Development Company like DxMinds
How DxMinds can turn out to be your bigger Support in cryptocurrency exchange app development?
Our quality, clean and unique work is been adored by clients all around the globe. Right from Mobile app development, Gaming, chatbot, and Blockchain to AR/VR we have left no stone unturned to prove our best to our customers. We've been in the market for about a decade and have seen how it has evolved into a massive cluster of tech nerds. With technology always growing, our professionals make it a point to create solutions that are not just intriguing but also engaging in order to keep you engaged.