April 21, 2020
Posted by:

Admin

Category:

Famous App Analysis, Mobile App Development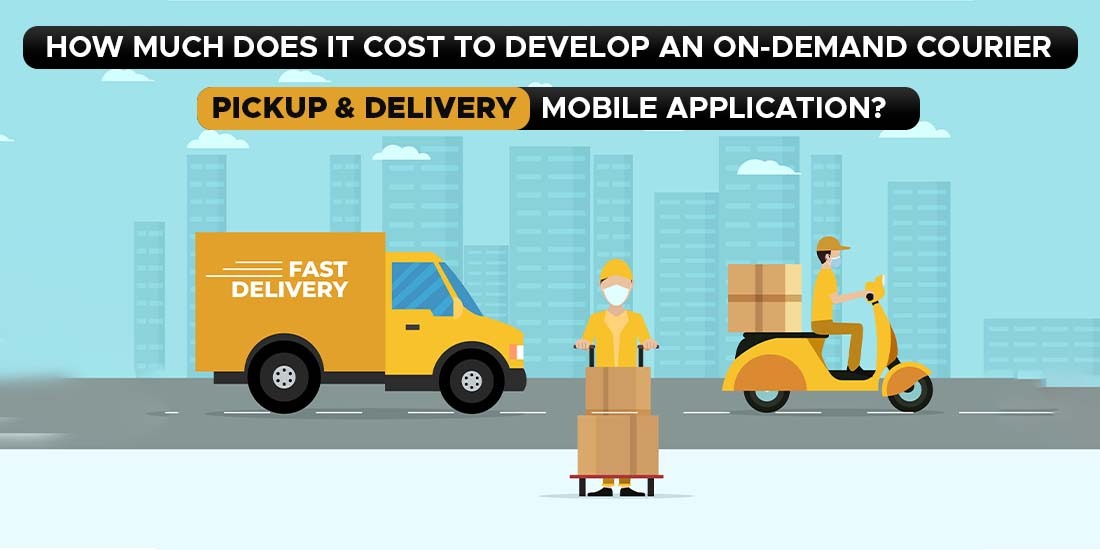 On-Demand Courier Mobile App Development Cost?
The advancements offered by mobile applications help us make our lives less complex by minimizing all the hassles and bustles involved in it. Mobile applications are making our lives better. A large number of mobile applications are available in the market. Each of the applications is serving each purpose. Some are applications that are for productivity, some are for educational purposes. While some stand for media and entertainment, others are for food and grocery delivery. The list goes on infinitely. With the arrival of mobile applications, all of the conventional ways were disrupted and more transparency was added to the process. Moreover, mobile applications have played an important role in determining the popularity of smartphones and related industries.
In this article, we are going to witness a mobile application that is transforming the on-demand courier industry as a whole. We will discuss the complete in and out feature of the on-demand courier delivery mobile application including it's in and out feature, mode of service, characteristics, etc. We will also see the cost to build an on-demand courier delivery mobile application and how can one come up with a fully-fledged mobile application. So let us get started.
More about on-demand parcel delivery mobile application
Courier delivery mobile applications are redefining industry standards as it is backed by technology. The use of the mobile application has offered a wide range of scalability opportunities for entrepreneurs and is playing a crucial role across various industry verticals. It has created an ecosystem where the best use of on-demand parcel delivery mobile application is beneficial for both businesses and end consumers. Fully-fledged on-demand goods and parcel delivery mobile application is capable of gaining huge customer traction thereby generating the potential amount of sales and revenue. Entrepreneurs and brick and mortar style of courier companies out there are actively seeking for app development companies out there in developing a high-end courier delivery mobile application that has almost all features integrated to it.
Get Free Quote
Need for an outstanding package delivery mobile application
Conventional ways of running a courier company as a lot of hassles and bustles involved in it. Right from documentation to ensuring proper goods flow, documentation and in house communication, courier industry is a kind of domain which has a lot of tedious process in its frameworks. Digitalization of the industry by the best usage of mobile applications has streamlined all of these tedious jobs, thereby delivering an impeccable experience for both business owners as well as end customers. As customers are depending more on digitalized products and goods like smartphones and related gadgets, demand for digital transformation in the courier industry has outpaced. This has prompted business owners to think deeply about the digitalization of the industry and hence integrating mobile applications evolved gradually.
Advantages of having an on-demand package delivery mobile application
· Streamlined operations
· Advanced fleet management
· Less documentation works
· More authenticity and transparency
· Hassle-free inventory management
· Enhanced customer satisfaction
· Trouble-free tasks
· Seamless shipping and delivery
Must-have features of an on-demand goods delivery mobile application
To deliver impeccable services to the end customers, an online package and goods delivery mobile applications should have a lot of mandatory features integrated into it. Let us see in detail what those factors are.
· Sign in/ Sign Up/ Sign Out
The mobile application should take its customers through an account registration process where the users can create a profile leveraging an email account, mobile number or various social media accounts. After completion of successful registration, users can make use of the generated credentials to log in. One more option of log out is there which users can make use of when they need to sign out of their account.
· Profile
The profile section is an exclusive private space for the users where they can find out their details like name, email address, communication details, contact details, etc. It is up to the user whether they want to edit these details or not.
· Enhanced order placement system
The app should have an outstanding order placement system where the users can place their orders in minimal time. All they need to do is to provide certain mandatory fields.
· Location Access
The app should have certain features integrated to it where it can track the real-time location of the user. Accessing customer location can be helpful in several other ways.
· Real-time package tracker and the estimated time of delivery
The customers have to give full control of staying top of accessing the location of their parcel. The app should also make the customer aware of the estimated time of delivery so that they can make relevant arrangements.
· Order Summary
Order summary gives the customers a detailed idea about their order details, payment, invoicing and various other details.
· Enhanced payment gateway
The app should have an interactive payment gateway system integrated into it. The payment gateway has to be safe and secure. This offers enhanced experience to the customers. Customers who wish to make use of in-app payment can make use of this facility while others can make use of various other payment facilities.
· Rating and Review
The rating and review system has to be made available in the application where the customers can make use of this facility to express their experience and opinions. This can help the businesses in making potential alterations which in turn can help the business grow.
Famous goods and services delivery mobile applications
· Parcelled
· Ships
· Picker
· BookAWheel
How much does it cost to develop package delivery mobile application?
There is a rising demand for on-demand parcel and package delivery mobile applications as they offer a scalable business opportunity. Entrepreneurs are actively looking for the app development cost of an on-demand courier mobile application like Parcelled, Ships, Picker, etc. We are here to discuss in detail about the costing aspects of an on-demand parcel mobile application. When we talk about the costing side, we need to take several factors into account. Some of the major factors that determine the mobile application development cost are app platforms (whether iOS or Android), app features, app size, app technologies, third party features that are integrated on the mobile application, app size, app location, app maintenance, third party APIs, etc. The app development cost also depends on the app Development Company or agency one hire for developing the application. However, the cost of developing a fully-fledged package delivery mobile application will be approximately USD 10,000 to USD 30000. The cost may vary based on the additional features that need to be integrated and various other requirements.
DxMinds Innovation Labs- Best on-demand parcel delivery mobile application
DxMinds Innovation Labs is a leading digital transformation and on-demand parcel delivery mobile application that helps enterprises and entrepreneurs out there in coming up with high-end package delivery mobile applications. The company is focused on delivering potential and innovative services to its clients thereby disrupting the conventional ways leveraging the wings of digital transformation. For more details on how mobile application developed by DxMinds can transform your courier business, drop a mail to info@dxminds.com