April 16, 2020
Posted by:

Admin

Category:

Famous App Analysis, Mobile App Development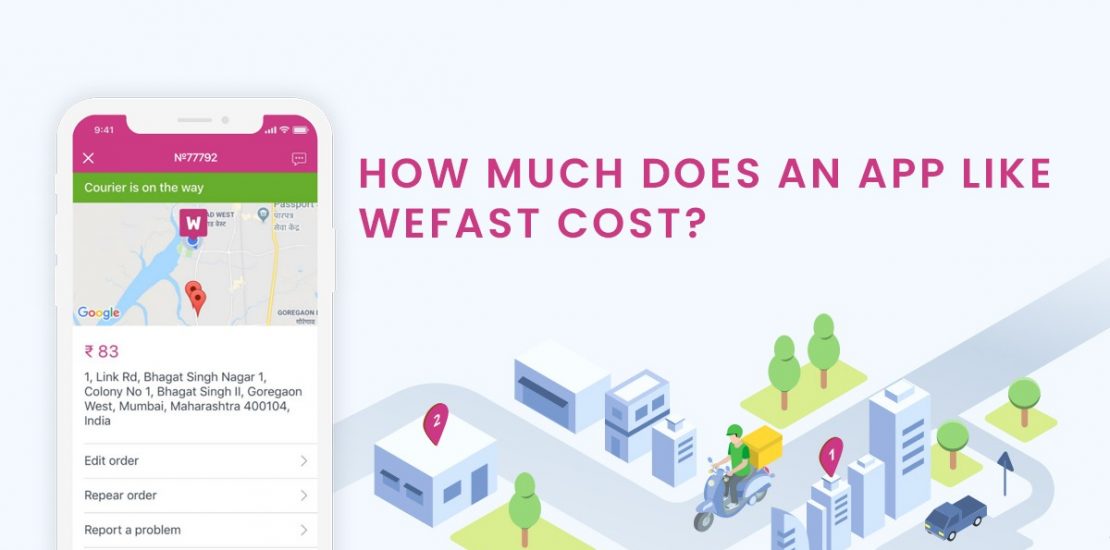 The advent of the on-demand app has redefined user convenience. The revolution that began from Uber has now spread to various industry verticals.
Courier delivery is one such business that has likewise changed because of the repercussions of on-demand benefits.
In times when online-based shopping and eCommerce are thriving, it's a need to address the difficulties of moment deliveries with automated courier delivery services. Also, to do that you would require demanding courier and parcel delivery apps that consist of powerful features.
Let's look into the
Overview of Courier Delivery App 
Courier delivery services robotize the procedure of logistics and shipping through an app that manages and records all delivery updates and information. This tracks all details of the courier cargo from Android or iOS smart devices with computer information along with time and location. Courier Companies have progressively become a fundamental and significant part of present-day trade, through the incorporation of Logistics in the operational activities for every sort of product accomplished by an entrepreneur.
Every user nowadays needs their product to be conveyed at the right place and within time. For this reason, logistics rely on transport facilities. The essential reason for the development of courier services and the transformation that has happened is that customer shopping has become popular.
The on-demand courier delivery app provides 24/7 user service which is prepared productively to customize solutions that give companies a competitive edge to grow. Businesses are presently centered to develop on-demand app solutions for courier delivery that are secure and productive.
But how to develop such an app?
In this blog, DxMinds the top courier delivery app development company furnishes you with a popular on-demand courier delivery app i.e. Wefast, its features, Step by step guidance on courier delivery app development, and development cost.
But before that, let's have a glance at the Wefast app:
What is Wefast?
Wefast India — the same-day on-demand intra-city courier and expedited service delivery app. Submit the order in the app and the system will locate the most appropriate delivery partner close by.
Courier delivery service Wefast India is a part of a worldwide delivery service, which operates in 10 countries over the world. In India, it is accessible in cities: Mumbai, Delhi NCR, Bangalore, Hyderabad, Pune, Kolkata, and Chennai.
Features
Urgent On-time delivery 
Get the courier delivery as per your convenient time, rather than at some irregular time interval
Cash or Cashless Payment
In build price calculator within the app show you the cost of delivery online, pay with your business account, card, or through cash
Courier on foot, motorcycles, or Trucks/tempos
Select the type that fits your requirements 
Courier on foot for quick delivery of parcels, documents, cloth, and cakes.
Courier with a bike for medium-sized boxes, auto parts, and fragile items delivery.
Hyperlocal delivery for shorter distances.
Track your delivery on Map
Very helpful and simple. Used to seeing your taxi on the map? Presently you get a similar comfort with delivery. No compelling reason to determine the courier status with irritating calls.
Smart Couriers
Purchase for Me" Option: Delivery boy can pay for items with their cash and convey them to you.
Securing your order
On the off chance that necessary, the courier can snap a photo of your parcel at pickup and drop-off locations
Support
Customer support can assist you with order status, advice on the best delivery type, clarify how our service works and why we have the best couriers.
Business Models for Courier Delivery Services
Each courier delivery app follows a different business model, a portion of the mainstream options to consider can be:
Package Tracking Aggregators 
Different information from all the carriers are aggregated at one spot and one is required to track all packages, regardless of which transporter it is. Packages are included utilizing the package's unique id. Message pop-up on the app updates the user as often as possible about the delivery status.
Postal and Courier Service Apps 
Applications like FedEx and DPD utilize the mobile app in postal and courier administrations. They offer fully adaptable user admin board which incorporates the ability to make shipment prints and names for the packages
Branded delivery and integrated solutions
In this kind of Business model, the organizations utilize mobile apps that have the order tracking feature. Some online retailers will likewise give an absolute extent of fruitful delivery. The greatest benefit of utilizing this app is that the users become acquainted with whether the package is fit to be dispatched, has been shipped, or is delivered
Numerous retailers utilize these branded package delivery apps to increase an edge over their opponents by giving transparency and comfort to their end-users.
Uber-like marketplace for package delivery  
Along with transforming the taxi business, Uber has additionally set an effective business model that numerous industries can adopt and increase the advantage. Uber for courier delivery service is one such imitation of this business model in the courier conveyance circle.
The Uber-like business model could be a colossal success as the past Uber for X businesses has the notoriety of disrupting traditional models across enterprises.
Hire Wefast Clone Development Company
We comprehended the diverse business models now we should concentrate on:
How DxMinds Build an On-demand Courier Delivery App like Wefast?
Regardless of which approach or business model you pick, it's never going to be easy to develop a popular courier delivery app. For that we as the best on-demand courier app development company take a few choices from clients which are mentioned below:
Pick a suitable business model
The initial step is to pick the most reasonable business model. We have just referenced the significant business models that are utilized in the on-demand courier delivery app development. You should pick whether you'll be going for a branded retailer shopping app, postal service application, or on-demand parcel delivery application.
To settle on the right decision, DxMinds ought to consider a few components like your business points of interest, audience, long-haul objectives, assets accessible, and more.
Indicate your business objectives and necessities 
There's more to beginning an on-demand courier service than just developing an app. We comprehend the focus aim, opportunities, and necessities of your model.
We additionally discuss with our clients to consider different factors such as the geography of your delivery app. We discover solutions for questions like:
Will it be just operational in one city, an entire nation, or around the globe?
What will be the delivery type that you want to offer?
What will be the normal parcel size, weight, and packaging type that you'll like?
Answers to all these inquiries will directly affect the scope and functionality
Identify the correct features 
In the wake of finishing all the theoretical angles, we begin taking a shot at the practical implementation of your idea. Our developers begin by organizing your prerequisites and documents. Here we make a utilitarian detail to set all our client requirements Must require features are:
Customer panel
Sign-In & Sign-Up
Profile Creation
Map View- Tracking Order
In-App Chat Feature
Integrated Payment Gateway
Push Notification
Courier Rating& reviews
Courier Panel
Login For Manager
Courier Account Creation
List of Available Orders
Management Of Delivery Status
In-App Messaging
Complete order history.
Admin panel
Administrator panel is must-have functionality regardless of any business model or application type with expanded access rights. It is compulsorily incorporated with third-party analytics apparatuses to examine app usage and find out user behavior. Enormous scope logistics applications have an extra alternative to incorporate with the existing warehouse management system.
Now let's look on
Working on On-demand Courier Delivery Tracking App
The second the courier accomplices are enrolled in the framework by the transporter or by the user till the moment they arrive at their destination (given over to the recipient), the courier delivery and tracking applications couple affordability, convenience, GPS, and flexibility, and are an advantageous method to track the packages continuously.
Benefits of Having a Courier Delivery Tracking App 
There are numerous applications accessible which give a similar kind of service yet not the equivalent. Out of the different highlights accessible the startup focuses on grocery deliveries, food conveyance, medication delivery, and so on.
These Applications offer a simple path for users to monitor their packets.
These application services lessen the cost of tasks by giving adaptability.
The in-house courier service recruiting is forestalled due to this.
Get a Consultation
Basic elements to consider for courier delivery app development 
To prevail as a courier delivery company, building up a courier delivery app isn't sufficient. You likewise need to consider a few different components to make your business effective.
Market your application 
Launching an application won't be sufficient. You need to promote it utilizing different media like social media platforms, print media, TV, association, and so forth. Your point ought to be to produce interest among users before it launches.
Set up associations with your intended target audience 
It's significant that you rapidly distinguish your intended interest audience and put forth attempts to set up a solid customer relationship with them. Consequently, you get significant feedback and reviews that can assist you in boosting your business.
Draw in users with offers 
You can attract new customers by giving those rewarding promotions and offers. You have to plan and consider what sort of offers would draw in your intended target audience. For this, you can attempt an assortment of offers or a blend of them to see which one works.
Follow up on feedback
Feedback is of key significance as it causes you to see every accumulation undoubtedly. To continue improving, you should make a prompt move on the entirety of your user feedback
Customized messages 
Send modified messages to your users concerning all the offers and promotions. These messages help in successful user engagement. Nonetheless, ensure that you send constrained messages with the goal that it doesn't trouble your users.
Get a Quote
Arriving at the beloved query
How Much Does an app like Wefast Cost?  
To decide the cost of an on-demand courier delivery app like Wefast, understand that it relies upon an assortment of factors. The following are a couple of the central factors that influence the cost estimation of a courier delivery app development.
The top mobile app development company which you are going to employ for application designing and development.
Which app development platform would you say you are going for? Is it iOS, Android, or both? You can pick any of the platforms or both of them according to your prerequisite.
Post-launch user services which you'll require from your app development company
Which set of features would you include in courier delivery app development?
Would you like to build an MVP or a completely fledged application?
Examining all the above components, we have discovered that the estimated cost to develop a courier delivery app like Wefast or an on-demand courier delivery app may go around from $10k-$90k.
The Courier Delivery Application is associated with every single industry nowadays. In case that you talk about the online business industry, the conveyance of the parcel is additionally utilized there, if you talk about the Food Industry the Food Delivery is likewise utilized there. These sorts of new companies give employment services to numerous individuals out there.
There are numerous alternatives in the courier delivery app development, for example, verified drivers, same-day delivery choices, and a lot more to connect more users to these sorts of apps.
DxMinds – Complete Package Courier delivery app Development Company 
With the accomplished team of courier app clone developers and designers, We help you in interfacing with the most amazing goods-delivering company accessible in your close-by location. Our customized courier delivery app development services help the entrepreneur to gather and ship the products, the users to search for the company and send the parcels, and the drivers to get complete data concerning the shipping that must be made.
Contact Us