October 10, 2022
Posted by:

Admin

Category:

E-Commerce App Development, Famous App Analysis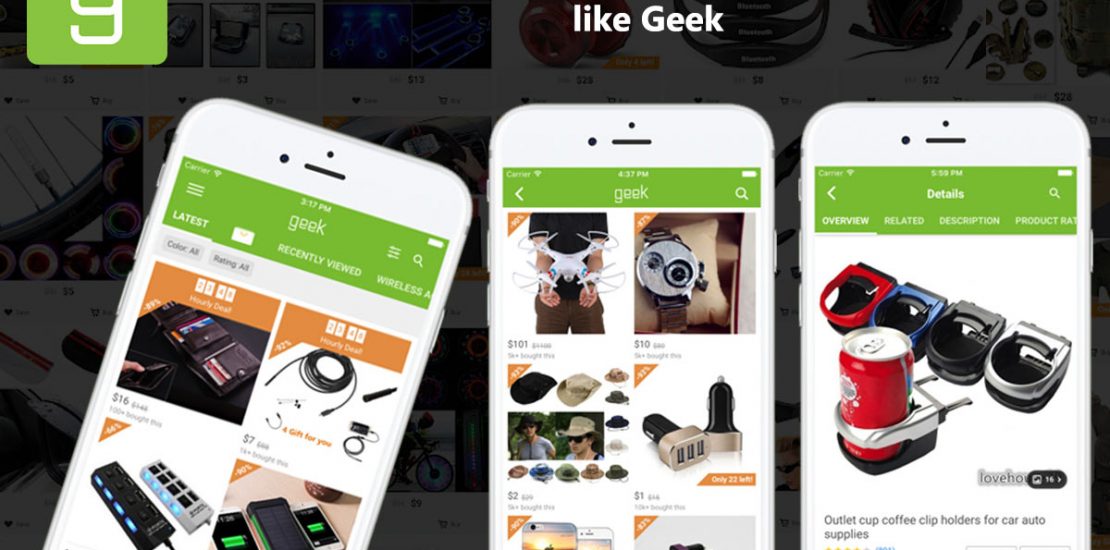 E-Commerce App Development Cost like Geek
History has proved that technology has intensely transformed our lives. Mobile applications are the best example of this technology intervention in our lives. It has even changed the way we behave, our day-to-day activities and even our shopping ways.
The intervention of mobile applications has paved the way for rising of many new startups. While mobile apps were a platform to level shift their mode of operations for the E-commerce giants like Amazon, it was an appreciation for many other companies in coming up with their e-commerce apps to compete with the existing companies.
In this blog, we will deal with the in and out features of the mobile application hosted by one of the fastest-growing E-Commerce company Geek. This article is a boon for entrepreneurs out there who are eagerly looking forward and want to know how much does it cost to develop an app like Geek. So let us get started.
What does an E-Commerce app like Geek do?
The job of an E-commerce app like Geek is quite simple and clear. It connects buyers and sellers. In simple words, it is a market place where sellers can list their products to attract buyers who have the requirements. It helps sellers generate additional revenue than conventional brick-a-mortar stores while offering huge discounts and hassle-free shopping experience to the customers.
Qualities that an E-commerce market place like Geek possess
There are certain features an E-commerce app should possess to deliver the best user experience. The app should be fully-fledged and simple. It has to be catchy yet trendy. Other than offering a complex experience, it should offer the customers the best experience.
Key features and functionalities of Geek
Now, let us see the major features and functionalities of an E-commerce app like Geek.
· Attractive user interface
The app possesses an eye-candy interface that attracts customers. This plays an important role when determining the success of an E-commerce mobile application.
· Product categories
The Geek app hosts a wide range of products varying from automotive accessories to electrical, electronics, stationery, cosmetics and drones. This makes the app a perfect shopping place for customers to land on.
· Sign in/ Sign Up
Right before starting the customer journey, the user needs to create an account on the app platform. It can be using mail Id, phone number or social media account. Once the registration is done, users can make use of the credentials to log in.
· User Profile
This is the personalized space for the users. They can upload profile pictures, change names and passwords, add or remove an address, etc. It is highly customizable based on the user requirement.
· Referral program
The app offers reward for its customers who refers it for their friends and families. This is the best way to gain huge traction on the application.
· Wish List
Customers can sort and add the items they wish to buy but later under a category called wish list. This helps them in making productive searches for the future as well.
· Shopping cart
As the name itself denotes, shopping carts are the carts that host the products and display the product. Customers can add or remove items from the card based on their wishes. It is the checkpoint just before billing.
· Order History
It is at this menu that the customers will be able to track the history of their purchase. Order history consist of completed orders canceled orders and upcoming orders.
· Log In Bonus
To enhance customer experience, the Geek app is offering rewards and bonuses to its recurring users. As a part, they are offering daily login bonuses to the customers.
· Geek Cash
The total earned points and referral bonuses combine to become the Geek cash and it can be redeemed on the upcoming purchases.
· Notifications
This slot is made use to give proper notification for the customers. They will be regularly notified of new product launches, offers, discounts, etc.
How Much does it Cost to Develop an App like Geek?
Demand for E-Commerce apps like Geek is growing rapidly. Enterprises and entrepreneurs are busy searching about how much does it cost to develop an app like Geek. DxMinds Innovation Labs, one of the leading mobile application development company having global routes across the world, we come across tens and hundreds of such inquiries each day and we are the perfect ones to answer the question regarding geek app development cost.
The app development cost is bounded to various factors. Some of them being the app platforms- iOS, Android or Hybrid, App size, App security, app features, technologies used, third party integration, extra add-ons, app location, etc. Though one cannot precisely tell the exact app development cost, it can be predicted approximately. Based on the above factors, the development cost of an app like Geek will fall somewhere between USD 10,000 to USD 50,000.
We are one of the fastest-growing digital transformation and app Development Company. We have strong roots across the globe and our client lists vary from innovative startups to MSMEs and global fortune companies. We have got demonstrable experience in developing high-end e-commerce mobile applications that we can help aspiring and existing entrepreneurs in coming up with a perfect one. We are among the very few companies that charge economically for the entire app development process. We believe in quality over quantity and customer satisfaction is our prime aim.
Why DxMinds for developing a high-end E-Commerce app
· Agile model of development
· Cutthroat technologies and innovative solutions
· Fastest growing digital transformation company
· Highly passionate developers, project managers, and designers
· Robust and scalable mobile applications
Looking forward to developing an E-Commerce app?
Do you need an E-Commerce app of your own to scale your business? We can help you out. Connect with us soon. Email: info@dxminds.com