How much does it cost to develop Messaging app like WeChat?
Want to develop app like WeChat and to know more about app like WeChat Cost then you are right place.
Ever since its Inception mobile applications are creating wonders over human lives. it has turned out in being a one-stop destination for all the digital requirements. it is this mobile app that has helped us in level shifting our economy into a digital one. They are the active Carriers of digital transformation. at the very time, mobile applications for introduced, little do the inventors knew that it is going to cross borders and ignites a massive revolution. The advent of mobile applications has eliminated all the Hustle and bustle from the lives of both business and its consumers. Leveraging best use cases and industrial applications of full-fledged mobile apps, businesses were able to scale like anything by reaching out to the potential clients.
WeChat is a potential tool that allows customers to carry out safe and secure communication in a hassle-free manner. WeChat is owned and operated by Chinese tech giants Tencent. WeChat is an all in one communication mobile application that offers multimedia messaging services to its users including text message sending, video and images, voice notes, and much more. It is also a multipurpose social networking app that offers a multitude of services to the users. Although all of its services were not available in India, they had its full-fledged service offerings in China. There it acts as a platform to order food online, taxi booking platform, money booking app, hotel, and movie ticket booking, etc. Even though the app got banned in India, there still exists a huge potential in the market for having an app like WeChat. Entrepreneurs are aggressively exploring all the available opportunities in coming up with an app like WeChat to build their own emporium. Also, they are actively looking towards knowing how much does it cost to develop a mobile app like WeChat.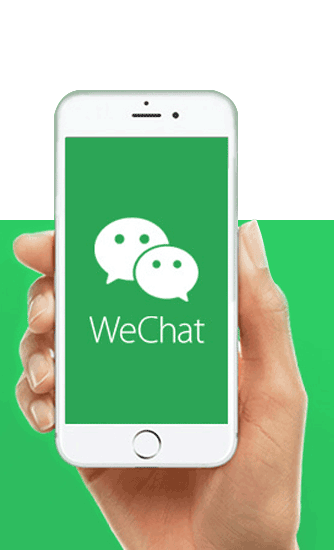 How Does it Work
Working model of WeChat mobile app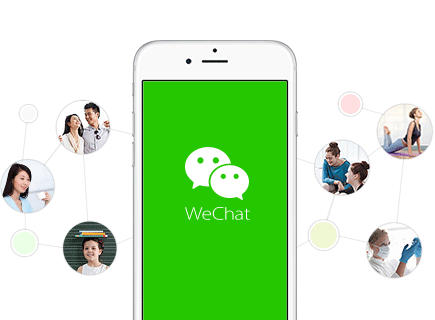 Just like any other social media and messaging platform, WeChat also offers the best experience to the users. It acts as a platform that connects millions and billions of people online. Leveraging the app, the users can get in touch with their friends and families, share their moments, collaborate, celebrate, and much more.
Features of social media and messaging app WeChat
App Features
To experience the usage of the WeChat mobile app, the user needs to create an account on the ap. For that, they can make use of their mobile number. For verification purposes, the app will be sending an OTP to the registered mobile number and successful registration will take the user to the app dashboard.
Users can update their user name, profile picture, contact details, and many other personal details under thus profile section. The app also has a unified QR code which allows the users to share their profile among other WeChat users.
The users can avail the latest notification in accordance with the app under the notification tab, The notifications can be regarding the latest news, usage policies, updates regarding the app, etc.
The app allows the users to stay away from all the communications by activating the Do not disturb mode.
Under this section, users can find all the posts they have made in the WeChat mobile application.
The app offers seamless ways of multimedia communication for its users. The users can send images, audio files, video files, documents, location, contact, files, and folders by making use of the app.
Stickers are used to deliver a unified experience to the customers. The users can share appropriate stickers to other users on WeChat based on their mood.
Users are able to share their moments on the app, which will be displayed for a certain period of time. It can be used for sharing statuses, live updates, and much more.
The app allows the users to get in touch with fellow WeChat users just by shaking the smartphone. The app will find out random users by doing so.
The app has an interactive search bar that allows users to find out the content and people they are looking for.
The app also comes with features that allow users to discover nearby users. This can help them in easily identifying the location of their friends, increase their friend circle, etc.
The app offers seamless ways of communication among other users by creating random WeChat groups. This offers a collective collaboration of individuals on the app.
The app offers full-fledged privacy features to its users. To protect their privacy, users can turn on of or several features like friend confirmation, find mobile contacts, show/ hide last seen, user blocking, Hide users, moments update alert, and much more.
Users can choose their language based on their wishes. The app has almost all the entire world languages integrated into it. They can also change the size of the text as per the requirement.
The app allows the usage of multiple accounts based on the wish of the user. By making use of the switch account they can switch the accounts they have registered on the app.
Our on-demand app development services
We are a team of highly passionate professionals who collectively work towards achieving customer goals. We help you take your business to its next level by implementing the best possible digital solutions that fit perfectly into your internal frameworks. Our aim is to give rise to a digital ecosystem where your business operations can't go more smoothly. We are the best on-demand mobile app developers in India, focused on delivering ground breaking solutions and services to our customers. All of the solutions we deliver are a perfect mix of art, technology, and creativity that help you gain huge customer traction. Leveraging these impeccable services, you are able to outpace the competition, thereby becoming the potential market player.
On-demand app development industries we serve
We offer a wide range of on-demand app development services to our clients widespread across various industries regardless of their size or niche. We develop highly innovative and futuristic apps that are highly customer-centric. These apps are undoubtedly the best and are derived as a result of continuous researches and studies. We love taking up new challenges. Here is the list of major industries we serve in developing on-demand mobile applications.
Food, Beverages and Grocery
Digitalization has disrupted the conventional ways of doing businesses in the food beverages and grocery industry. Customers are now looking for the most convenient ways of executing a hassle-free shopping. To help the customers in making this happen, it has become a mandatory thing that business has to onboard mobile applications. At DxMinds, we help you deliver the best on-demand mobile applications for Food, Beverages, and Grocery industry. With the app, you are given the full control for making your business a massive hit. We help you explore wide landscapes
Home Services and Utility
The precise on-demand app development services we offer for the home service and Utility services helps the business set across the domain in enhancing their sales and revenue, better than ever before. Digitalization has got a lot to do in the home services and utility industries as the customers are prone to the latest technologies. To thrive hard in this tech-savvy era, home service and utility businesses have no other option left behind other than onboarding the latest digital transformation practices. Being the best on-demand app development company for home service and utility industry, we use cutting-edge technologies to build mobile applications that help you scale your business like anything.
Logistics and Transportation
Conventional ways of running a logistics and transportation business have a lot of hassles involved in it. It has enormous documentation and paper works involved in it. This always tends to create a high amount of confusion and messiness for the business owners. To take down all of the hassles and to eliminate the hurdles thereby offering end-to-end automation for the logistics business, we have come up with highly customizable digital solutions that help you generate profitable business all year-round. We are the best on-demand logistics and transportation app Development Company in India.
Advantages of our on-demand app development services
• Cutting-edge technologies
• Groundbreaking and home-grown solutions
• Highly disruptive
• Innovative and futuristic
• Scalable and customizable
• Agile model of development
• End-to-end encryption
• On-boarding digitalization
Cost analysis of messaging app like WeChat
Factors determining the app development cost of WeChat
Basically, mobile applications are built for multiple platforms such as iOS, Android, Windows, etc. iOS is the platform that supports apps for the Apple devices while Android from google is the operating system for Android smartphones and devices. Whereas windows smartphones support mobile apps built for the Windows platform. The platform for which an app is been built to determine its development cost. One has to pay the utmost care and support while deciding the app development platform. It has to do based on several rounds of surveys that help them in determining the right set of audiences.
A wide array of technology is available in the market that enhances the app development process. These technologies are used to deliver the best experience to users. Some of the popular technologies are Artificial Intelligence, Machine Learning, Blockchain Technology, Deep Learning, Big data, etc. Integrating these technologies plays a key role in determining the cost to build an app like WeChat.
Application Development Team
There is a need for the right team of app development professionals to develop a full-fledged mobile application. The more the members in the team, the higher will be the app development cost. Since hiring the right team is mandatory, one cannot ignore this step. This can be a primary factor when it comes to determining the WeChat app development cost. The ideal number of team members required for developing a messaging app like WeChat is as follows:
2 — Requirement analyst.
1–2 Web developers.
2 — QA engineers.
2 — Android application developers
2 — IOS application developers
1–2 UI/UX designers
The aforementioned are the major constraints that determine the development cost of WeChat. There exist a few more factors like third party integrations, app Development Company, app security, app location, etc. However, on an average basis, the cost of building a messaging app like WeChat will range from USD 10,000 to USD 50,000. The best mobile app development company in India like DxMinds Innovation labs helps you build an app like WeChat with all features onboarded.
Frequently Asked Questions