October 12, 2022
Posted by:

Admin

Category:

E-Commerce App Development, Famous App Analysis, Food Delivery App Development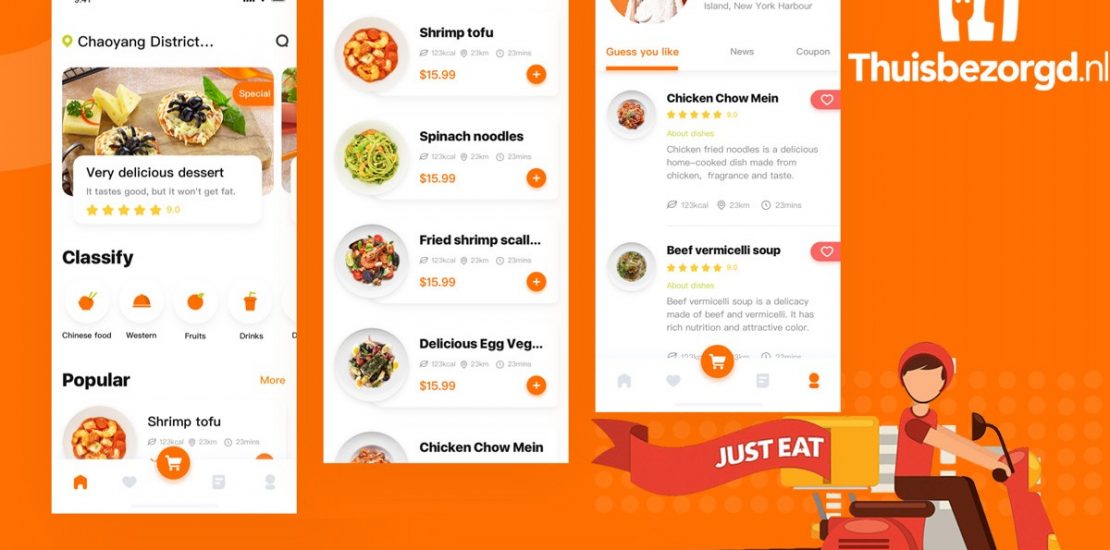 Food Ordering App Development Cost Like Thuisbezorgd? (Takeaway)
Thuisbezorgd is the leading online food ordering marketplace in Netherlands, Europe. Thuisbeozorgd has nearly 44,000 connected restaurants. It gives consumers a wide variety of food choices. It mainly collaborates with delivery restaurants. Thuisbezorgd able to serve food delivery services in 38+ cities in 10 countries for restaurants. Thuis has rapidly grown to become the best online food delivery marketplace of Europe country with help of operations in the Netherlands. They have serval food menu from multiple restaurant such as Pizza, eten, pasta, sushi, spareribs, shoarma, döner, Chinees and many more etc. It has grown up in a very short period of time. Thuisbezorgd processed nearly 94 million orders from 14.1 million unique consumers. With over 2,600 employees, after reading this success story about Thuisbezorgd you also might be aggressively planning to build a mobile app like Thuisbezorgd for your business or You are looking to know how much does it cost to develop a mobile app like Thuisbezorgd?
Let's discuss step by step
What is Importance of Mobile Application in your Food & Beverages Industry?
The Technology is growing very fast. Similarly, Food industry is also growing exponentially with the help of latest technology. There are so many online food ordering mobile app and website available in the market where you can place an order. Customer can order for food from mobile application with one single click. If your business into food industry and you want to grow your business. you can also start your business online or you can build a mobile application for your business which will help to increase online orders. So, if you are planning to create a mobile app like Thuisbezorgd then you have to understand the overview and feature about Thuisbezorgd (Online food order application?)
Key Feature in Thuisbezorgd Mobile App?
When It comes to online food delivery mobile app then order cycle time is key factor to win your business game. Customer want real time information about placed order There is no doubt that it's challenging task but still you can penetrate the market by enabling some important feature in your mobile application which has been listed below.
• Login/Sign Up: If you want to build a perfect mobile app like Thuisbezorgd than it should be easy method to sign up & registration.
• Product Catalogue: If you want to build an online food order mobile app like Thuisbezorgd then you have to attach clear catalog image and product information where user doesn't need to use any help section to understand about the product.
• Order Fulfillment: Once order placed then customer will be in hurry to get the order as soon as possible. Your restaurant finder and food delivery apps should have option to track the order with real time data.
• Other Special Request: There will be so many additional information required such extra cheese, Sugar free item, or may Extra salad when it comes to order a food online. Your mobile app should have such feature where customer can make extra request while placing an order.
• Opening hours: Customer should get notification in the app about restaurant opening time and closing time. Define your eatery opening and shutting hours.
• Multi Branch setup: If you have own logistic service and restaurant both then you have to set multiple branch within the delivery zone where you can reduce the order pic up time which will give you highest number of probabilities to get customer attention on your business. Customer should have option in mobile app choose the item from nearby location.
• Logistics Service: When we think to make an online food delivery app like Thuisbezorgd then you have to think from customer prospects. Your mobile app should have feature to choose time availability.
• COD or Online: Customer should have Multi payment option such Cash on Delivery, Wallet, online Payment.
• Order Repetition – If customer liked any placed order then user can place the same order once again with one single click.
Top Similar Mobile Application like Thuisbezorgd
There are other online food delivery company available in the market which can help you to understand better about food delivery mobile app's feature and function. Below listed mobile application are also a sub-part of mobile application like Thuisbezorgd
Lieferando.at
Lieferservice.de
Takeaway.com
Foodarena
Vietnammm.com
What is the Factor Which Define the Mobile App Development Cost like Thuisbezorgd?
Application Development Cost is additionally affected by:
Mobile Application platform – you can choose platform to create an online food delivery mobile app based on your business need. You can build your mobile app either on android platform or iOS platform. You can also allow your customer to use your mobile app in both platforms. Ideally, cost of android app development will higher than iOS platform due to more coding and testing.
Type of Platform – Your food ordering app development cost will get effected based on platform. you are have decided to make a mobile app like Thusibezorgd in android platform then you have pay mobile development cost more than the cost of mobile application IOs platform. because you have to write much more code on android platform to develop an online food order app like Thuisbezorgd.
Feature on Your Mobile App
More feature to setting up a food delivery mobile app like Thuisbezorgd will directly lead higher development cost. So, if you are planning to make a food ordering mobile app with multiple feature then the cost of mobile development will be high.
UI/UX: Customer experience plays a vital role to build a successful app for your business. It means we have to build an online food ordering app like Thuisbezorgd with perfect UI/UX which will be easy to use for your customers.
How Much Does it Cost to Create a Mobile App Like Thuisbezorgd?
If you have decided to create a demanding restaurant app so DxMinds Innovation Labs (a top online food order mobile app development company in India) can help you with best estimated cost of mobile application development like Thuisbezorgd.
DxMinds Innovation Labs is a best mobile application development company. We have made several restaurants mobile app on both significant stage's android and iOS. We are additionally involved with the development of a responsive restaurant website and mobile application. Our team comprises of experienced and best-evaluated food ordering mobile application experts who work enthusiastically to make a one of a kind and exceptional experience for the clients. Application created by DxMinds is adaptable and execution driven mobile development company. One more thing cost to make an app like takeaway (a part of Thuisbezorgd mobile app) is different on both platforms like Android & iOS platforms.
To build an online food ordering mobile application, we are able develop mobile application in such a structure way for your restaurant app which allows restaurant owners to efficiently include menu things, change the portrayal and cost of a menu thing easily. Business owners can design and offers, react to client's surveys and messages, and send push notices. It makes customized online food ordering development benefits considerably simpler for us. The cost to build an apps like Thuisbezorgd will be around $10000 to $40000. But Still it can be vary based on feature and service requirement.
Conclusion
We have just delivered various businesses effectively and now hungry to raise our design of profitable deliveries to a couple of more projects. We are capable to giving advancement assistance for your business. We can make and transform each credible element in an application that increases client engagement with restaurants. If you have the plan to create an online food delivery mobile application then you can write a mail on info@dxminds.com or you can visit our Contact us page.