October 11, 2022
Posted by:

Admin

Category:

Famous App Analysis, Mobile app developers, Mobile App Development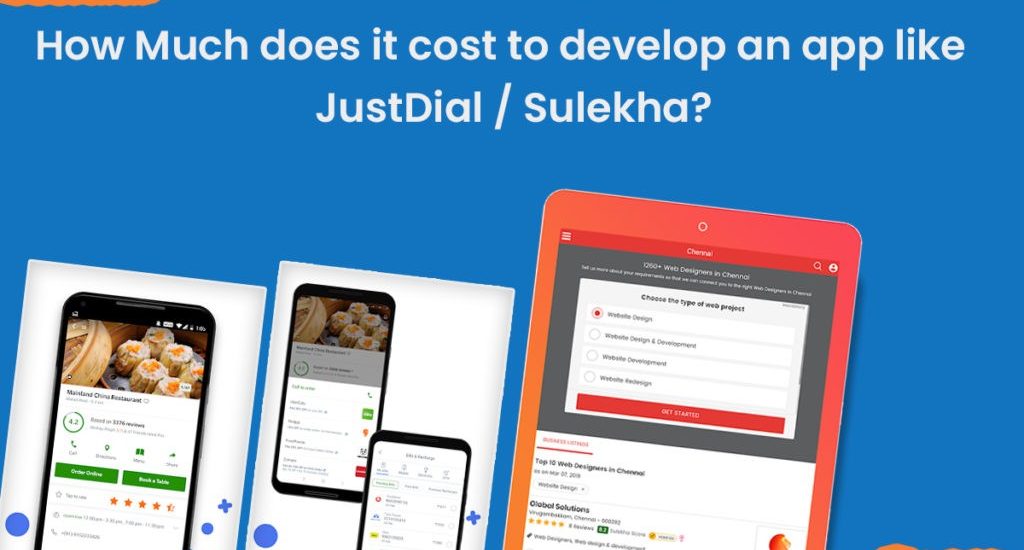 How Much Does a Classified app Like Justdial / Sulekha Cost?
We have seen many classified websites were witnessed many true success stories surely with apps like Justdial and Sulekha, etc receiving more engagement from users. The apps become one of the largest classified sites for companies and users, and they have developed one solid platform to make meet their requirements in selling and buying products and services.
Classified apps like Justdial and Sulekha contain the most powerful strategies and attractive advanced features, which become simple for users to post their requirements in the app. If we consider advanced technology Sulekha has become a local search engine that provides an advanced search for users to look at local services and products.
Now everything becomes online because of the advanced internet that changed the advertising world forever. Online advertising becomes an important factor for a business to get visible to users front. On the other hand, competition has come for all classified apps, apps like just dial started in 2008 and now operating with more than 40 categories and become a local search engines.
JustDial is one stop solution with exclusively attractive purchasing activities. The company has strong local business data that helps companies to get inquiries on provided address and contact details of the business.
Sulekha launched in 2007 connecting buyers and thousands of service providers through a solid digital platform with domain and IP knowledge. Sulekha allows users to post their required services, as users can edit their ads by applying edit features. In addition, users can get notified and calls from concerned companies based on the data provided.
According to statistics, there are almost 85% of all business are utilizing classified sites to get more inquiries, and current figures show that they are more demand for classified websites and apps. One of the significant reasons for tremendous growth is the fact that classified apps like Sulekha and Justdial offer the most effective solutions for companies and provide effective ads for users. These empowering advanced apps for businesses become an advertising tool to reach out to customers widely.
Request Callback
Classified App Development Costs like Justdial/Sulekha
Due to more demand for classified apps like Justdial and sulekha and most business people are looking to know the exact cost details about developing an app similar to Justdial and sulekha, you have to take into consideration to know the estimation of cost to develop an app like sulekha, justdial.
So how much does it cost to develop a classified app like Sulekha, or JustDial?
The cost of an app like classified services providers needs to include many factors such as choice of the platform ( Android and iOS) and selection of native and hybrid, selection of the best features, and choosing the best budget-friendly plan of a mobile app developer and etc.
Essential Features of classified apps
Apps like Justdial registration come with OTP confirmation features, this feature verifies and confirms whether the user's phone number is valid or not. The classified app charges depend on basic features like easy registration through phone number OTP validation.
In the next step, the user can create or edit profiles so that users can start posting their requirements in addition, users have the option to edit all their personal details, display pictures and bio, and more.
The estimated cost to create an app like Justdial to implement profile creation takes approx time about 45 to 54 hours and charges may vary on that time taken.
Once users complete the profile they can post requirements and later can get instant inquiries through the inbox. The users can chat with companies if they want to clarify any doubts.
At the same time, it is very significant to see the messages received from concerned businesses. Similarly, classified apps like sulekha consist of getting messages to their individual phones and can respond instantly.
The development cost of an app like Sulekha comes with messaging feature that takes more than 90 hours and the charges depend on the time taken to develop.
User can post their concern ads to their respective business and can upload images, and videos, which is the most important features to post their products and services within classified apps like Sulekha and JustDial.
As far, as developing features to upload images and videos need unique skills both for Android and iOS platforms and takes approx 120 hours to 200 hours that include integrating with concern tags of their business keywords and phrases.
This is platform consists of images, videos, and text such that it allows users to notified with a push notification feature and set location.
if you want to enable the push notification, it is very important for the server to get connected with the cloud for storage with account privacy.
The cost of development of apps like Just Dial and Sulekha requires more time about 95 to 125 hours and charges may depend.
Through search options, users can search for their products and services,  as they are familiar with searching with companies' names, business names, and through category.
Implementing a search option takes time about 70-90 hours by using the latest technology with keyword suggestions and charges vary on the technology used.
Get a Free Quote
The Cost estimation of app development like Justdial/sulekha
It is a very hard task to get to know the exact cost details about how much does it cost to develop a classified app like just dial and Sulekha, where it depends on various needs and requirements such as app development company, UI/UX designs, geo-location of the company and advanced features Implementation.
Basically, the cost of app development is decided based on per hour taken which offers the total cost of creating an app that takes more time for implements.
The hourly price tag is also mattered and depends on the location of the company. For instance, approximately the cost of developing an app such as Justdial and Sulekha would range from around $10,000 to $50,000.
DxMinds Technologies is one of the leading mobile app development companies in Bangalore, Mumbai, Delhi, and Gurgaon. Hire our app developer to develop an outstanding mobile app for classified services.
We are well-known and have the expertise to develop an app like Justdial and Sulekha. We create unique app features from scratch and implement advanced technologies to function without any errors.
Reach us at info@dxminds.com.If you are looking for a reliable mobile app Development Company in Bangalore