October 13, 2022
Posted by:

Admin

Category:

Famous App Analysis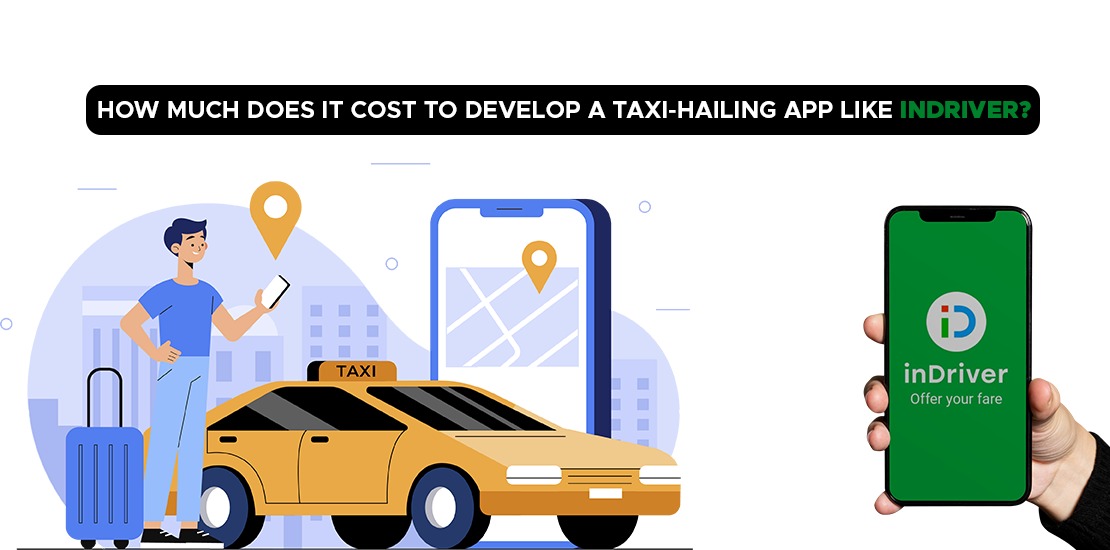 How Much Cost to Develop a Taxi Booking App Like InDriver
Mobile applications are the best. It always works for the good of humanity in various dimensions. The mobile application has and is still playing an important role in level shifting our lives. It turned odds in to even and even made the impossible possible. Mobile applications have taken us into a stage where life without it can't even be imagined.
As of now, millions and billions of mobile applications exist all across the globe. Mobile application stands for serving several purposes. They can be an e-commerce mobile application, food delivery mobile applications, healthcare mobile applications, travel booking mobile applications, etc. The list is too big that it keeps going on. In this article, we are going to see in detail about a trending taxi-hailing or taxi booking mobile application named inDriver. We will cover almost all aspects including its app development cost, features, etc. So let's get started.
More about the taxi-hailing app inDriver.
As discussed earlier, inDriver is an online taxi-hailing mobile application. As of now, inDriver operates in 300 cities across 31 countries. The aim of the app is to enhance the customer experience right from booking the ride till it reaches the destination. The app comes with a tag line of better than a taxi that makes inDriver set apart from other online taxi-hailing mobile applications. Leveraging inDriver mobile app, one can book a taxi for the fare he thinks is genuine. The app connects users and drivers and lets them negotiate with each other. And the result is the user gets about 30% discounts on rides than on any other apps.
How does inDriver app works
The app connects passengers with drivers. The passenger can select his drop point and pick up point on the facility provided on the app dashboard. Along with the pick-up and drop points, the riders can enter the fare they wish to pay. The app will search and find out the nearby riders and negotiation gets started.
Key features of a taxi booking App like inDriver
· Sign In/ Sign Up
Right before getting started, the users need to create an account using their mobile number. As a part of confirmation, the app will send an OTP to the registered mobile number. After account creation, users need to sign in using the username and password provided.
· Profile
Users can edit/modify their usernames, passwords, email addresses and phone numbers under this section.
· City services
A user can opt for the city services if he is hailing a taxi for a ride anywhere with in the city.
· Inter-city
This can opt by the passengers where their destination is somewhere outside of the city. Even though the option changes, the app lets its users decide the fare themselves.
· Freight
In an event where a user needs to hire a truck, he can make use of the freight option. It let users in the hiring truck the same whey they hire a passenger vehicle. They can decide the ride fare and can negotiate through the app.
· Ride Offers
Under this section, users can find the best offers available in the most popular routes that offer them huge discounts on their ride.
· My Rides
The detailed list of riding history from the beginning can be found under the section My Rides. This helps riders in having a keen note of their past ride analytics.
· Chatbot support
The app comes with an enhanced customer support chatbot that delivers impeccable customer experience
· Switch to driver
The best thing about the inDriver mobile application is that the passenger app and driver app comes along as a single app. A rider can switch to driver mode just by clicking the switch to the driver option in the app. This helps them In earning additional penny during their free time.
· Driver Registration
As a driver, one needs to submit his photo, photo of the vehicle, Driver's license, government documents, etc. The whole registration process can be completed in just 3–5 minutes
· Ride requests
Drivers can find out the new ride requests under this category which connects them with the passengers.
Factors affecting app development cost like inDriver
When it comes to discussing the cost of developing a taxi booking app like inDriver, we need to consider several factors into account. For example, some of the main factors that determines the app development cost are platforms for which the applications are built (Android, iOS, and Windows), Features that needed to be in the app, Technologies used( Artificial Intelligence, Machine Learning, Blockchain, etc.), Third-party APIs, Chatbots, App security, App size, App location, App maintenance, App UI/UX, etc.
How much does it cost to develop a taxi-hailing app like inDriver?
Based on the factors mentioned above and considering a few other considerations, the development cost of a ride-hailing application like inDriver will come in a range of USD 10,000 to USD 50,000. The app development cost may vary based on mobile app development agency to agency. But in an economical mobile app development company, the charges may fall in the range we mentioned above.
When it comes to developing top-rated mobile application development, DxMinds is a stand-alone. We help entrepreneurs in coming up with mobile applications having international standards. We are a team of highly talented professionals who keenly focuses on delivering the best to our fellow customers. We have proficiency over various technologies like Artificial Intelligence, Blockchain, Augmented Reality, Mixed Reality, Virtual Reality, Cryptocurrency development, Chatbot development, etc. We bring the digital transformation partners for startups, MSMEs and fortune global companies, deliver impeccable and innovative solutions. Hire us to experience what it is to have digital transformation on-boarded into your existing frameworks. We serve companies regardless of their industries, size or location. As of now, we have our offices in India, the UAE, the USA, Australia, and Peru. We have all the facilities and resources in helping clients who are miles apart, across the globe.