March 31, 2023
Posted by:

Admin

Category:

Real Estate Mobile App Development, Technology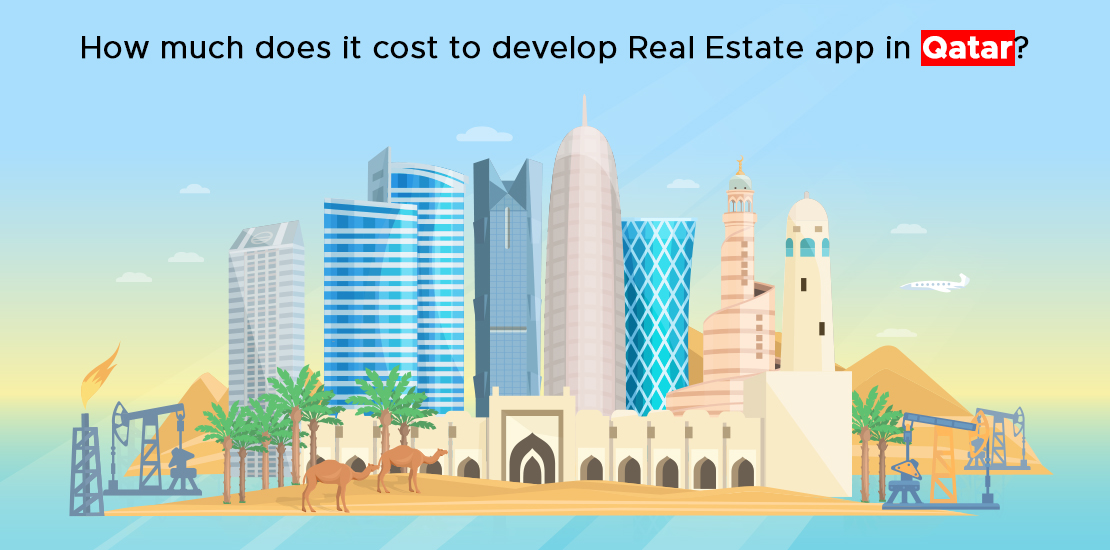 Real estate Mobile app development in Qatar has been on the rise in recent years.
With more and more people using smartphones and tablets to access the internet, real estate companies in Qatar have been looking to develop mobile apps to make it easier for potential buyers and renters to search for properties, view listings, and even submit offers.
Additionally, mobile apps can also provide real estate agents in Qatar with a platform to manage their listings, communicate with clients, and track leads.
The Qatari government's push for digital transformation across all sectors, as well as its aim for becoming a smart city, is projected to drive demand for mobile app development in the real estate market in Qatar.
With the rise of online platforms and mobile apps, the real estate industry in Qatar has seen an increasing trend in mobile usage for property search and transactions, hence companies are looking to tap into this trend by developing their mobile apps.
According to market research, 95% of real estate agencies have websites with property listings.
However, in the face of such fierce competition, creating a website is simply a small step. If you want to keep ahead of the competition, you need a personalized mobile app for your real estate business in addition to a website.
For users to download and use your real estate mobile app, it must stand out from the crowded app stores
So what distinguishes an "excellent" real estate app in Qatar?
What distinguishing qualities does your application have? What features set your app apart?
Let's first examine, how real estate app development turns out your real estate company game, what to include in Real estate app features, and How Much Does it Cost to Develop a Real estate Mobile app in Qatar?
Why Should You Have A Mobile App for Your Real Estate Business in Qatar?
Having a mobile app for your Qatar real estate business can give you numerous advantages.
For starters, it can make it easy for prospective consumers to learn more about your properties and services by allowing them to explore listings, schedule viewings, and contact your team.
Additionally, because users can access your information and services at any time, a mobile app can help to enhance brand awareness and client engagement.
A mobile app can also provide useful data on user behavior and preferences, allowing you to better your marketing and sales methods.
Overall, a mobile app may help to streamline your operations and expand your reach, making it a must-have tool for any real estate business in Qatar
According to a National Association of Realtors report:
In 2018, more than 44% of people looked for properties online initially, and this figure is expected to rise in 2023.
In 2018, roughly 81% of older millennials, 80% of younger millennials, and 78% of Generation X homebuyers found their properties on mobile (Source)
More than 90% of baby boomers (aged 53-71) say virtual house tours are the most important feature of a real estate app.
Homebuyers, sellers, and Realtors all use smartphone apps to navigate the real estate market.
However, given the fierce competition, you must ensure that your real estate app has certain distinguishing features that will help you stand out from the crowd. Let's take a look at some important features you should add to your real estate app.
Real Estate App Ideas and Types
There are numerous types of real estate mobile apps that can be created in Qatar, each with its own set of features and functionalities. Here are a couple of such examples:
Property search app:
This sort of app allows users to search for properties based on numerous parameters such as location, price range, and number of bedrooms. Users can also store searches and set up alerts for new listings that match their criteria.
Virtual reality app:
This sort of app allows users to take virtual tours of properties by employing panoramic pictures and 360-degree views. This is especially important for people who are unable to personally visit a home.
Rental application:
Users can use this app to search for rental properties and contact landlords or property managers directly. Users can also use the app to submit rental applications and make payments.
App for agents and brokers:
Real estate brokers and brokerages can use this type of software to manage their listings and connect with possible buyers and sellers. It may also incorporate analytics and CRM tools for tracking leads and sales.
Investment app:
Users can invest in real estate through a crowdsourcing platform using this type of app. Users can search for properties, invest in them, and track their returns.
Home renovation app:
Users can use this type of tool to plan and budget for home improvement projects. It may include cost predictions, project management tools, and a professional database.
Smart home app:
Users can use this type of software to control and monitor their smart home equipment, such as lighting, temperature, and security. It may also have features like energy monitoring and automation.
Commercial Real Estate app:
This type of app allows users to look for commercial properties to buy, rent, or invest in. It may also include features such as lease management, tenant management, and property management tools.
These are just a few examples of the various sorts of real estate mobile apps that may be created. The specific features and functionalities of an app are determined by the app's aims and requirements.
Features to Include in Real Estate Mobile App
(Signup/Login) User Onboarding
A real estate app's most fundamental function is user onboarding, which must be as simple as possible. Three options exist for doing this:
Social media authorization
Authorization via email
Phone verification
To allow users to sign up for your app, you can utilize any of the aforementioned ways. It can also be a terrific idea to combine all of the aforementioned possibilities. The sign-up process will become even simpler while offering users convenience and flexibility.
User Profiles (User, Sellers & Agents)
Users should be able to create profiles in the app so that they can undertake various activities within the app. There should be different profiles for different types of users.
For example, the options offered for the buyer's profile will be drastically different from those displayed for the agent's profile. A buyer will be able to access the home listings, save favorites, view individual listings in detail, send an inquiry, and so on. (We'll go over these features in more detail later.)
An agent, on the other hand, would be able to access his own listings, schedules, list of prospective buyers, number of views to specific listings, advertisement options, and so on.
Listings and Database
Another basic feature of the real estate app is property listing. You must display a list of available properties with all relevant details in the listings.
Users that want to rent or sell their property should be able to do so easily.
Because the property listing will continue to increase, you will require a large database. There will be more users, and thus more listings, in the future, so ensure that the database or servers are adaptable enough to accommodate scale-up operations. A solid database is critical for any real estate software.
4. Filters and Categories
Do you know what the most difficult aspect of searching for houses online is? You guessed it: discovering the RIGHT property.
Users will require enhanced search options to streamline the property search process. Add categories and filters so that users can simply find properties that meet their needs.
5. Property Profiles
These profiles provide extensive information about the property, such as descriptions, photos, videos, rich media, price data, value propositions, neighborhood information, owner details, and so on.
More than 80% of consumers base their decision to buy a home on the photographs and videos posted. In addition, contact information for the property owner or agent may be required in property profiles.
6. Favorites (Shortlisting)
Your app should allow users to shortlist and save their favorite properties. It facilitates their decision-making process.
Users may access their favorite homes, as well as all of the information on their personal accounts.
7. Maps
It's difficult to conceive a real estate app without this capability. Integrating maps into your app can help you give a wealth of useful information to your consumers.
Not only can you display property locations, but you can also display data and statistics about the selected properties. You can get information about crime rates, infrastructure, surrounding schools, average income, and the risk of natural disasters on government websites.
A professional real estate app developer, such as Imaginovation, can assist you with retrieving this information from government databases and displaying it on a map in your app.
Push Notifications
Push notifications are a strong marketing tool. You MUST have this function in your real estate app if you want to be successful in the long run.
Push notifications help you to maintain and stay top of mind with your customers. It is also useful for properly marketing your services.
You can utilize push notifications to reach out to prospects or to send industry news on a regular basis. You may even notify users when prices change or a new property is introduced in a specified location.
Calendar
The calendar may appear to be a nice-to-have tool, but it is quite useful for buyers and brokers.
If buyers want to meet with the agent or seller, they may check the available dates and schedule the meeting immediately in the app. The calendar will send reminders to both parties at the designated time.
Call or Direct Messaging
Providing users with detailed property information is only one aspect. You must move users to the next stage of the sales funnel by incorporating a call or direct messaging feature
There are several ways to connect buyers with agents:
Direct call
Callback option
Online chat
Book a consultation
Analytics
Analytics is one of the most important features of any mobile application.
Whether you want to establish a real estate marketplace in Qatar where users can purchase, sell, or rent their homes, or simply an exclusive app for your company, you need to understand how end-users interact with your app.
Analytics provides crucial information about how your app is functioning and what needs to be done to optimize its performance. You can obtain useful information about users and their in-app behavior, such as the length of time spent on a certain screen. This data will assist you in making better app decisions.
To get the most out of data, segment your consumers depending on their behavior and add them to different marketing campaigns accordingly.
Virtual Tour
Last but not least. A virtual tour or 3D walkthrough is an excellent approach to give purchasers a real-time sense of the home they wish to buy. According to the survey, 70% of first-time purchasers believe that a 3D virtual tour of for-sale properties is just as significant as an open house.
Augmented Reality (AR) view:
With AR, app users can view and explore properties in 3D, which gives them a better sense of the property's layout and potential.
Payment gateway integration: Users can make payments through the app, such as for property deposits or rent.
Multi-language support: Users can switch the language of the app to their preferred language, making it accessible to more people.
The process to Build a Real estate app in Qatar
Several steps are often included in the Real estate app development in Qatar, including:
Idea and concept development:
This step stresses determining the app's goals and objectives, as well as the target audience and the app's distinctive features and functionalities. This can entail evaluating real estate market trends, investigating the needs of the target audience, and determining the app's unique value proposition.
Analysis and research:
This step entails investigating the real estate market and identifying the key players and competitors. It also entails determining the right platform and technology to construct the app, as well as researching the target audience and their demands. This can include investigating the features of competing real estate applications, analyzing the target audience's device usage, and determining the best technology to accomplish the app's objectives.
Wireframes and prototyping:
This process focuses on generating a visual representation of the app's layout and design, as well as developing a prototype to test the app's functionality and user experience. This can entail producing wireframes and mockups of the app's interface, as well as developing a functional prototype to test the app's features and usability.
Development and design
This process enables the creation of a user interface for the app as well as its functionality and features. This can involve creating the app's visual components, such as the logo, color scheme, and typography, as well as creating the functionality of the app utilizing a number of programming languages and technologies. In this step, the app must also be integrated with third-party APIs or connected to databases.
Quality assurance (QA) and testing
To make sure the real estate app satisfies the needs and standards, this step entails evaluating its functionality and usability. Additionally, the software will be examined for bugs, performance problems, and platform and device compatibility. This process may involve testing the app's functionality using manual and automated testing techniques as well as usability testing by soliciting beta users' comments.
Deployment and Maintenance
In this phase, the app will be published to the app store and its functionality and security will be maintained. The program must be updated with new functionality, bugs must be fixed, and the app must be kept compatible with new operating system versions. This phase can involve submitting the program to the app store, keeping track of its performance, and ensuring sure it's always up to date with the newest security precautions and technology.
This is a basic method, and it may change depending on the project's complexity, the number of features, the size of the development team, and the available funding. It's also crucial to remember that having a thorough grasp of the target demographic and user behavior is crucial for ensuring that the app meets users' needs. Throughout the development process, the app can be tested with actual users and user research can be done to achieve this.
Coming towards the spotlight of the blog
How Much Does it Cost to Build a Real Estate Mobile App in Qatar?
The cost of developing a real estate mobile app in Qatar might vary depending on several aspects, including the app's complexity, the number of features, and the size and experience of the development team.
According to some estimates, the cost of basic a basic real estate app in Qatar can range between $10,000 and $50,000, while the cost of developing a more complex real estate mobile app in Qatar with additional features can range between $50,000 and $200,000 or more.
The following factors can influence the cost of developing a real estate app:
The app's type:
A simple app with basic functionality would typically cost less to design than a more complicated app with advanced features like virtual tours, property management, and interaction with third-party services.
The platform:
Because of the additional costs of creating multiple platforms, developing an app for iOS is often more expensive than developing an app for Android.
The development team:
Using a local development team in Qatar will almost certainly be more expensive than outsourcing the development work to a team in another country.
It is crucial to remember that these figures are estimates, and the cost can vary substantially based on the specific requirements of the project. Before beginning the development process, it is generally advisable to have a clear grasp of the budget and scope of the project.
How DxMinds is best for Real estate development in Qatar?
Experience:
DxMinds has vast expertise in designing real estate mobile apps and a team of professionals who are up to date on the latest industry technology and trends.
Customized solutions:
We provide bespoke solutions that are suited to your individual goals and specifications, ensuring that your app is unique and stands out in the market.
Quality assurance:
We have a strong quality assurance procedure in place to ensure that your software is free of bugs and mistakes and meets the highest quality and performance standards.
On-time delivery:
We have a proven track record of completing projects on time and within budget, guaranteeing that your app is deployed on time.
Conclusion
Real estate development in Qatar is a promising and growing industry. The country's strong economy, strategic location, and focus on infrastructure development have made it an attractive destination for investors and developers. However, success in this industry requires careful planning, research, and execution.
To achieve success in real estate development in Qatar, it is important to conduct thorough market research to understand the current trends and demands in the industry. It is also important to develop a well-defined strategy, including the unique features and functionalities of your development, as well as the target audience.
Working with a renowned and experienced real estate development company, such as DxMinds, can help you navigate the business and achieve success in your real estate development project in Qatar. They can supply you with a comprehensive solution that includes market research, ideation, design, development, marketing and promotion, and property management.
FAQ's
How long does it take to build a real estate mobile app in Qatar?
The time it takes to build a real estate mobile app can vary depending on the complexity of the app and the size of the development team. On average, it can take anywhere from 4 to 6 months to build a basic real estate mobile app, and up to 12 months or more for a more complex app.
How can I save on the cost of building a real estate mobile app in Qatar?
To save on the cost of building a real estate mobile app, you can opt for a more basic app with fewer features, choose a more cost-effective development team, and prioritize your features and functionalities.
What is the difference between a native and hybrid app for real estate?
A native app is built specifically for a particular platform (iOS or Android) using the platform's native programming language. A hybrid app, on the other hand, is built using web technologies (such as HTML, CSS, and JavaScript) and can be run on multiple platforms. Native apps tend to be more expensive to develop but offer better performance and user experience. Hybrid apps are less expensive to develop, but may not perform as well.
Why choose DxMinds for real estate mobile app development in Qatar?
DxMinds is a leading real estate mobile app development company with a team of experienced developers and designers who can help you to create a high-quality, visually appealing, and user-friendly real estate mobile app. They have a proven track record of delivering successful projects on time and within budget, and they offer a wide range of services to help you achieve your goals.