October 10, 2022
Posted by:

Admin

Category:

Famous App Analysis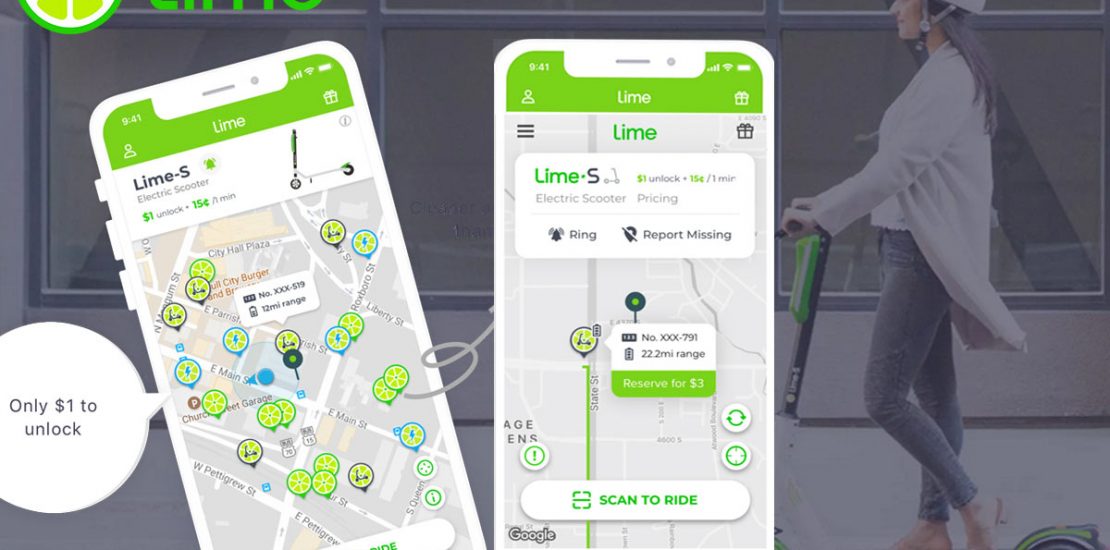 Scooter and Bike Sharing App Development Cost like Lime / Spin
We are seeing a tremendous change in the technology and development firms. Transportations are taking a new way of advancement through the latest technology. Logistics are getting smarter than we have ever seen. Today we are going to discuss about e-vehicle tech solution and how to make a mobile app for e-vehicle/e-scooter along with its cost to develop a mobile application like Lime, Spin. This blog will be purely related to new startup ecosystem and perfect information for all entrepreneurs.
Let's discuss one by one
Before explaining you anything about mobile application development. I want to brief you bit more information about e-vehicle. Because, I believe that you need to know more about any industry to before jumping to the any business segment.
If you are into the race of transport business segment then you have landed on right page and stay tuned.
What is Lime Mobile App?
It's e-scooter or electronic bike rental app. It allows user to rent an e-bike based on customer need. You can rent e-scooter by scanning a QR code. It's easy, cheap and affordable to ride for your destination. One very interesting feature in Lime mobile app is you can park your rented e-bike anywhere of the way of foot traffic. Toby Sun is the founded of Lime mobile app. He has launched lime app on iOS and android platform both. Lime mobile app serving it service more than 50 locations in US countries.
How Lime App Works?
Why E-Bike Mobile App is popular?
There are so many things you also looking to understand before you jumping to develop e-scooter mobile app. you should have basic information about how e-vehicle business app works. E-scooter rental startup companies are trending in the market.
Let's learn step by step.
To designing a e-bike rental app is not just for name shake. It has a huge market and advantage. If we talk about any other transportation industry then E-bike is environment friendly. Same as, there are a number of reasons to be a popular business model.
Pocket Friendly
Being an environment friendly, It's packet friendly also. E-bike is getting operated by battery. It's more affordable than other transportation selection. It cost a very nominal price which is $0.15 for minute ride and it's pretty much economical.
Less Space Consumed
We can't deny on this that increased huge traffic in transportation is also one of the major concerns nowadays. E-bike is taking a very less space. It can be a one solution for increased traffic. Such type of startups is getting acceptance by fundraisers and customer both due to its attractive feature.
Transform Your Business into E-bike renting mobile app like Lime
Lime mobile application is one the largest e-bike renal service provider in USA. Based on Lime report, it has 11.5 million bikes and e-scooter. User can find the nearest parked vehicle by searching on app. User can reserve available e-bike which is parked nearby. Lime is gaining the customer attention and becoming one of the largest mobile service providers in US. Tuby Sun is extending mobile service through globally. The development influenced so many business players to know the exact cost of mobile app development like Lime app.
Feature and Function of e-scooter Rental Mobile App
If you are looking to create an app then you have cloned the Lime application feature in your mobile. I will be explaining you each one by one below.
Sign Up/Login
Finding Nearby Available Bikes
Map Navigational
Real-time tracking
QR Code Scan
Ride History
App Notification
User Control
Advance Ride Booking
24×7 Customer Support
Sign Up/Login
User can book register himself and once register finished then user can log in your Application.
Finding nearby Available Bikes
Your mobile app should have option to find nearby parked available e-bike for reservation.
Map Navigational
Your App allow user to guide with map view to reached the parked bike.
QR Code & Unlock Ride
You need to allow scan feature easy to use for riders
Ride History
User can track the previous ride history at any time & anywhere.
App Notification
Your app should have latest feature such as push notification for payment information, offers and other activity.
User Control
User can control the app based on required. Your app should act based on user instruction for cancel ride, ride booking or parking the vehicle.
Advance Ride Booking
Rider can book ride based on pre-requirement in advance. It can one of the best solutions to grab the rider attention.
24×7 Customer Support
Support section is very important option you should have in your mobile app. If rider is facing any issue before booking or after booking ride. He/she can contact your expert for help.
What Are The Factors Affects to Build Apps Like Lime?
Assuming above information, if you planning to build an electronic rental mobile app like Lime than it will be based on various factor such as platform, type of app, UI and feature to feature etc.
Let's discuss in brief
Platform
Lime mobile app development cost will be based on platform such as IOS or android platform. The cost of android mobile development platform will be bit higher than iOS mobile development due to more code need to write. Android app developments require more testing also. Hence, you can plan according to your budget your platform for mobile app development like Lime.
Technology Used
The cost of mobile application development like Lime will be vary on latest technology implemented in your apps to locate e-bike, unlock the bikes and payment process. These are basic feature which you can ignore. You should keep such feature to impress your user and directly using latest technology such as Artificial Intelligence, Machine learning will be expensive.
Type of app Development Service
There is three type of mobile app such web app, Native app and hybrid app. But trend is for hybrid application. Basically, Hybrid app allows users to access your business in multiple platforms. User can use your app in android or iOS platform both. The cost to create hybrid apps like lime will expensive due to advance feature. E-bike rental app development need to more accuracy and better customer experience for rent an electronic bike. If you are trying to enable such features in your app then it takes lot of app size
Expert Development Company
To develop such type of advance feature app you need some exert Development Company. Expertise Development Company will take higher amount to develop e-scooter rental mobile application for your business.
User Interface (UI)
Developing e-bike sharing app like Lime need better customer experience and app design. You need to design your app in such a way where user should not face any difficulty while using your app. It is one fact to hike the cost of online e-scooter sharing app like Lime/Bird.
How Much Does It Cost of Making Bike Sharing Mobile App Like Lime / Bird?
Considering above feature and function, the demand time is 2-3 month to creating a mobile application like Lime. There is no one in the development industry who can give you exact development cost to develop a mobile application like Lime. If you are looking to develop your online bike renting mobile app then avg cost of e-scooter app development cost $30000 to $40000. It can't be final price for mobile app development. It can be vary based on requirement.
Conclusion
In case you've already found an idea for e-bike sharing app development like Spin, Circ, TIER, Bird apps in your mind, speak to us. We can help you to build your perfect online sharing mobile application with remarkable layout and affordable development cost. We're among the best transportation app development company in the United States, United Kingdom, Peru, Australia, Germany, India and more. Hire us today as your mobile app development partner to make your mobile app development. To get free quotation your write an e-mail us info@dxminds.com