October 10, 2022
Posted by:

Admin

Category:

Famous App Analysis, Mobile App Development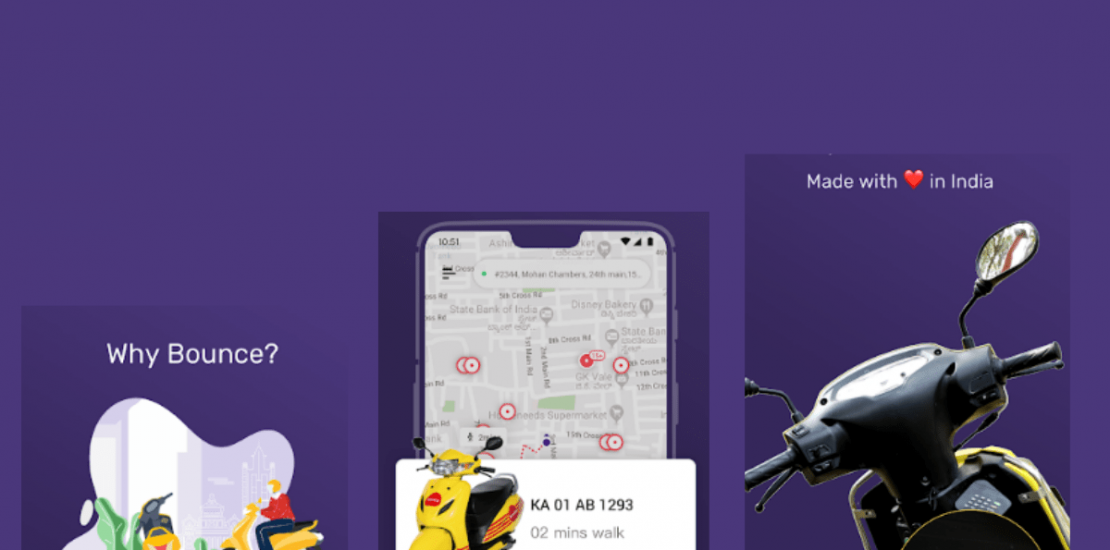 Cost of Developing a Bike Sharing/Rental App Like Bounce
Driving our own bike is a hard task in these expensive cities and everybody prefers to go on a bike for tours, adventures, and long drives frequently. Exploring in an Auto or cab is a slightly expensive means and the most worrying thing to bear is the charges asked by drivers. Many people are not comfortable purchasing bikes because of their expenses and hard to manage every month. To prevent this, mobile app technology has arrived with excellent features and helped many industries to extend businesses including the bike rental app business, where customers can hire a bike for rental for every single journey. Mass transportation in Bangalore has become one of the biggest problems in daily people's lives. Be it in a busy Delhi, or a densely populated Bangalore, the public transportation modes are unable to provide the needs of every single passenger. This problem has given origin to ridesharing apps.
  After all these cabs, however, runs on the roads which are crowded with traffic. Where do you see the perfect solution? The solution may sound simple but it works great – you need a bike-sharing app like Bounce. Bounce is a Bangalore-based Bike Rental Company that has generated the idea of bike sharing. Bounce has become an industry leader in providing shared bikes via its bike-sharing application.
About Bounce
Bounce started as a small pilot on HSR Layout, Bangalore. The founders of Bounce wanted to build a platform as a solution due to increasing pollution levels in Bangalore, and traffic jams and needed to obtain a solution for the last mile drive from public transport stops to final destinations of daily passengers. Hence, 5 years ago, Bounce was born. Now, it is the Industry leader in the bike-sharing business.
How does Bounce work?
The user of this active bike-sharing application just has to download the  Bounce mobile app, sign up, pay a tiny refundable security deposit or you may also connect your wallet to it, looking for a Bounce bike near you, go to it and scan the QR code – and you can start your ride. Once you are finished with the ride, you can park it anywhere in a safe place.
Business Model of Bounce – a Smart Bike-Sharing App Solution
Bounce purchases bikes and scooters in bulk from manufacturers.
They placed the censors, number plate, and locking system and paint it in the brand colors.
The profits are generated only from rentals.
Looking to develop your own bike-sharing platform like Bounce?
What began as a niche product in India has now been successful on a global scale, drawing the attention of giants like Uber and General Motors. The idea is determined and yet many segments of the global market remain unpracticed. We can assist you to kick-start your bike-sharing business and advise you to go from concept, testing, product launch, support, and services.
The total cost of developing a bike sharing app like Bounce will be approximately $10000-$15000. Let's have a glimpse at the features and cost extension of a bike sharing app.
Get a Free Quote :
Features and Estimation of Costs for developing a bike rental app
Sign-Up: The application allows users to sign-up/sign in to the Mobile application with individual login features to maintain records and can perform sign-up by social media.
Choosing Bikes: The bike rental Mobile app lets the user choose the bikes visible within the app itself. The kind of innovation hits with extra charges and differs on the type of interface development.
Vehicle-Booking Options: This permits users to manage their Vehicle-bookings. The bike rental Mobile application development costs vary by inserting a sub-section to book now, later, and schedule options at any time.
Payment Gateways: When it comes to offering claims for the refund to the customers, the more the number of advantages the better your customer is supposed to feel satisfied.
Admin Panel: The bike rental mobile app development varies by integrating the Admin panel for the owner to control everything associated with the user to accept or reject the request.
Booking Cancellation: The users have access to cancel the ride at any point in time which can be done with easy clicks in the mobile apps.
Push Notification: The business owner can send notifications on the launch of new products or services directly to the user's inbox with the help of these push notification features.
Add-on features of Bike Sharing Apps like Bounce
Innovative Features we can Help You Add to Your Bike-Sharing App
Predictive Analytics
These are analytical tools that assist you to make different insights out of users' data for your bike-sharing mobile app. For example, after having mapped all the routes a user has gone through in a month, you can provide a better bike-to-user matching at a precise time based on predictive analytics. For brand partnerships, more complex data provision helps as you can calculate the direction of a user with greater accuracy thereby allowing your associates to target geography-precise ads.
Machine Learning Algorithms
Depending on the requirements of public transport, traffic analysis in the city, and the number of users active, this algorithm will support you know the growing demand in new localities. Using this information, you can use triggers such as special offers in that area and gain on the demand via a smart bike-sharing app solution.
IoT Ecosystem
The locking and tracking system for all of the bikes will help you ensure the safety of your key assets, the bikes. Our expertise in related IoT-based solutions can help you keep your customers in check and maintain the extra tier of safety for each of the bikes.
Team Size Offered by DxMinds for Bike Sharing App Development Process
Our DxMinds expert team of resources for your bike-sharing app development project will include:
2 UX Designers
2 Android Application Developers
1 iOS Developers
2 Backend developers
1 Quality Analyst
2 Business Analysts
1 Project Manager
Are, you looking to develop unique features and best-in-class UI/UX for your bike-sharing app?
Consult Us :