How much does it cost to develop a mobile app like Helo
Helo is a social networking and content creation mobile application that was operating in India. Helo was exclusively built for India by Helo Holdings. The app has turned out to be a huge success and was able to gain 40 million users nationwide. The main feature that has made the app a huge hit is that it supports 14 local Indian languages including Assamese, Bengali, Telugu Bhojpuri, Gujarati, Kannada, Malayalam, Marathi, Odia, Rajasthani, Tamil, Haryanavi, Punjabi and Hindi. The app allows its users to stay in regular touch with the latest news, trending topics, music, videos, entertainment, Whatsapp statuses, Dance, Movie clips, jokes, and memes. Also, the app allows the users to share these content with their friend circles in a seamless manner. Users can send connection requests to their friends and families with the help of the Helo App. It also allows the users to carry out hassle-free communication with the other Helo users. The posts that pop up in the Helo app are meant for fruitful discussions, where its users can comment on their views on particular topics, help them post unique videos, create polls, and even allows them to share the content on other social media platforms like Facebook, Twitter, etc. However, the app got banned in India due to some legal issues, which has created a potential gap for Indian app development companies to come up with developing a similar app like Helo.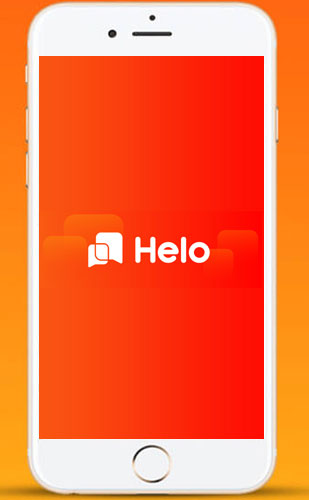 How Does it Work
Working model of Helo app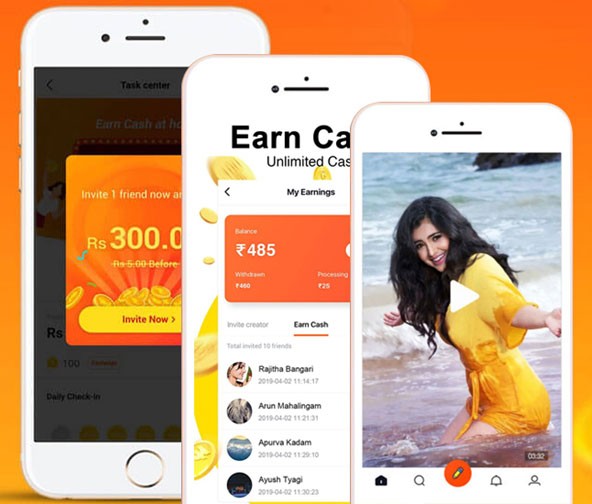 Helo app is simple and less complicated that even a small standard kid can use it easily and that the main reason why the app has turned out in being a massive hit. The working of the Helo app is quite simple. Right after creating an account on the app, the users are warmly welcomed to the world of a wide range of opportunities where they are exposed to a wide range of quality content. It is innovative yet futuristic. The reason why users are still searching for an app like Helo, even after it got banned is because of the impact it had on the Indian markets. Multiple local language support has helped the app in reaching out to the rural areas of India.
Exclusively designed and built for India
The Helo app is exclusively built for the India market by analyzing the taste buds of Indian users. The designs and UI of the app are built in such a way that it is much appealing and meets the requirements of users based in India.
Regional Language support
As the app is uniquely designed to meet Indian market standards, it does support multiple Indic regional languages. This paved the way for the app to reach out to the potential markets in depth.
The app is enriched with quality content all the way. It even allows the users in becoming content creators by allowing them to upload and share content on the app. This has helped the app is becoming so popular and successful.
The app offers end-to-end privacy to its users and their personal data. This has prevented the app from scammers and hackers who executes various data breaching activities.
The app looks so attractive and is much appealing to the users. The designs, animation, logo, and images of the app is in such a way that it delivers an exemplary experience to the end-users.
Features
Unique and must-have features of an app like Helo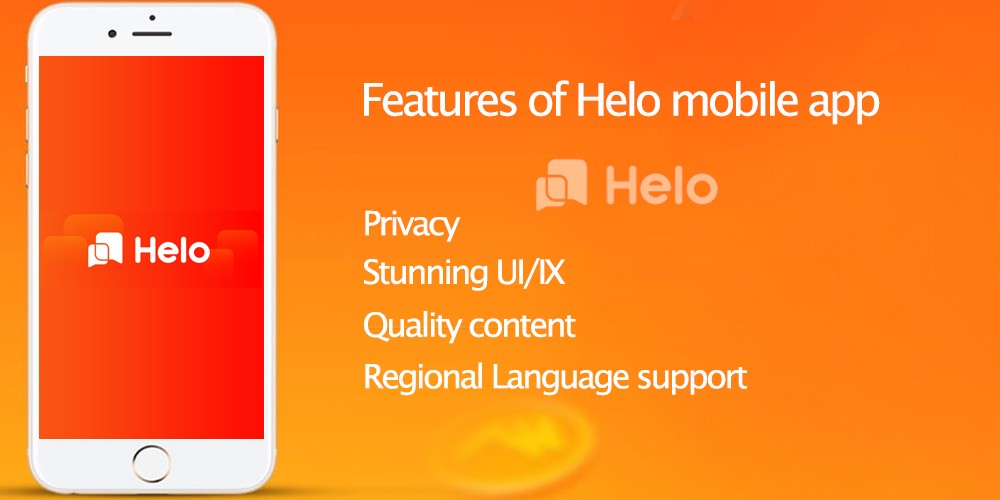 App Features
To continue using an app like Helo in a seamless manner, users need to create an account on it. The account registration can be done leveraging mobile numbers, social media handles, and even email ids. Right after the registration, the users will be provided with username and password, which they can be made use for logging in.
The app has to have an interactive dashboard, where the users can explore news feeds, find highly engaging content, news, music, videos, and much more.
There should be a search bar associated with the app for users to find out people and the content they are looking for. It enhances their user experience and helps them deliver a personalized experience. A search bar has to have various filters with a wide range of filters integrated to it that allows the customers to perfectly land on what exactly they are looking for.
Having a notification bar integrated to the app allows the users in staying top of all notifications and updates. The notifications can be regarding the latest news, information regarding the app, introduction of new features, and much more.
In order to make the app more engaging, it should allow users to connect with each other. Each user registered on the app will have a unified profile that other users can visit and send connection requests, so they can stay connected.
The app allows its users to execute hassle-free communication among users. They can share content, videos, news, and even instant messages by making use of the chat feature.
In order to make the app more engaging, it allows the users to make relevant actions on posts such as like, comment, share, etc. It also has features that allow the customers to download the post they wish to.
Our on-Demand App Development Services
We are DxMinds Innovation Labs, your ideal digital transformation partner. Following the pathways of the latest technologies, we develop high-end digital solutions to meet your business requirements in a seamless manner. The on-demand app development services we come up with are capable of onboarding innovation into your business frameworks without any hassles. Turning out to be the best on-demand app development company, we are committed to delivering unimpeachable services to our end customers. We stand high among the top on-demand app development companies because of the level of quality in the services we deliver.
Our demand app development services for various industries
We deliver impeccable on-demand app development services to every industry that exists in the universe. Our team of highly talented professionals makes the best use of all available technologies to develop on-demand mobile apps, that too in the least possible time.
Food, Beverages and Grocery
The intuitive on-demand app development services we offer for the Food, Beverages, and Grocery industry prompts us in making our clients stay away from the competition. It is a perfect example of how the best integration of technology can help a business flourish. The digital solutions we come up with help you cross the new horizon of success thereby generating a fruitful business. Mobile applications that have been developed for the Food, Beverages, and Grocery industry opens the doors of multiple opportunities, where you can canvas your customers through an entirely innovative medium. Being the best food, beverages, and Grocery app development company our mission is to disrupt conventional practices thereby giving rise to a digital landscape.
Home Services and Utility
Home service and Utility industry demand a high degree of digitalization as it can only be scaled by the best application of technology. Also, technology has got a lot to do in this space. It allows the business owners in breaking down the tedious parts of their jobs, making it tiresome and less complex. With the help of the on-demand mobile application, we built for the Home service and utility industry, a business owner in the same domain can stay away from all the hassles and bustles. It is a perfect mix of technology ideally catered to the right set of beneficiaries. We believe in innovation and the future is definitely going to be digital. We help you survive the digital disruption by offering the best possible technology solutions.
Logistics and Transportation
Logistics and transportation industry has got a large need for digitalization, and with our on-demand Logistics and Transportation mobile app development services, we help you automate your business and extend the possibilities of scaling it like anything. We build robust apps that make your business flourish in the best way possible. Also, we help you retrofit groundbreaking digital solutions to your existing operational frameworks that make you fit for staying ahead of the competition. We offer end-to-end solutions that make various processes involved in the industry easy and thereby paving the way for a brighter future.
Versatile and solid mobile applications
Robust mobile apps and an agile model of development
Groundbreaking solutions leveraging cutting edge technologies
Unrivaled services that satisfy international guidelines
24x7 client administrations
Cost Analysis of a social media mobile app like Helo
Factors determining the development cost of an app like Helo
The platform for which an app gets developed plays a key role in determining its development cost. There exist multiple platforms like iOS, Android, and windows. Selection of which purely relies on the hands of the app an owner based on various user data and analytics. The proper selection of the app platform is so significant that it determines the success of the app.
A wide range of technologies is available in the market that can be used to enhance the user experience of the app. Artificial Intelligence, Machine Learning, Big data, blockchain technology, etc. are some of them. These technologies are widely adopted to outpace the competition and to make the app a stand-alone. Integrating any of these can increase the app development cost as it requires more skillset and expertise.
It is mandatory to have a team of highly talented professionals for developing a full-fledged mobile application. The cost to afford them depends on their proficiency and expertise and is charged accordingly. Hiring the right resources can be costly and it is a key factor when it comes to determining the app development cost. The ideal number of the team for developing a top-notch mobile app is:
2 — Requirement analyst.
1–2 Web developers.
2 — QA engineers.
2 — Android application developers
2 — IOS application developers
1–2 UI/UX designers
We have clearly seen the factors that are bound to the cost of developing a mobile app like Helo. Depending on the aforementioned factors, it will cost you around USD 10,000 to USD 50,000 to develop a mobile app like Helo.
Frequently Asked Questions