December 9, 2022
Posted by:

Admin

Category:

Famous App Analysis, Mobile app development cost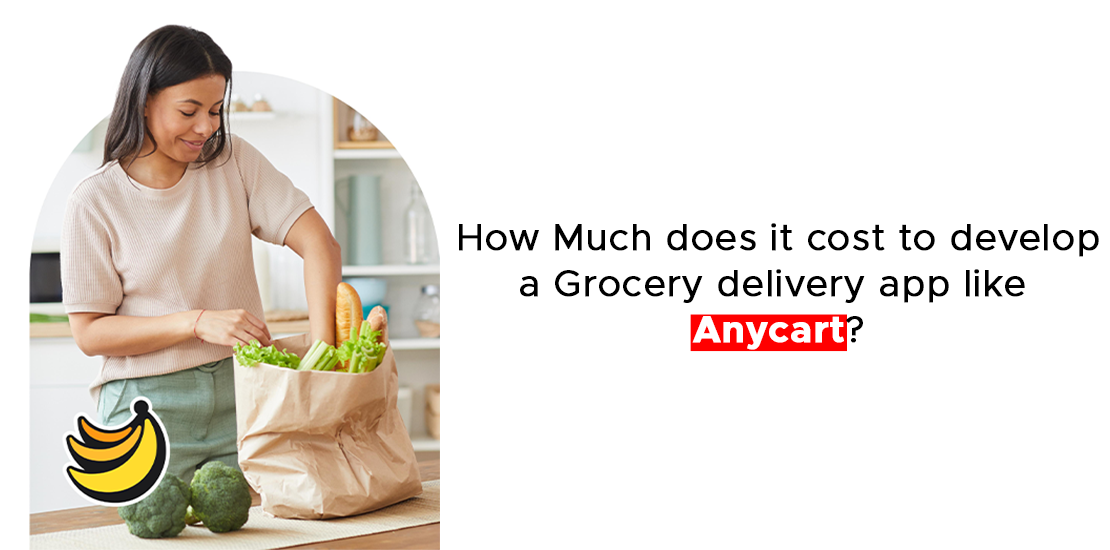 Economic activity is now beginning to return to normal as the coronavirus outbreak comes to an end. Customers begin shopping offline with less anxiety as more and more supermarkets begin their reopening processes. To buy fresh groceries, some shoppers may not be prepared to leave their homes.
The primary cause is that crowded grocery stores continue to be risky environments for infection. In addition, many customers have gotten used to on-demand app grocery shopping and enjoyed it.
Whether you want to order food, groceries, or a helicopter! Our daily lives cannot function without relying on on-demand apps. In addition to the simplicity of placing an order, consideration of the customer, affordability, and customization options to provide a more pleasurable experience, their success is also reliant on the quick technological development made in the previous years that has made it possible to have products delivered right to the door. One such app that has fundamentally changed the grocery delivery industry is Anycart.
The enormous growth of online grocery shopping was a significant trend over the past year. Through its seven-month beta period, Anycart's revenue increased 450% with the trend acting as a tailwind. A recent survey found that 61% of consumers now shop for groceries online more frequently than they did before COVID, and data suggests that this is a behavior that will continue after the pandemic as consumer trends shift toward value1. For the duration of the pandemic and beyond, Anycart has addressed key consumer barriers in online grocery shopping to deliver a seamless, superior experience for both customers and retail partners.
So you might be wondering, "Should you launch a grocery delivery app like Anycart? As the pandemic came to an end, so building an online grocery delivery app be profitable?" Yes, it would be.
Go with the blog mapped out by a Top grocery app Development Company and discover everything about the benefits, Anycart like grocery delivery app development process, and Anycart app development cost.
Interesting stats of Online Grocery delivery app
Since 2019, the grocery app market has experienced consistent growth. The total online grocery app market was valued at $135.2 billion in 2022 and is expected to reach $187.7 billion in 2024.
By 2025, the global grocery retail market will have expanded by 24%.
By 2024, the market for developing grocery delivery apps will be worth $630 billion.
Grocery delivery apps are used for grocery shopping by 64% of American households.
Applications for grocery delivery are making more money, with a 7.5% CAGR.
During the pandemic, the use of grocery delivery apps has doubled.
The statistics states, creating an app for on-demand grocery delivery is a very smart idea. if you want to carve out a lucrative business niche then You must make an investment in the development of grocery delivery applications
According to a recent study, 35 percent of the user community enjoys ordering groceries online, and these numbers are rapidly increasing. Grocery Delivery Mobile App Development has gained significant traction.
About Anycart
Anycart is a grocery delivery app that not only provides the ease for grocery shopping but also makes meal planning simple and affordable for everyone.
The platform enables users to browse thousands of products from nearby shops as well as more than a thousand step-by-step video recipes. Customers never pay subscription fees, markups on prices, or delivery costs with Anycart, making it affordable for everyone.
Whole Foods, Amazon, Safeway, Albertsons, Vons, Pavilions, Randalls, Jewel Osco, Tom Thumb, Carrs, Giant, Giant Food, and Stop & Shop are just a few of the 14 national retailers with which Anycart has partnerships. The nationwide footprint of Anycart includes 4,000 store locations in 3,400 cities, and it intends to expand that number in the coming years. With Anycart, you can save time, money, and effort. It's an improved method of food shopping.
Why should you create a Grocery delivery app like Anycart?
A grocery delivery app has many advantages. The main goal of grocery apps like Anycart was to lessen the tedious task of going to shops and department stores to buy groceries. Here are a few of the main justifications for developing a grocery delivery app:
1. Improve the capabilities of your physical store
The ideal time to automate and empower your local supermarket shop with a mobility solution is now if you are the owner of such a shop. Seek a reputable Grocery app development company like DxMinds, which develops on-demand grocery apps, to expand your customer base for a modest cost.
2. Conserves time and resources
Any grocery delivery app can help users manage their daily tasks with just a few clicks while lounging at home. You can provide your customers with a level of comfort so that they no longer need to stand in long lines and carry heavy grocery bags by creating a grocery delivery app. You will also find it simpler to manage a bigger customer base as an app owner if you have just one app.
3. A profitable business model
If you want to start your on-demand grocery delivery business but your business plan is limited, you can choose an affordable business model. Businesses are developing new products and monetization strategies because the current market is so fiercely competitive.
A few of the most popular business models used in the development of grocery delivery apps are the aggregated, commission-based, advertisement, and subscription models. Proceed with the development process after selecting the option that is best for your company.
Core features to consider to develop a Grocery delivery app like Anycart
In general, there are three parts to the list of features that need to be taken into account when developing an on-demand grocery delivery app like Anycart, each of which caters to a different stakeholder. The top four panel features will help you understand how the grocery app operates if you want to know how it operates. Let's examine each feature in turn in the feature set.
Features of Customer panel
When users download and log in to the app to place their grocery orders, they do so through the customer panel. The features list for the customer panel is provided below.
Sign Up and Sign In: The customer enters the application on the registration and sign-in screen, which is the first interaction screen. At this point, social media integration is frequently used to streamline the procedure.
Profile management: Users have the option to create and modify their profiles at this point, which include details about their contact information, payment options, etc.
Product browsing and listings: There should be a variety of products listed on the on-demand grocery app for customers to choose from.
Search and Filter: This feature should allow customers to search for items to purchase from your application.
Add to Cart and Proceed to Checkout
To simplify the ordering process, both functionalities should be available in the application.
Multiple Payment Options: As part of your payment gateway integration process, customers should be able to choose from a variety of payment methods, which will make the entire transaction more comfortable for them.
Order History: To help customers remember whether or not to place a repeat order, customers should be given the option to view their order history inside the application.
Ratings and reviews: You should permit your customers to share their impressions of a specific retailer or item on the app for the benefit of other users.
e-Wallet Integration: To make the checkout process streamlined and quick, you can allow your customers to keep some money in the built-in wallet.
Help and Customer Support: Give your customers a way to contact your team whenever they have a problem.
Discount Coupons: You should make it simple for your customers to view and use the discount code at the time of payment.
Delivery Tracking: Real-time tracking of an order's location can have a significant impact on users' levels of engagement because users always want to know where their products are.
Push Notifications
A mechanism as effective as a push notification still doesn't exist for mobile app marketing. A clear push notification strategy should therefore be in place for your app.
Selection of the Delivery Time Slot:
Given that working-class people are the ones who typically use on-demand apps to order groceries, it is advisable to give them the freedom to select a time slot that works for them.
Features of Driver panel
The driver's side or delivery partner panel has features that will make it easier for the driver or delivery staff to manage their job and deliver the orders on time.
Delivery Requests:
The drivers affiliated with your application must have the freedom to accept or decline a specific trip for any reason.
Push Notifications:
The drivers should receive push notifications with all order delivery information, including new and canceled orders as well as information about account debits.
Map Integration
The integration of a map into the delivery panel of your grocery app is a must-have feature that will let your drivers know where the customer is located.
Turn-by-turn navigation:
You should include a feature in the map that enables turn-by-turn directions to be spoken aloud to drivers.
Earnings and Reports: Clearly state in the application the invoice amount and the specifics of their total earnings.
Ratings and Reviews: They ought to have the freedom to comment on and rate a trip as well—accountability rests with both parties, after all.
Help and Customer Care: Your drivers should find it simple to get in touch with your team when they run into problems, just like your customers do.
Work History:
In order for drivers to have a clear understanding of their performance at the end of the day, the specifics of each trip taken should be shared with them on their app.
Set Availability:
Drivers should be able to specify the times that they will be available to accept and deliver orders.
Delivery Time Slots:
In order for the drivers to know when to pick up and deliver the order, the time slots that the customers choose should also be shared with them.
Total Order Weight: Since the drivers must transport the order, they should be aware of its weight in order to select the appropriate vehicle.
Earnings and Reports: The invoice and specifics of their total earnings should be mentioned in the application.
Ratings and Reviews: They ought to have the freedom to comment on and rate a trip as well; after all, accountability rests with both parties.
Help and Customer Care: Just like your customers, your drivers should find it simple to get in touch with your team when they have a problem.
Admin Panel Features
The admin side has an easy-to-use panel that allows admins to handle all of their tasks, including managing the full customer, delivery partner/driver, and vendor panels' information.
User management: The administrator of the application will have the power to add or remove users from it, as well as modify their active status.
Product management: They ought to have the ability to edit the information about the products on the page as well as add new ones and take away discontinued ones.
Order management: Admins must keep track of all orders placed inside the application.
Driver Management: One of the crucial features that ought to be available in the admin panel is driver management. It ought to contain all the necessary details about the drivers, including their contact information and itinerary.
Payment Management: The admins should have easy access to all payment information entered into the application, including refunds.
Campaign Management for Email, SMS, and Social Media: In order to draw users to their application, admins should be provided with the tools they need to plan campaigns for SMS, email, social media, etc.
Run discounts and promotions: The admins will have full access to manage discounts and promotions across the entire application.
Password Reset: Although drivers and customers will be able to get around password reset, the admin should also have the database of passwords on hand.
Add, Edit, and Remove Various Elements of Apps and Websites: The admin should be able to easily make all the changes needed inside the application, including those involving users, products, and application design.
Vendor Panel Features
A powerful vendor panel enables seamless management of customer orders, shipment assignment to delivery agents, and overall management from one location.
Item management: Store owners have the ability to change or add prices, product descriptions, and minimum order quantities, as well as make the products directly orderable.
Order management: Vendors are now able to check the status of their orders as well as the total amount collected for each order and respond appropriately.
Payment tracking: Store owners can add their account information and view all of their recent and completed payments in one location.
Order Alerts: Store owners or vendors can receive real-time push notifications of new orders or any update alert and take further action.
Receive Orders: With the help of this feature, vendors can take customer orders for various grocery items and process them further.
Coupon Code Management: Vendors can create and implement new promotions, discounts, coupons, and offers to increase sales and boost client loyalty.
Reject Orders: If a product is not in stock or cannot be delivered to a specific location for a variety of reasons, the vendor may simply reject the order.
Advanced Features to Consider in Online Grocery delivery app like Anycart
These are the few (panel-wise) essential features of the grocery delivery app that define how the three key facets of your company operate. However, if you want to grow your company and set it apart from rivals, you must give it more sophisticated features. Here are a few extra features that can be added to your on-demand grocery delivery app.
Communication Channels
It is crucial to provide a transparent platform for communication between your users and drivers. In order to communicate about their location, nearby landmarks, delays, the anticipated time of delivery, and other issues that call for an open communication channel, it is critical for both users and drivers to have a strong communication channel.
Providing a Variety of Payment Methods
There are many different payment gateways available right now. Implement as many payment gateways as you can to make it simpler for your users to select their preferred method of payment and complete transactions.
To provide complete ease of payment, your app should implement the top payment gateways like Stripe, Braintree, Apple Pay, PayPal, Google Pay, as well as direct banking payments through debit cards, credit cards, e-wallets, UPI, net banking, and other methods. This kind of user-friendly approach can guarantee them a simple and convenient method of payment.
Real-Time Analytics
For the purpose of extracting the processed data from the data chunks that are stored in the database of the grocery mobile app, real-time analytics are absolutely essential. This assists with managing the grocery stores and administratively checking various related statistics that can help your business succeed.
AI-Based Delivery System
When we consider the current situation, the majority of people are avoiding receiving deliveries from humans because of the global pandemic. Drones can deliver your groceries thanks to artificial intelligence solutions.
It would be simpler for you to pack the ordered items and deliver them to your customers on time if you used sophisticated technologies like AI and ML. Utilizing this kind of cutting-edge technology will make it simpler for you to compete in the market.
After reviewing the list of features that every grocery application must have, it is time to move on to the next technical step in the process that you would need to take to launch your on-demand grocery delivery app company: the technology stack.
Technology Stack Used for a Full fledge Developed On-Demand Grocery App
The technology stack used to create an on-demand grocery app may differ from company to company depending on their skill set and the budget they have set for the price of mobile app development.
Our internal team of grocery app developers has been utilizing the following:
Push notifications – Twilio, Push.io
Database – Mailchimp Integration., MongoDB, HBase, Cassandra, Postgress
Cloud environment – AWS, Google, Azure
Payment methods – eWallets, PayPal, Stripe, Braintree
Real-time Analytics – IBM, Apache Flink, BigData, Cisco, Hadoop, Spark
Phone verification, Voice, SMS – Nexmo, Twilio
On-Demand Grocery Delivery App Business Models
There are three models in the business plan for an on-demand grocery delivery service that can boost your earnings. The best business or revenue models for an on-demand grocery delivery app are as follows:
1) Commission Model
One of the earliest and most effective models for making money is this one. The vendors and the business owner both profit from this kind of model. Let's look at the commission model in more detail. The seller receives a portion of the commission for each sale that occurs on the app, while the buyer and seller each pay a very small amount of money to use the app and register.
2) Advertisement Model
The advertisement model enables the vendors to properly position their ads on the portal. Vendors and sellers run their ad campaigns by the admin in this monetization model.
3) The Subscription Model
This kind of business model is based on the subscription method, as the name would imply. This includes various promotions that change depending on the subscription plans that people choose to purchase. In a subscription model, customers pay a one-time fee to become members and enjoy the benefits of the premium services. To learn how apps make money, read this blog.
How much does it cost to develop a grocery app like Anycart?
The precise cost of developing an online grocery app like Anycart is a question we can only answer after thoroughly examining your project's requirements and goals.
However, if you take a look at the feature set and tech stack that we have discussed above, the cost to build a grocery app like Anycart can go in a range of $30K to $50K – including all four app versions that we examined above. This is true if you want to know how much it will cost to develop a grocery app.
However, the cost may change depending on a few variables and how your needs change. Let's examine each factor in greater detail:
Factors affecting the cost of a grocery delivery app like Anycart are
the Size of the Development Team
The size of the development team has a significant impact on the cost of developing an on-demand grocery delivery app. A development team should be made up of app designers, developers, team leads, QA testers, and project managers.
An effective grocery delivery app must be made by a team of highly skilled developers. They must be well-versed in all the requirements for grocery apps and have a wealth of experience in order to create a fantastic grocery delivery app.
An effective grocery delivery app must be made by a team of highly skilled developers. They must be well-versed in all the requirements for grocery apps and have a wealth of experience
Functionalities and features
The two most important elements that significantly affect the development cost are features and functionalities. Simply put, your costs will increase as you add more features to your on-demand grocery delivery app. The implementation of the fundamental features is essential for the development of your grocery app, but you may incur additional development costs if you add additional features, as was mentioned above.
Platform Selection
Generally speaking, it won't cost you much if your app is only created to support one platform. It will cost you slightly more, though, if you want your app to work on two or more platforms. Currently, Android and iOS are the two main platforms for mobile applications.
Despite the fact that more people use Android smartphones than iPhones globally, you must decide which platform you will use. You can choose cross-platform grocery app development if you want to target users of both platforms.
App Marketing
The app must be submitted to the App Stores for listing once it has been developed. Along with the one-time fee that you will be required to pay, the app will undergo expert review and scrutiny to determine if it complies with the App Store standard. Given the fierce competition in the market, you must allocate a substantial marketing budget to the promotion of your app, from getting it reviewed by publications to developing effective advertisements.
Support and Maintenance
After you launch your grocery delivery app, the costs associated with developing it do not end. Due to the need to keep your users interested with cutting-edge features, the app will require periodic updates. There would therefore be extra maintenance and support fees.
As new devices are released and market trends are updated, it will become a recurring expense. By doing this, you can guarantee the lag-free operation of your on-demand grocery app. Two essential components of maintenance and support are reusing existing code and routine app upgrades.
| | |
| --- | --- |
| Country | App development charges |
| India | $10 to $40 per hour |
| Eastern Europe | $30 to $100 per hour |
| US | $70 to $150 per hour |
Last words
Entering the market with a grocery delivery app might sound like a good idea, but if you don't add innovation to it, the competition will be fierce from the established players. Make contact with the appropriate tech partners who can handle your grocery app and assist you in making excellent profits.
With a team of skillful grocery app developers at DxMinds, you can launch a native or hybrid app on the market while staying within your budget. Additionally, you can get in touch with us to develop a web application that will broaden your customer base.
Avoid wasting time and engage the best developers right away!