December 27, 2022
Posted by:

Admin

Category:

Famous App Analysis, Technology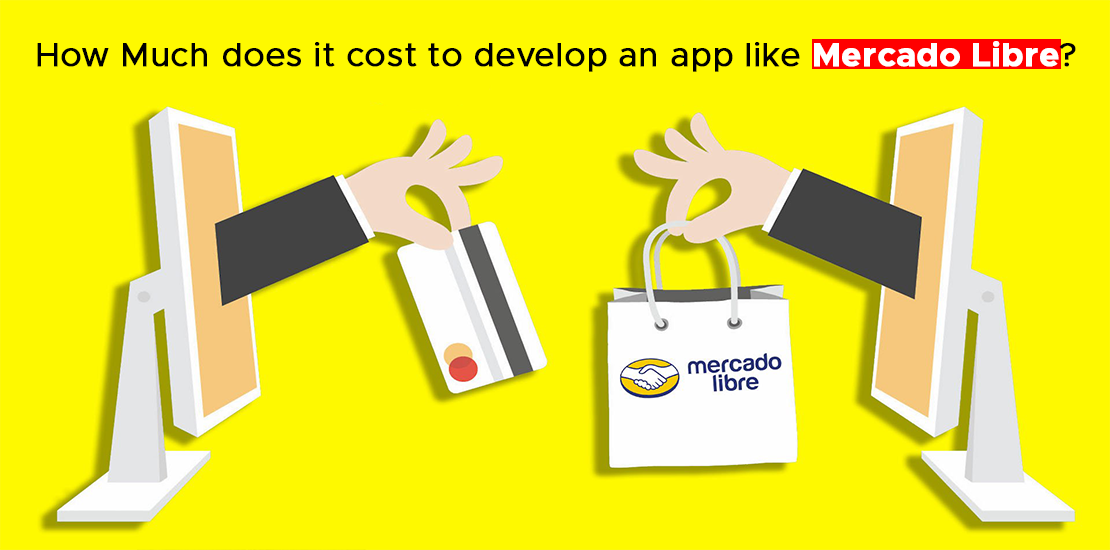 Perhaps you are unaware, but there is an Amazon in Latin America. Calls itself Mercado Libre. The Argentine company began operations back in 1999. Since then, the market has developed into a major force in eCommerce. The most popular online marketplace in Latin America is Mercado Libre. It had 139.5 million active users as of 2021 and generated 7.07 billion USD in revenue. (source)
With 10Cr+ downloads and millions of active customers and selling partners, Mercado Libre is dominating the Latin America online marketplace.
All of these statistics demonstrate the enormous popularity of online marketplace apps, which has increased demand for custom marketplace app development. Businesses of all kinds are looking for marketplace app development because they don't want to fall behind.
Speaking of Mercado libre amazing concept and the mind blogging revenue it is generating, the most curious question that arises in the entrepreneur's mind is, " How Much Does it Cost to Build the Mercado Libre app". The costs include maintaining the app's functionality, security, and user-friendliness.
In the following article, we will discuss all of the factors that contribute to the cost of developing to build Mercado Libre app, as well as briefly discuss the development process and the various ways to recoup the investment.
What is Mercado Libre?
Mercado Libre is Latin America's largest eCommerce website.
It will operate in 18 Latin American countries by 2022. Furthermore, the marketplace is run by nearly 30,000 people across the region.
Like Amazon, this is a fully automated marketplace. On the platform, both third-party sellers and individual users can register, list, and sell products.
ML is also the first Latin American tech company to be listed on the NASDAQ, having done so since 2007. It also owns five distribution centers throughout the region, as well as a software center in Colombia. (Source)
The site is also very user-friendly, as it can be accessed via the website or the mobile application. Over 500,000 small and medium-sized businesses (SBM) in Latin America use the website as a sales platform.
According to the company, the marketplace accounts for more than half of the revenue for 40% of SMBs. (source). A huge variety of goods are available on Mercado Libre. Electronics, clothing, auto parts, media products, and consumer goods are available to users.
Since all 650 million Latin Americans can access ML, it is a full-fledged retail establishment.
How to Calculate the Cost of Building a Marketplace App?
The average cost of developing an app for the marketplace can range from $40,000 to $300,000, depending on how complex the app is. The number of features the app has, the UI/UX design, the amount of time it took to write the code, the location of the development company, and other elements all play a part in how complex the app is.
The following formula can be used to estimate the cost based on the general complexity of your mobile marketplace app development project and the total number of development hours necessary to build and deploy the product:
Marketplace app development cost=Total development hours X Hourly rate of developers
The total development hours cover everything from creating a wireframe, designing the app, writing the code, and maintaining and QA-ing it.
Now that you have a general idea of the cost of your project using this formula, let us make it a little bit simpler for you by outlining the price of the app according to its various complexity levels and deadlines.
| | | |
| --- | --- | --- |
| App Type | Estimated cost | Time frame |
| Simple Mercado Libre app with basic features cost | $35,000-$65,000 | 3 to 6 Months |
| Medium complex Mercado Libre app with an extensive feature list | $55,000-$100,000 | 6 to 9 Months |
| Highly complex Mercado libre app with a complex feature list | $100,000-$300,000 | 9+ Months |
Factors influencing the cost of developing a Mercado Libre like Online marketplace app
The wireframe, UI/UX design, app platform, features, tech stack, and other aspects all have an impact on the price of developing a marketplace app. Let's look at each of the factors in more detail below.
a). Wireframe
An app is "wireframed" during the process to give the client a rough idea of how the app will look. The wireframe usually ends up costing between $600-$900
b). UI/UX design
When creating an app for the market, the design's adaptability and versatility ultimately determine how widely it will be used. A mobile app development marketplace would cost between $4,000 and $20,000 to design, given how important and complex the design elements must be.
c). Development
The magic happens here, and your ideas and designs are coded into a mobile app that works as intended. The cost of developing a marketplace app depends on a variety of variables, including the number of resources working on your project, the range of functionalities to be added, the marketplace app developers' hourly rates, the overall length of the development process, etc.
When all the factors are taken into account, the coding expense to create an app like Mercado libre would be between $20,000 and $100,000.
Team Size
Another aspect of the cost of developing a marketplace app is the size of the team. Choosing a freelancer, for example, will result in a lower overall cost for your app than hiring a full development team. The team's professionalism and expertise are worth it regardless of how much the latter raises the overall cost because an ROI is guaranteed.
The following people typically make up a development team for a Mercado libre-style app:

1 Project Manager

2-3 Backend Developers

2-3 iOS/Android Developers

1-2 Designer

1-2 Quality Analysts
App Platform
Your overall app budget will ultimately depend on the platform that supports the app. Starting with a single platform is typically preferred initially, even though choosing between Android or iOS applications has a negligible impact on your app budget. You can then transition to cross-platform app development as the app develops in the market.
Additionally, you can begin with an MVP development for your product to keep costs in check. It is then advised to upgrade to a full-fledged application once the app finds success in the market.
Maintenance of Apps
Your overall budget for app development may increase at any time as a result of app maintenance costs. The app's maintenance costs are some of the most important things to keep in check if you want to ensure your app's success in the cutthroat market. These costs range from working around new technologies to implementing new features to support the market analysis and implementing app upgrades.
You can read our insightful guide to the app maintenance cost for your convenience to get a full understanding of the various factors that can affect your app costs positively or negatively.
Tech Stack
Mobile app development costs are significantly influenced by the technology stack of the app. The chances of the app becoming popular on the market increase with more advanced and cutting-edge technology being used, which also has an impact on the overall cost. A strong tech stack also enhances the app's speed, aids in user retention, and ensures better navigation and engagement, in addition to enhancing the app's overall scalability.
Location of the Development Organization
The cost of your app will ultimately depend on where the app development company is located. The hourly rates for an app development company vary around the world. For instance, hiring a development company in the US or UK will result in a significantly higher overall development cost than selecting a company in Asia or Africa.
| | |
| --- | --- |
| Region | Estimated Hourly Rate of Development |
| Asia | $20 – $30 |
| Eastern Europe | $30 – $40 |
| Latin America | $40 – $60 |
Must-Have Features for Marketplace Apps
Selecting features for your marketplace app is a crucial decision that you should carefully consider because it will affect the application's future scope. Make sure to include the following features if you want to create a successful marketplace app like Mercado Libre
Simple registration procedure
Although it seems very simple to accomplish, not every marketplace app is skilled at designing their registration page. You no longer need to require your app users to fill out a tonne of personal information during the registration process thanks to the simplicity of social media integration. They only need to click a few times on Facebook, Twitter, or another social media site to sign up for the app.
Multiple payment options
There are various payment options for various customers. While it may be tempting to limit your customers' payment options to just debit or credit cards, it's important to integrate multiple payment gateways into your app and give them a variety of options so that they feel freer to choose from.
So, in addition to cash on delivery and debit and credit card options, here is a list of payment options you can provide to your customers if you choose to develop a Mercado Libre
Push Notification
According to what your marketplace app builder would have told you, push notifications may be the only method (that actually works) to keep users engaged with your marketplace application. When used strategically with the appropriate push notification techniques, the power of reminding users of what they are missing can contribute to determining the success of your application. Therefore, it is crucial to spend money on a proper push notification system that would prevent users from uninstalling your app.
Social media integration
Marketplace apps and social media have long coexisted. When we talk about social media integration, we don't just mean one-tap login; we also mean integrating social media into all of your marketing processes. This allows customers to promote their purchase and share the referral coupon and discounts with their network, allowing it to spread to a larger network and eventually the entire social media domain.
Add to cart
Customers are frequently unwilling to buy a product right away and prefer to save it for future purchases. In this case, they prefer the add to cart option, which allows them to save the product for future purchase.
Reviews and ratings
When it comes to Mercado Libre marketplace app development, reviews and ratings are essential, even if you are just getting started. The feature not only increases trust in the authenticity of your services, but it also assists customers in making informed decisions while providing you with direct insight into issues that need to be addressed.
Augmented Reality
Customers will be able to virtually try products before making a purchase decision thanks to the augmented reality feature. Buyers can use AR features to visualise and try out the final number of products. As a result, the customer experience improves and the customer retention rate rises. Learn more about how augmented reality is transforming the retail industry.
Live chat assistance
Users can easily connect with the support team using this feature, ensuring hassle-free communication in the event of an issue. Because most first-time buyers have problems with online payments or processing orders, it's critical to include live chat on the app.
Now that we've covered the must-have features, it's time to dig deeper and investigate the fact that when you invest in a marketplace app, you're actually investing in three applications: user, admin, and seller.
Key Features of the User Panel app
Social Login
Signup
Product Listing with Filters
Product Detail Page
Favorites
Sharing
Rating and Reviews
Questions and Answers
Payments(Card/Net banking/Cash on Delivery)
Delivery Status
Add to Cart
My Cart
Checkout Page
Billing and shipping Addresses
Recently Viewed
Order History
User Profile
Key Features of Seller Panel
Social Login
Signup/Login
Product Management
Inventory Management
Offers and Discounts
Order Management
Rating and Reviews
Reports and Analytics
Feedback and Seller Support
Settlement Module
Payments
Return Management
Notifications
Key Features of Admin Panel
User Management
Admin User Management
Seller Management
Product Management
Logistic Management
Banner Management
Category Management
Reports and analytics
Feedback and Support
Offers and Discount Management
Payments and Refund Management
How Do You Create a Marketplace App Like Mercado Libre?
The process of developing a mobile marketplace app like Mercado Libre is heavily reliant on data collection and analysis. Before beginning any project, it is necessary to assess all risks. Obtaining or comprehending the cycle requests is critical to creating an effective mobile app.
The costs of marketplace app development are primarily determined by the features you require in the application. However, creating a mobile app marketplace like Mercado Libre will take a significant amount of time, effort, and resources. The good news is that it is not impossible; if the proper method is known and understood, it is possible.
The first step in developing a marketplace is to create a proper structure. The next step is to understand your audience and consumers, and then offer various services based on this knowledge. The fourth step is to select the best monetization model.
How Does Mercado Libre Make Money?
Through its Fintech and eCommerce services, Mercado Libre generates income. The first one consists of first- and third-party companies' sales and shipping charges.
Mercado Libre's credit and payment services provide fintech revenue. These could include a commission from each loan or payment.
The platform provides a range of services to improve the user and seller experience in order to generate revenue. Storage, logistics for deliveries, and online payments are some examples of these services.
In-site ads, the creation of storefronts, and classified ads have recently been added to the platform.
The following are the main market offerings:
Mercado Pago
A payment method available only through Mercado Libre is Mercado Pago. It is intended to protect user-seller transactions both physically and digitally.
Additionally, the service permits the transfer of money between Mercado Libre users. Mexico, Brazil, Chile, Uruguay, Peru, Argentina, and Colombia all have access to it.
To help with transactions, Mercado Pago also has its own advertisement. Credit cards and QR codes can be read by the app to expedite payments between parties.
Mercado Envíos
This is an all-inclusive logistics operation for independent brands. To ship their goods throughout Latin America, sellers can collaborate with authorized carriers.
Additionally, Mercado Envos provides warehouse and stock management options. A special discount on storage and shipping costs is available to enrolled sellers as well.
Mercado Crédito
Both buyers and sellers can now access credit through Mercado Libre. As of 2021, almost 10 million people use it.
To assist Latin Americans who were turned away by banks, the company established this service.
Users can therefore use loans from Mercado Libre to pay for goods. Mercado Pago is typically used to pay for payments and interest. Depending on the loanee's market-wide credit score, the actual interest rates may change.
Mercado Shops
This is comparable to Amazon Stores.
Merchants can design distinctive micro-stores using Mercado Shops to display their catalogues.
Free shop setup is available to vendors. Then, Mercado Libre has the right to charge for any additional features that retailers ask for.
Social media and Mercado Libre's services can be integrated into any store. Brands can use Mercado Pago, for instance, to set up in-store payments.
Mercado Ads
Dedicated ads can be made by retailers to advertise their products both on and off Mercado Libre. Ad choices include banners and suggested products in the search results pages. This service is pay-per-click. Therefore, businesses only pay when their ads are clicked on. When to show ads is up to the seller. To increase your visibility, you can also set daily spending limits.
Classifieds
These are the classified listing services offered by Mercado Libre. Real estate agents and auto dealers are welcome to list homes and cars on the market.
Among the most popular pages in ML are classified listings. It's also important to note that sellers only pay ad placement fees; they do not pay value fees.
Users are unable to finish online classified sales, which is why. Customers can instead view these listings and get in touch with sellers to start negotiations.
How Much Does it Cost to Develop a Mercado Libre like Online Market Place?
The cost to build a Mercado Libre like an Online Market place will cost from $30,000 to $60,000 by considering the basic features. However, due to the few significant factors, we mentioned above, the cost of creating a Mercado Libre clone app will rise to $90,000 and beyond.
The cost of developing a Mercado Libre will solely depend on the features, app development process, platform, technologies, APIs, and the location and hourly rate of the custom app developers.
Being a top custom mobile app development company in the USA and India, we advise businesses to first develop Native Apps with the most important features before switching to Multi-Platforms to lower costs.
We believe that you now have a clear understanding of how to create a Mercado Libre app, how the Mercado Libre app operates, and how much it costs to develop a Mercado Libre-like eCommerce app. A number of similar e-commerce apps should be readily available in the current international market, so check this.
Please get in touch with us if you would like a free, no-obligation quote for developing an app similar to Mercado Libre, finding out how much it would cost to do so, or for any other of these questions.