January 24, 2023
Posted by:

Admin

Category:

Famous App Analysis, Mobile app development cost, Technology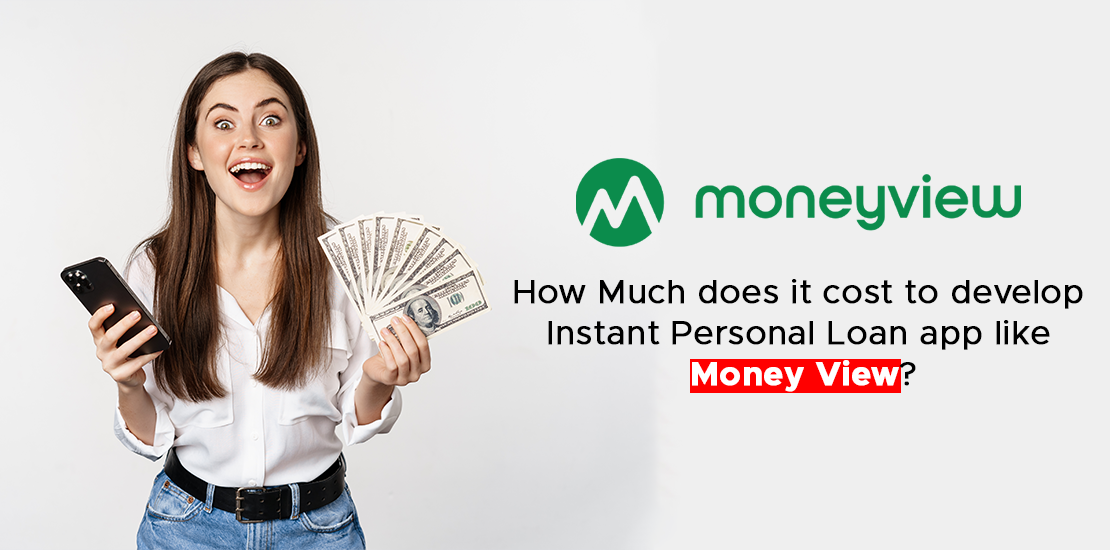 Prior to the advent of digital technology, applying for a loan was a difficult task. Various facets of our lives have been impacted by technology, and financial services are no exception.
The days when applicants had to complete application forms and visit the bank twice to deposit their money are long gone. Mobile loan app development service providers are now easing the process with the brilliant fusion of technology and mobile phones. The loan-lending companies have gotten involved in the race to digitize services, better meeting the demands of today's smartphone-obsessed audience.
Users can easily apply for loans without having to visit banks twice thanks to the practical features of online loan software. These apps provide end-to-end services from a single platform, including approval of loan eligibility application submissions, documentation, disbursal, and many other services. These apps enable users to request money and conduct online banking transactions while also giving them comfort and reliability.
These apps enable simple lending. The admin (who will check the applicant's security and credit score) will approve the loan application after the borrower submits it through the app. The loan is approved as soon as the administrator is confident in the borrower's situation.
Furthermore, a recent study found that more than 70% of young people are financially literate. This finding speaks volumes about the potential of today's finance applications, and it also explains why financial institutions are eager to invest in money management and personal finance apps.
Money View one of the top-notch personal loan lending apps is raising the bar in the financial world. So Building a Personal loan lending app like Money View can make your investment worthwhile
This blog deals with Money View app features, processes, and the cost to make a similar app like MoneyView.
What Situations Make Loan-Lending Mobile Apps Most Useful?
Venture Capital
Investment Brokers
Investment & Stock firms
Startup incubators
Startup Funding
Angel Investors
Financial Institutions
Statistics for the Loan Lending App Market in 2022
A CAGR of 24.0% from 2021 to 2028 will propel the global market for digital lending platforms to reach $20.31 billion in revenue in 2027. Prior to that, it had a value of $4.87 B in 2020.
Instead of traditional loans, 82% of US businesses are willing to use PPP loans to combat the pandemic.
The top three startups in the digital lending space, Aire, Kabbage, and Kasisto, have expanded into the AI space to update their apps for the newest technology. They asserted that AI boosted their growth by 90% in the previous year.
The leading suppliers in the loan lending market are Temenos, Fiserv, ICE Mortgage Technology, FIS, Sigma Solutions, and Fiserv.
About MoneyView- A Personal Finance Management
A personal finance app such as Money View is designed to help you manage your personal finances, track your spending, and plan your budget. The app is frequently referred to as Money Saving app because they allow app users to borrow, lend, and even invest money.
Personal finance apps' target audience is now ended users, so their business model is B2C. These apps assist people in wisely managing their money, and they are intended for personal use only, not for the establishment of business goals.
Your target audience will have a big impact on how your money lending application is developed. There are various loan types available for selection. If you're looking for mobile app development specifically for a loan like Money View, you might want to take a look at one of the following options:
Student Loans
If you want to offer services in India, keep in mind that the development of loan lending mobile apps in India is heavily influenced by this group. For their higher education, students take out loans. Simply enter your information, present your credentials, and the loan will be approved. Such apps can be easily delivered for you by our loan lending app developers.
Home Loan
If you are prepared to help with home loans, all you need to do is concentrate on how to begin a loan application for the same. If you hire mobile app developers at DxMinds, they can give you solutions that are intriguing, practical, and simple to use. These apps assist you in reaching a wider audience, and their user-friendliness makes it likely that users will spread the word about your app.
Car Loans
With instant loan services, you can assist your users in enjoying life's small comforts. Finding the best, most affordable loan lending mobile app development in India will allow you to enter the market with a product that will make things simpler for you and provide instant car loan services.
Personal Loans
These are loans that have been specifically taken out for personal needs. These loans typically have higher interest rates because they are unsecured in nature. Reach out to mobile loan app development service providers who can ease your burden if you want to offer people personal loans where you can charge higher interest rates and turn a profit.
Business Loans
You, therefore, want to assist entrepreneurs and startups in becoming better, bigger, and stronger but are unsure of how to make a money-lending app. In that case, all you have to do is get in touch with the creator of your loan-lending app and give him the information. He would take care of the rest, including how to design a loan application that meets your needs.
So, be certain of the goal, concept, and operation of your app before contacting a mobile application development company.
Top Features for Creating a Loan Lending App Like Moneyview
One needs to pay attention to the features that are integrated with the app when developing a highly responsive and revenue-generating money-lending app. We make sure to develop some original solutions that will help you better meet customer needs and establish yourself as a market leader.
Simple browsing
Easy browsing makes it possible for lenders to review all loan applications and identify the ideal borrower to fund.
Secure & Safe
The lender receives the necessary documentation about the borrower so that it can assess the borrower's creditworthiness.
Borrower Profile
There is an option to edit the borrower profile information, such as Name and Location, and you can also create a new loan application.
Application Management
The borrower has the option of checking the various loan applications and monitoring the status of those applications online.
Loan search by Lender
The lender can look for Loan Investment Proposals using the investment amount and keywords (LIP).
Loan Proposal List
Lenders can review the list while taking into account a number of different things, including the purpose of the loan, the amount to borrow, and the length of the loan.
Viewing the borrower's profile
The borrower's profile can be viewed by the lender, who then receives all the necessary personal information.
Messages
In the chatbox, lenders and borrowers can communicate about their loan requirements.
Loan Estimator
This feature is ideal for a small business owner who wants to expand some commercial properties. It includes details on interest rates, down payments, and monthly payments.
CMS Integration
To manage app content, both in the form of text and images, CMS integration will be crucial.
Dashboards
Through the dashboards, this feature will make it possible for you to keep up with everything happening in your app. All app performance statistics, including total amount, landed, total app users, partners, and total earnings, and, can then be filtered based on data and date range.
Online support
This feature is crucial because customers can use it to ask the system for assistance whenever they need it, which is very helpful for the users. An individual from the team will offer the user the required assistance as soon as he submits an application for support.
Bank Partner Management
The banks that the admin has collaborated with can be managed from this system because it works with the bank partners.
Security
This is unquestionably a crucial component of the system, and the app's use of actual user data draws users in. The system should incorporate certified security measures to guarantee app security.
Cloud Storage integration
The system can store user data while protecting security and privacy with the help of this functionality.
Analysis and Reporting
Real-time reporting is an essential component of this kind of app because it aids in the organization of data into informative summaries that aid in monitoring and analyzing data and in the extraction of actionable and meaningful information that can be useful to improve outcomes and app performance.
Interest on Only Used Amount
This intriguing feature will set your platform apart by enabling users to pay no interest on money that hasn't been used. Interest is calculated on the borrowed amount if it was partially funded by the borrower.
Repayment
Allowing users to repay is yet another useful feature. The user will be able to return any money that hasn't been used here.
When working with your team to develop a mobile lending app, keep these crucial features in mind. It would keep your customers informed and increase your revenue.
Advanced Features for Personal Finance Management Applications like Money View
Cross-Platform Functionality
This is a fantastic feature for a personal finance app because it streamlines the transaction process and aids users in saving time and effort.
Security
Building apps based on blockchain technology enables the introduction of another crucial feature while enhancing security in these apps because it eliminates middlemen transactions and fundamentally alters how transactions are conducted. For a personal finance app, blockchain's authentication and transparency features are unmatched. With 128-bit SSL encryption, Mint stores user information and data in a safe database.
Artificial Intelligence
Another helpful feature for a finance app, this it alerts users whenever their spending goes over the cap they've set. As they alert when transactions exceed the limit, AI-powered chatbots can be developed for this purpose.
Personalization
The app needs enough user information to offer personalized solutions that are sound in terms of finance. Thus, in the case of personal finance apps, app personalization is crucial.
Analytics & Tracking
With the help of this functionality, users can keep tabs on their financial activities and manage their finances effectively. For a thorough analysis of all the transactions, the app can offer history and other helpful information.
Rewards & Points
It is important to periodically motivate app users, so providing rewards and points can aid in drawing users. Rewards include things like rebates, coupons, cashback, credits, and more.
Track Your Expenses & Spending
Users who use this expense management feature can monitor their spending in real time. For instance, using expense reports, a user can check the transactions in two different accounts within the same app if necessary. They can manage all of their finances in this manner under one roof.
Reminders
With the help of this feature, the app can notify users via push notifications whenever a user overspends, sends or receives money, or transfers money. Additionally, the users may be informed of any outstanding debts or payments, such as the need to pay electricity bills or mobile phone bills.
Set financial objectives
Users of the app can set financial objectives here, such as saving up a certain amount of money for a trip or buying a house, and their spending can then be based on these objectives. The user of the online budget planner can also use it to accomplish their financial objectives. The monthly budget planner will also foster a saving habit and discourage wasteful spending.
Financial Consultation & Advice
Users in need of financial advice from professionals in this field can benefit from this feature. This functionality can also be divided into additional categories.
Transaction History
Users of the app can manage their finances and keep track of their transactions or spending with this feature.
These were a few of the cutting-edge features that could give the app more purpose and draw in more users. So let's move on to the monetization techniques.
Process for Developing Personal loan app like Money View
When developing an app, it's important to consider the following factors, along with many others that are covered below: Features, design, research, and planning.
Ideation:
Your ability to facilitate a particular type of loan through a mobile app should be the place to start. It will simplify the mobile loan app's functionality and associated complexity. This method also makes it possible to identify potential rivals quite clearly.
Research & Development
When you conduct your research wisely, you'll undoubtedly reap the rewards. Conduct a thorough analysis of your rivals and pay attention to their weaknesses. Choose those flaws and fix them to get better every day.
Development & Design
The user-friendliness and user engagement of an app are both greatly influenced by its design, which is a critical component. Create your app with ease of use in mind so that users will keep coming back to it.
Testing
This step ensures that your application is ready for use. It is extremely important to test its functions before launching it, and this is done during the testing process. If any bugs or errors are discovered, they can all be fixed.
App launch
When the app is ready, it's time to begin the launch process. Create a strong launch strategy for your startup app so that it attracts everyone's attention when it is released.
Maintenance & Support
Again, it is a crucial issue that needs to be addressed. Therefore, just because your app has been released and is available in the app stores doesn't mean that your work is done. To stay on the market for a longer period of time, an app needs proper support and upkeep.
Strategies for Making Money from Personal Expense Tracker Apps
Through financial apps, there are several ways to make money, including:
Advertisements
Unquestionably among the best ways to monetize a free app. The platform offers the option for app owners to sell advertising space for a set price. The app can gain a lot from this.
Referrals
Here, the app owners can decide whether to charge referral fees so they can profit from downloads.
Partner Network
There are online merchants looking for customers to purchase their goods or services. Therefore, in this monetization model, app owners have the option to work with retailers and receive a commission on each individual sale.
Premium Fee
In this business model, the owners of the app charge the users a fee and grant them access to the app's premium features in exchange.
Tech Stack Required to Build a Personal Loan App Like Money View
Marketing Stack: Google AdMob, Google Tag Manager, Mailchimp, Google Sign-In, Mandrill, Segment
Developer Stack: PHP, NGINX, Bootstrap, Amazon Cloudfront, Adobe Flash, Angular JS, Apache Commons, CoffeeScript, EmberJS, Github, Google Maps, HTML 5, Node.js, Play Framework, PostgreSQL, RawGit, ReactiveX, Ruby on Rails,
SQLite, Stylus, TypeScript, jQuery
iOS mobile app: Swift, Objective-C
Backend/API: Ruby, .NET, Postgre DB
Admin panel: React, Angular, jQuery
Analytics & Data Science Stack: Amplitude, Google Analytics, VWO
DevOps & IT Stack: Jira, Bugcrowd, Cloudflare, Comodo SSL, Crashlytics, ExpressionEngine, Fabric, Facebook Comments, Gravatar, Heroku, Jenkins, Phusion Passenger, Rollbar, Wistia, Zencoder
Productivity & Operations Stack: G Suite, Google Drive, Google Hangouts, Slack
Product & Design Stack: Font Awesome, Trello, clipboard.
Customer Support & Success Stack: Forumbee, Intercom, Help Scout
Finance & Accounting Stack: Recurly, Square
Other Stack: 1Password, TripActions, Mixpanel, ClickTale
How Much Does it Cost To develop a Personal Finance App Like Money View?
A personal finance app's price can vary depending on a number of variables, including:
App Features
Location of the development team
App Design
App Complexity
Third-Party Integrations
Certifications & Compliances
Development Platform (iOS, Android, or Hybrid)
Duration of the development project
Tools & Technologies used
Size of the app development team (Project Manager, Developers, Designers, Testers)
By Considering the above factors the Money View Loan app with basic features can cost you around $20,000-$40,000, whereas developing a Money View Loan app with advanced features, third-party integrations, and created for multiple platforms should cost between $50,000 and $80,000
Related Links:

How Much does it cost to develop a loan app like Navi?

How Much does it cost to develop instant personal loan app like MoneyTap?
The conclusion
We trust that this article has given you a clear understanding of the requirements and cost to build a Personal loan app like Money View. You should create your own app if you have a concept or idea that you believe could aid users in improving their tracking of expenses, planning their spending, investing, and financial management.
Our team at DxMinds has experience creating personal financial management software and apps, and we are skilled at creating mobile apps. Therefore, please get in touch with us for any such projects.