March 22, 2023
Posted by:

Admin

Category:

Famous App Analysis, Mobile app development cost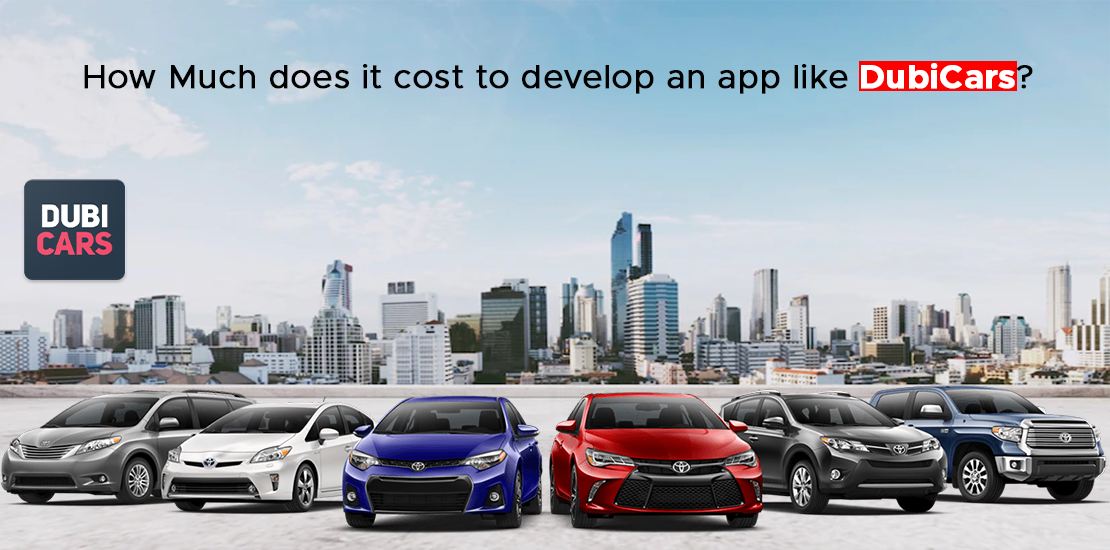 The automotive industry was once one of the most technologically progressive industries. We had no idea how quickly the age of mobile applications would completely alter the auto industry. The tens of millions of downloads of apps like DubiCars also suggest a very different environment.
According to a recent poll, more than 1,500 people use mobile applications to buy a car every day. 72% of users said they use their smartphones during the car-buying process. While 52% use their smartphone to search for new vehicle components or accessories. As a result, approximately 29% of customers use their cellphone while selecting and inspecting a new or used vehicle.
Previously, people had to go to a physical store to buy a used car. It is now just as simple to pick up a mobile phone, select a vehicle, obtain all of the vehicle's data, and purchase a used car. Car dealers and used vehicle dealers are increasingly turning to mobile apps for environmentally friendly, quick, and customer-centric services in a wide range of vehicle manufacturing operations.
One of these innovative app concepts is Buy And Sell Used Cars Mobile App Development. Used-car dealers have begun to capitalize on the trend by creating car-buying and selling apps such as DubiCars.
This software enables users to sell their used cars at a substantial discount by locating potential buyers within the app. As a result, creating an app like DubiCars offers something for everyone.
What Is DubiCars?
DubiCars was first founded in 2014 and then relaunched in 2018. Since then, it has grown to be the largest source of export demand for the United Arab Emirates and the online auto market with the fastest rate of growth for buyers and sellers across all emirates. Being the only privately owned platform in the UAE and focusing primarily on cars puts DubiCars in a unique position to be open and transparent with the industry. This is made possible by the lack of DubiCars' own products that compete with dealers' offerings or that must satisfy competing interests.
The fact that DubiCars has more than 470 showrooms that are active on the web and mobile applications has unquestionably made it the industry leader with unmatched reach inside the export market. Due to the three million or more searches, it receives each month, which gives it access to real-time data from buyers and sellers, DubiCars is in a prime position to reshape the market. DubiCars is in a position to be a market game changer thanks to the development of mobile apps for buying and selling used cars, as well as cutting-edge innovation and solid distribution partnerships.
How does Dubicar generate revenue?
The Dubicars business model is simple to comprehend. The best platform to buy and sell a car at the right price and have multiple ways to make money is a used car marketplace mobile app like Dubicar. The majority of Dubicars' income comes from the commission it charges dealers who sell cars through the app.
In addition to that, Dubicars makes money by allowing other businesses to post advertisements on the app, promote their own brands, and provide dealers with location-based featured listings.
Business Model For DubiCars
Businesses are rapidly moving away from traditional platforms and toward digital ones at the same time that the world is rapidly moving toward digital solutions. But when it comes to figuring out how to maximize the income potential of their company investments, automotive investors face a significant challenge if they want to create a car buy-sell app like DubiCars.
Listing Fees
It will be a great opportunity for you to charge the sellers a listing fee if you are creating a business model for an aggregator and providing a gateway to use your user base. It would be a great opportunity for you if this were the case. By keeping the number of listings in your app to a predetermined number, you may increase the revenue you generate from it.
Commission charges assessed at acquisition
This type of monetization strategy works best for automotive investors who are looking to develop car buy-sell apps like DubiCars because it enables them to charge vendors a commission fee on every transaction that's done on the app. You can choose to set a fixed amount to be subtracted from the purchase or a percentage on a range of different number scales.
In-App Advertisement
It is a great idea to give third-party car companies a spot in your app where they can run advertisements, and in return, you can charge them to do so. This alternative will be very helpful. In order to increase client engagement, you should position advertisements that are pertinent to this form of income stream.
These are a few potential avenues for making money with your app that you might want to explore, but before you hire an app developer, you might be wondering how much it would cost you to create car buy/sell apps like DubiCars.
Why Develop a Mobile App for Car Buy-Sell? – Market Size & Statistics
The market for new cars has shrunk over the past ten years, despite the fact that the market for used cars has grown. People prefer to purchase pre-owned vehicles that are offered at advantageous prices and are displayed on the app.
In 2018–19, approximately 3.6 million new cars were sold, while approximately 4 million used cars were sold and bought, according to a report by Indian Bluebook.
Take a look at the cars sold between 2010 and 2020 in light of both factors combined, per a Statista report.
The car industry anticipates a decline in unit sales of cars this year. According to projections, 59.5 million units will be sold worldwide in 2020, a 20 percent decline from current sales.
The Used Car Dealers market in the USA will have a revenue of $146.5 billion in 2022.
In the USA, the used car market share is anticipated to grow by 3.91 million units from 2020 to 2025, and the market will experience faster growth at a CAGR of 1.98%, according to a Technavio report.
Benefits of the Car Buy Sell Mobile App
For the Dealers
They can easily manage the bookings for their services that have been made through the app.
They can schedule a time slot for a buyer to test drive the car online. Additionally, it aids in building customer trust.
The dealers can quickly and effectively respond to any questions put forth by the users without wasting any time or causing the user to lose interest in a car they like.
Using an app, it is simple to obtain customer feedback on the vehicle. Customers can leave positive feedback about an app's services in a separate section designated for this purpose.
These apps are dependable and secure because they are connected to secure payment gateways.
For the Consumers
The price a seller might offer for his car is a user's primary concern.
They won't need to worry because the seller will provide them with a quote for their desired car right away thanks to the app.
The buyers can compare the prices of every car from the comfort of their homes, saving them from having to search the market for vehicles and visit various showrooms.
Due to the high volume of people who list their vehicles on these apps, buyers have the advantage of having a wide range of options to choose from.
Customers can arrange a test drive for themselves in addition to making purchases and interacting with dealers. Consumers can now test drive used cars that are for sale, just like they can with brand-new vehicles.
For Automobile Industry
Through the app, it is simple to integrate the inventory of the car both online and offline.
Providing roadside assistance and extending warranty services to the car owner is another major benefit that the industry enjoys.
The car must pass through a number of checkpoints before it can enter the app's space in order for the transfer to be secure.
Features to Include for Building a Car Buy-Sell Platform like Dubicars
Sign up/Login
Like all other apps, these ones also ask users to create a username and password before proceeding to complete a transaction. With the help of any social media account, users can now quickly and easily register for the app. Once they sign up using their social media account, all of their details are automatically updated in the back end, so they wouldn't need to enter them all again.
Like all other apps, these ones also ask users to create a username and password before proceeding to complete a transaction. With the help of any social media account, users can now quickly and easily register for the app. Once they sign up using their social media account, all of their details are automatically updated in the back end, so they wouldn't need to enter them all again.
In-App Camera
This unique feature lets users take photos of their used cars from within the app and upload them directly to the website. A total of 10-15 images, including both the interior and exterior of the car, are permitted when buying and selling used cars. The buyer would use these pictures to decide whether or not to purchase the car.
Push Notification
By keeping them informed about all cars entering the app, it improves user engagement. The administrator can also send push messages to their users if they are running any promotions, discounts, or lucrative offers, giving them a sense of belonging.
CRM (Customer Relation Management)
Offering the best experience to users and maintaining a relationship with them are two of the most crucial things that any app developer should be careful about. One of those features is this one. Along with all of these things, the CRM also maintains customer data security and manages newsletters, analytics, and customer data.
Online comparison of cars
In the used car market, a user searches for the most affordable price for a vehicle. As a result, it is a crucial feature of the app that not only enables users to compare the prices of the cars they can purchase through the app, but also enables them to identify differences in terms of the car's mileage, specifications, etc. Additionally, this feature promotes long-term health for users.
Chatbot integration
Gaining your customers' trust through personal assistance is essential. Therefore, it is crucial for a used car selling and buying an app to incorporate chatbots to assist users if they ever run into problems using the app.
3D view of the model
The app should take advantage of the many benefits that technological advancements now provide by giving users a 3D view of the inside and outside of the car. To get a better view of the car, the prospective buyer can move his cursor around in all directions.
Loan Calculator
The EMI payment a buyer will be required to make on a car purchase is one of his main concerns. This concern can be allayed, though, thanks to the feature that allows users of the apps to estimate their monthly EMI payments, which makes it simpler for buyers to decide which car to buy.
User car valuation tool
With this feature, users can gain knowledge of the typical price of a car based on its condition, ensuring that their investment will be worthwhile. Additionally, it aids in price evaluation in accordance with the car's brand, model, and the number of miles it has traveled overall.
GPS tracking
The buyers can communicate with nearby sellers thanks to this feature. As a result, they will only interact with those who are within easy reach rather than wasting time and effort on those who are beyond their reach.
Real-time analysis
The admin can use this feature to keep track of how many vehicles are listed for sale and how many vehicles are actually sold through the app.
Schedule an appointment
With this feature, the buyer and seller can schedule a meeting time and location to talk about the car. A test drive can be requested by the buyer at this meeting as well. This is also for those who want to check out the car's condition before buying it.
Roadside assistance
The admin or the app developers are responsible for the platform-purchased buyer's care. When a customer's car breaks down somewhere, the admin offers roadside assistance to that customer.
Loyalty programs
No matter the size of the business, the needs of the customers come first. Consequently, an app offers them unique loyalty programs in order to keep them and turn them into devoted customers.
Car Buy Sell Web application
Not everyone may feel comfortable using the app or have the necessary phone storage space. As a result, used car buying and selling businesses should also have web applications that are available on a variety of devices.
Ad management
All apps are compensated for allowing advertisements to appear on users' screens while they are using the app. However, if a user or customer wants to stop seeing these ads, they can change their preferences to suit their needs and remove any irrelevant ads.
Process of creating an app for car sellers and dealers like Dubicars
Before you can understand anything else, there is a development process to go through. Let's find out what it is.
Step 1: After coming up with a mobile app idea, decide whether you want to build the app or try to find a workaround like a successful entrepreneur.
Step 2: By wireframing your app, you can lay out the functionality, features, and flow that you want. It will give you a general idea of how your application will appear.
Step 3: From the wireframe you created, you can determine the main features. So, for example, you can use only the core features and then, after the application has been deployed, add more in an update.
Step 4: Keep an eye on every last detail you want because design and visuals are the very first thing your users will interact with.
Step 5: Hire an experienced developer or app development company with a team that is equipped to handle all of your needs, from wireframing to deployment and maintenance procedures.
How Much Does it Cost to Build a Car sell Mobile app like Dubicars?
It's not easy to estimate the cost of creating a mobile app to buy and sell cars. A variety of factors are generally taken into account when creating an app like DubiCars. This includes the app's structure and size, additional features, design, and the number of platforms it will run on. The mobile app development company employs developers with extensive training and knowledge.
It is advised that you collaborate with a skilled mobile development team or company to create an app like DubiCars. If you choose to work with a seasoned programming team, it will cost you more money. The costs of its creation rise as the total number of features and panels increases. You'll spend less money if you create a basic functionality car buy/sell app like DubiCars.
The UI/UX interface's level of sophistication and smoothness is crucial. It will determine how challenging the development of your mobile app will be. The expense of developing the project will increase as a result of its complexity.
In a nutshell, the total number of platforms on which your program may run is a crucial consideration. It determines the costs related to its development. The cost of creating an app will undoubtedly double if it is produced for both Apple's iOS and Google's Android platforms. A cross-platform app is an alternative when creating an app similar to DubiCars.
As a result, each project has a unique development budget for creating a car buy/sell app. You might consider working with reputable mobile app developers. They will aid you in developing the process of including the necessary features and functionality in the app. A car buy-sell app like Dubicars may cost anywhere between $15,000 and $50,000 to develop, on average.
Team Structure Needed To Create Car Buy Sell App Like DubiCars
The creation of a mobile app to buy and sell used cars will be simple for you if you have a team of qualified developers with experience building high-tech apps. It will be necessary for you to work with a group of knowledgeable people if you want your ideas to become reality. There are trained managers, skilled designers, programmers, and quality assurance professionals in this group. It is suggested that it be available on both the iOS and Android platforms in order to serve a wider audience.
Project Manager
UX/UI Designers
Frontend Developers
Android App Developers
iOS App Developers
Testers
Quality Assurance Experts
At DxMinds, we make sure to involve our customers in the development process to provide complete transparency. We implement an agile approach. After achieving each milestone, we make it a point to check in with the customers to get their feedback. After the finished model is made available to the general public, any necessary adjustments are made. Making sure that the customer and the development process are on the same page is crucial. The best results are produced by doing this.
Conclusion
Making an application like DubiCars is challenging, and this is not an exaggeration. Even though it is informative, dependable, easy to use, and engaging, there are still many things to consider. For your app to succeed, these elements must all work together.
Hiring a mobile app development company would be advantageous if you were thinking about creating a car buy/sell app similar to DubiCars. Pick a business that can produce better leads for sellers. They are doing this while relaxing in the comfort of their own homes. The experts will make sure that your application runs smoothly.
This is made possible by incorporating the most cutting-edge tools and techniques into the development process. This will produce a solution of unparalleled quality.
You can speak with our experts at DxMinds if you have any ideas for a plan or want to find better ones. They will develop a plan that gives your business an edge over rivals.