February 8, 2021
Posted by:

Admin

Category:

Famous App Analysis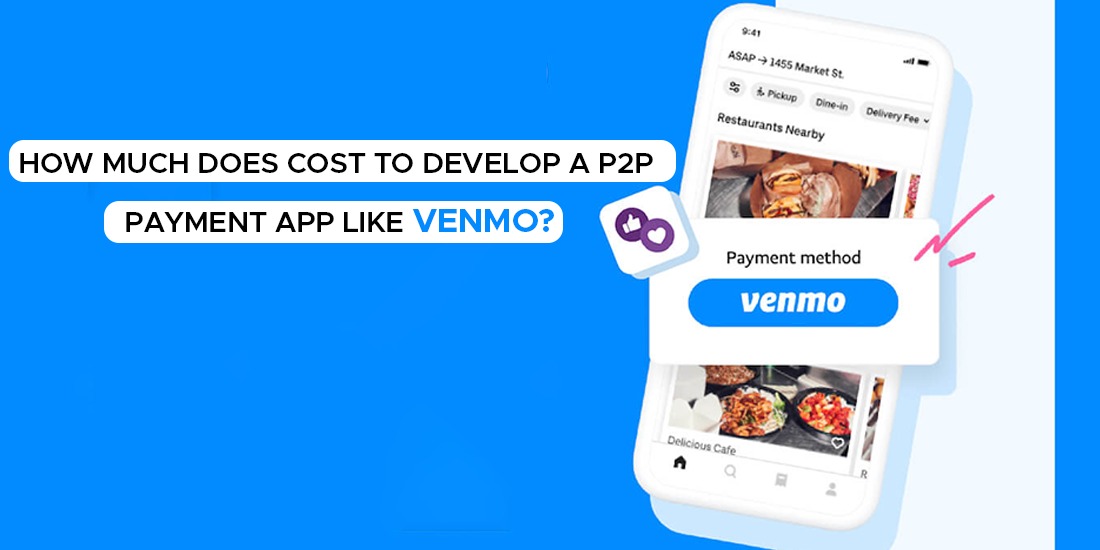 How Much Does P2P Payment App like Venmo Cost & Features
Ever since it has been introduced, the mobile application is transforming our lives and is replanting it to an entirely new platform. Mobile applications that ease our day-to-day tasks thereby enhancing productivity and efficiency are readily available in the market. Mobile applications are a boon that has happened to mankind and it is performing well in our ecosystem.
A large number of banking and financial mobile applications are serving their purpose to the core by offering a hassle-free experience to their customers. These apps are not only helping their customers but also offering one of the best scalable business opportunities to business owners. This has led away to the rising demand for developing financial and fund transfer mobile applications.
This blog deals with an app of that kind, which helps its customers easily transfer funds to their friends and family. Here we will discuss in detail all the aspects including the mobile application development cost of a digital wallet and payment gateway mobile application like Venmo. We are pretty much sure that this will help entrepreneurs who are in search of figuring out the development cost of an e-payment mobile application like Venmo.
The need for an e-payment and digital wallet mobile application like Venmo
There was a time when people used to walk-in into their respective banks or other financial institutions in making withdrawals, deposits, fund transfers, or any other banking activities. The main disadvantage of this system was it was too tedious that the customer has to be in the queue for hours and the whole process seems so opaque.
The banking and financial industry was one of the first kind that demands a huge adoption of digital transformation and as a result, many businesses have come up with developing e-payment mobile applications like Venmo. The prime advantage of an app like Venmo is that it offers end-to-end digital banking and payment solutions for customers by streamlining the entire operations.
What does a digital payment mobile application like Venmo do?
Venmo is a digital payment and finds transfer mobile application that targets mobile-first users. The app offers uninterrupted ways of sending and receiving funds to its users. Venmo's online payment mobile application has an integrated payment wallet which makes it easy and offers an enhanced experience for the customers. Working on an online payment mobile application like Venmo is quite simple and easy to use. The users need to link their bank accounts to the mobile application, which will be leveraged while sending or receiving funds.
Venmo app holds an interactive Venmo feed that allows its users to share stories with friends and family. The app lets its users in availing various value-added services including the purchase of tickets and various other kinds of stuff. The Venmo app is becoming a trendsetter in the respective app market it is having a huge customer rating and reviews. All these led to a condition that has gained the traction of various entrepreneurs who are actively looking forward to knowing the development cost of a fund transfer mobile application like Venmo.
Venmo-like payment app for a scalable business opportunity
The feature of an electronic payment mobile application like Venmo, Square Cash App, and Zell makes it a cherry-pick among potential entrepreneurs many among them find this as a scalable business opportunity. It's a huge revenue-generating business model that ignites a spark within all entrepreneurs in the tech-based industry.
Key Features of an electronic payment mobile application like Venmo
· Account Registration
A user of the Venmo payment mobile application needs to create an account on the mobile application to get started. He needs to provide certain mandatory details such as username, password, email address, mobile number, etc during the process.
· Account verification
Account verification will be done based on the link sent to the email address or the one-time password that's been sent to the mobile application. One needs to complete this process for the successful usage of the mobile application.
· Online payment system
The app offers enhanced payment facilities to its customers by eliminating all the hustles and bustles. The payment system possesses a high degree of security that a customer can rely upon it for personal as well as commercial purposes.
· Bank account verification
A user needs to integrate his bank account into the mobile application for making and receiving payments. It is to and from this bank account that the cash will be debited and credited.
· Social currency
The app offers one of its kind social currency which can be leveraged by the users. This is an entire parallel system of fiat currency and offers an enhanced experience to the customers.
· POS System
The Venmo mobile application offers a comprehensive point-of-sale system, leveraging which businesses can make the most. The system is pretty useful for commercial purposes and let business in carrying out hassle-free payment system.
· Value-added service
With the Venmo digital payment mobile application, users can avail of several value-added services that can enhance the user experience on the mobile application. Activities include the purchase of tickets, goods, and services.
· Account settings
This is a personalized space for users where they can customize their profile including username, and address. Password, communication details, etc.
· Social Feed
The social feed is a comprehensive space where users can share their views. Purchases. Payment details etc. They can insert comments, emoji, etc leveraging this section.
· Payment History
The Venmo mobile application lets its customers stay on top of their payments. The app offers real-time updates of their payments including the amount, date, and time. This will be helpful for the customers in getting the complete details of their spending history.
· Integrated in-app wallet
There is an in-built wallet that comes along with the mobile application that is potentially and much helpful for the customers. The wallet allows customers to transfer funds from their banks to the wallet and vice versa.
· And many more unique features
Other than the above-mentioned features, the mobile application offers a multitude of other services as well. Some of them are Data storage management, Account Reconciliation, enhanced synchronization of data, E-payment gateway, partial integration, SSL security, etc.
Factors affecting the development cost of a money transfer mobile application like Venmo
Money transfer and digital wallet mobile application like Venmo is gaining huge traction from all across the globe as it beholds a potentially scalable business opportunity. Coming to the cost aspects, the development cost of an e-payment mobile application is bound to several factors. There is a multitude of factors to be taken into account before developing the mobile application. We are going to discuss some of them here.
As of now, the online payment mobile application Venmo is available on both platforms. IOS and Android. The platforms for which the app is being developed play an important role in determining the app development cost. One can look forward to developing a hybrid mobile application other than developing both iOS and Android mobile applications which can be a perfect alternative for the same.
The other factor that affects the app development cost is the app development agency for developing an app like Venmo. A wide range of mobile application development agencies is available in the market which may affect the app development cost. One needs to go for the highly expertise app development company in availing the best service at an economical price. One more major factor that determines the app development cost is the technology integrated. A lot of technologies are available in the market that enhance the app's features. For example, artificial intelligence, Blockchain technology, etc. are some of them. Many other minute features determine the app development cost of Venmo.
How much does it cost to develop a money transfer mobile application like Venmo?
Based on the above features, the cost of developing a mobile application will be around USD 10,000 to USD 50,000. It can vary based on the requirements and features that get integrated. DxMinds Innovation Labs, one of the leading digital transformation and mobile application Development Company help entrepreneurs in coming up with top-notch services that help them in developing a fully-fledged payment mobile application like Venmo, Square Cash App, and Zell. For more details and to avail of free consultation. Drop a mail to us: Email: info@dxminds.com