October 10, 2022
Posted by:

Admin

Category:

Famous App Analysis, Mobile App Development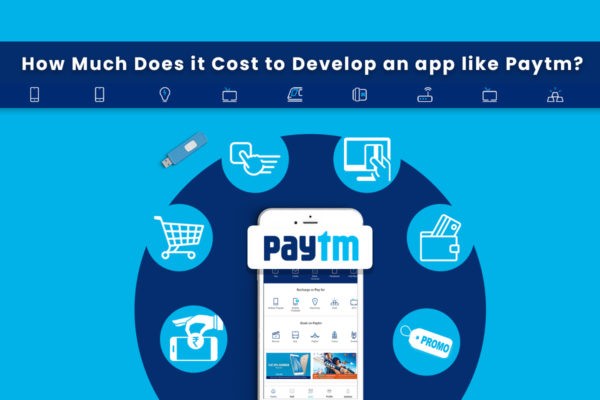 How Much Does it Cost to Develop an app like Paytm Wallet?
As the world is moving towards digitalization, Mobile payment technology has been one of the biggest beneficial factors in India, especially after the government demonetization move. From Big businesses to a small merchant, everyone has accepted the embrace of Mobile Payments. Mobile Wallet or Mobile Payment system is smartphone apps where users can store their bank details (Debit/Credit cards) a convenient or easier way to make transactions with a single tap of the phone.
Nowadays payment apps are booming in app stores or google play stores with its advanced digital features. One of the payment wallet apps which is highly in demand and most widely used in India is Paytm.
By understanding the advantages of Mobile Wallet apps, DxMinds the top mobile app development company in Bangalore have a designed a blog, which brief you about, what are the advantages of having a clone app like Paytm, What are its trending features, technology, and app development cost.
Do You have an Paytm Like App Idea? Let's Discuss
Let's get started 
About Paytm
Paytm is India's largest mobile payment platform founded in 2010 by Vijay Sekhar Sharma. Offering Mobile prepaid recharge/post-paid, utility bill payments, UPI payments, Money transfers, Online shopping, IRCTC train ticket booking, movie tickets, LIC premium payment, Electricity bill payment, DTH recharge, bus/flight booking, bank to bank transfer, metro card recharge and many more services. It is available on android, iOS and Windows smartphones.
Key Features of Paytm
   

Mobile Recharge & Bill Payment
Offer the feature of mobile recharge and bill payment in a few tabs for major telecom operators such as Airtel, BSNL, IDEA, Matrix Post-paid, Vodafone, Jio and many more.
Provide a feature where you can link to UPI or add money to Paytm wallet and can do quick payments through QR code scanner.
User can send money from one wallet to other, or from one bank account to any other bank account through Paytm.
Book Train/Bus/Flight tickets
With amazing offers and rates, one can book train, bus or flight tickets without any service charge.
-Online shopping (Women/men fashion, Mobiles and Electronics, Home/Kitchen, Baby and Kids and more)
-Deals/Discount Vouchers
-DTH Recharge
-Water, gas and electricity bill payment
– Engaging Dashboard
– Managing offers and contact
– QR code
– Data synchronization
– Cloud operations
– Add/remove features
– Managing Booking calendar 
Get a Free Consultation
Advantages of having Mobile Wallet Strategy
Differentiate your business from competitors.
Higher conversion and engagement rate for customers because of instant payment.
Mobile wallets ensures a flawless and smooth transfer with few taps from one user to other.
Offers security of payments for customers
Since Your business can reach to large number of customers which leads to automatic revenue generation
Customized promotions for your target audience through location based services
How Much Does it Cost to make an app like Paytm?
DxMinds the top mobile wallet development company in Bangalore specialized in developing a successful e-wallet app with innovative features and advance technologies, consider various facts for Paytm mobile app technology such as
App development cost may differ from one platform to other. Comparatively, development cost of an android app like Paytm is lower than iOS, as it is directly implemented without testing.
To design Paytm like app,UX/UI plays a very crucial role, where users can experience the smoothness and flawless of app. This kind of engaging features come with expensive cost.
It is defined as total number of basic or advance features developed within the e wallet app like Paytm.
To make an app advance /trendy and to provide an engaging, secure and safe environment to the users of the app, DxMinds the top mobile app development company in Bangalore blend the app with technologies such as Blockchain and cloud to make you competitive among others.
Chatbot
Addition of bot in Paytm clone app provides speedy authentication, automatically alerts the users about the offers/discounts going on ticket booking, online shopping. It also provides 24/7 assistance in solving the customers queries which may on queries like how to use Paytm wallet app first time? , Where can Paytm wallet be used?
Blockchain
Blockchain technology is going to revolutionize the design and function of e-wallet app like Paytm with its true innovation. It provides fast processing of transactions, detailed audit information, high level of security/efficiency and customer satisfaction.
DxMinds Model for an app like Paytm Development
App Design – Simple, Medium, and Rich
App integration – Universal linking, social sharing, Messaging/chat features
Access control – Email-id, Social media, Using OTP through contact number
Basic features – Newsfeed/activity feed, Rating/review, User profile, Image manipulation, Bar code/QR code
Advanced features – Geolocation, Data sync, Booking calendar, In-app camera, Push notification.
External features – OTP reading, In-app call or message, Secure data travel, Connect to third party API
Admin Panel –  User control, Usage analytics, intercom support, cash report, reporting
Payment wallet – addition of bank details, discount/reward features, UPI linking and many more.
DxMinds have given a graph for estimating e-wallet app development cost:
UX/UI design(40-60hrs $1500-$3000)
Technical Documentation(50 hrs Approx,-$1500 to $2000)
Front end and Back end development(500 hrs – $10,000 to $20,000)
Testing(70 hrs approx$2000-$6000)
It may also vary on geo-location
United states: $120 to $250 per hour
Europe: $80 to $140 per hour
India: $20 to $60 per hour
As per our model and above mentioned features, the e-wallet app development cost like Paytm can be outlined in between $15k-$50k and may fluctuate with other mobile app development company.
Contact us to get a free estimation with exact cost based on your app concept and requirements.
Let's Connect