October 8, 2022
Posted by:

Admin

Category:

Famous App Analysis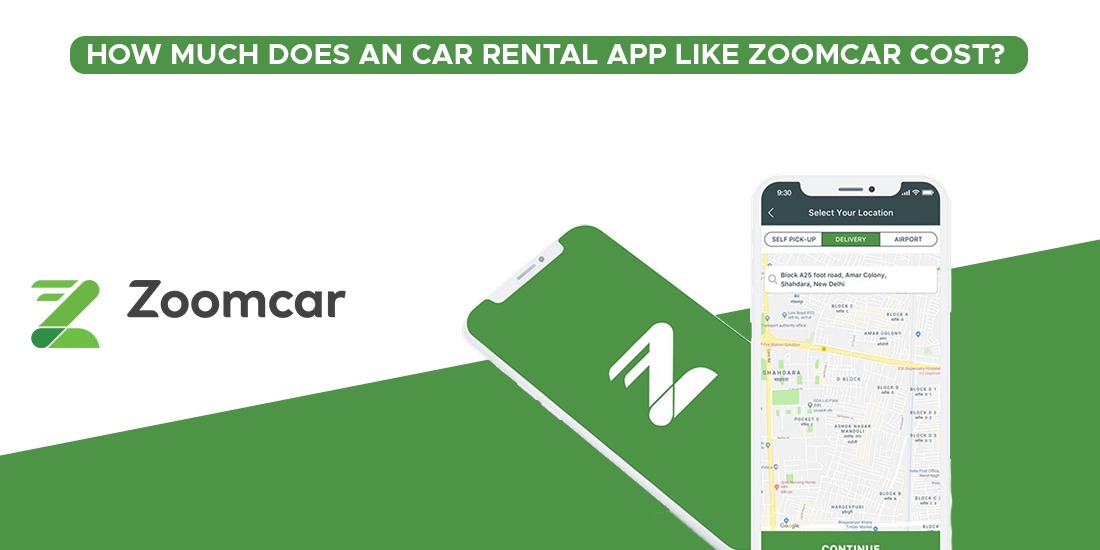 How Much Does it Cost To Develop A Vehicle-Renting App like ZoomCar?
Ever since technology started flourishing, it took our lives to a stage where our day-to-day activities have been made easy and less complicated. It has eliminated all the hassles and bustles from our lives, enhancing our way of living. Smartphones and mobile applications have carried out an aggressive revolution in the past few decades a life without the same is even hard to imagine. The best part about mobile applications is that they break down the tedious tasks in our lives and add a pinch of productivity to them.
Back in the day, easy commutation was always a challenge. It is even harder when you need to have a rented car or bike. This can go horrible if you are in a city where you even have no one in your connection. Some entrepreneurs took this as an opportunity to dig out their fortune and built high-end solutions on top of it. They made use of technology to make this happen and the rest was history.
Zoom Car, a vehicle rental company enters the market by remolding the conventional ways that existed in the vehicle rental industry. Zoom Cars offer its users hassle-free ways of renting out cars of their choice. The company interacts with its customers mainly with the help of a top-notch mobile app. Zoomcar is the perfect solution for the problem faced by many of us and that is the key factor that determined the success of the mobile app. Still, the idea of developing an app like Zoomcar holds huge potential in the current market.
This article is exclusively dedicated to all entrepreneurs and aspirants out there who are eagerly looking forward to and want to know the cost of developing a vehicle rental app like Zoom Car. Here we will discuss in detail all the in and out features of the vehicle rental app like Zoom Car. So, let's get started.
What Exactly is Car Rental App ZoomCar and how does it work?
Zoom Car is a self-driving vehicle rental platform operating in all major Indian cities. This Bangalore headquartered car rental startup was founded by Mr. Greg Moran and Mr. David Back in April 2012. The company offers outstanding services to its customers and is growing at a rapid pace. Zoom Car allows its users to book rental vehicles leveraging the Zoomcar mobile app. All the users need to do is open the app, create an account, and log in with the username and password. Now the user will be exposed to the unique in-app dashboard, where they need to input their journey details such as origin and destination. Based on the user input, the app will display the number of vehicles listed on the app and the user can go for their choice.
Various features of a self-driving car rental app like Zoom car
To build a high-end vehicle renting mobile application like Zoom car, it requires quality efforts and the app needs to have a lot of in-built features. Let us see the major features of the vehicle-renting app, Zoom Car.
Let us see the main features possessed by the user-end mobile app.
Any user needs to create an account on Zoom Car to access a wide number of features offered by the app. The registration process can be carried out via email, social media, true caller or even using a phone number and OTP.
Once the user successfully creates an account, he can log in to the same account by making use of a login Id and password. This is in the same way as the majority of mobile apps do.
There can be multiple reasons for one to forget his username and password. In such a case, he can make use of forgot password to recreate the new password and can access the account
Personal details of a user including his name, place, contact details, etc will be available in this space.
My Trip is a segment where the user can have access to all his past, present, and upcoming rides. He can avail of all the details including the kilometers he has ridden the vehicles, the amount he has paid for the particular ride, the vehicle he has used, and many other details like that.
One can make the necessary changes to his account under this section. He can do several activities like changing usernames, contact details, etc.
This is the very first screen that appears to the users when he logs in to their app. Here they will find several features as well
A car finder is a search bar where the user will find cars of their kind. They can search for any type of car they need.
Before searching for a car, one needs to provide their pick-up location, and drop location, and book for their convenient time slot like pick-up time and drop time.
Self-Pickup/ Home Delivery
The app facilitates features like self-pickup and home delivery. When he goes for the self-pickup, he needs to reach the station where his car will be delivered. The vehicle will be delivered at the user's location based on additional payment when the user goes for home delivery.
Users can book their ride with multiple options, they can book the vehicle either with fuel or without fuel, The price of the vehicle will also vary based on the mode of choice.
Various filters are available in the app where the user can choose the type of vehicle they need varying from SUV, Sedan, hatchback, etc.
The user needs to link his account with various payment wallets from which the amount will be debited automatically.
The user will be given points based on their ride and they can find this under the category Z-Points
Factors affecting the development cost of the Zoom car
There is a multitude of reasons that will affect the development cost of a self-driving car app like Zoomcar. Major among them are app platforms, app size, app security, third-party APIs, the technology used, app location, etc. Though all these features are mandatory for a fully-fledged app, one can go for a minimum viable product in the initial stage to check the feasibility.
How much will it cost to develop a car rental app like ZoomCar?
Taking the aforementioned factors into account, the development cost of a fully-fledged car rental app will fall somewhere around USD 15.000 to USD 50,000. Anything other than what we have mentioned here will be charged on top of the rate. Anyway, DxMinds Innovation Labs, the leading mobile application development company in India, assists entrepreneurs who want to come up with the idea of a vehicle rental app to come up with a mobile app of top-notch quality. In-depth knowledge and hands-on experience with various technologies make DxMinds stand apart from any other app developers in India. For more details, write to us Mail: info@dxminds.com.
Get in touch with us to know the self-drive car rental app cost in Bangalore, Mumbai, Delhi, and Gurgaon India, and USA, Dubai UAE.