April 14, 2021
Posted by:

Admin

Category:

Artificial Intelligence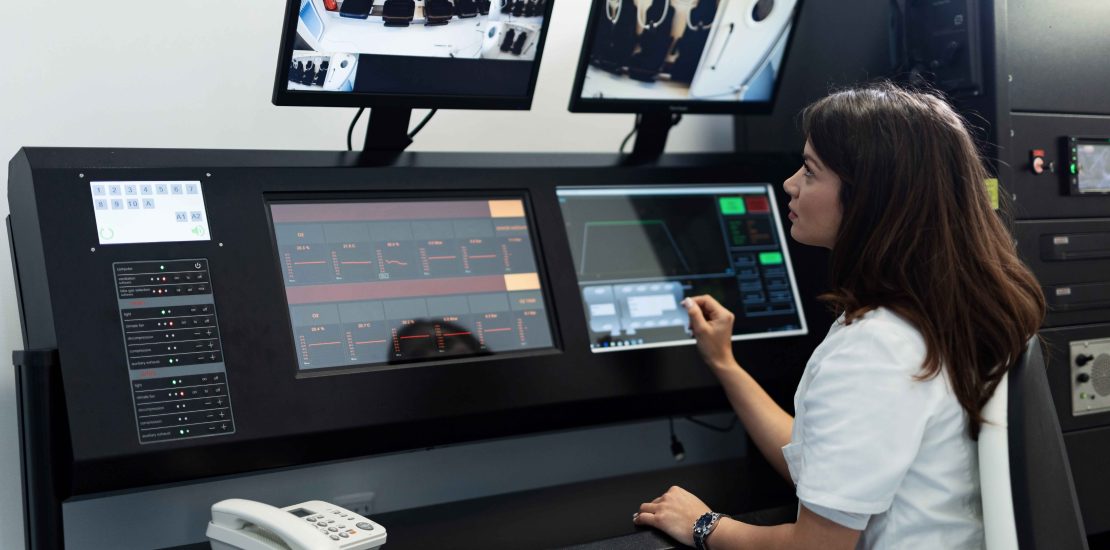 Your car got stolen, what is the first thing which is looked out for to check the evidence? Yes, it's the surveillance camera, they are more like digital eyes which record live footage, and multiple video feeds. But now it is getting transformed incredibly with the help of Artificial Intelligence.
Artificial Intelligence video surveillance cameras offer a complete way of digitalization to match their eyes so as to analyze live video without any human intervention. It has proven to be a great way to identify criminals in public places. Moreover, it can also be utilized in industrial and scientific applications.
The utilization of artificial intelligence for surveillance and security proves a great way for AI's life-altering virtues.
How does it work?
AI for video surveillance and security utilized machine-based learning and algorithm to monitor and analyze the images, videos, and recorded data from video surveillance cameras. Since it is also capable of recognizing and dissecting human beings' movements, vehicles, and a wide array of objects.
As an additional benefit, AI can identify the detect threats in the normal behavior of the network and can prevent potential attacks. Generally, there are two types of AI security:
Rule-based – It is a generally known form of AI security. In this type of AI security, the video surveillance cameras around function are based upon the rule-based AI system.
Behavioral analytics– In this latest form of AI security, there is no requirement for pre-coded programs as the last rule-based Artificial intelligence security. In Behavioural analytics, artificial intelligence auto-detects learns and studies normal human behavior depending upon the workings of the environment around him. Depending upon the received data, the system then classifies the data accordingly and detects any unusual behavior upon detection, and sends out an alarm.
Get a Free Consultation
Benefits of Artificial Intelligence in security and surveillance help to improve surveillance
Artificial intelligence video surveillance offers help in a big way to curb theft in public places on all grounds. AI is completely utilized for a more reliable and accurate view to monitor people and detect any unusual activity.
Nowadays, AI technologies are coming up with advanced facial detection, object detection, and event recognition systems that work collaboratively to strengthen the security forces of an organization. It has proven to be the hassle-free method that has been incorporated in your smartphone devices also Apple has recently come out with a new series of iPhones that makes use of this feature.
Low-resolution image processing has become a thing of the past with the incorporation of AI in the sphere of security. Earlier the detection of images was a daunting task hence AI systems are now used to clarify and sharpen low-resolution images and are proven to be potent aids in analysis and interpretation.
Artificial Intelligence video surveillance can be utilized to sharpen low-quality images to enable security personnel to get the best meaningful images out of them. Video surveillance with Artificial intelligence can be used to identify criminals within a crowd in large spaces. It can also be used by marketing departments of large corporations to identify high-net-worth customers from visitors to their stores to offer high-value services to them.
Another advantage of an artificial intelligence CCTV camera is that a person's physical characteristics such as height, and posture can be utilized to identify them in a crowd also. The icing on the cake is that you can draw a pattern of activities in different environments to understand criminal behavior and then secure neighboring environments.
More reliability on AI in the digital Realm
Cybersecurity has always been a matter of concern in this digital world. Virus attacks deployed by hackers are a frequent cause of concern. Now cybersecurity is used to combat the horror of constant cyber attacks.
AI is nothing short of a savior. The cybersecurity software and products in the market are relying upon the utilization of video surveillance with AI and machine learning technologies. It is commonly utilized to bring down the amount of time required for the detection of abnormal threats and has enhanced the efficiency of data workers.
Customer Engagement
Customer service leverages the power of AI in businesses to help unblock new insights and create more intelligent processes so that to offer new insights and intelligent processes to provide excellent customer experiences at a decreased service cost per customer. Embedding artificial intelligence in re-imagining customer interactions from account maintenance to payments, from troubleshooting to inquiries.
1. Deliver timely conversational customer interactions based on context and customer intent.
2. Drive customers to digital experiences which improve both speed and quality of resolution.
3. Enhance digital adoption by delivering personalized interactions.
4. Automate and scale-up consistency across all channels.
5. With the support of virtual agents and intelligent automation tools enhance agent productivity.
Crime Detection in Finance
To deal with rising demands of financial risk, the utilization of artificial intelligence video surveillance has leveraged self-learning and intelligent AI-powered solutions. The collaboration of intelligent automation, machine learning, and advanced analytics with the flexibility of cloud-based technology environments has enabled clients to achieve measurable business outcomes. The artificial intelligence-driven solutions help to streamline organizational processes to better threats and examine high-volume cases while ensuring compliance and maintaining client privacy.
develop enterprise-wide policies and standards
Helps you understand KYC and anti-money laundering
Leverage AI to prioritize case investigations and enhances rule-targeting accuracy
Identifies criminal patterns through a non-rule base and utilizes advanced data mining, predictive analytics, and pattern recognition.
Data deluge utilization
Since many large urban and local spaces are under video surveillance to create a smart city that delivers higher convenience, better security, and enhanced energy management to the public.
Infrastructure
As AI analytics utilize surveillance solutions to detect crime, the data storage and technologies powering these solutions must also be operated at the highest level. Neural networks can meet the requirements by fetching the video material, but it will be of no use if the recording is not highly reliable. These deep-learning insights will prove advantageous only when the video frames are dropped due to low-performing storage systems.
Edge-to-cloud storage infrastructure must be evolved for artificial intelligence surveillance systems to function optimally. The right architecture must be involved to leverage both edge and cloud computing to accommodate an influx of video and metadata from the surveillance. Deploying AI-enabled NVRs and applications at the edge enables initial analysis to fetch the place on-site, to understand the first captured data. As a result efficiency and latency can be improved
The IT 4.0 architecture allows transferring the of stored data like video and data to a centralized environment for long-term retention and deep learning.
For instance, if a surveillance system is installed at a university, it deploys the stored data across the different departments on campus.
Accuracy
Artificial Intelligence video surveillance is great at identifying what's going on in a video at a fairly high level. Take the neural network which can analyze human actions for instance if you look at the footage and says they have just stolen someone's phone.
Conclusion
With the increase in demand for artificial intelligence video surveillance to boost productivity and secure business processes, there is a rise for professionals who are experts.
If you are also in search of some AI experts then your search stops here at DxMinds. The leading mobile app development company in India helps businesses of all sizes to help them secure and leverage businesses with the help of AI. They offer cutting-edge AI solutions for their business.
Advanced security can be achieved by incorporating AI into everyday safety operations. The stats prove that higher positional security officers have adopted AI for data security and handling breaches. The AI incorporation has led to massive improvement in the detection time of threats reduced from 14 to 4.6 hours. However, it can also be said that AI will soon replace human beings as the next cyber expert working against cyber experts. DxMinds is also a leading mobile app development companies in Dubai and other places.
FAQs
Reasons why video surveillance requires AI.
Real-time monitoring
More accuracy
Event, object, and facial recognition
Better image processing for better analysis
Utilization of data deluge
To enable intelligent surveillance systems, which infrastructures are required
IT 4.0 architecture is employed in basic processing so that the edge, video, and data can be easily transferred to a centralized environment for long-term retention.
Does artificial intelligence support face recognition?
In addition to face recognition, artificial intelligence offers image and object recognition also.
Experts are Just a Click Away
Popular Posts: