April 30, 2021
Posted by:

Admin

Category:

Mobile App Development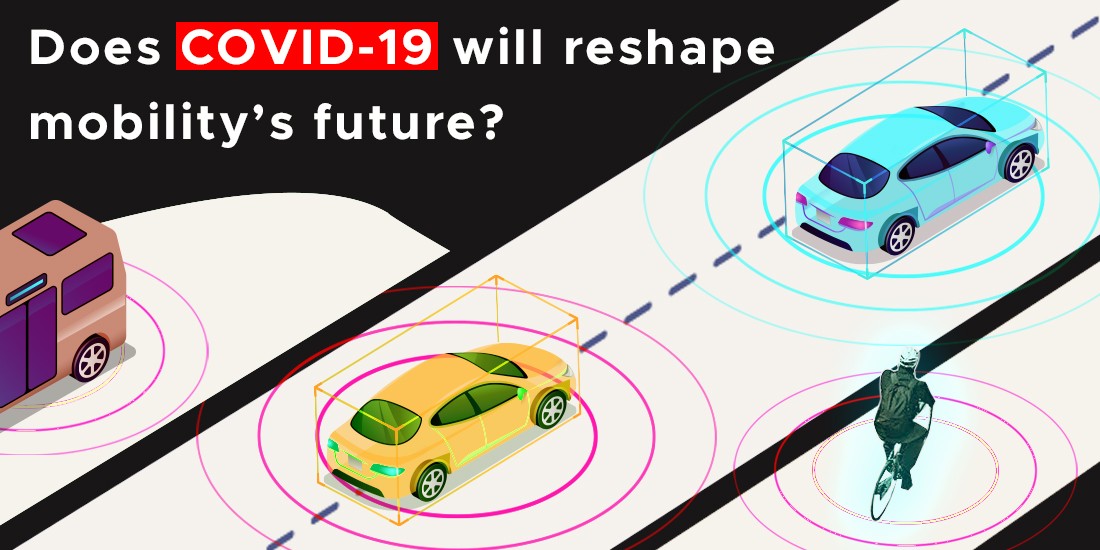 Covid-19 has disrupted the living standards and styles of every individual, regardless of their bank balance, location, and profession. Due to this pandemic, every business sector has got distinct dimension to sustain and grow further. Mobility is also one of those segments which have been affected to a great extent. Just a couple of years ago, people preferred shared drives giving them an economical way to transit with lesser traffic on the roads. But with the new survival measures of keeping safe social distance, common commutation has almost driven to an end. It is one of the biggest problems that are being faced by the transportation industry as well as travellers. Most consumers now perceive transportation modes that are safer and hygienic. The situation seems to give a halt to the on-going mobility sector.
Now cities all across the world started to reframe their road lanes to make them more spacious for travellers. Now, the automotive sector is about to see a boom with the more number of vehicles on road. Predicting the future, most of the automotive companies are now targeting carbon-neutral solutions and are heading towards electric vehicles (EVs) and mobile apps development for the automotive industry. As the pandemic situation has given rise to a level shifting environment and challenges to almost all business sectors, likewise most of the consumers are expecting a wide range of offering from the mobility players too. Such changing transportation conditions are encouraging the automobile sector to reimagine the transportation future and get associated with technology to enhance the features and efficiency of electric vehicles making them autonomous.
The major shifts that are likely to appear with the emergence of ACES (stands for autonomous driving, connected cars, electric vehicle, and shared mobility) are listed below:
| | | |
| --- | --- | --- |
| Customer preference | Technology | Regulation |
| The emphasis has been shifted to safety and health to reduce contact and risk of infection. | Automobile companies are partnering with autonomous car app development company to drive the best solution | Cities are being redesigned to adopt the latest transportation mode and hence revamping the transportation regulations. |
| Micro mobility is expected to increase by 5% in the upcoming days. Hence, vehicles like bicycles and moped will increase in count | More companies are investing in innovating automotive with the incorporation of the latest technologies. Approx. a sum of $45 billion has been invested in the automobile sector by end of 2020 | A surge in the development of electric vehicles has been seen along with the enhancement in the development of the electric grid. |
Free consultation request
Consumer preference:
A study conducted over the automobile industry shows that the sales of vehicles have been decreased by 75-80% within a year. A major shift in the preferences of consumers has been noticed from time to destination to the safer mode of transportation to reduce the risk of infection.
Now, most mobile service providers are developing On-demand ride-sharing solutions that can cater to the above-mentioned solutions in a better manner. These changes are persisting a range of safety measures.
What mobility players are implementing their solutions to make it hygienic and safer for customers?
Consumer preferences related to ACES:
The recent survey conducted over the worldwide market depicts that people believe that the traditional automaker can bring a big revolution in the world of ACES by integrating technology with their existing automobile plans. Most of the consumer's preferences are defining an electric autonomous vehicle that not only helps them eradicating the growing rate of carbon from the environment but also proves economic and safer for their rides. The major requirements of customers are the efficient battery that can be charged, excellent driving range, and safe to drive even in the hustle and bustle of busy roads.
Most of the automobile manufacturers have recognized the potential of End to end EV solutionsbacked with the autonomous system and perceive to develop the most efficient connected car applications that can boost up the efficiency of the vehicle.
Technology for ACES:
Most of the mobility players are more focused on developing an automotive ecosystem that includes connected cars that can be run without increasing the carbon in the environment. To seek the perfect solution for this requirement, automotive manufacturers are investing in ACES. Since the past few years, a huge variation in the investment in ACES vehicles has been noticed. A fair prediction of the partnership ratio in this industry has been depicted below:
Electric vehicles:
Technological growth is making amazing changes in the mobility sector, especially when it comes to electric mobility solutions. A prediction based on the future trends and demand analysis depicts that the automotive industry will come up with approx. 600 new models of electric vehicles incorporated with the latest technologies like machine learning and artificial intelligence by 2025. It is also predicted that by the same time frame, Original Equipment Manufacturer will face a rapid downfall of approx. 25-30% due to the change in requirements and market demands. Recently, Europe and China are leading the competition of manufacturing electric vehicles. Within 2018-19 European countries have taken an acceleration of 44% than any other country.
Automotive electronics and software:
Automotive electronics and software development is gaining rapid prominence all across the world. In upcoming years, autonomous vehicles and app development to control these connected vehicles are having a great scope. The components that will receive a higher growth rate are electronic control units (ECUs) and domain control units with estimated sales of $156 billion by 2030. Along with it, software and function operating systems to control these autonomous cars will also get a rapid spike with an estimated annual sale of $50 billion.
Automotive cybersecurity:
Now cars and other vehicles are using technologies like artificial intelligence, machine learning, IoT, and can be operated using mobile apps, hence cybersecurity of autonomous cars has become a priority. At present, automotive industries are having very limited guidelines for the development of security systems for the hardware and software of the cars. These guidelines are majorly to establish secure and encrypted communication between the electric autonomous vehicles. Now, with the sudden rise in demands of electric autonomous vehicles, UN Economic Commission for Europe is planning to release new and elaborated guidelines to ensure robust security of autonomous vehicles. Hence, it is predicted that the cybersecurity market will also grow simultaneously with autonomous vehicles and will reach an approx. value of $9.7 billion by 2030.
The cybersecurity growth in upcoming years due to changes in the automotive sector
Other technological developments:
The major reason that is changing mobility landscape is growing technology. Innovations are likely to make effective changes in the mobility sector and bring lucrative changes by 2021. Recent advancements and future development are listed below:
Most of the automakers are looking for the latest mobile application development companies in India with the best talent pools who can serve them with innovative research and development models.
Now autonomous vehicle manufacturers are looking forward to incorporating 5G technology into their latest model and more efficient than ever before. It is helping the manufacturers with superior speed, excellent reliability, latency, with lesser power consumption with the integration of IoT technology.
Another technology that has been making a great contribution in making autonomous vehicles better is Quantum computing.
Conclusion:
The pandemic has affected several business sectors along with the lifestyle of common people. Mobility is one of the most affected sectors which are going to disrupt soon. Soon the OEM will face a downfall and ACES is about to touch the sky-high success with the incorporation of the latest technologies. If you are willing to grow along with the rising automobile sector and seeking the assistance of professional to incorporate the power of technology into your mobility solution then contact mobile app development companies in India that will not only help you to develop apps to control your vehicle but also will aid you to develop software of your premium vehicle to make it lucrative and innovative.
Let's talk with the experts
Popular Posts: