October 11, 2022
Posted by:

Admin

Category:

Famous App Analysis, Mobile App Development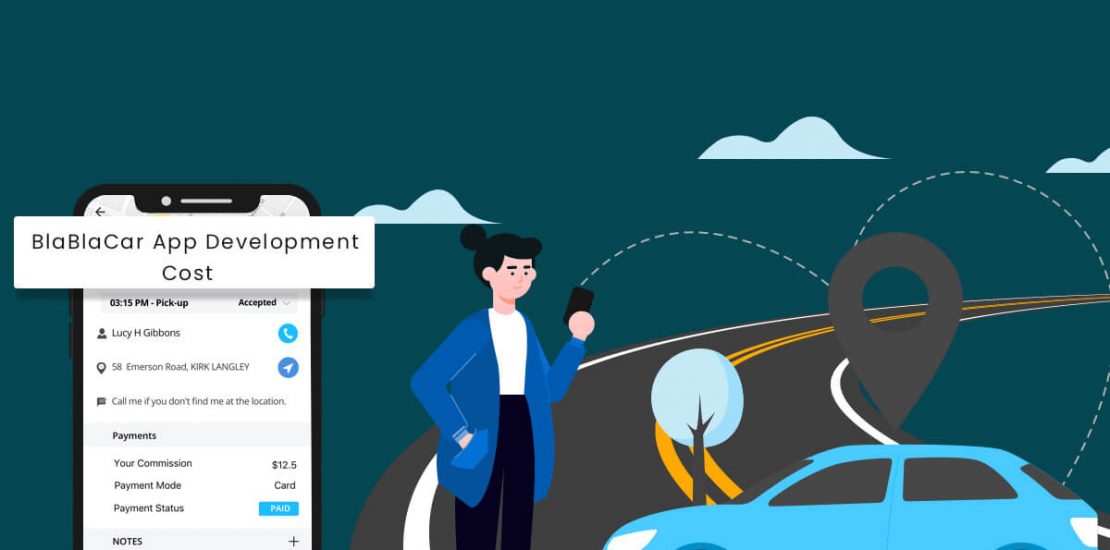 How Much Does it Cost to Develop an Carpooling app like BlaBlaCar?
Today, carpooling or we can say ridesharing applications like Ola, BlaBlaCar and many more are booming in the market due to the fast on-demand taxi services. Cost-effective rides, comfortable trip and on-time service, have become the touchstone of these apps.
With these taxi giants immense success, many start-up companies and enterprises are trying to enter the taxi app market. In addition, these taxi companies looking forward to create their own carpooling app, enabling riders to share their ride with others and split the costs.
With the ease of carpooling applications like offering a ride to different riders and dividing the cost, app users have got great help in saving cash and adore the ride by connecting with new individuals.
The evolution of such an idea in business has reduced the commuter's travel expenses and time. With rivalry seething high in the business, you should realize the key to make your imprint.
In this Blog we have discussed in-depth about famous Carpooling app i.e BlaBlaCar, its features and app development cost.
Before that let us understand,
What is Ride-Sharing and How Does the Business operate?
Carpooling or ridesharing is the process whereby the driver proceeds to pick up the passengers and operate along the same route.
All the while the fuel cost is paid on a shared premise. However, a ride can be accepted as carpooling under several conditions:
Passengers can't use on-demand service from the vehicle owner. It shows that under any case, the individual will go to the proposed destination, regardless of whether any rider shares the vehicle or not.
On the off chance that the car owner doesn't earn any additional cash on ride-sharing, the individual simply spares costs on fuel.
As the users share the ride, they have to share the overall cost.
Accordingly, the fundamental idea behind ridesharing or carpooling app is to compose the ride with a group of individuals who are on a similar route. Simultaneously, the car owner spares fuel and the passenger's spare travel costs.
Now let's come to the main point of our Blog
About BlaBlaCar
BlaBlaCar is a French online carpooling app, connects drivers and passengers ready to travel together among urban cities and offer the expense of the journey. More than 12 million individuals use BlaBlaCar each quarter making an altogether new social experience.
App Metrics:
15 million users
22 countries(Belgium, Brazil, Croatia, Czech Republic, France, Germany, Hungary, India, Italy, Luxembourg, Mexico, The Netherlands, Poland, Portugal, Romania, Russia, Serbia, Slovakia, Spain, Turkey, Ukraine and many more)
Over 30 million downloads
4 Million Facebook Fans
Get a Free Quote
Features of BlaBlaCar like App
Speedy login with Email, Social Media and phone number for app users.
Enter drop-down location and get options for your trip.
Get your ride booked right away with a couple of fundamental taps.
Passengers can know whom they are going with for convenience.
Ridesharing application users can contact drivers to affirm pickup at whatever point required.
Users get exact and real-time taxi arrival timings.
Analyze your fare as per the pickup and drop down location
Different payment choices inside the application with the most extreme security.
Users may part to pay exclusively where numerous individuals are together.
The app supports multiple languages and changes as per the user convenience.
In-app button for explorers to give a caution alert for emergency circumstances.
Get alerts for trip updates, payment, and so forth through popup messages, SMS and Emails.
Passengers track their rides dynamically through map inside the application.
Apply limits with promotion codes. Utilize unique referral code to impart to companions or family for restrictions.
Basic trip canceling with charges dependent on ride techniques and terms.
Give ratings and feedback of your ride to screen and improve overall experience.
Get a Free Consultation
Finally arrived at final question
How Much Does It Cost to Develop a Carpooling or Ridesharing App like BlaBlaCar?
Spearheading in Android app development, iOS application development and react native applications, DxMinds, the top ridesharing app development company in Bangalore, has been serving customers with customized and far-reaching ways to deal with their carpooling application requirements. We pursue a client-driven development process with an agile strategy actualized for convenient expectations. On-demand ride sharing solutions created by our master app development team are secure, vigorous and adaptable. Asper our mentors, the app development cost of BlaBlaCar depends on several factors, such as:
App Platform
The development cost of a ridesharing app like BlaBlaCar relies upon the application platform you need to create an application for. Shockingly, the cost of BlaBlaCar like app for iOS is less expensive than the cost for Android. Anyhow react-native can be the best option as the platform supports both android and iOS.
App Design
An attractive and user-friendly design is essential in BlaBlaCar like app to enhance the download rates. Good application design generally costs higher. however, DxMinds has demonstrated expertise in designing an eye-catchy app at a moderate cost.
App size
The cost also depends on the total of features and functionalities the app holds.
App Developers
The development cost of ridesharing application like BlaBlaCar likewise relies upon the developer's geographic area. For instance, that you build up the equivalent application from engineers situated in US, you may need to spend a greater sum than building up the equivalent application from Indian developers essentially. The quality remains the same. However, the expense goes high.
App technology
If you want to develop an app in an advance way, then adding trendy technologies such as Ai/Machine learning, AR/VR , Chatbot ,and Blockchain. The cost may go high with added technologies but it may be unique for the audience and you can make a good impact on the market.
According to DxMinds, the top mobile app development company in Bangalore, the cost to develop a ridesharing or carpooling app like BlaBlaCar may range from $10k-$80k as per the above-mentioned features and factors.
Want to build a reliable and affordable ridesharing app like BlaBlaCar? How about we convert your incredible thought into a Profitable Business.
Contact Us