July 10, 2020
Posted by:

Admin

Category:

Chatbot App development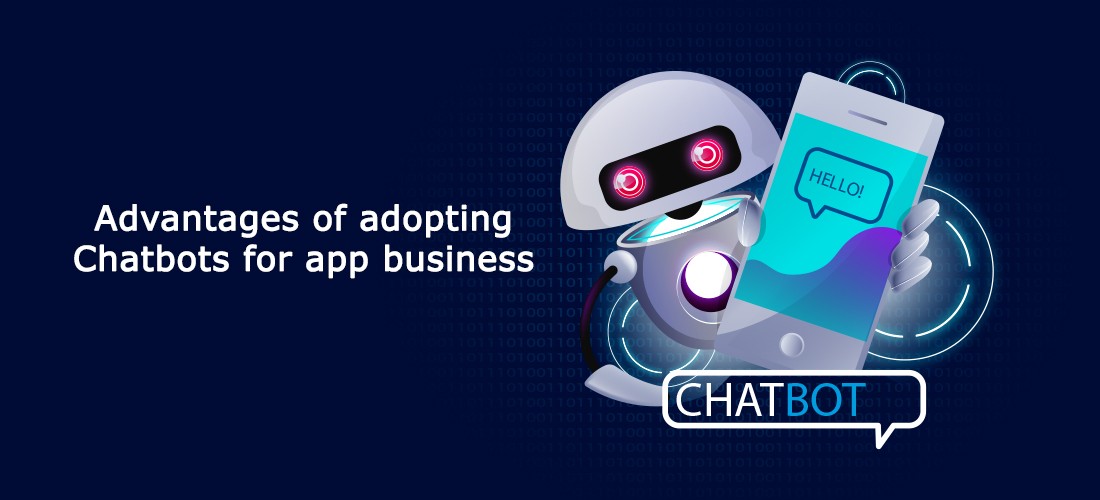 We all are well aware of the fact that we live in an age were the entire domains and industries are getting transformed by the best applications and use cases of the technology. It is right after the advent of technology in the business that all its internal, as well as external operations got streamlined in the best way possible. Technology plays a prominent role in taking a business to the next level. Various technologies are already in use and many are under research to make this world a better place. The best use of technology has not only eliminated all the hustles from our lives but also added much more transparency into it. It has elevated our lives to a phase were it offered us seamless ways of accomplishing our day to day tasks.
A chatbot is the latest adoption of technology. Businesses, no matter what are actively integrating chatbots to their business. The advantages and facilities offered by Chatbots have opened the doors of wide opportunities that help entrepreneurs and enterprises in achieving organizational goals and strategies. In this article, we are going to see in detail about Chatbots, its classifications, features, and the advantages it offers to make a business grand success. So let us get started!
What are Chatbots?
Chatbots also are known as Chatterbots are computer programs that are exclusively designed for communication purposes. Chatbots are the perfect virtual assistant. It is used to carry out hassle-free communications and are widely been used by businesses these days. The prime aim of a chatbot is to act as an intermediator between humans and machines to deliver effective conversations. Chatbots are integrated with websites, android, iOS, and hybrid mobile applications. These days chatbots are becoming the best application of technology and are delivering best in class experience to both customers and businesses. A wide range of businesses regardless of their industries started to integrate chatbots into their internal frameworks that too in an aggressive manner. The way chatbots interact with the end customers is in such a way that the user feels like he/ she is having the chat with a human representative. Chatbots are used across various verticals to enhance the customer support division and to make it more efficient.
Why are Chatbots important?
Conventional ways of running a business have a lot of hassles involved in it, especially when it comes to solving customer queries and fulfilling their needs. Customers are extremely sensitive and any error while handling them can cause harm to the business. Even though one takes utmost care and attention while handling customers, things can go wrong at times as to err is humane. It is at this point, chatbots have made its royal entry. It was a perfect alternative for all such errors and offers the best experience to end customers as well as business owners. In this tech-savvy world, customer needs everything yesterday and chatbot let them solve their queries in the least possible time. In a nutshell, we can say that chatbots are mandatory for a business in this era as modern problems require most modern solutions.
Types of Chatbots
In this section, we are going to see in detail what the different types of chatbots are.
Based on its characteristics and mode of operations, chatbots are classified into different types. They are
· FAQ Chatbots
FAQ Chatbots are normal chatbots programmed with several sets of frequently answered questions and their answers. It will deliver the best answer when the questions from this set are asked. These are the extremely basic bots and their performances are extremely limited. If any questions other than the pre-programmed sets of questions are asked, the chatbot will run out of answers. In that case, business with FAQ bots integrates features that can hand over the chat to a human executive.
· Artificial Intelligence Chatbot
These days, Artificial Intelligence Chatbots are the talk of the town and are gaining huge traction from various parts of the globe. AI bots are trending because of the features they deliver and the gaps they fill. As a definition, Artificial Intelligence Chatbots are more than FAQ chatbots or we can say that AI bots are the advanced version of FAQ bots where they perform several calculations and analysis by themselves and it is based on these findings that the bot reacts to a situation provided. AI bots have the capability of learning and improving themselves without any external programs. AI bots are helping businesses in solving a wide range of problems and are a perfect fit for any industry regardless of their domain or size. Their operations are in such a way that the end-user will never feel like they are conversing with a bot or machine. Whatever their query be, AI bots will come up with the best possible answer. When compared to the FAQ bots, Artificial Intelligence bots are expensive as the development process requires a lot of insights and programming skillsets.
· Cross-Platform Chatbot
Cross-platform Chatbots, also known as Hybrid chatbots are a mix of both FAQ Bots and Artificial Intelligence bots. It will have features of both the bots. It cannot be called a full-fledged Artificial Intelligence bot as it has some limitations to be called so.
· Natural Language Processing Chatbot
Natural Language Processing Chatbot, also known as NLP bots can process, analyze, understand natural languages, and can respond to it. With NLP bots, one can communicate in his local language and the bot will help him to get his things done.
· Audio Chatbot
Audio chatbots converse with the users in audio format instead of texts. When compared to another bot, Audio bots are much more effective as it is the easiest one for carrying out a chat.
Advantages of having a Chatbot
Having a Chatbot for your business is like having the ideal tool to outpace the competition. Let us see what are the advantages of having a Chatbot.
· Less operational cost
Even though a chatbot can be a bit costly at the stage of integration, in the long run, one can figure out that they are having less operational cost to run. Compared to human employees, chatbots are far more effective and productive.
· Seamless service, round the clock
Unlike humans, chatbots are less likely to rest and will work seamlessly twenty-four hours a day, seven days a week. They will never go out of energy or won't ask you to leave or appraisal and will work in the most productive manner.
· Boost in-house sales and revenue
Chatbots are the best medium when it comes to boost sales and generate more revenue. They help businesses to generate potential leads, nurture it in the best possible way, take them through the sales funnel and convert them into customers.
· Enhance customer engagement rate
Chatbots can backlash the conventional practices and eliminate all the hassles that are involved in it thereby enhancing the customer engagement rate. Chatbots allows customers to reach out to their potential clients and to engage them in the best way possible, no matter what. This in turn can help the businesses to make the customers a returning customer and build a firm relationship.
· Increase ROI rate
Integrating a chatbot to the organizational frameworks of a business can help the entrepreneur boost the return of investment. This will help the business in becoming much more profitable in the less possible time.
· Personalized customer experience
In order to generate much more profit, businesses have to deliver a much more personalized experience for the customers. In that aspect, chatbots are the ideal platform for the same.
Industry-wise application of Chatbots
Chatbots are aggressively getting adopted to various industries regardless of their domain or company size, no matter what. They help businesses to generate fruitful business throughout the year. Let us have a brief look into some of the industries that are leveraging Chatbots to onboard success.
· Chatbot in Automotive Industry
The automotive industry is one such domain that will receive an exponential number of inquiries regarding vehicle details and much more. More of such inquiries will be repetitive and there are chances that the customer care executive can it tiresome and hard. In that case, chatbots are the best alternative and a large number of automotive OEMs are onboarding chatbots to enhance their customer support management process.
· Chatbot in Human Resource Management
Chatbots are disrupting the entire processes involved in the area of human resources. It helps the HR professionals in the entire process of onboarding an employee to managing their attendance and insurance activities. In big companies where hundreds and thousands of employees are working 24×7, it requires a highly efficient HR team and Chatbots can be an add-on to it.
· Chatbot in Supply Chain management
Right from inventory management to ensure the proper flow of logistics and least route planning, Chatbots act as the ideal virtual assistant in ensuring its smooth operations.
· Chatbot in Media
The media and entertainment industry requires the service of chatbots as they have a highly sensitive process, in which human interventions can create hassles and bustles. The way a chatbot delivers exemplary service in the media industry is worth the value and is much appreciable.
· Chatbot in Retail Industry
Chatbots are creating wonders in the Retail Industry as they act as the shipping guide and offer them an enhanced shopping experience. The industry is making the best use of chatbots to boost its daily sales and revenue. The role played by chatbots in making the retail industry a self-sufficient one holds huge potential in this tech-savvy era.
· Chatbots in E-Commerce
E-commerce giants are making it big by onboarding chatbots to their internal frameworks. The number of products listed on an average E-Commerce website can be tens and hundreds of thousands and a customer may feel it bit quirky to figure out the right product among them. Having a chatbot for helping them out can make their search a bit more productive and less tedious.
Building a Chatbot can be easy at the best Chatbot development agencies. The development cost of Chatbots can increase based on the integrations required. Also, it is bound to a large number of factors like the type of the Chatbot, its peculiarities, technologies, third party integrations, and much more. However, based on the above-mentioned factors, the cost of developing a Chatbot will lie somewhere around USD 20,000 to USD 50,0000. The cost may vary based on their interests and demands. Also, the cost can vary based on the app development agency one associates with while bringing their ideas to reality.
DxMinds Technologies- the best chatbot app development company
The demand for chatbots are increasing exponentially. Businesses are actively looking for chatbot app development agencies as they don't want to miss out on the opportunities they offer. If you are the one who is in search of finding out a relevant chatbot app development agency, DxMinds Technologies can be the best fit for you. DxMinds have come up with intelligent Artificial Intelligence chatbot, popularly known to b DxBots.ai that can pull in more values when it comes to dealing with end customers. The bots developed at DxMinds are the perfect fit for industries that are based out of various verticals. Also. These bots are highly customizable that it can be altered based on industrial applications and requirements. For more details on how the chatbots developed by DxMinds can take your business to the next level and to avail a free consultation, drop a mail to info@dxminds.com