DxBots - The Custom Chatbot Builder
The Scalable and Reliable Chatbot Building Platform
Someone who works tirelessly for you 24×7 with the same passion and spirit as yours…A virtual assistant who takes care of all your business responsibilities with utmost priority…A technology to run your business in a hassle-free manner. That's DxBots for you.

Build Exemplary Chatbots for your Business
DxBots.ai, the outstanding Chatbot development platform lets you come up with a bot of a unique kind, leveraging which all of your day-to-day tasks can be accomplished in hassle-free ways. The highly customizable DxBots can be easily fit into a wide range of industries varying from Retail, Education, IT, Telecom, Travel, Logistics, Health Care, Printing, Finance, etc. DxBots let you enhance your core values and build a firm foundation for your business excellence.
Trust us when we say no coding required
Yes! We mean it! You do not have to be the best coder in the room to develop a bot. Frameworks of DxBots.ai is designed in such a way that even a person with the least coding knowledge will end up creating the finest chatbots.
Fish your potential clients
DxBots is standalone among all random Chatbot development platforms available to date. We let you reach out to your potential customers in the least possible time, engaging them and making your business plays a vital role in their lives.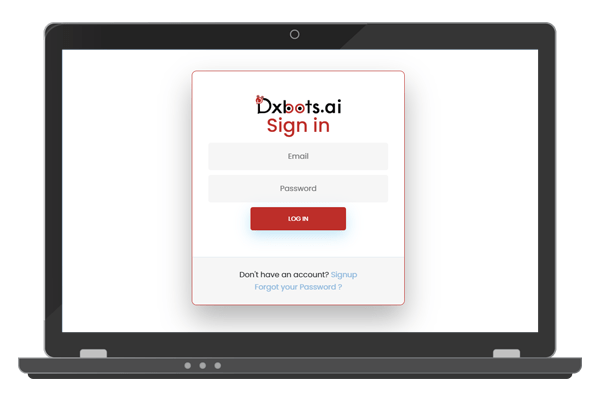 DxBots to Bridge the gap between your Business and Customers
All those awful and bitter days ended and they no longer exist. Make use of DxBots as your perfect tool in gaining traction from your potential clients and start building your empire. We offer you a handful of tools that enhance the customer life cycle and enriching your customer experience.
From normal FAQ Chatbot to AI-enabled NLP Chatbots, we have it all covered
From a regular FAQ bot to an NLP enabled AI Chatbot; DxBots come in various types and sizes. Experience the ease of developing a high-end bot using our unique Chatbot builder platform, DxBots.ai. Your business is more of our business now.
With DxBots cometh many features:
Drag and Drop Chatbot Builder, 140+ Language Support, Custom JSON API Integration, CRM Integrations, Auto Comment Follow Up, In-app Integrations, Payment Gateway Integration, Stripe Payment Gateway Integration, Shopify Integration, Conditional Response, Human Handover/Takeover, Live Chat, Unlimited Stories, Forms, Media Blocks, Google Dialog flow Integration, Google Search Integration, Leads via Email, Integration to third-party Frameworks, Weekly Reporting, Dynamic Response, Proprietary NLP Engine, Smart AI, Conversational Forms, FAQ with NLP Engine, Rich Analytics.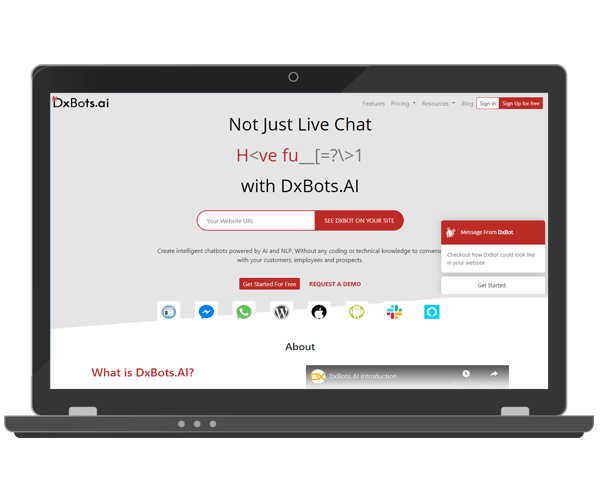 Experience Seamless ways of multi-channel integration
DxBots do to your business what the sun does to plants. It generates and nurtures your leads, fosters your business and end of the day it helps you harvest the results. Our bots can be integrated into a multitude of channels that too in the least possible time. Some of the very few among such platforms are:
Web
Facebook Messenger
Whatsapp
Slack
WordPress
Mobile Applications
Alexa
Google Home etc.
DxBots – Success mantra for your business to excel
It's high time for you to have DxBots integrated into your business. Feel it in real the power of how technology can transform your business and take it beyond skies. Get started for free and develop your customized Chatbot leveraging the resources offered by DxBots.