February 18, 2021
Posted by:

Admin

Category:

Internet of Things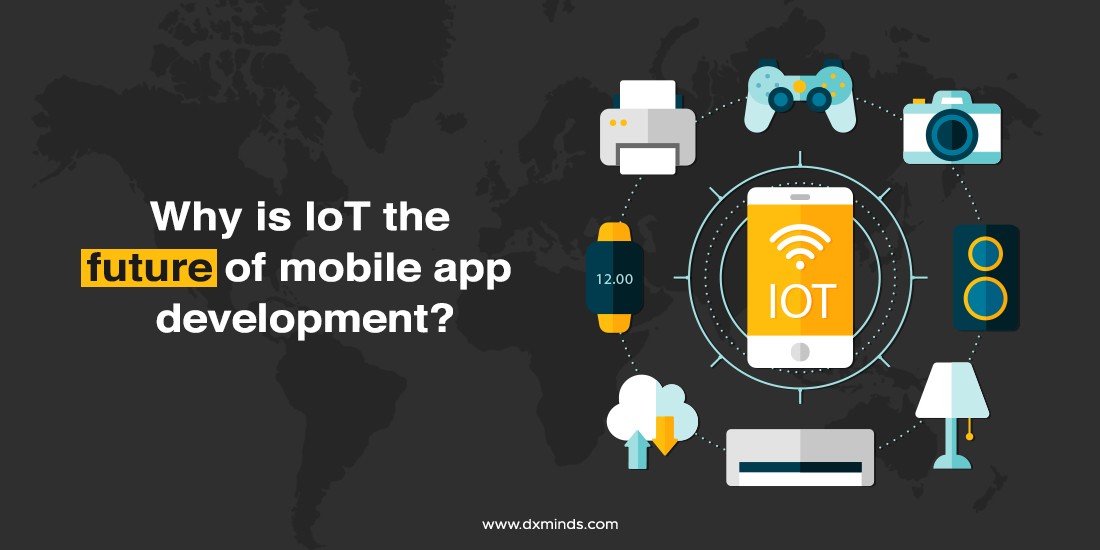 With precise results, futuristic technological applications, and best development practices, mobile apps are helping organizations run businesses in a hassle-free manner. It's quite an interesting factor that apps were able to roll out the finest of the finest solutions, covering all major industries that too in a shorter span of time. Massive digital disruption was the bi-product of mobile applications. It has revamped industries, backlashed traditional approaches, and have even made the impossible possible. However hard and tough the process seems, mobile apps were always able to streamline it and deliver groundbreaking solutions that help businesses generate fruitful revenue and ROI. Mobile apps are the best when it comes to ensuring end-to-end transparency and productivity, thus becoming everyone's cup of tea. Mobile apps deliver groundbreaking results that businesses can make the most out of it. Apps can be highly customized that it can serve purposes of any kind, regardless of the industry it belongs to. Apps are even capable of delivering optimal results, no matter what.
One of the major factors that make mobile apps the best in class is their character that is so vulnerable to state of the art technologies, few of them being Artificial Intelligence, Machine Learning, Blockchain, IoT, etc., and IoT taking the major position among them. IoT is one such technology that not only makes businesses disrupt but also offers them a high amount of scaling opportunities. With IoT onboard, businesses are now able to stay ahead of the competition and race in the best possible manner. IoT and mobile apps go hand in hand and their best use cases are transforming generations to come. A fine blend of IoT in the mobile applications can seamlessly deliver precise results for organizations, that too at a rapid pace. Over time, the demand for IoT integrated mobile apps is burgeoning that service providers are venturing up hard to meet customer requirements.
What is IoT Technology?
We have been so much wordy about IoT until now. So what exactly is IoT technology? You might be the one who is the industry leader that IoT sounds much familiar to you, or you can be the one who is not much familiar in the space. For the second category of readers out there, here is to you, we have got you covered. So let us talk more about IoT in detail. IoT is one of the finest technologies available in the digital space right now. There have been a lot of researches and findings taking place in the space actively. IoT is actually the shorter version of the term Internet of Things. As the term itself sounds, the Internet of things is a network of things, (it can be devices, gadgets, living beings, anything, and everything) connected to the internet using microprocessors, microcontrollers, chips, etc. The high-level advantages of IoT are end-to-end control, analysis, and monitoring of the things they are connected to. A classic example of IoT will be a smart television that can be controlled by a smartphone from miles apart. The use cases of IoT are gaining huge momentum as the technology ramps up at a rapid pace. As of now, there exists a wide array of the internet of things platforms such as the Internet of Things cars, Internet of things devices, etc that is enriching the Internet of things definition and how its best adoptions can help the planet digitalize.
Have a look at – how iot is transforming businesses across the globe
IoT in the mobile app development industry
IoT and mobile app development process go hand in hand. Since its been one of the most potential trending technologies, the Internet of Things has widely been integrated into the wholesome app development process. Integrating IoT in the app development process helps organizations enhance their bandwidth, thereby turning out in becoming the key industry players. In this tech-savvy era, IoT has reached out to a certain position that it has turned out in becoming a vital factor that takes the entire process to the next level. Rising demand for IoT has prompted developers across the globe in ramping up their operations to land on the perfect, yet simple IoT solutions. When it comes to supporting the mobile app development process, IoT is the best. It supplies all the relevant resources that are mandatory for scaling the process.
Get in Touch With Our Experts
Top reasons why IoT is vital for mobile application development
Let us have a wider approach towards the contribution of IoT in the process of mobile app development. In addition, we will see the various aspects based on which IoT is enhancing the app development process, as a whole.
Futuristic adoptions
Futuristic mobile app development processes are now at the doorstep. Thanks to IoT. With its full fledged applications and groundbreaking use cases, given life to are stuff that was said to be surrealistic, decades back. Connected cars are one of the finest examples that came into existence leveraging IoT in mobile app development. It is just the beginning of the story and far more is yet to arrive. Some of the other futuristic adoptions are smart cities, smart homes, smart campuses, and much more.
Also, see – how the automotive industry using internet of things (iot) technology?
High-end customization
When it comes to customizing mobile applications, IoT offers a high level of customization features and facilities for the developers. One can easily customize IoT to any level based on the user requirement. The best customization of IoT helps businesses in addressing their core challenges and offers the best in class solutions that fit the best for them. If you have a business to scale, customers to serve, and revenue to generate, then IoT fits you the best.
Cost-effective
The high degree of cost-effectiveness makes IoT everyone's cup of tea. By helping you save much on the development side, IoT is not only helping businesses scale but also supplying them with every resource that lets them make a fine breakthrough. The best integration of IoT can bring maintenance cost drastically down to a negligible amount that organizations can make the most out of it.
Request a Free Quote
Real-time tracking and monitoring
Tracking and monitoring activities in real time help businesses in having their hands on top of the game. The analytics and data obtained from the real time monitoring and tracking help businesses in improving their marketing insights. In addition, it let them tackling all the risks involved in the system. This is all a business needs in this tech-savvy era to thrive hard.
Stay on top of customer requirements
IoT enabled mobile apps to let businesses in having a deep understanding of customer behavior and what exactly they are looking for. By tackling this requirement with utmost accuracy, businesses can define the buyer persona and can deliver the exact solutions that fill the gap between the customer and a business.
Reduced workforce
With IoT integrated mobile apps on board, reduced are the high-level manpower and workforce consumption. Businesses that are leveraging a large amount of workforce have many dependencies that limit them from flourishing and it is in this context that IoT enabled mobile applications to come into the picture. With IoT apps, businesses can have end-to-end operations streamlined with a high amount of accuracy at a lesser workforce. This helps them enhance the efficiency and effectiveness of the overall system.
Enhanced security protocols
With technology come security threats that are capable of shattering businesses across the globe. They are considering this with utmost priority with attention paid to every detail. To put that into perspective, the Internet of things offers the best security aspects for both personal and confidential data. This lets all the security threats stay away from your app thereby making it a highly encrypted one and help your data stay in the right hands.
Seamless connectivity
Since it deals with the internet, IoT can provide seamless connectivity over anything and everything it is connected to. This has helped organizations in having a deeper understanding of the domain and come up with technologies that help them enhance their bandwidth. This has now turned out in becoming a need of the hour with more and more researches and findings actively taking place in the space.
Industry-beyond use cases
IoT in general comes with use cases that are beyond industries. IoT integrated mobile applications can fit into industries of any kind for serving it to the fullest. There exist numerous use cases wherein IoT can act as the best solution for meeting specific requirements. This feature of IoT has prompted industry players in coming up with IoT pivoting solutions.
Multi-platform support
IoT works fine even on hybrid app development platforms as well. Hybrid apps or cross-platform mobile applications are those apps that work on multiple operating systems and this property of IoT has made it much preferable among the developer community. This has surged its demand by more and more active implications happening in the space.
Conclusion
Though the development processes taking place leveraging IoT is considerably low as it is limited to certain use cases, it is no doubt that the technology with its widespread wings is taking the human race to new heights. Millions and billions are being heavily invested to explore the unexplored use cases of IoT. With technologists aggressively carrying out researches to find out potential use cases and many more in the pipeline, IoT can help businesses along with their global customers to coexist in a digitalized landscape.
Get a Free Consultation
Popular Posts: