March 16, 2021
Posted by:

Admin

Category:

eLearning App Development, Mobile app development cost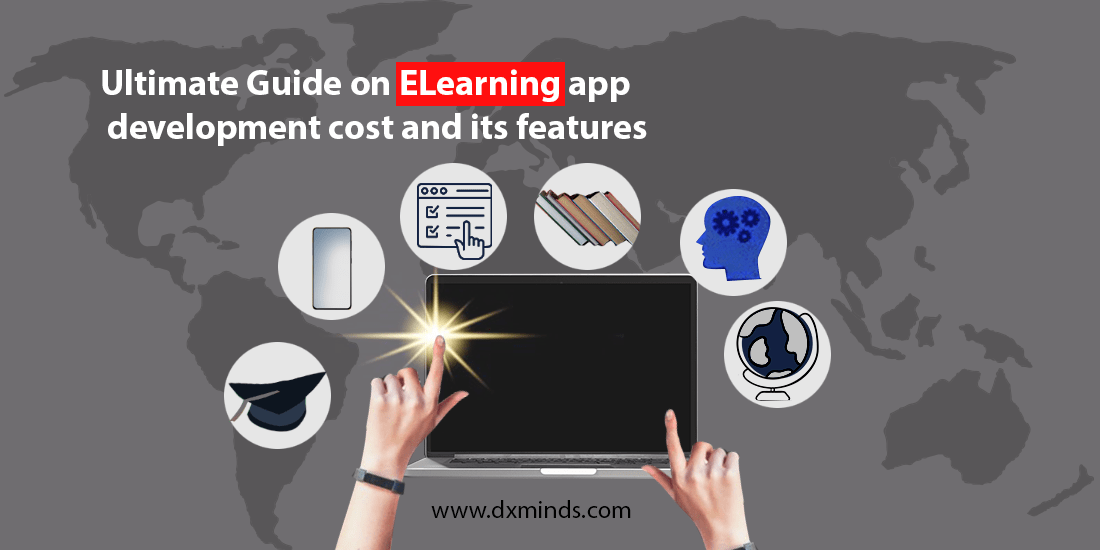 As the world is revolutionizing with emerging technologies, every industry is looking ahead to adopt the magical digital transformation journey to embrace new heights. With smartphones becoming an integral part of our lives, eLearning apps have taken the education sector to an advanced level.
Changes in learner's behavior based on technology trends and updates have made various schools, colleges, universities, and educational businesses around the globe reach out to the eLearning app development companies in India for building a powerful online educational app to be ahead in this wave.
Before planning to develop E-learning apps the basic imperative query that pops out in one's head is how much does it cost to develop an e-learning app?
Of course, it's necessary to know about the cost of an e-learning app so that you can plan your goal accordingly.
So are you ready to hook up with this informative guide designed by DxMinds experts that explains to you all the important aspects of online learning mobile applications from benefits, categories, and technologies to the cost of developing an eLearning app?
What is Elearning?
E-learning or electronic learning is the way to deliver knowledge which can be through training or courses through digital resources.
In other terms, it is a formalized learning furnished through electronic devices, especially from Mobile apps. This sort of digital medium makes it easy for users to gain knowledge anytime, anywhere without any barrier.
Although the courses are accessed in the form of online learning, users can still interact with students through live sessions. Due to the comfortable and creative learning methods, learning has become more popular in recent years
Request a Free Quote
Rise and Demand of Educational Mobile Applications 
E-learning apps have become more demanding in a couple of years and disrupted the complete scenario of the traditional educational model for educating students or learners
With the emergence of smartphones, drastic changes have occurred in the educational industry.
It has made learning easy and more interesting by providing an engaging way that allowed the learners to access knowledge quickly and comfortably with no bounds on location and time
Mobile apps are the main catalyst for fuelling the demand for Online education as a high percentage of people are more addicted to leveraging the services from apps rather than website services or offline services.
Mind-blowing stats that reveal the growth of the eLearning industry
Asper Research the global e-learning market is estimated to reach around $325 billion by the year 2025
64% of Learners embrace the training content from mobile devices
43% of Online Mobile learners enhanced productivity levels when compared to non-mobile users
Out of 89% of smartphone users download apps, 50% is installed for learning purpose
27% growth has been witnessed in mobile users and downgrading the desktop users by 14%
65% of digital content is watched on smartphones
72% of educational institutes are providing online programs by noticing the employer's demand and 71% of the schools on the other hand embedding online courses and lessons as per the student's interest
77% of the eLearning industry consists of self-paced learning models
92% of the Global audience are owning a smartphone
E-learning apps have been admired by parents as well as students from all over the world for bringing up captivating methods of learning.
Different kinds of e-learning apps from top educational app development companies are built with different kinds of instruction styles according to the preferred teaching style liked by students. Based on your educational business goal you could decide what kind of style you would like to adopt.
Advantages of E-learning Apps over Traditional Model
Access education anytime anywhere
Traditional education has some restrictions when it comes to time and location constraints where E-learning apps are serving the students 24/7 through mobile devices.
Now without Offline education, people can still leverage the needed skills, expertise, and knowledge with certificates and degrees
Cost-effective learning
One can get a quality education without spending a wholesome of money. Yes, the e-learning mobile solutions provide you an opportunity to get a similar or very good education at a lower rate when compare to the traditional way of education.
Unlimited learning
You can accelerate your technical career or improve your skills in the domain you like as infinite learning features you could get from the e-learn library.
High retention rate
Elearning apps provide higher retention and completion rates as they take pride in presenting the content in a crisper manner. In this way, learners fastly learn and dive into the next one.
Flexible learning
 This app provides flexible options to learn the course whether in the form of podcasts, videos, or any other attractive methods.
Complete Satisfaction
Parents are now glad that their kids are utilizing the phone for the right purpose rather than playing games or watching funny videos.
Main Categories in E-learning App-Based Business
E-learning apps are divided into three main types let's discuss them in detail
E2C e-learning-Education to customers
This type of app is mainly focused on students who are aiming to gain productive educational knowledge. Students from institutions, schools, colleges, or universities are highly obsessed to pursue studies through e-learning mobile apps.
If you are running an institution, school, or any educational business rolling out the courses in this sort of digital application could turn out to be more profitable for both students and educators.
Internet today is truly loaded with different types of online courses and helping the creators to earn huge chunks. They engage with popular universities and colleges to present their worthy online courses to as many students as possible.
They helped lakhs of students who were lacking financially to educate themselves this kind of app includes fascinating features: 
Textbook lessons are presented in an interactive form of Video and audio lectures 
The online payment process for making payments easily and effectively
Courses catalog, blog, and forum
Online quizzes for encouraging students to assessment
E2B e-learning Apps-Education to Business/Corporate training
Companies looking to train new candidates about operations or skills could shift to e-learning platforms more productively and smartly than classroom training.
In this way, you could be benefited in terms of efficiency and advancement as it helps to save money, time, and effort.
E2E-Education to educators
Elearning apps have not only been a boon for students but also brought immense benefits to teachers and educators as well.
As there was a rapid shift in the way of teaching with the rise of educational apps. Teachers have changed the complete style of teaching with the acceptance of virtual online classes.
Pros to teach through e-learning mobile apps includes
Real-time tracking of the progress of students for the assigned task and work 
Scheduling the class according to their convenience
Easy Communication with students as well as parents
Integrated Push notifications for updates
E-learning Business apps for different institutions
Working on an e-learning app
The eLearning apps have 4 participants' students, teachers, parents, and super admin. The working and operations of apps are completely different for all the users
Students
These sorts of e-learning apps are specifically focused on students. The entire business model is structured and framed for them.
A student needs to sign in to the application by providing all the personal information. Then by choosing the required course, they go ahead with the app. Based on different criteria there will be multiple courses to enroll some might be paid and some others are free to access.
Besides, the students can even see the progress of the subscribed course and can get take materials and notes attached to that course.
Parents
For being connected to children's performance and all the updates parents make use of these e-learning applications.
Moreover, if the students are too young to understand and know about these apps then parents can enroll the suitable courses for them.
Teachers
Specially designed for teachers. They can avail of numerous benefits from this kind of application.
The apps facilitate them to sell and upload the courses drafted by them for students.
They can make a strong profile by including all the history (certificates and other things) and tracking each activity and could even engage with their subscribed students.
Super Admin 
An admin is a person who is responsible for every activity happening in the app. From managing users' operations which can be students, teachers, or parents to viewing the statistics such as income, active users, number of courses, and other things.
The Admin has all the rights to add, remove or suspend the users disobeying the rules of the e-learning apps
Who can invest in E-learning applications?
The idea for E-learning applications is mainly introduced for the benefit of students, colleges, coaching institutes, and more.
The reason is very simple for making the boring or conventional way of education interactive, practical, and more interesting. Trust us the concept is admired and cherished all around the globe 
This educational business can make use of this platform for making learning easier and more accessible 
Basic Features That Makes An E-learning App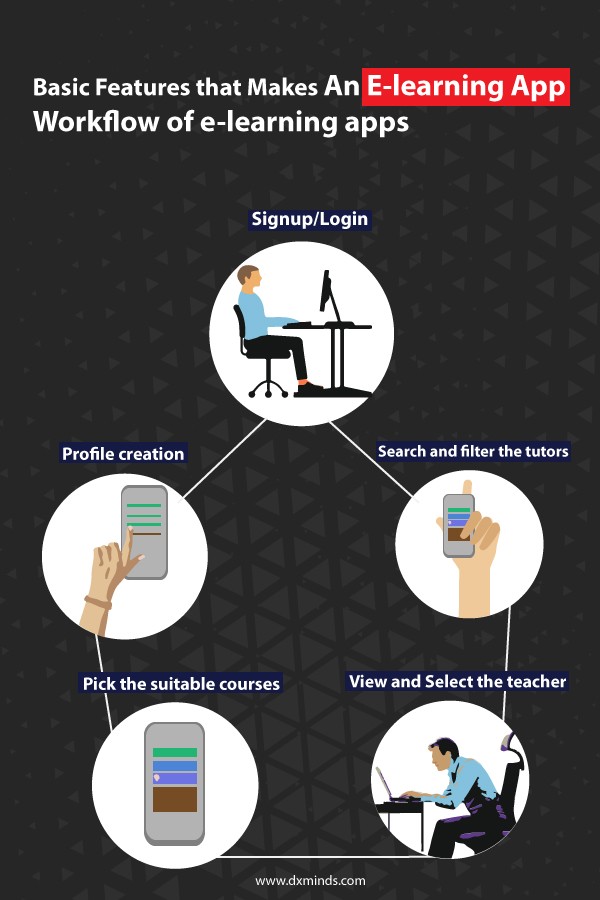 Student Panel features
Signup/Login
Profile creation
Browse the courses with the subscription plan
Pick the suitable courses
Search and filter the tutors
View and Select the teacher
Communicate with a tutor through video chat, text chat, or posting a question 
Students can post questions and doubts
Ratings and reviews for subscribed courses and tutors
Teacher Panel Features
Registration
Creation of a detailed profile
Manage the account settings
Plan and schedule live classes
View ratings, notifications, and reviews 
Communicate with students via video, audio, and chat
Payment integration
View the posted queries and can answer them
Parents Panel Features
Signup and log in via email
Monitoring and Tracking student performance
Tracking course progress
Interacting with a teacher via chat
Integrating the assignments and test results
Managing and editing the subscription of courses
View student leaderboard
Super Admin Panel
Manage users (Students, Teachers, and Parents)
Managing chats
Student information system
Manage credits and payments
Manage locations
Manage subjects and courses
View reports of earnings and user engagements
Advanced Features
The above-mentioned key features must have to be integrated for building a normal e-learning mobile application. However, for making it more advanced and user-friendly you need to go with some new-age features highlighted with technologies.
Let's know what features make it a more advanced and state-of-the-art app
Leaderboards
Making the platform competitive by showcasing the student's or learner's performance is a way to motivate them and leaderboards are implemented for that purpose itself.
AI (Voice commands)
The implementation of Voice commands makes the process of searching easier and more effective.AI and assist the student to select the desired course through the voice command features integrated with the system.
Real-Time Analytics
The amazing Real-time analytics functionality empowers you to track the app performance and user behavior with the app. By integrating this magical feature you can track and monitor online assessments, learner progress, course completion, and other internal operations of the app.
CMS Integration
CMS known to be a Content Management system empowers you to manage the content of mobile learning. Posting new content or editing the existing ones in the app is taken care of by the Content Management system. For managing or running the contents smoothly it is important to add a CMS feature.
Audio and Video Streaming
This functionality is highly impactful, it is the main feature responsible for user retention and interaction with your app. As it enables the users to stream the classes or live classes interactively with audio and video functionality.
Push Notification
In the e-learning app, it is very essential to alert or update the users about the class schedule, the material available, new course availability, and a lot more other things. Thus by integrating this push notification functionality, your app could perform this kind of operation effectively.
CRM Integration
Customer relationship management is an essential feature of the e-learning application that enables your app to build a strong bond with its users (students and learners)
In-app chat
The functionality helps the students to communicate or interact easily with the teachers via chat. Also, the students can interact with each other within the app and can talk over topics or other course-related aspects.
Quizzes and assessments
Make your eLearning apps appealing by including quizzes and assessment features. Build and deliver a variety of quizzes to students frequently. Through this, it is easy for a teacher to track the performance of every student.
Document or material sharing
This functionality assists the teachers to share the course material or documents online. When the documents, PDFs, presentations, and spreadsheets have been shared they can be easily assessed by students anywhere, anytime.
They can prefer to open the documents from a mobile browser or can download and access it offline
Multiple payment options
By integrating the multiple payment options your app can help users to pay at their convenience in a hassle-free manner. Multiple payments include Paypal, Stripe, Debit/Credit cards, UPI, and more.
Essential Tech Stack for e-learning mobile apps
Mobile SDK-Android and iOS
Push Notification-Twilio,Push.io
SMS, Voice, and Phone verification-Nexmo, Twilio 
DataStax-Data Management
Database-MangoDB, Cassandra, HBase, Mail chimp integration
Cloud environment-AWS
Mandrill-Related to emails
Streaming media system-Helix Universal server, Nimble streamer, Wowza streaming engine
Real-time analytics-Spark, Apache Flink, Cisco, IBM, Bigdata
Let's Talk With the Experts
A team is required for building e-learning mobile apps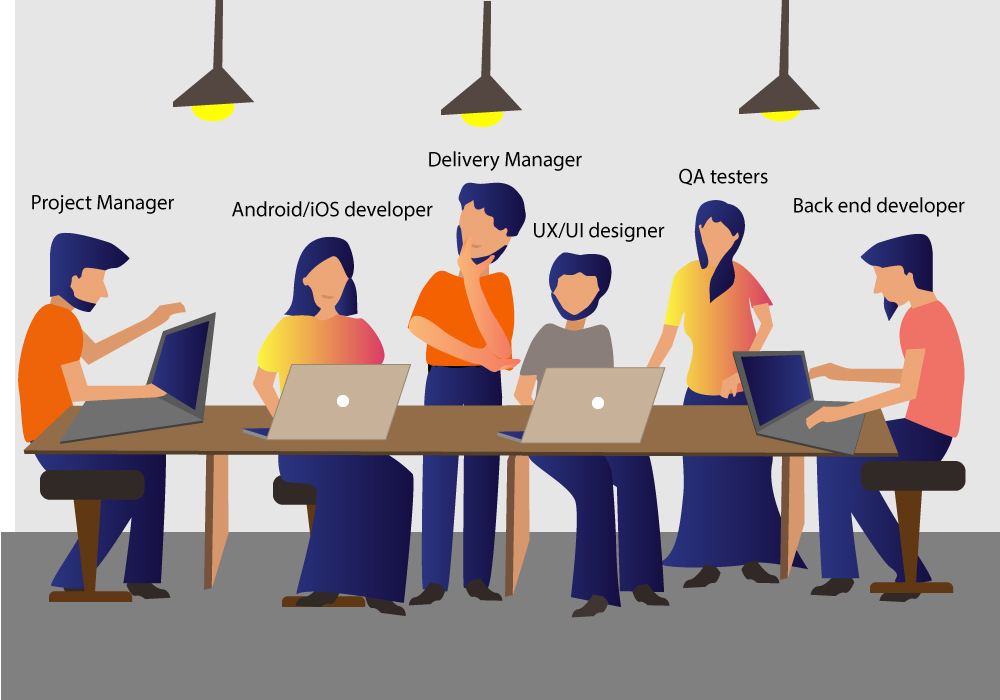 Project Manager
Android/iOS developer
Back end developer
Front end developer
UX/UI designer
QA testers
Delivery Manager
Cost of developing an e-learning Mobile app 
The cost to develop an e-learning mobile app depends on various factors 
Complexity or size of an app
The cost of developing an e-learning app depends on the kind of features you want to integrate into e-learning apps (Advanced or basic features)
The platforms you want to develop your apps decide the e-learning app development cost. The app developed for a single platform would cost you lesser than one developed on multiple platforms
No of Platforms
App Development location
The e-learning development cost also varies from one region to another region.
For example, the development cost in the USA is $150-$250, in Eastern Europe, it is $80-$180, and in India, it is affordable ranging between $25-$50.
However, the cost of developing an e-learning application might range between $40K-$90K but if you want to include advanced features the development might get increased
Conclusion
Through this blog post, we have reflected on all the factors related to eCommerce app development costs.
Nowadays it has become very essential for educational businesses to step into the digital age for providing the ultimate benefits for learners or students. Also if you are looking to build a successful app then approaching the right E-learning app development companies in Bangalore India turns out to be a beneficial one. Because Indian companies are known to provide affordable costing for high-quality educational apps when compared to any countries in the globe.
Want to transform your way of education into an Online Mobile app platform? Then connect DxMinds your desired Educational app development company having the best e-learning app development team that helps you provide smart educational solutions that definitely deliver an amazing learning experience to your end-users.
Contact Us For a Free Demo
Popular Posts: