October 12, 2022
Posted by:

Admin

Category:

eLearning App Development, Famous App Analysis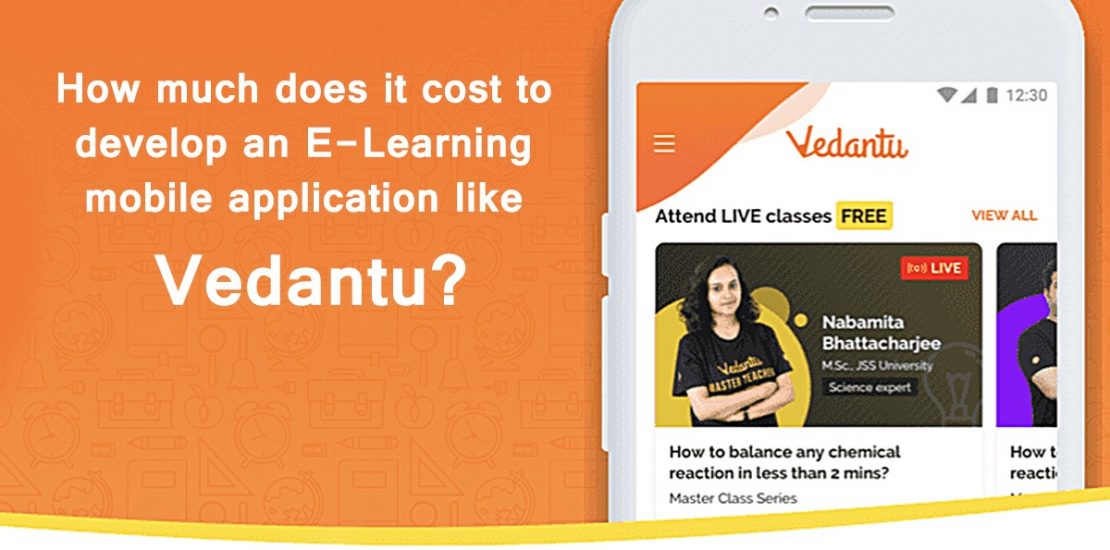 LIVE e-Learning App Development Cost like Vedantu?
The advent of mobile applications has eliminated all of the hustles that existed in our lives and have added a lot more transparency to it. The utmost fact the mobile applications are simpler, faster, and easier to use has made it everyone's cup of tea. The way mobile applications behave to make a business successful is prominent and outstanding. It helps businesses in generating potential revenue by the best industry use cases and real-world applications. In a nutshell, we can say that the revolution put forward by digital transformation with mobile applications at the forefront is disruptive and hold a high degree of potentiality.
Over the years, the EdTech industry has witnessed a lot of changes and the one with the mobile application is the latest. The mobile application has a lot to do in the Educational industry and the online training which is widely been adopted amid the Covid19 pandemic is a perfect example of that. Likewise, mobile applications are redefining the entire frameworks of the EdTech industry and are creating an ecosystem where it diminishes all the stresses and gravity involved in it. In this article, we will discuss an E-Learning mobile application Vedantu; it's in and out features, characteristics, etc. Since the demand for EdTech mobile applications is skyrocketing, we will also cover the topic of how much will it cost to develop an E-Learning mobile application like Vedantu. So let us get started.
More about E-Learning Mobile Application Vedantu
Vedantu is a next-generation innovative E-Learning platform where teachers deliver tuitions to various standard students over the internet. The Indian based Vedantu mainly operates based on a mobile application and is founded by Mr. Vamshi Krishna, Pulkit Jain, Saurabh Saxena, and Anand Prakash. With the direct application of technology, Vedantu has disrupted the conventional ways of classroom training and has given life to a highly flexible online home tuition. The teaching syllabus of Vedantu has been in such a set up where the students find learning fun and productive. It is no doubt that the idea put forward by mobile training applications like Vedantu helps students in being better citizens.
Advantages of E-Learning mobile apps like Vedantu
· Personalized teaching for students of different grade
· Real-time teaching and live interactions make learning more productive
· Get rid of boring classroom lectures and training
· Learn at your place, your time
· Online whiteboard teaching methodology
· Enhanced learning tools and anytime replay options
· Real-time student progress reports and updates
Similar App: e-learning App like ByJu's Cost?
Features of a real-time teaching mobile application like Vedantu
To serve the purpose to its fullest, an e-learning mobile application should have certain features integrated into it. Now, we are going to see in detail, what are those factors.
· User Account
It is mandatory to have a user account registered on the mobile application to use the app in a hassle-free manner. Users can provide their mail address, social media handles, or even mobile number while creating the account. Once created users can make use of the credentials for login.
· Profile
The user profile is an exclusive space for the users to access their details. They can add/edit several of their data under this segment.
· Classroom Selection
Based on their requirement, users can choose their classes. An E-Learning mobile app like Vedantu delivers lively training for students till the class of twelfth.
· Subscription
The app should allow its users to choose the types of subscription models based on their requirements. This will help the app to generate recurring revenue.
· Advanced search console
In an event where the students need to find a tutor who meets his/ her requirements, they need to carry out an interactive search on the app. To serve the purpose, the app should have a search bar with various filters integrated into it.
· Online tests and assessments
The app should conduct regular tests and assignments to keep a track record of the progress in learning. It will help both students and their parents in taking necessary measurements to bridge the gaps while preparing for a real exam.
· Syllabus and Modules
To make the learning process more efficient, the students have to be delivered with the syllabus of the subjects.
· Audio/ Video Chat
This facility can enhance the way of learning. Having a live audio/ video interaction with the trainers can help students in clearing their doubts and perform well.
· Attendance Management
The app should have features that track the attendance of students regularly. This, in turn, helps tutors in knowing the status of the topic covered for that particular student.
· Notifications
Notification regarding the performance of their students has to be sent to the parents on a certain basis. This will allow the parents to have a detailed performance of their students.
· Study materials and document sharing
At times, study materials and other documents need to be shared with students or vice versa. In such a scenario, the app should have features that allow users to do it in a hassle-free manner.
· Live video streaming
Other than real-time videos, there may be pre-recorded videos that needed to be shared with users. The app should have such features that allow the seamless streaming of such videos.
· Multi-Language support
To serve a wide range of customer base, an E-Learning mobile application like Vedantu should have multiple language support systems.
Factors affecting the app development cost of a mobile learning app like Vedantu
There is a rising demand for online learning mobile applications like Vedantu. Entrepreneurs out there are actively seeking opportunities to figure out the app development cost of the E-Learning app like Vedantu. Coming to the costing part of it, there exist a lot of factors that determine the app development cost. We are going to see in detail about all those factors. The main factor that determines the app development cost is the platform for which the mobile application has been built. App Size, app location, and app security also play a major role in determining the mobile app development cost.
How much does it cost to develop an E-Learning mobile apps like Vedantu
We have seen the major factors affecting the mobile app development cost of an E-Learning mobile application like Vedantu. Now let us see how much will it cost to build a mobile learning platform like Vedantu. Based on the basic features mentioned above, the costs of developing a home tuition mobile app like Vedantu will be approximately USD 10,000 to USD 50,000. The pricing may vary based on the demands and requirements.
DxMinds Innovation Labs- The best online learning application development company
DxMinds Innovation Labs is a leading digital transformation and E-Learning mobile application development company. DxMinds focuses on developing the best possible solutions to its clients regardless of its size or industry. Right from innovative startups to SMBs and global fortune companies depends on DxMinds Innovation Labs in onboarding digital transformation solutions.