October 11, 2022
Posted by:

Admin

Category:

eLearning App Development, Famous App Analysis, Mobile App Development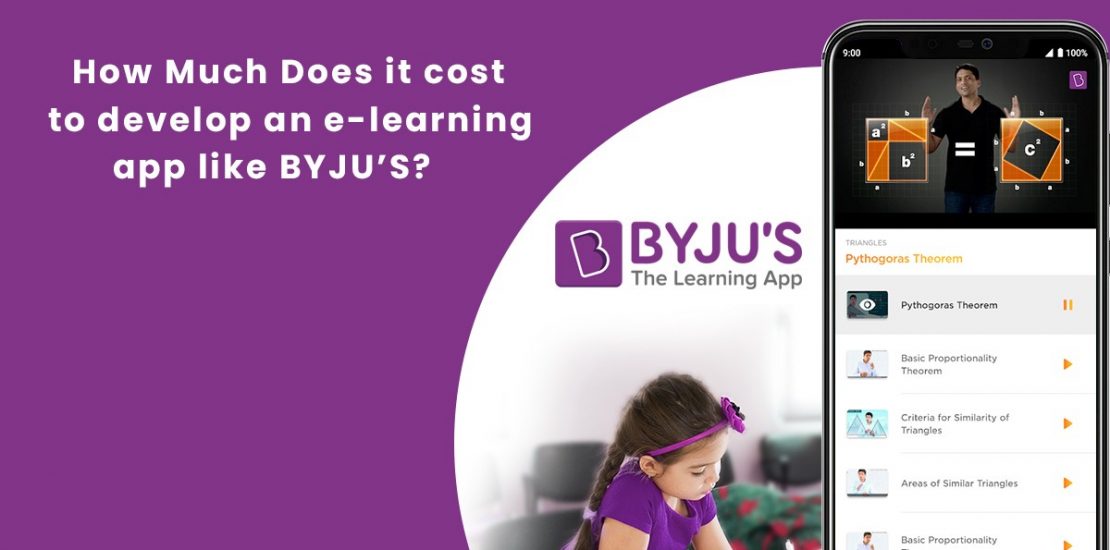 How Much Does it Cost to Make eLearning app like ByJu's?
The education sector been transformed digitally nowadays and the advanced format of teaching for students has become most essential. The space developed with new technologies such as mobile apps, Augmented Reality and Virtual Reality apps that providing real-time experience for students in a creative, flexible way.
Have you known about learning methodology that has changed with the smart technology called Mobile Learning or m-Learning? Well, it's all there now and excessively helping the students effectively and comfortably through interesting video models proposed by m-learning mobile apps.
The education mobile apps are useful for the education industry that has contributed considerably to the learning procedures in universities and institutes that succeed in a transparent and safe process.
One of the famous apps become essential for students and institutes is ByJu's, as it has interactive, engaging and addictive features that made the app as top-rated education app in India.
With exceptional security, integrity, and performance, the ByJu's provides an inclusive learning model. The app previously has 8 million users and thousands of paid subscribers with unbelievable retention standards for users.
If you are looking to build a famous app like ByJu's, we will guide you to get the estimation price need to build such as a mobile app.
Here we will explain how much it cost to develop an e-learning mobile app like ByJu's and what the features involved and what are functions of app?
About ByJu's
ByJu's is learning a mobile app platform and it is a secondary product from the company of Think and learn Pvt.Ltd. The company came with a high-quality mobile app features that offer high interactive design-build to make students engaged and interested.
It is a Bangalore based app company founded in 2011 by ByJu Ravindran, as it came to help students by providing educational content mainly from class 1 to 12 (primary to higher level) It also provides effective training for competitive examinations in India such as IIT-JEE, NEET, CAT and IAS as well international exams such as GRE and GMAT.
The app specially focused on mathematics and science where concepts determined in video sessions only. The company vastly achieved 33 million users and its annual retention of about 86%. The students are willing to spend more than 1 hour in daily average and learning in regional Indian languages.
The Company awarded prestigious Deloitte technology Fast 50 awards. The mobile app of ByJu's inspired many educational influencers to impact mobile experience learning method into the market.
How much does it cost an m-learning app like Byju's?
Developing an app like ByJu's need an innovative strategy about the advanced technology that implies for seamless operations. An average to develop an Educational app depends on the many factors that affect the platform you build the mobile application. The estimated cost defers upon the total time required and technical effort required to build the app like ByJu's. A cost to develop an app like ByJu's highly depends upon the technologies applied.
Technologies Applied
Cloud Adoption– The mobile app development cost like ByJu's required storage space that includes videos, and text data, by integrating with cloud storage helps to operate and connects on various devices and applications for real-time exchange of data.
AR and VR – These Augmented and Virtual Reality technology helps to build an environment in which users participate in their learning methods by using these graphics. However, Implementing these wonderful technology needs more budget as it depends on requirements.
Back-End Technologies
To develop an app like ByJu's as it needs both mobile and web technologies to include such as React JS, Swift, Android, Cake PHP, Laravel and for UX and UI HTML, CSS and Photoshop, sketch, etc applied to design and develop the innovative app.
Do You have an Educational app Idea? Let's Discuss
M-Learning / Education App like ByJu's Development Process
Everyday many mobile apps published in the play store, each app is unique and methodologies are always attractive. To develop an app like ByJu's as it needs a certain process that typically includes the idea, research, design, development and deployment stages.
Idea –
The mobile app development like ByJu's begins with a good idea.An idea can only be converted into a strong mobile application if it does an extremely target audience effect that will finally download and use the app. The concept must, therefore, be viable, and the utility of the idea can be discovered by managing market analysis, transferring an estimate of rivals, and setting well-defined aims and purposes within a timeline.
Research-
This stage is significant because you are hitting the foundation-needed elements on what to follow next during this step. Performing significant brainstorming and research before proceeding to the next stage helps a mobile app to stay ahead in the competition. And another significant perspective of this stage is the competition analysis. To make it stand out, thorough research of your competitor's mobile app will support you find out what features are dropping customer engagement so you can add it in your app.
Design
Once certain research performed, then coding matters as it needs an expert designer to build user experience structure to interact with customers. The components while designing user interface provide visual direction that intends on product. Designing a mobile app depends on project scope and app requirements such as features, technologies involved.
Development
After the design process ended, the development stage begins soon based on the conceptual phase reaches some validation features and imaginations that often help to provide and understand the app concept completely. The app moves through several stages as the development advances. Although present, the key functionality is not examined in original phase. Ideally, the app has been through light testing and bug fixing, although there may still be some problems.
Deployment
After everything is ready, prepare mobile app for submission in App store. The strategies for developing applications are distinct .Your application is prepared for submission. Choose a day and make a formal start. The strategies for starting an application are distinct for distinct application stores. Every app needs advance features and updates. Typically, the development period starts over once the first version of the app is distributed.
Features that Determine the Cost of Byju's like App Development
Student Panel
Simple Registration
Advance Search Filter
Video and Text chatting
Posting Questions
Selection of Subscription Plan
Quizzes and Online Exams
Detail Profile Creation
Download or Read online
Course Detail on Click
Purchase History Dashboard
Shipment Status
Forgot Password
Admin Panel
Badge Management
User management
Subjects Management
Location Supported
Maintain the accounts
Premium subscription control
Content and multiple filter
Statistics
Transaction History
Ticketing
Teacher's panel
Register account
Detail Professional Profile
Console Statics
Account setting
Edit Account details
View Questions and answer
Video and Text chatting
Factors that effect on App Development Cost like ByJu's
Mobile app development cost like ByJu's depends on multiple factors and components needed, as it requires lot of consideration that finally manages to achieve cost evaluation. The following critical features and points often define the overall development cost of Byju's-like m-learning app.
Mobile App Platform-
Based on appealing broad users, we may consider developing the app like ByJu's for both platform such as platform. The cost depends on type of platform chosen and may extend if we go for both platforms. However developing a mobile app for android platform takes less time compare to iOS as it need lot of testing process to be performed and also offer multiple refined approach for app development.
UI/UX Design
Online mobile app like ByJu's comes with interactive and user-friendly design ,as it is great way of developing mobile app that comes with engaging elements.Having a nice design that captures interest from the customer will charge some price, even though it will leave you with beautiful yields. Implementing rich content design cost more than normal.
App size and Developers Location
Developing cost of app like ByJu's depends on size of app that includes app features and components for video lessons and graphics. The cost depends on the features involved within the app.
The development cost of an education app like Byju's also varies on the developers' location, their expertise and experience level.
Get a Free Quote
The Cost of Developing an M-Learning Mobile App like ByJu's:
Developing education mobile app like ByJu's depends on size and platform choosen .On other hand location of mobile app development companies matter and time taken to build app plays major role in deciding overall development cost. Based on various zones we have providing cost breakdown on education learning mobile app development like ByJu's.
India – Price ranges from $30 to $55 per Hour
USA– Price Ranges from $100 to $ 200 per Hour
Europe– Price Ranges from $80 to $190 per Hour
As per present cost of living and economic situation in developing an mobile app like ByJu's in india determined below.
Technical implementation— Time needed – 40-55 hours and Cost ranges from $1000 to $2500
UI and UX design – Time need- 350 hours and Cost ranges from $14000 to $3500)
Front and Back-end process – Time needed – 450 hours and Cost ranges from $10000 to $25000
Testing- Time needed – 80 hours and Cost ranges from $1000 to $3000
After viewing above determined charge details and required timing ,the average cost of developing education learning mobile app like ByJu's may cost around $8500 to $30000 for one platform and charges may increase based on requirements of features,app elements and project customs that is driven by quality standards.
Conclusion
The inspiration and success story of ByJu's did not happen overnight. Its initial company should be hiring the best mobile app development company that they provide the best mobile app as you desired. The epic features of ByJu's app that thrilled millions of students, teachers with video and graphic capabilities. so you need to hire one top-rated mobile app developers to implement the latest technologies to engage users that bring more downloads and revenue.
If you are looking to build your education mobile app and need support with advanced technologies such as AR and Cloud integration in mobile apps, you are in luck! The DxMinds welcomes business peoples to become mobile app owners; we have a strong team of mobile app developers, valuators and designers to build a fantastic mobile app for the education industry.
Get a Free Consultation